Gallery 501: 19th-Century Innovators
Two curators walk us through how they rehung the first collection gallery, and hint at the transformations to come.
Jodi Hauptman, a senior curator in the Department of Drawings and Prints, and Ann Temkin, The Marie-Josée and Henry Kravis Chief Curator of Painting and Sculpture, had a discussion about their thinking behind Gallery 501: 19th-Century Innovators, a single room in the newly reinstalled fifth-floor collection galleries.
This conversation was edited for length and clarity.
Ann Temkin: We are in the exact same starting point on the fifth floor for the beginning of the collection display as before the renovation. That was a decision we reached early on: that the essential, chronological order from the fifth floor down to the fourth floor down to the second floor was worth holding onto, because we were going to do a lot of mixing things up. And to have that chronological order remain a reference point throughout seemed an advantage that everybody was unanimous about.
But what is different is that there's no longer a hero wall as you enter. For the last 15 years, there had been a freestanding wall facing you. Those walls are sometimes called hero walls, meaning that's the heroic view to focus on. Over past decades, [Paul] Cézanne's The Bather was often on such an opening wall.
Jodi Hauptman: Years ago, too, there was [Auguste] Rodin's statue St. John the Baptist just outside the gallery, with his hand out in a gesture like, "Here you are." Then Cézanne's The Bather would be there.
AT: What we came to realize is those two objects had been given superimposed meanings that had nothing to do with the objects' original creation. In the case of St. John the Baptist, he was not really an usher into a group of Museum galleries. That was just the coincidence of his gesture being convenient for that purpose.
And even more importantly, with The Bather, my belief is that he was being put in the position of being the father of everything to come, just like Cézanne was the father of modern art according to [Pablo] Picasso and [Henri] Matisse, and many art historians, and many other artists. This male bather was serving as a surrogate for Cézanne himself, as a founder who then led to a certain lineage of modern art.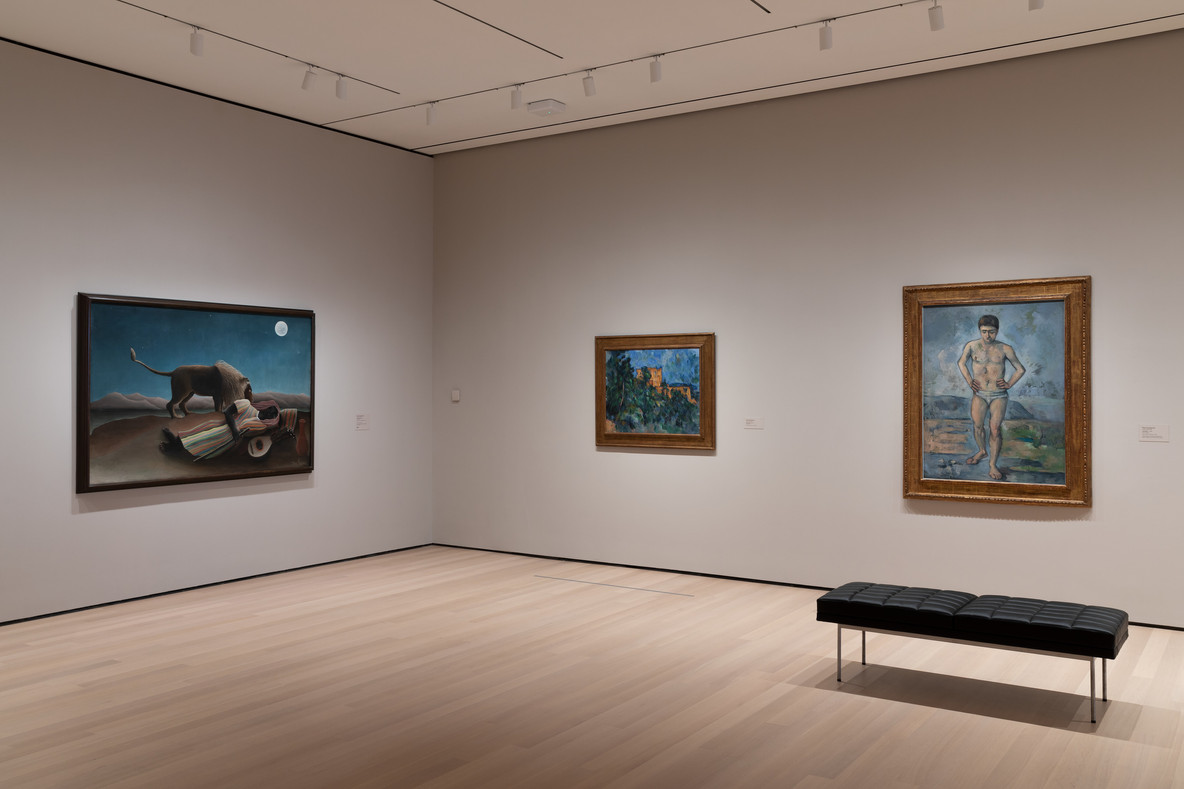 An installation view of Gallery 501. From left: Henri Rousseau's The Sleeping Gypsy (1897) and Paul Cézanne's Château Noir (1903–04) and The Bather (c. 1885)
JH: We were excited about removing the hero wall to suggest the plurality of stories that you would encounter as you moved forward.
AT: The Cézanne to Cubism story is powerful, but it's not the only one. So, now, The Bather is on a wall of three Cézannes, including one other portrait, The Boy in the Red Vest, a gift from David and Peggy Rockefeller. And to the other side is Château Noir, which is a very late landscape by Cézanne, and one of the paintings that's often talked about as a prelude to the breaking up of form that you find a few years later in Picasso and [George] Braque's Cubism.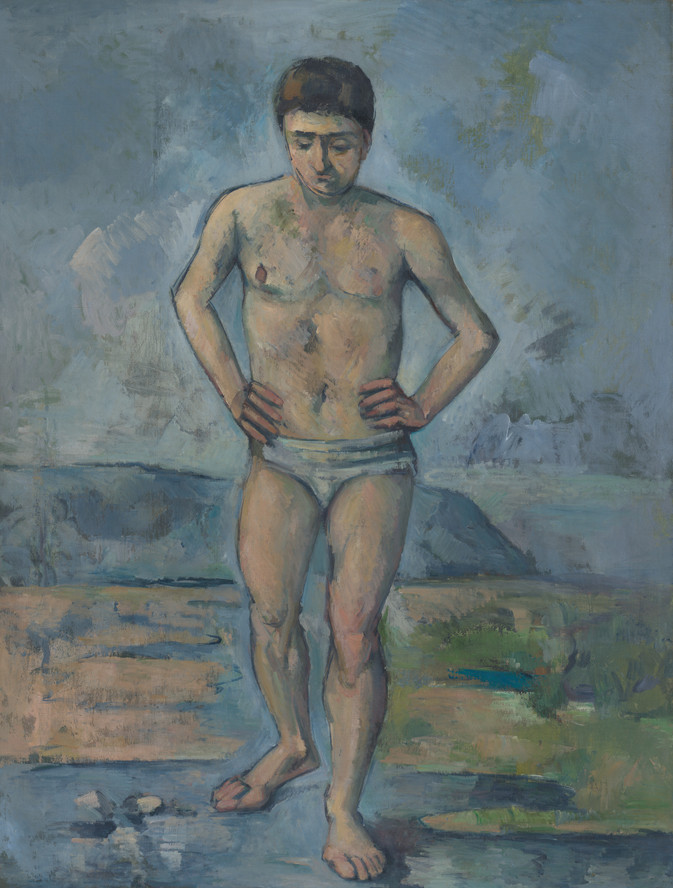 Paul Cézanne. The Bather. c. 1885
The Bather has recently been cleaned by one of our outstanding painting conservators, Anny Aviram. You now realize the importance of the landscape behind the figure, and the incredible effects of color and brushwork on the ground beneath him, and the beautiful expanse of water and sky.
We thought about its positioning with a portrait on one side and a landscape on the other, and how they almost seemed to come together in this picture in which you have both.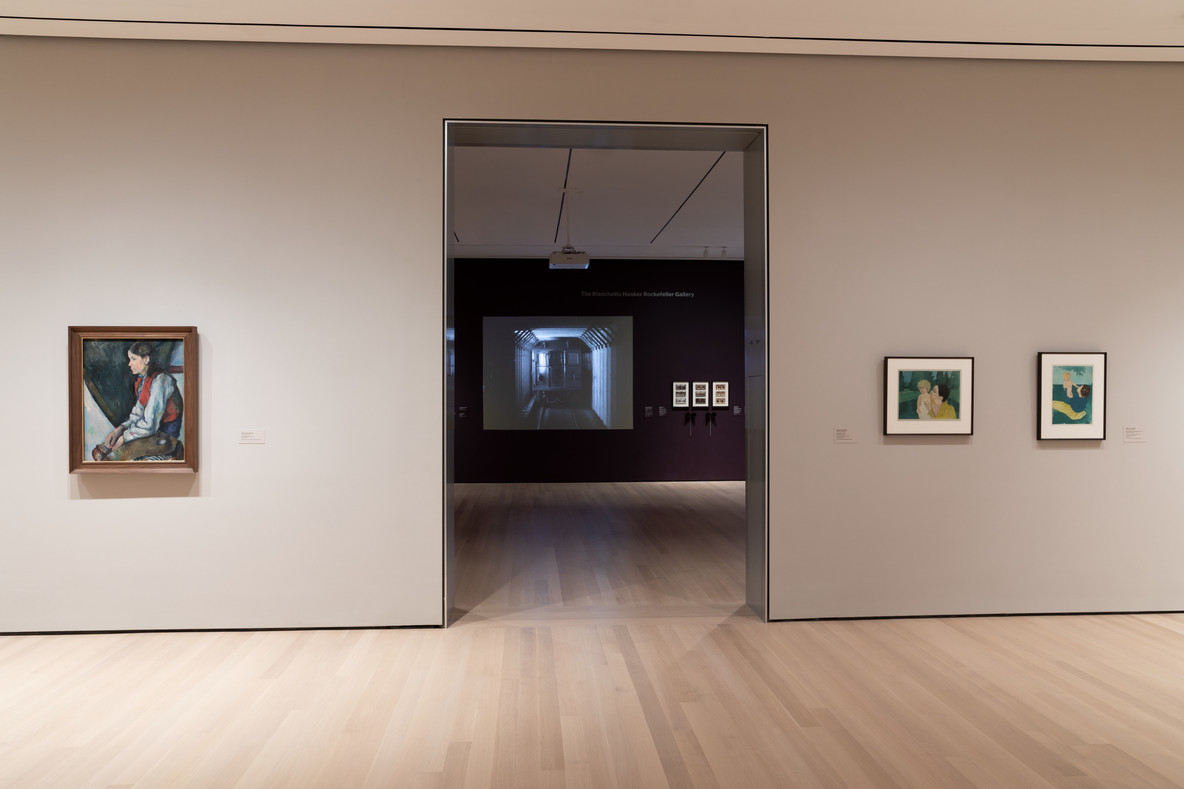 On the wall, from left: Paul Cézanne's Boy in a Red Vest (1888–90) and Mary Cassat's By the Pond (c. 1898) and Under the Horse-Chestnut Tree (1896–97)
JH: For me, one of the big shifts is thinking about this gallery in tandem with the next gallery. What's the relationship between these paintings that we know and love and what was then new media? The arrival of photography and film and the expansion of print, and the proliferation of those technologies in the late 19th century, are so important and impactful and change everything.
I hope when people come to the galleries, they think of them together. And so as soon as you walk in, out of the corner of your eye you'll see films. You'll see moving images right away and that flicker of light, and it's a reminder that many of these artists lived in a moment where they couldn't help but be impacted or have some kind of dialogue with those new forms of media.
That's a big change. Previously, we generally separated photography and film from painting, and sculpture, and drawings, and prints, and it misled you into thinking that these artists worked in a world in which that way of seeing didn't exist. And, of course, not only did it exist but it was new and newsworthy.
So much of the invention that you see in the paintings or drawings in this gallery are in part—you can't say direct cause and effect—but certainly are in part created the way they are because the world now had available these other ways of seeing.
For instance, Cézanne. What we've learned is that he did look at photographs. For example, we own a small photograph on which The Bather is based, and in fact there are even little bits of paint on that photograph. So we know that it was in the studio and it was somehow materially in dialogue with the painting.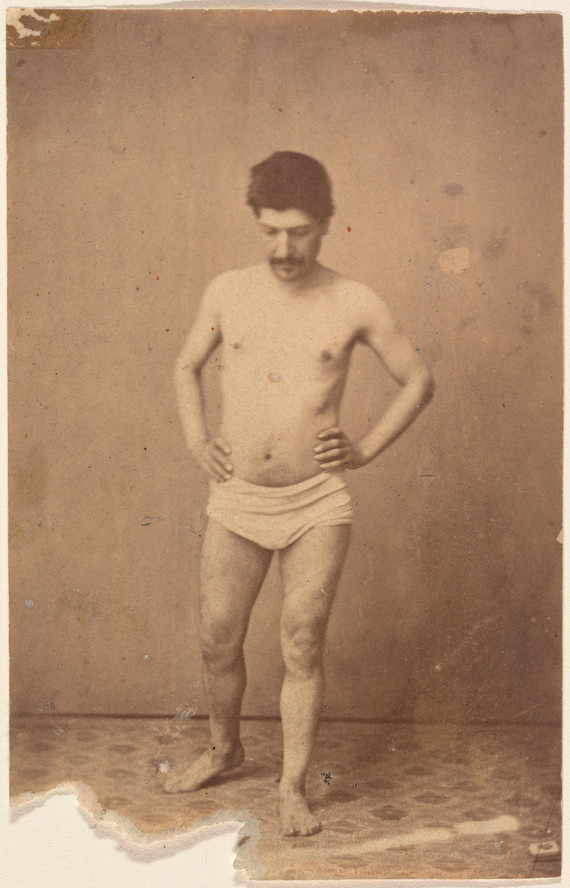 Unknown photographer. Standing Model. c. 1885
AT: As much as the impact of photography could be seen in works in which you can observe the connection to photography, that influence of photography can be equally ascribed to works that became so radical because the artists knew that they didn't have to do the job of recording their world any longer.
 
JH: We kept coming back to this idea of a transformation in vision. So, if you think about the 19th century as this moment of rapid industrialization, with new forms of communication and transportation, new kinds of illumination—it's a moment in which so much is happening.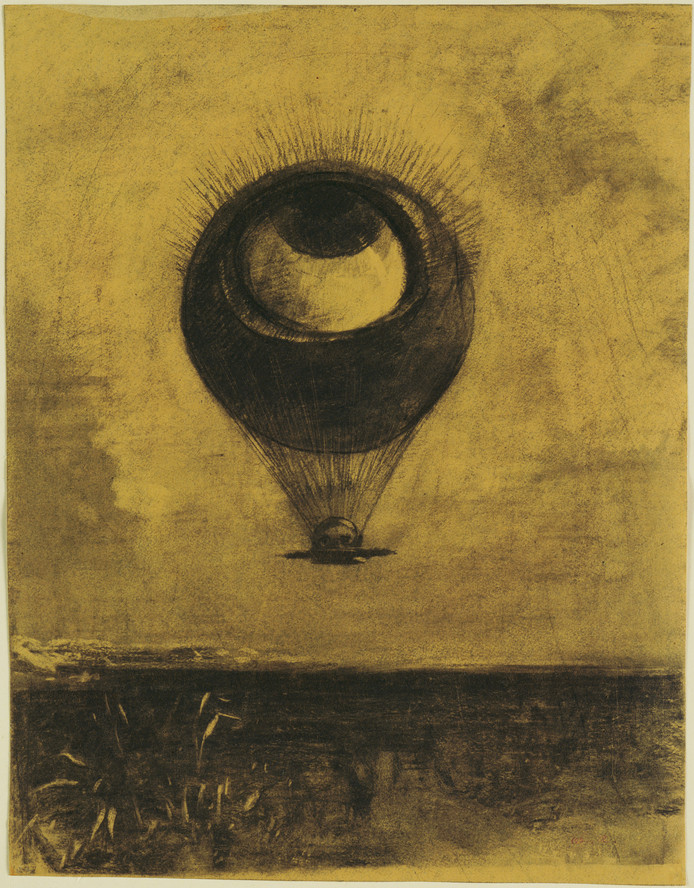 Odilon Redon. Eye-Balloon (Œil-ballon). 1878
We think about the changes in our own time, and we can make a connection to what was happening then. And so, artists are trying to figure out how can you make an image under those conditions? How do you capture electric light when you've only experienced illumination by candle? Or how do you capture movement if you grew up moving at the speed of a horse and all of a sudden can move at the speed of a train? What does it mean to see?
One of the things that I like to point out, because it's a personal favorite of mine, is [Odilon] Redon's Eye Balloon, which is right at the beginning of the gallery. If there was going to be an emblem in this gallery for me, that's it, because it's this eyeball that's completely unmoored from the body. It's floating up above a landscape. It seems to be an emblem of that kind of new vision, and an anticipation of what you're going to see when you see film in the next gallery, because that, of course, takes you places that you only go with your eye. You couldn't perhaps travel across the world but all of a sudden cinema and photography gave you access.
From left: Vincent van Gogh's The Starry Night (1889) and Henri Rousseau's The Sleeping Gypsy (1897)
AT: We haven't mentioned The Starry Night yet. It had to be positioned in such a way as to accommodate quite a bit of visitor traffic in front of it. It was clear that it should be on that back wall.
We knew it had to be very generously spaced so that there would be just one thing next to it. And we were in the conservation lab one day where both Starry Night and Sleeping Gypsy were being cleaned, both for the first time in many years (of course, because they always needed to be on view!). And it was just an instant, automatic, "Oh, that's our wall," because they looked so amazingly resonant together, starting with the very obvious fact of the two moons in the upper right and the deep blue skies. These two paintings share the imaginary force that pervaded the work of these two fin-de-siècle artists, who didn't know each other. I think this pairing suggests something about the entire plan of the Museum right now, that there's a bit more of an emphasis on psychology or states of mind and narrative than on formal concerns.
JH: I love that you brought that up. I think there's the kind of exterior vision that you get with someone like Cézanne, who's looking so closely at the world. He's in front of the landscape, or he's working with a model and he's looking very precisely outward, whereas with a whole host of artists, including [Vincent] van Gogh, or, here in this room, [Edvard] Munch or [Paul] Gauguin, there's a kind of envisioning, or a looking inward.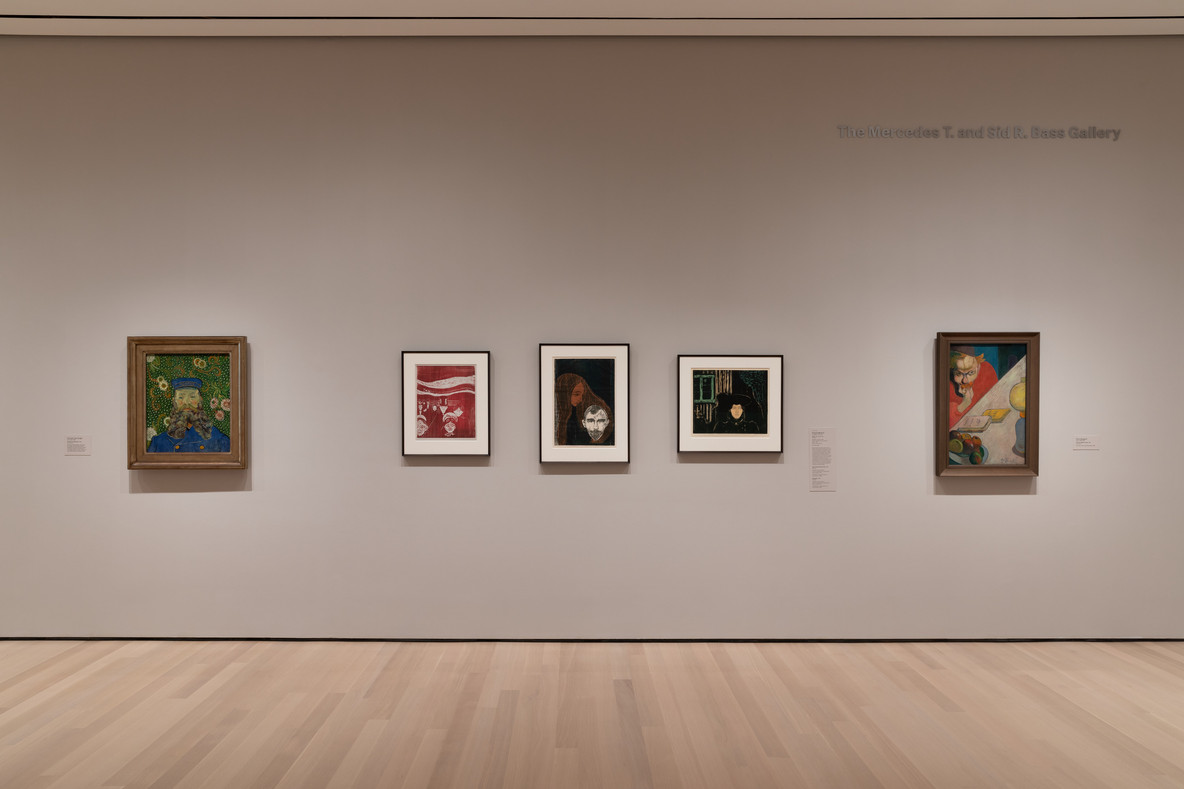 From left: Vincent van Gogh's Portrait of Joseph Roulin (1889); Edvard Munch's Angst (1896, signed 1897), Man's Head in Woman's Hair (Mannshode i Kvinnehår) (1896), and Moonlight I (Måneskinn I) (1896); and Paul Gauguin's Portrait of Meijer de Haan (1889)
The idea of interiority is something that we really wanted to emphasize on the left-hand wall as you walk in. I think, especially in the group that includes Van Gogh's The Postman, the Munch prints, and Gauguin's Portrait of Meijer de Haan, because you get all of these mask-like faces looking out at you. And you have the sense that there's something going on internally in the unconscious, and this kind of anxiety.
That's what really drew me to those Munch prints—his deep sense of anxiety that was so end-of-the-19th-century but also so contemporary. For rooms that deal with historical material, it's so important to figure out ways to connect with the present. That's the challenge, right, to keep it as radical and transformative as it was in the 1890s?
For rooms that deal with historical material, it's so important to figure out ways to connect with the present.
Jodi Hauptman
AT: If you walk in the doorway and don't happen to look straight ahead, what your eye is first drawn to is the wall on the right with the [Édouard] Vuillard and the two Mary Cassatts.
Those two prints by Cassatt have been in our collection since 1940, but they haven't been on view in more than 20 years. And, of course, in previous hangings, they would've been shown with works from the print department in the print gallery. And because we have no paintings by Cassatt, she would not have been visible in what was then the primary circuit of paintings and sculptures.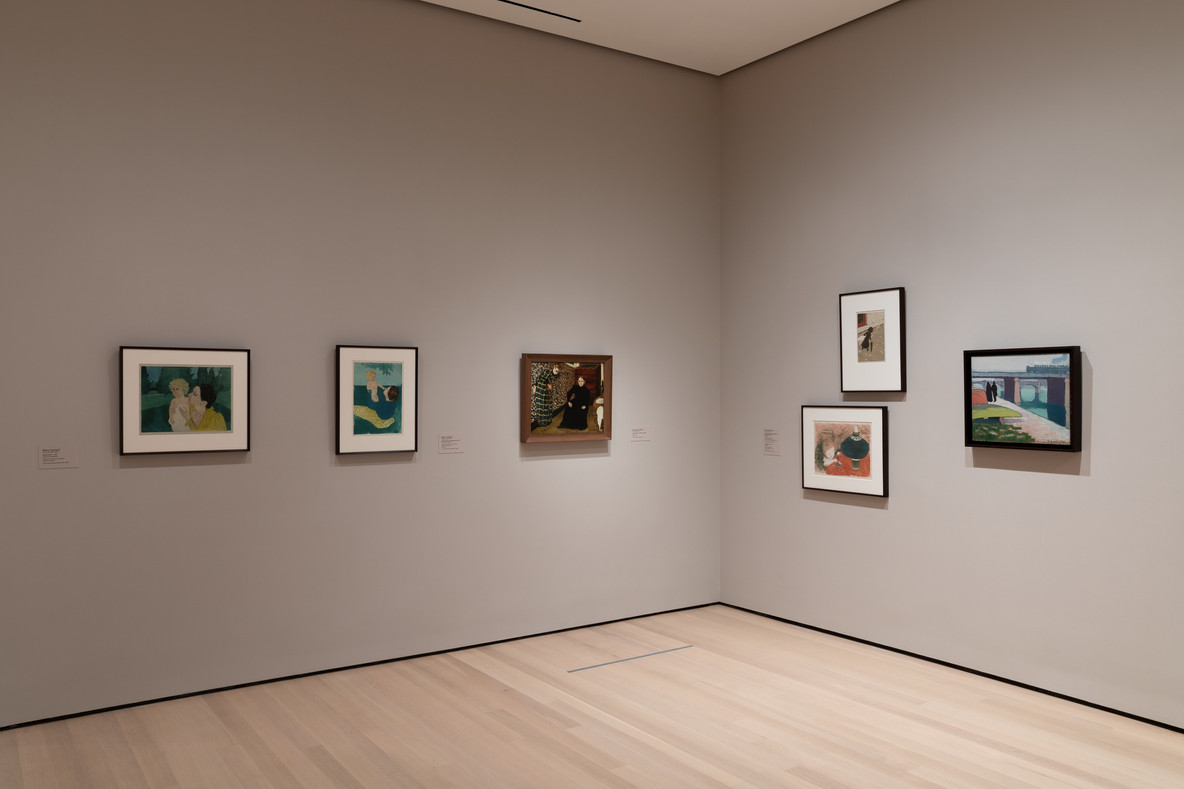 From left: Mary Cassatt's By the Pond (c. 1898) and Under the Horse-Chestnut Tree (1896–97); Édouard Vuillard's Interior, Mother and Sister of the Artist (1893); Pierre Bonnard's Child with Lamp (L'enfant à la lampe) (c. 1897) and The Little Laundry Girl (La petite blanchisseuse) (1896); and Émile Bernard's Iron Bridges at Asnières (1887)
And our early decision—and exhilaration—to show those two prints led to this whole grouping of six works, which focused on late-19th-century domestic life. And putting those artists together, also with an Émile Bernard landscape in which you see a train on a bridge (getting you ready for the subway in the film in the next gallery), opened our eyes to this whole corner of art history.
JH: And the intimate nature of the two Cassatts, each depicting a mother and child. And then, there's the kind of decorative and patterning aspect that each of those artists were especially interested in. It's a hint of what you're going to see when you get to the Florine Stettheimer room later on. There is a through line about decoration.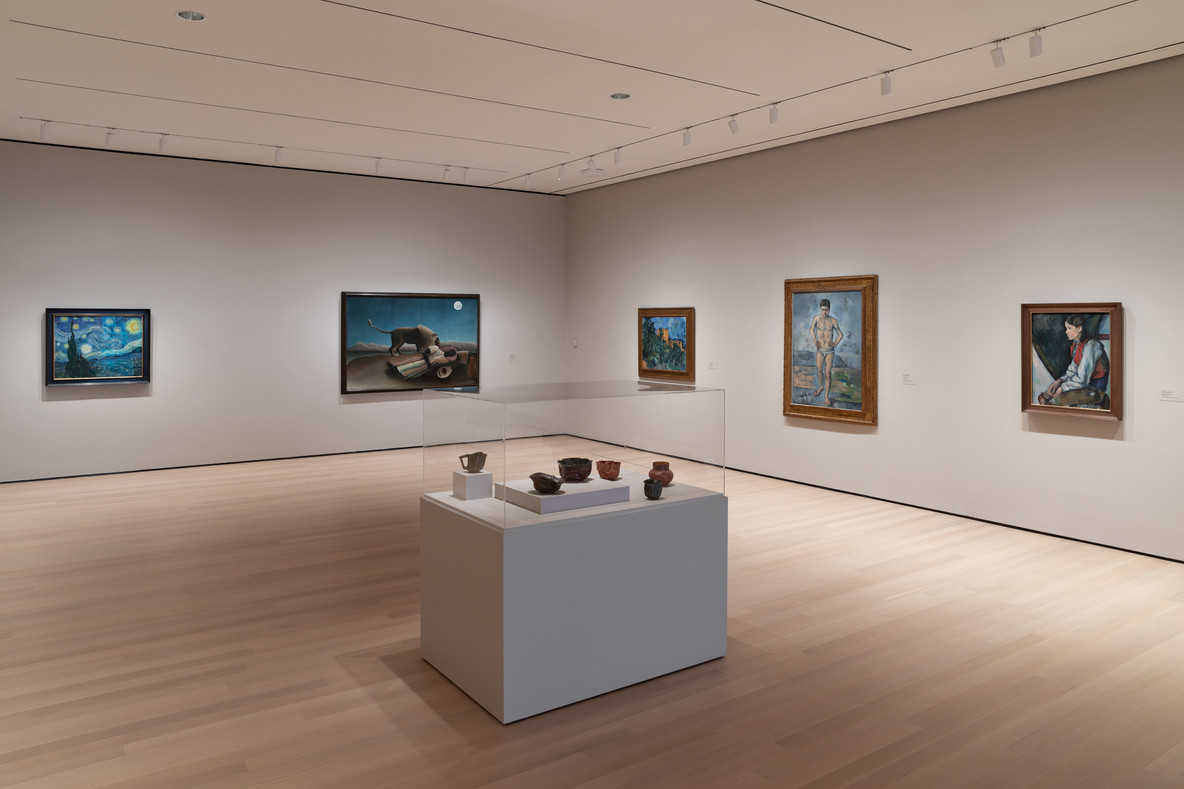 A gallery view with George Ohr's early-1900s ceramics in the foreground
AT: We also realized that it would be important to indicate for ourselves and for our visitors, as you were standing at this beginning point, that every department in the Museum is represented. This gallery is such a microcosm of what's going to happen over the rest of these tens of thousands of square feet of gallery space.
Architecture and design hadn't generally been incorporated with displays of this work. Working together with our colleague Juliet Kinchin from the Department of Architecture and Design, we made a short list of the designers for whom we could do a really great circa-1900 monograph, and George Ohr was such an obvious choice.
This gallery is such a microcosm of what's going to happen over the rest of these tens of thousands of square feet of gallery space.
Ann Temkin
A George Ohr glazed-earthenware bowl, c. 1900
If you look at those glazes, which he was just spectacular in achieving, you have these colors you can't even name. But that palette actually comes very close to what you see in these paintings, say, by Cézanne and Rousseau.
JH: As soon as the art handlers started unpacking them, everyone was amazed: "Ooh, look at that."
AT: And, obviously, there's the resonance of Ohr being the self-taught isolate, which modern art history has valued from the beginning.
JH: Or modern artists themselves, such as Gauguin, try to model that life of isolation.
AT: And then there's Ohr's fearlessness. He freed himself from traditional questions like, "What did a real bowl look like?" or, "How could you really pour something from a certain shape of pitcher?" Instead he let his imagination run free. That's very akin to the freedom, I think, that modern art as a whole was looking for.
JH: Right, these are defying the convention of a ceramic or a pot in some way, in a similar way that the other artists in this room are defying conventions of paintings, or print, or drawing.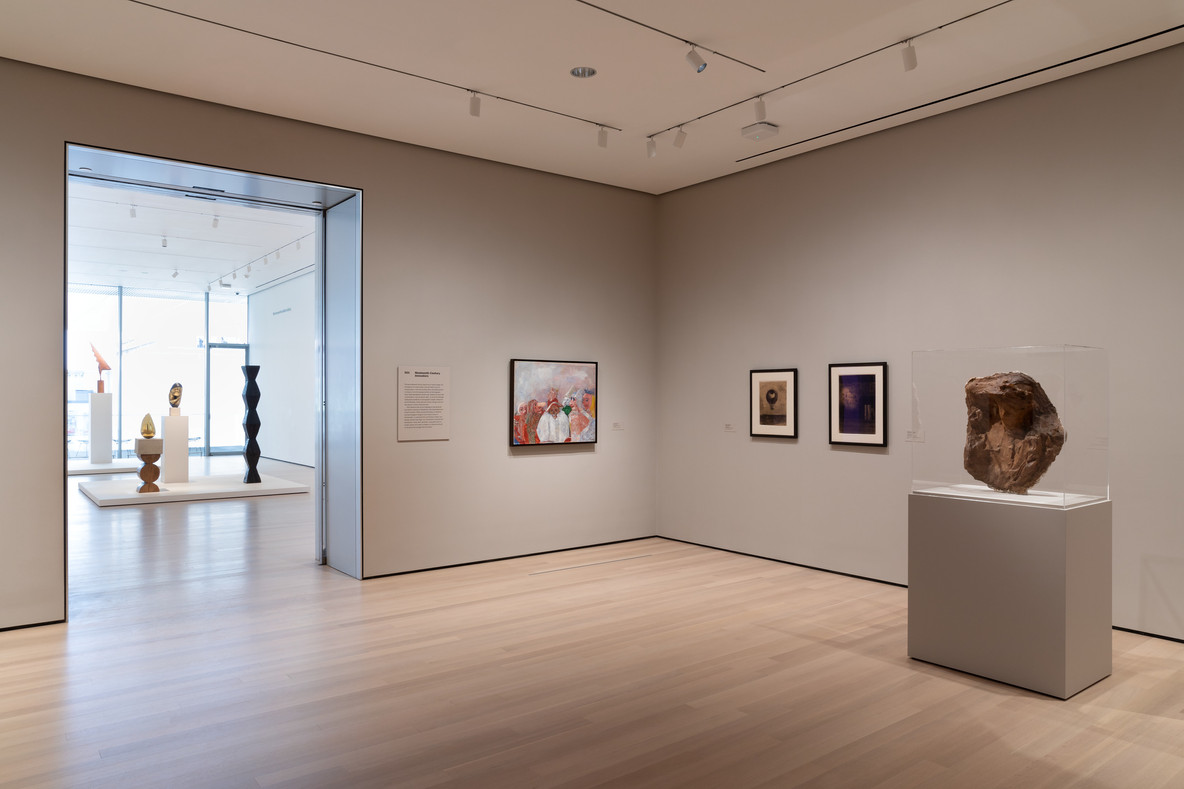 A gallery wall in Farrow & Ball's Elephant's Breath gray
Another important thing to mention is how the collection continues to grow. The [Medardo] Rosso is an example of a new acquisition, which all of the galleries are filled with.
The Rosso is a promised gift to us from one of our trustees, Emily Pulitzer. Woman with a Veil represents such an interesting blend between the dreamy interiority we were talking about and the new ways of representing vision.
AT: Should we talk about the wall color? Our Farrow & Ball color is Elephant's Breath, which maybe doesn't sound so attractive. I think I can speak for us both in saying how delighted we were that Elephant's Breath seemed to allow the pigments in these paintings from the 1890s to really glow from the canvas and to define themselves in a very vibrant way.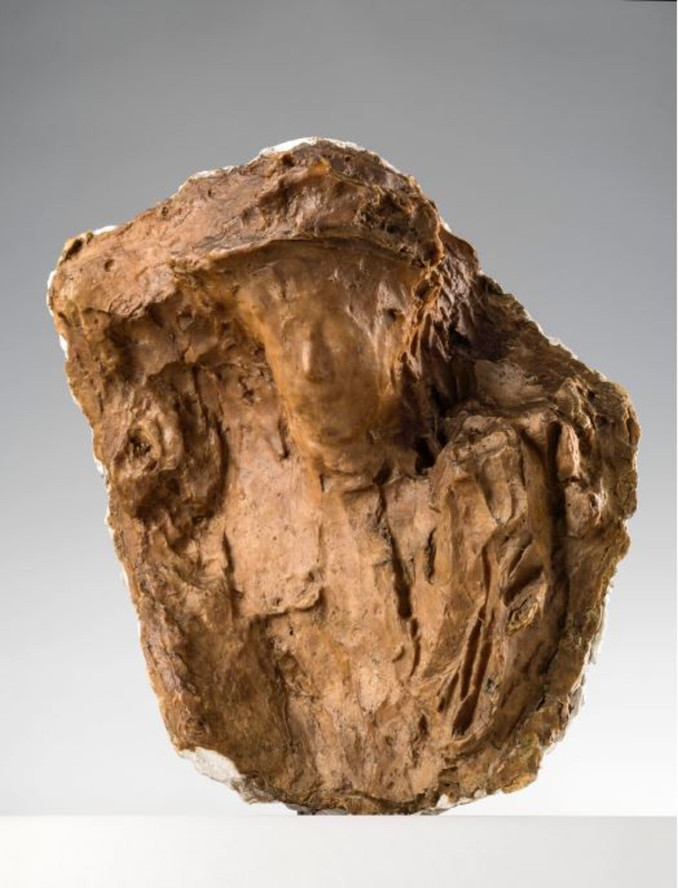 Medardo Rosso. Woman with a Veil. 1895
I think it is important to emphasize that as we install, no matter how many things we've worked out on paper or even on little three-dimensional models, the decisions are really made in the space. There is absolutely no way that you can work out a gallery on paper or on a model, and then say, "Oh, that's what it will be. Please hang it. I'll come back when it's done," because so much of our work is looking.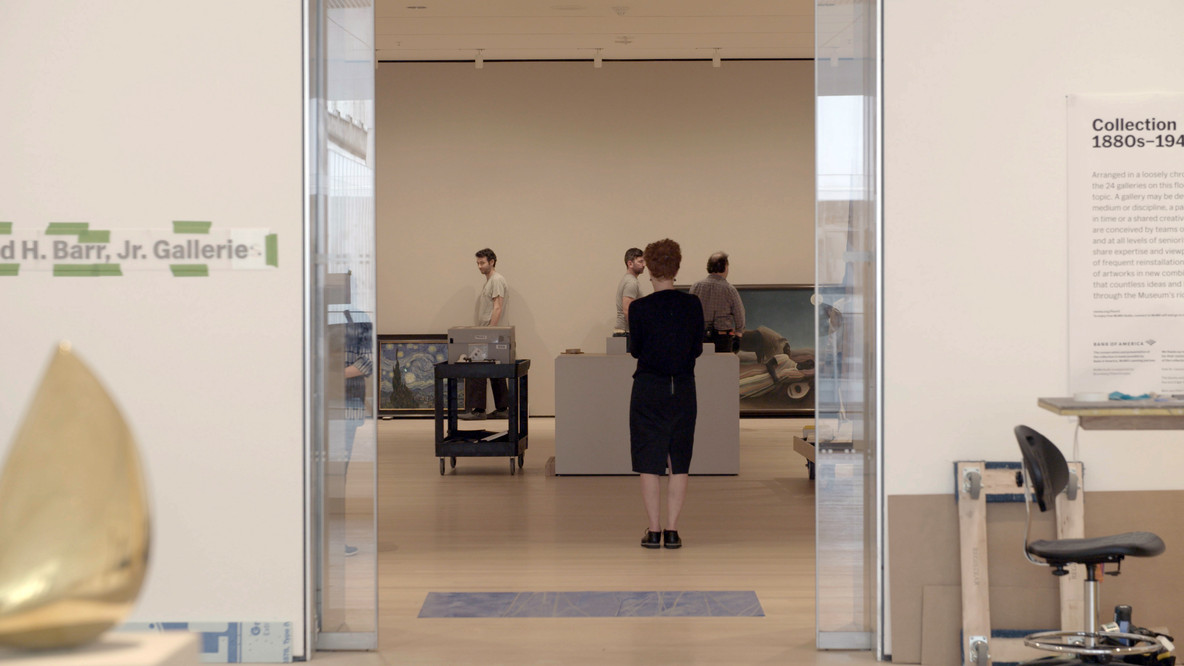 Installation: a work in progress
The decisions are really made in the space…because so much of our work is looking.
Ann Temkin
And I always use the word Iistening. I think you do, too, Jodi. Listening to what's happening with the works of art as they move around the walls and get tried in different spots. Because in the course of that situation they almost become animate creatures. And they're letting you know when they feel crowded, or when they feel on the wrong side, or when they feel unhappy with their neighbor. Would you agree with that?
JH: Yes, the works are telling you what to do. You know, it's concentrated work and you are looking so closely and you start to see things in the works that you might not have seen in the conservation lab, or in storage, or when you've seen them before in another gallery. That's the great privilege and fun of doing this—moving these works around and learning about and from them.