The 30th anniversary of the fall of the Berlin Wall offers a moment to reflect on art made in its wake.
Though 30 years have passed since the fall of the Berlin Wall, its traces can still be seen throughout the city—not only in the fragments preserved and scars on the streets, but in the way neighborhoods have grown and developed. And it has left questions in our collective psyche: What does Europe mean? What do borders contain, and what do they keep out?
After the end of World War II, four sectors of military occupation and administration divided the city, but its boundaries remained porous. The population of the East began to slip into the West; between 1945 and 1961, roughly two and a half million Germans fled this way. On the morning of August 13, 1961, the city was cleaved in two; the scenes were broadcast on television into homes across the globe. The first barrier—a tangle of barbed wire—grew into a 103-mile wall guarded by 300 watchtowers. The border was unmistakably a military line: more than 140 people died while trying to cross over. But it also defined ground zero for the confrontation between two Cold War ideological systems.
Germany—and its division—soon became a key subject for a younger generation of artists, many of whom had grown up in the East and now lived in the West as refugees. With keenly ironic eyes, they saw the fault lines in the conflict of Cold War ideologies. One of them, Sigmar Polke, reflected, "When I first came to the West I saw many, many things for the first time. But I also saw the prosperity of the West critically."
This anniversary offers a moment to reflect on art made in the wake of the Berlin Wall.
All images are from the collection of The Museum of Modern Art, unless otherwise noted.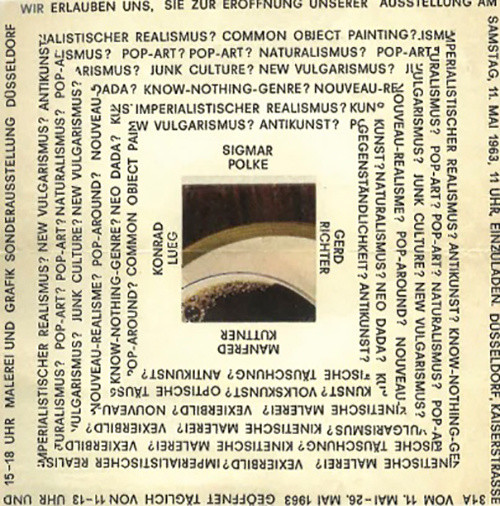 Gerhard Richter, Konrad Lueg, Manfred Kuttner, Sigmar Polke. Invitation to an exhibition at Kaiserstasse 31A, Düsseldorf. 1963
Artists Gerhard Richter, Konrad Lueg, Manfred Kuttner, and Sigmar Polke joined forces in 1962, issuing an invitation to the first showing of German Pop Art, which they elaborated as "Junk Culture, Imperialist or Capitalist Realism." The name drew an analogy to the socialist realism that framed the visual vocabulary of the GDR, where Richter, Kuttner and Polke had first trained as artists. But whereas socialist realism presents the myths of Communism in image form, capitalist realism and its synonyms suggested an ironic view.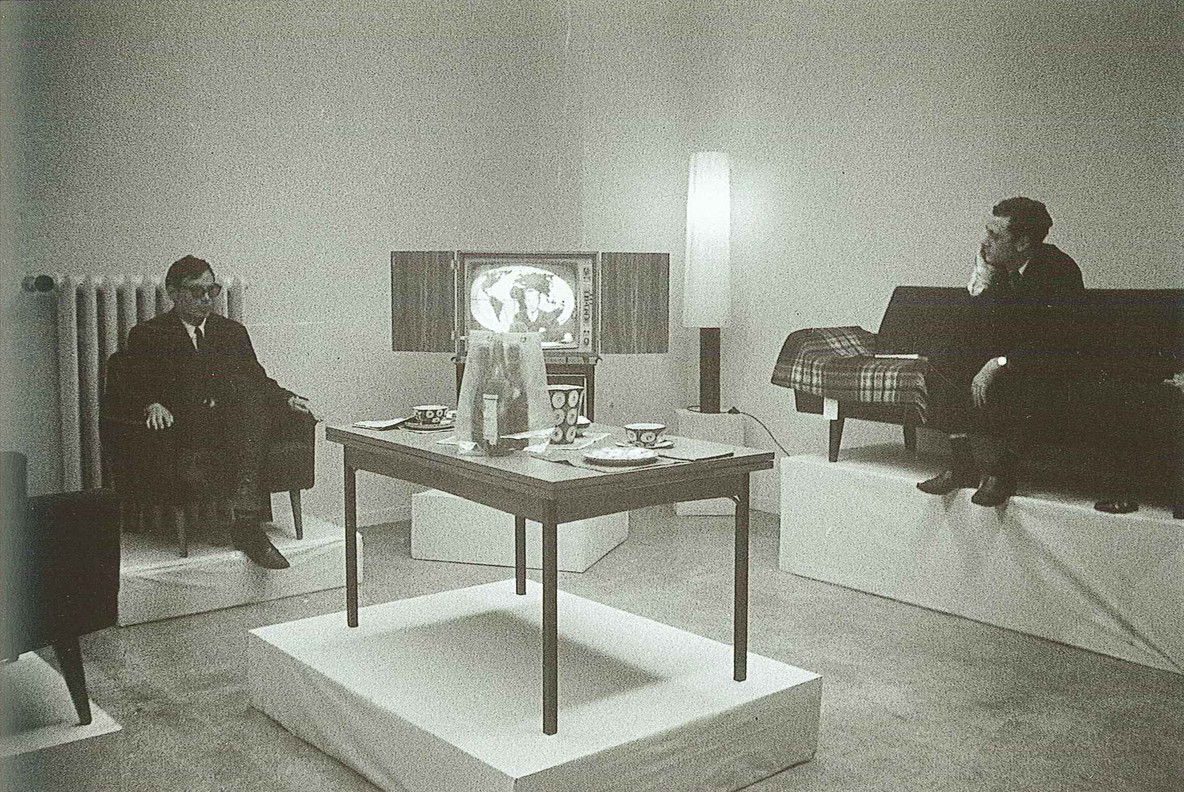 Gerhard Richter with Konrad Lueg. Living with Pop: A Demonstration for Capitalist Realism. 1963
Gerhard Richter and Konrad Lueg organized an exhibition in a Dusseldorf furniture store, showcasing the banality of contemporary living environments. They installed themselves, dressed in suits and ties, on furniture placed on pedestals; the odor of pine-scented air freshener filled the room. Richter read a paperback mystery. Life-sized sculptures of art dealer Alfred Schmela and John F. Kennedy—two deities of capitalism—were the other inhabitants.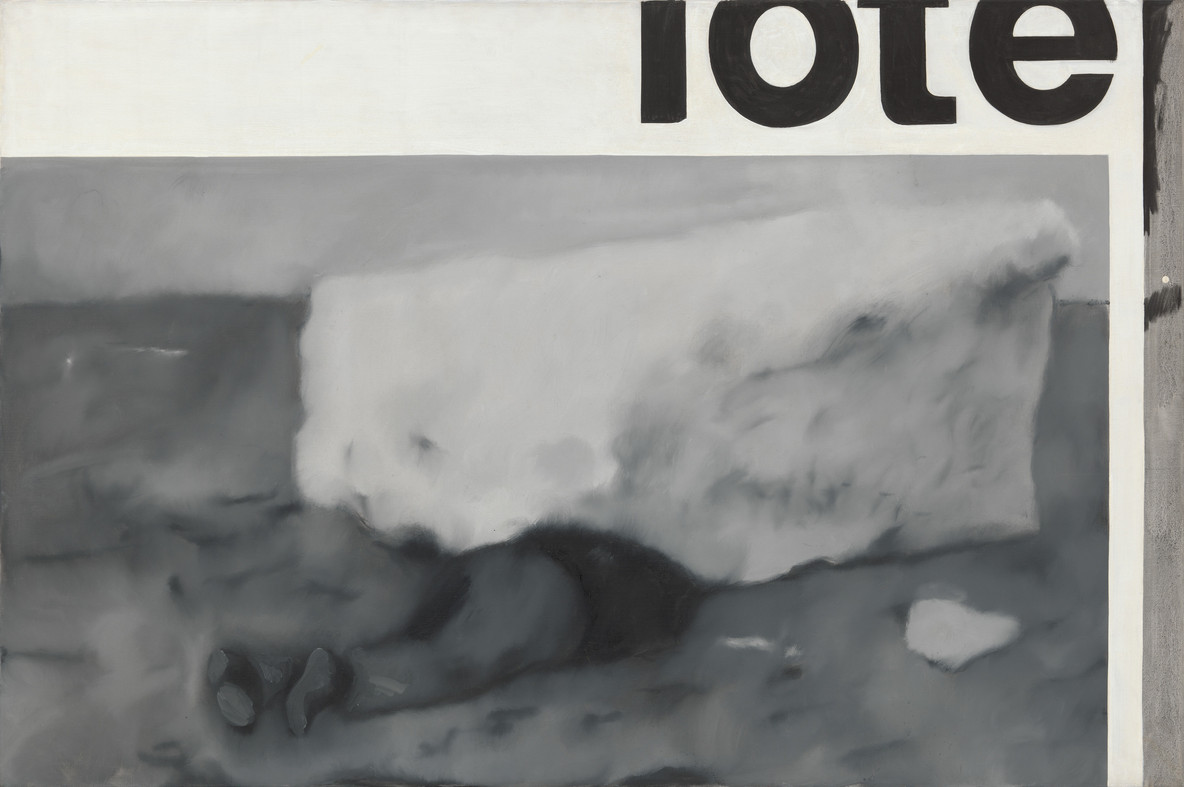 Gerhard Richter. Dead. 1963
Gerhard Richter, while still living on refugee assistance, began making paintings based on photographs in 1962. This, one of his earliest, was first shown in the Living with Pop furniture-store exhibition organized with Konrad Lueg. He based it on a photograph of a shipwreck he had found in a magazine. Richter's rendering of it appears as a man felled by an iceberg with no apparent explanation. A slice of the word "Tote" (German for "dead") appears above it. In an era in which much art trumpeted ideals of individual liberty and collective plentitude, here dead is dead, that's all.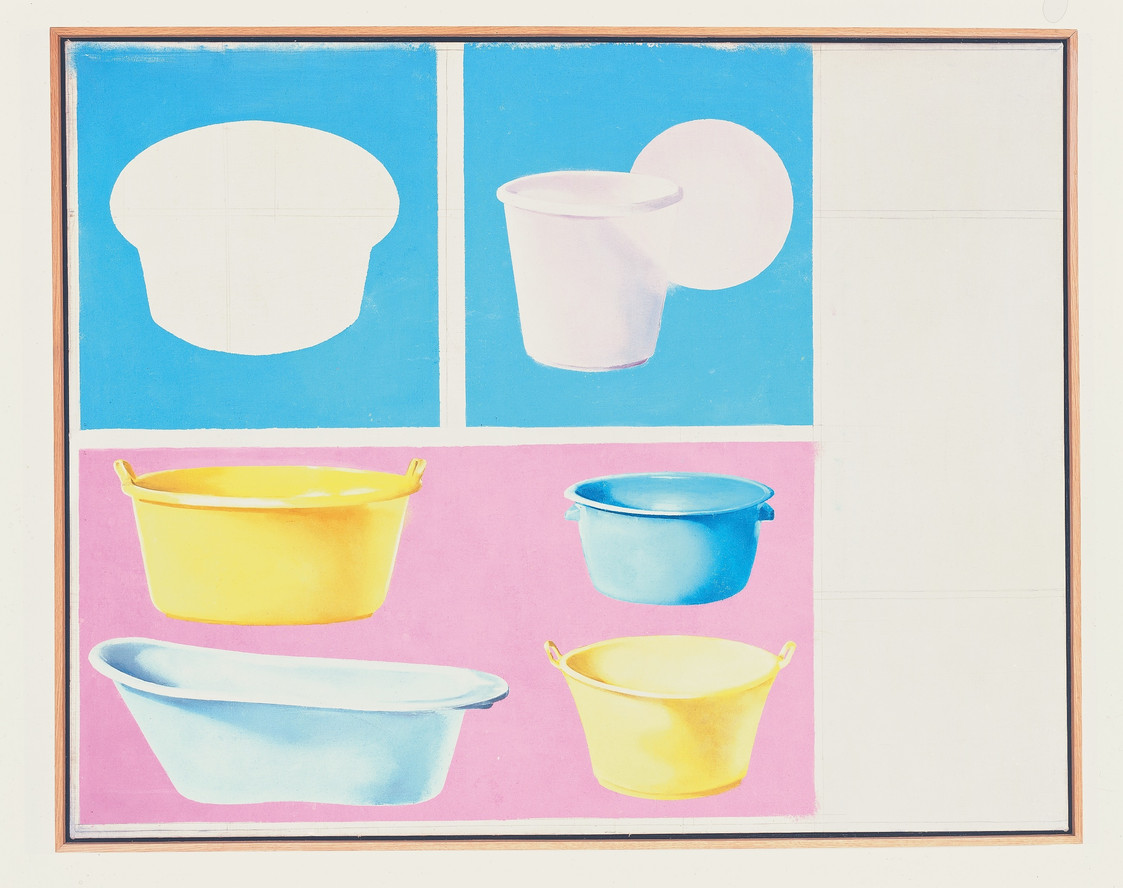 Sigmar Polke. Plastic Tubs. 1964
Here Sigmar Polke paints shiny, brightly colored plastic tubs, the kind stacked by the dozen in housewares stores, their bright appeal contrasting with the kind of daily tasks they are used for. It's hard to imagine a more commonplace subject or way of painting: likely based on an advertising image, the paint is applied in a way that says nothing about its maker. But almost in recognition of the image's tedious banality, Polke stops painting; he leaves the upper vessels in incomplete outline.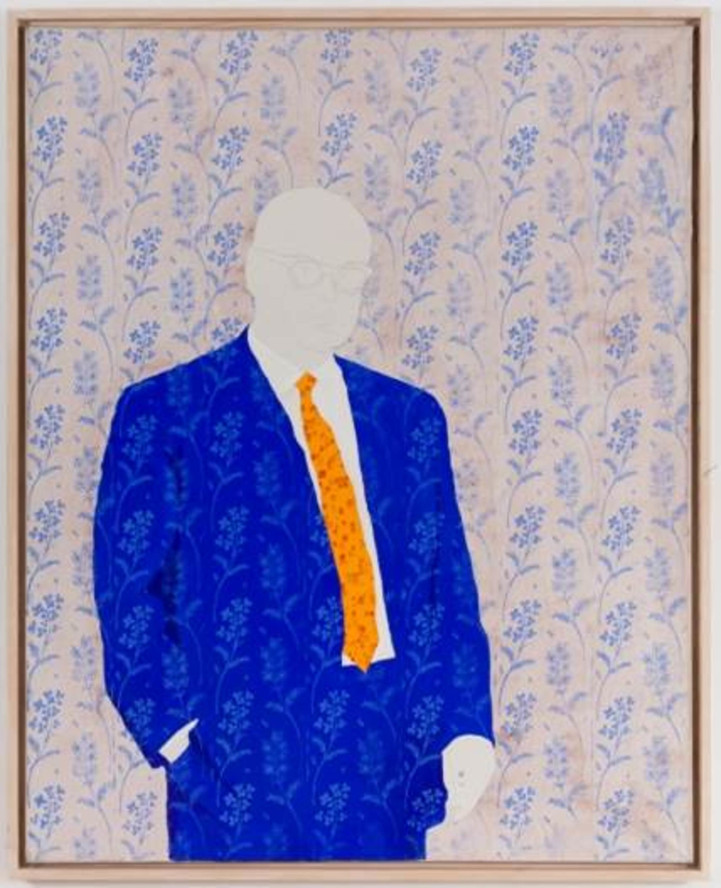 Konrad Lueg. Untitled (Uncle) [Ohne Title (Onkel)]. 1965
The subject is the artist's uncle, Hans-Georg Fischer, an important figure in Lueg's childhood, when his own father was largely absent. The bald, besuited, and faceless veteran may stand in for a generation of fathers implicated and entangled in Germany's Nazi legacy, which occupied many artists of Lueg's generation. (Lueg took his mother's maiden name.) Here Lueg overlaid a blue wallpaper pattern over the figure, merging it with its setting, a kind of camouflage within the home.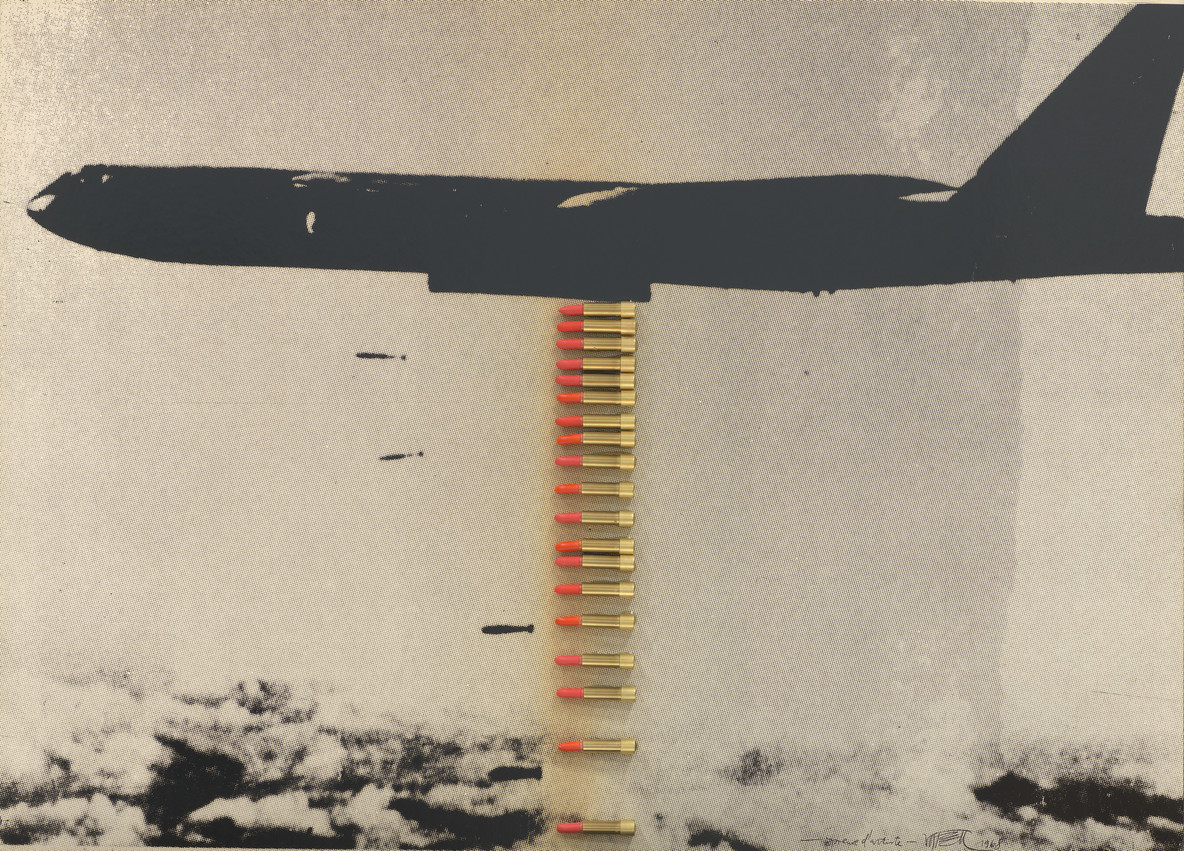 Wolf Vostell. B 52 Lipstick Bomber. 1968
Wolf Vostell used a widely circulated photograph of a Boeing B-52, built to carry nuclear weapons for Cold War–era deterrence missions, and also used in the escalating Vietnam conflict. Such an image surely resonated with Vostell, who as a teenager had witnessed Allied bombings in Wupperthal and in the Ruhr. But here instead of bombs, the plane drops lipstick tubes, pointing to the consumerist fallout of capitalism in a way that either eroticizes munitions, or militarizes commodities.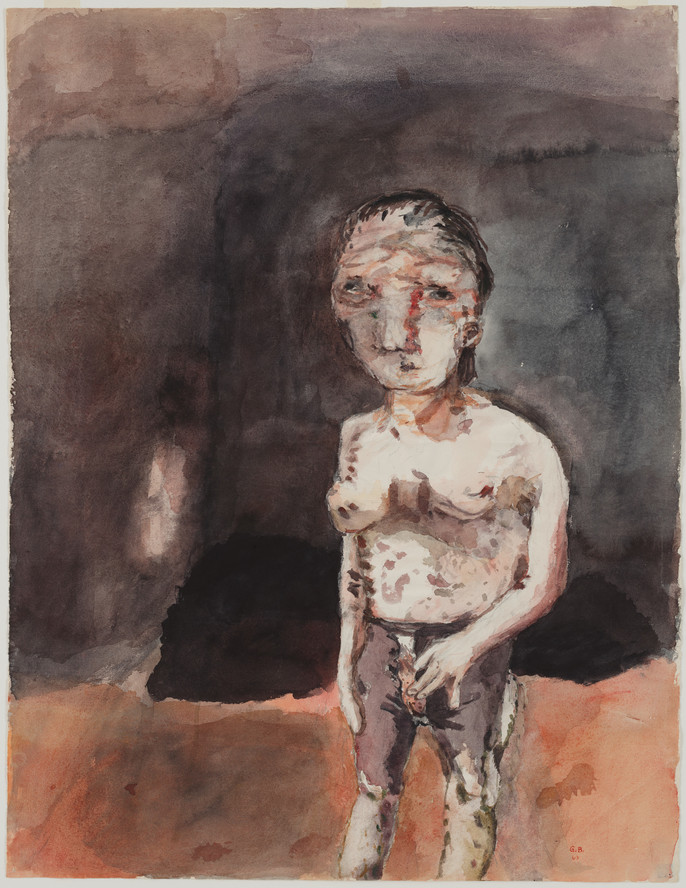 *Georg Baselitz. Big Night Down the Drain. 1963
Georg Baselitz was expelled from his East German art school for "political immaturity," and ended up in the West. This watercolor, shown in his first solo show, depicts a figure of indeterminate age, perhaps a self-portrait, with the brown shorts of the Hitler Youth now in tatters. No longer an avatar of healthy, youthful masculinity, a leader of the future, Baselitz's figure seems lost within a dark and ruined landscape and is instead malformed, bulbous, and scabrous, with a hole where his penis should be. (Baselitz said the inspiration was an article he read about the Irish playwright Brendan Behan, who once gave a public reading with his fly open and genitals out.)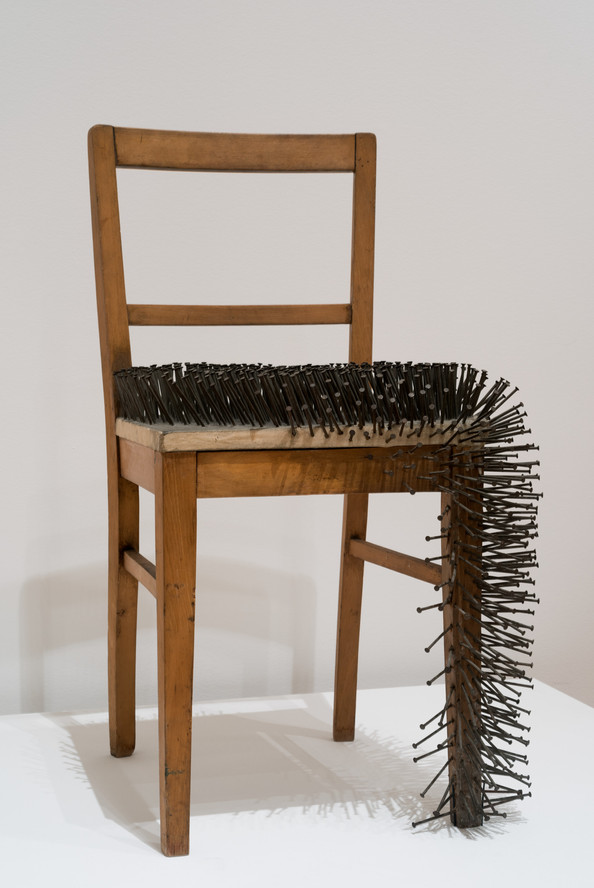 Gunther Uecker. Chair II. 1963
From late 1950s, Gunther Uecker began repetitively hammering nails into ordinary objects. The action emphasized the idea of painting as a thing made, an object like any other. But at the same time, the accumulation of nails covers the seat of a chair, and spills down a leg, turning it from a comfortable support into a menacing object—a suggestion of violence lurking within the home.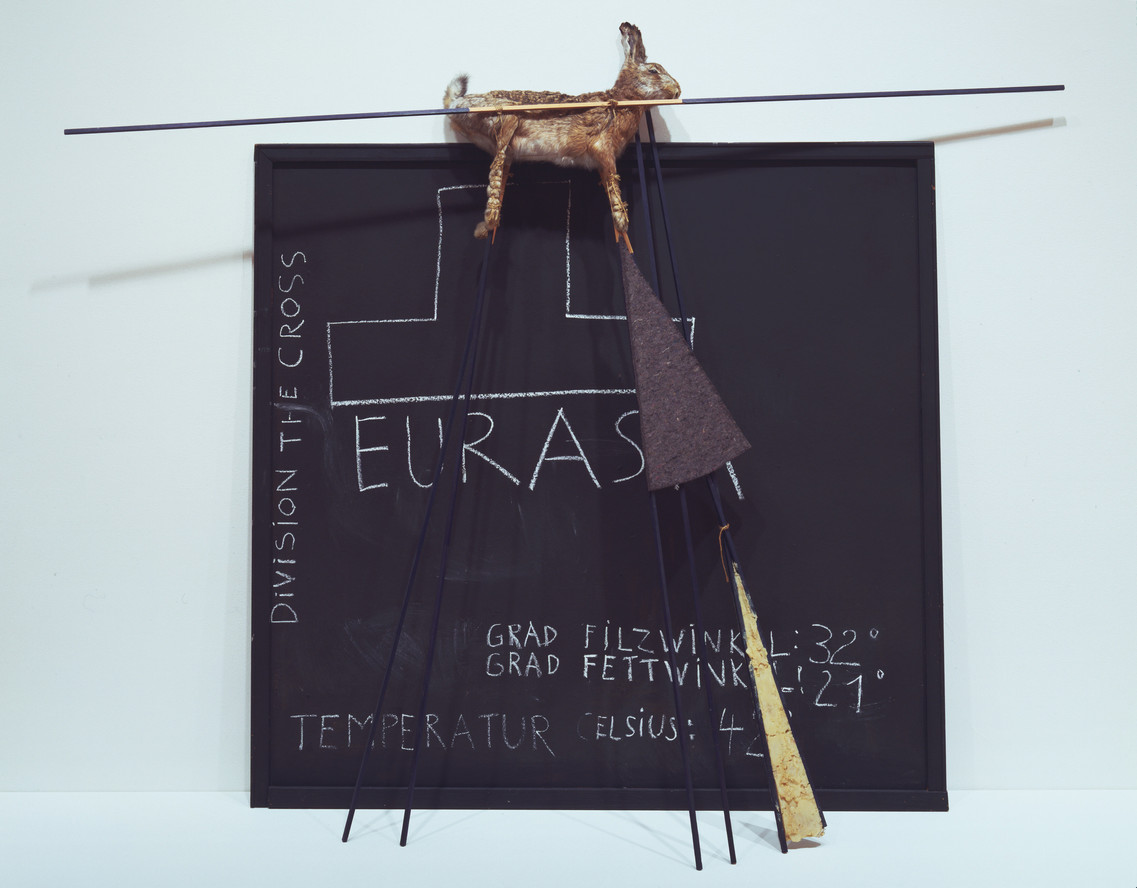 Joseph Beuys. Eurasia Siberian Symphony 1963. 1966
This assemblage, of a dead hare on sticks combined with a blackboard with chalk markings, originated from one of Joseph Beuys's early performances or "actions." The theme of Eurasia—the split between Europe and Asia, and Eastern and Western ways of thinking—preoccupied Beuys's work and teaching, and takes the Wall's concrete division into a mythic sphere.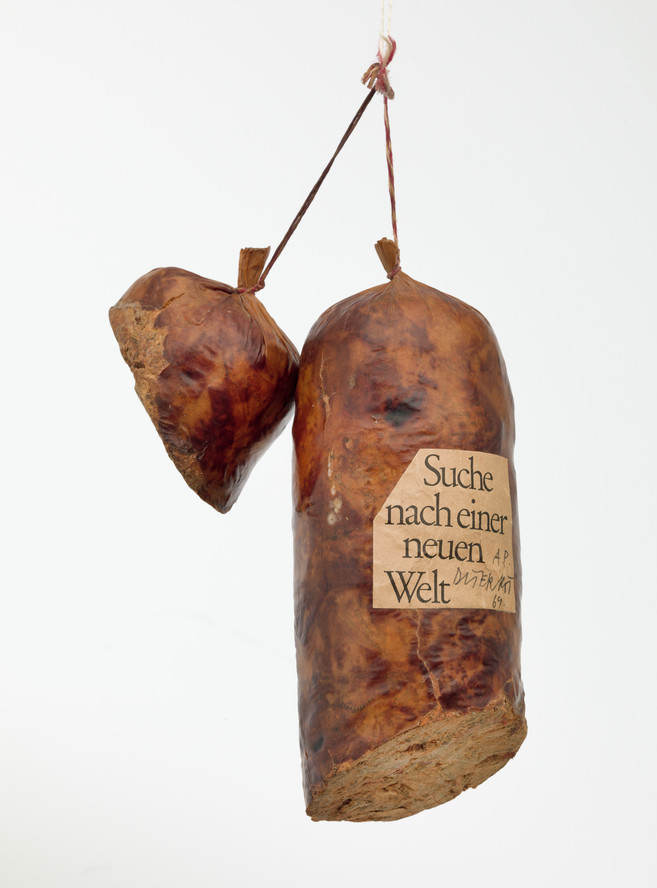 Dieter Roth. Literature Sausage (Literaturwurst). 1969
Each of Dieter Roth's sausages is made from a traditional recipe, but instead of minced meat, the finely chopped pages of a book are stuffed into the casing. Here, it is the German edition of Robert F. Kennedy's volume of essays To Seek a Newer World, which Roth incorporated into the work a year after the US senator's assassination. Words, knowledge, and ideology, Roth suggests, are consumed as much with the body as the mind.
Franz Erhard Walther. First Workset (1. Werksatz). 1963–69
Each of Walther's Werksatz contains 58 pieces of cut and sewn fabric, which are activated when users make use of them—unrolling them, stepping onto them, wearing them. Some bind users together in a kind of micro-community of dependent action. Others rebuff interaction. Put to use, these modest pieces of cloth distill the structures of the social world—the forms that bind us together or keep us apart.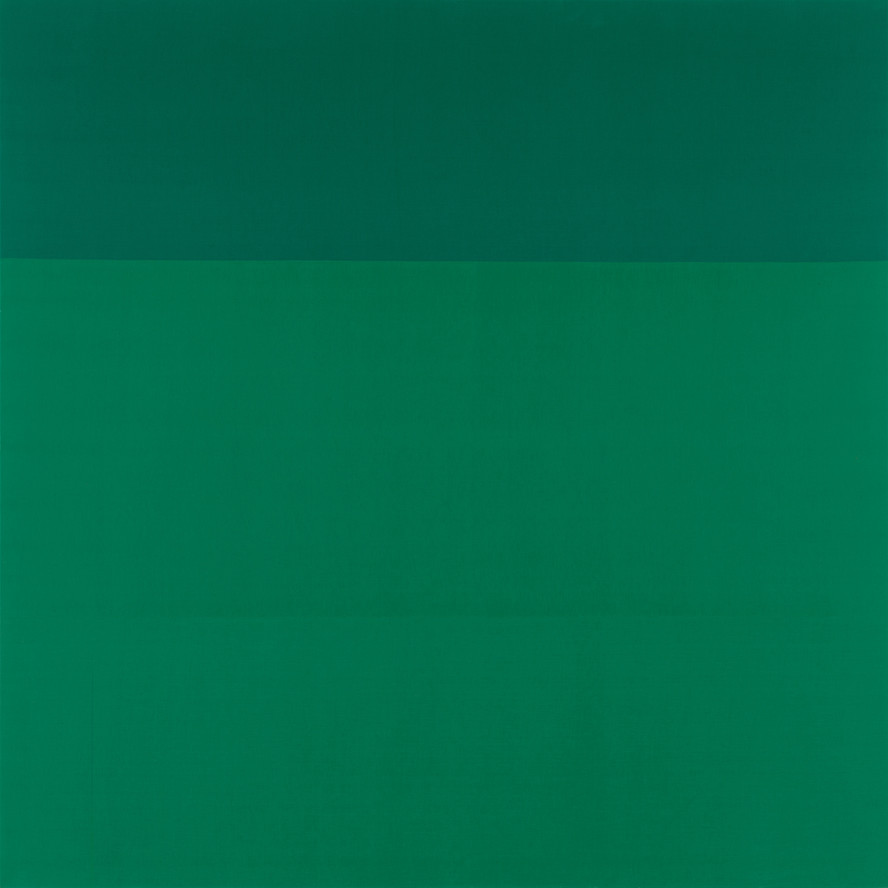 Blinky Palermo. Untitled. 1970
Blinky Palermo fled East Germany to become the star student of the most charismatic teacher at Dusseldorf's Art Academy, Joseph Beuys. Like Beuys, Palermo used found materials, but the ones he chose seemed stripped of any symbolic resonance. Beginning in 1966, he made monochromes out of ordinary store-bought fabric in whatever colors were fashionable and available, sewing lengths together by machine and stretching them over a frame. From this most banal stuff—the basic material of West Germany's economic miracle—he created pure color masses, simple declarations of goods as art.