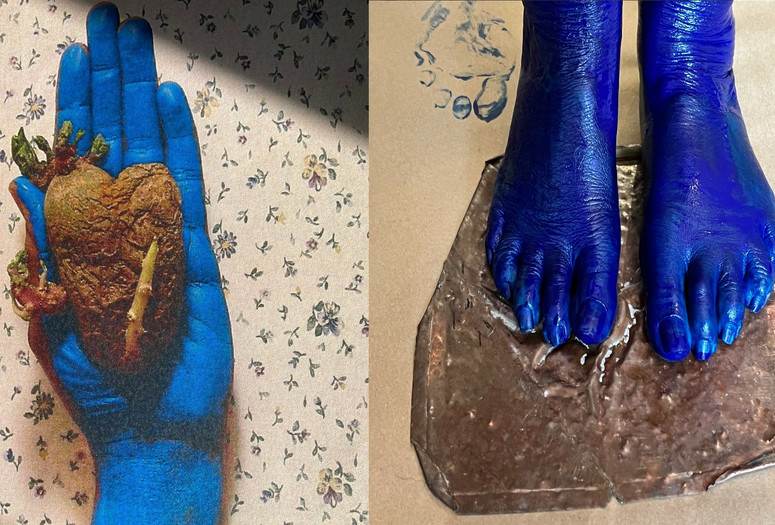 Tying & Un-Tying is a performance via livestream and film by collaborators Senga Nengudi Fittz and Kaylynn Sullivan TwoTrees. For over 40 years, the two artists have been mapping and excavating "Bulemia," a virtual country connected to a world larger than ourselves through Being in Oneness, conceived by artist Charles Abramson with a community of other creatives in the 1980s. Organized as a sensory investigation, Tying & Un-Tying aims to "get to the juice."
Senga Nengudi Fittz was born in Chicago, raised in Los Angeles, and spent a pivotal year in Tokyo. Since 1990 she has lived in Colorado. Her works question our relationship to the universe and each other (our messy selves). What's love got to do with it? What does touchy fee-lie have to do with it? Ever excavating the sensuality of all things, Senga's work invites viewers to become participating fellow explorers discovering/uncovering unknown-ness.
Kaylynn Sullivan TwoTrees was born at the crossroads of African, Native American, and European identities and cultures. She was raised in the Midwest and lived in New York, New Mexico, California, England, and Germany. Her nomadic life of contrasts and intersections inspires her expressions of an intimate relationship with nature as an unmediated connection with the sacred. Her spatial and sensory installations, performances, and artist's books seek to evoke/invoke/provoke human embedded connective memory and links to our cosmic ancestry. She currently lives in Vermont.
Tying & Un-Tying is a live performance and moving image program.
Double Think Bulemia
By Senga Nengudi Fittz
Bulemia concept: Charles Abramson, Senga Nengudi Fittz
Bulemia audio: Senga Nengudi Fittz
Bulemia film: Claire de Dobay Rifelj, Butcher Bird Studios
Path
Written by Kaylynn Sullivan TwoTrees
Performed by Senga Nengudi Fittz, Kaylynn Sullivan TwoTrees
Dramaturg: Omi Osun Joni L. Jones
Creative assistant: Rashmi Sathe
Production assistant: Nita Deb
Falling into Language: A Travelogue
By Kaylynn Sullivan TwoTrees
Film: Kaylynn Sullivan TwoTrees
Soundscape: Bindhumalini Narayanaswamy and selected viewers' voices
The artists would like to express thanks to Meghna Ghai Puri, Whistling Woods International, Institute of Film, Communication & Creative Arts, Mumbai, India, with a special acknowledgement to Riddhi Boghi, Sambit Mohanty, and Priyesh Kadne for their support of Path.
In conjunction with the exhibition Just Above Midtown: Changing Spaces, the JAM Performance Festival continues the path-making gallery's commitment to live art with new works by artists who performed at the downtown Manhattan gallery during the 1980s.
Throughout the final weeks of the exhibition three new projects bring forth JAM's spirit of improvisation, collaboration, and experimentation. Artist, vocalist, and dramatist Alva Rogers presents Topsy-Turvy;Vernon Reid, Greg Tate's Burnt Sugar the Arkestra Chamber, and special guests come together for a Lawrence D. "Butch" Morris Conduction ®, the late cornetist and composer's signature approach to structured improvisation; and Senga Nengudi Fittz and Kaylynn Sullivan TwoTrees, who have worked together for over forty years, premiere their latest collaboration, Tying & Un-Tying.



Media and Performance at MoMA is made possible by Hyundai Card Performance Series.

Major support is provided by MoMA's Wallis Annenberg Director's Fund for Innovation in Contemporary Art.

Generous funding is provided by the Lonti Ebers Endowment for Performance and the Sarah Arison Endowment Fund for Performance.