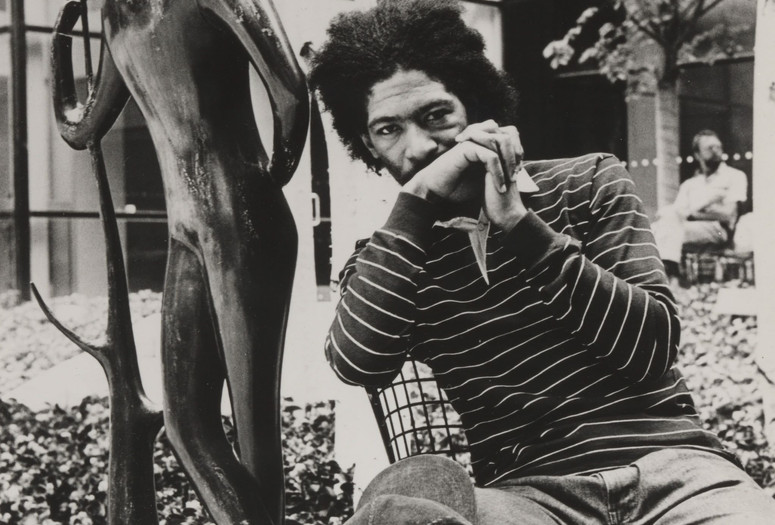 All visitors to the performances are required to remain masked.
On the occasion of the JAM Performance Festival, acclaimed artists and musicians come together to present a weekend of Lawrence D. "Butch" Morris's Conduction®, including Vernon Reid, collaborating musicians from Greg Tate's Burnt Sugar The Arkestra Chamber, rotating special guest soloists James Blood Ulmer and David A. Barnes, Beans and DJ Logic, and Brandee Younger, as well as live projections by Allison Costa. A cornetist, conductor, and composer, Morris developed Conduction® as a vocabulary of hand signs and baton gestures to direct a creative ensemble of any kind. Short for "conducted improvisation," the practice invokes the scientific term for the transfer of heat or energy, and is a means for people across disciplines to commune and create as they go.
Morris passed on the method to musicians and key collaborators at JAM, including Greg Tate and Vernon Reid. Tate was the founder of Burnt Sugar The Arkestra Chamber and a famed writer, musician, and cultural critic. Deftly moving between music and text, his creativity bridges written, musical, and visual disciplines, setting the tone for new generations of critics and artists alike to move across fields of inquiry. Each evening's "J.A.M. On It" Conduction® pays homage to Morris, Tate, and their play with two meanings of "jam": a sweet mixture and a form of improvisation.
Vernon Reid A British born American, Vernon Reid is a Grammy award-winning guitarist, composer, producer and visual artist. In the 1980s, he led the pioneering multi-platinum rock band Living Colour, and has collaborated with Carlos Santana, Defunkt, Janet Jackson, Salif Keita, and many others. Reid spent formative time at Just Above Midtown gallery, a hub of discovery and activism, where he gathered with other musicians, artists, and entrepreneurs to eventually form the Black Rock Coalition, dedicated to exposing anti-Black bias and racism in the music industry. It was through Linda Goode Bryant that Reid experienced an aesthetic awakening through exposure to many artists, especially the radical composer and musical theorist Lawrence D. "Butch" Morris. Reid leads Conduction® with Greg Tate's Burnt Sugar The Arkestra Chamber.
In 2023, Burnt Sugar The Arkestra Chamber (BSAC) celebrates more than two decades of "never playing anything the same way once." As always they give tribute to their sonic sensei, the maestro Lawrence "Butch" Morris (1947–2013), for showing them THE WAY of "Conducted" Improvisation. Founded by recently and dearly missed Village Voice icon Greg "Ionman" Tate (1957–2021) and co-led with Dayton Ohio's electric "Bubble" bassist Jared Michael Nickerson, BSAC is a sprawling band of musicians whose prodigious talent allows them to freely juggle a wide swath of the soul-jazz-hip-hop-experimental and avant-groidd spectrum.
Conduction and conception by Vernon Reid
Burnt Sugar the Arkestra Chamber: Shawn Banks, Lewis "Flip" Barnes, Lisala Beatty, Jason Tobias DiMatteo, Chris Eddleton, Leon Gruenbaum, Bruce Mack, Jared Michael Nickerson, Shelley Nicole, Ms. Olithea, LaFrae Sci, Dave "Smoota" Smith, V. Jeffrey Smith, Mazz Swift, Ben Tyree, and J.S. Williams.
Special guests: James Blood Ulmer and David A. Barnes (February 9), Beans and DJ Logic (February 10), Brandee Younger (February 11)
Projections: Allison Costa
BSAC/B.S.I. LLC Avant Groidd Global Business Administrant: Jared Michael Nickerson
The artist would like to thank Barnard College's Movement Lab and its director, Professor Gabri Christa.
In conjunction with the exhibition Just Above Midtown: Changing Spaces, the JAM Performance Festival continues the path-making gallery's commitment to live art with new works by artists who performed at the downtown Manhattan gallery during the 1980s.
Throughout the final weeks of the exhibition three new projects bring forth JAM's spirit of improvisation, collaboration, and experimentation. Artist, vocalist, and dramatist Alva Rogers presents Topsy-Turvy;Vernon Reid, Greg Tate's Burnt Sugar the Arkestra Chamber, and special guests come together for a Lawrence D. "Butch" Morris Conduction ®, the late cornetist and composer's signature approach to structured improvisation; and Senga Nengudi Fittz and Kaylynn Sullivan TwoTrees, who have worked together for over forty years, premiere their latest collaboration, Tying & Un-Tying.



Media and Performance at MoMA is made possible by Hyundai Card Performance Series.

Major support is provided by MoMA's Wallis Annenberg Director's Fund for Innovation in Contemporary Art.

Generous funding is provided by the Lonti Ebers Endowment for Performance and the Sarah Arison Endowment Fund for Performance.