GERMAN EXPRESSIONISM
Maps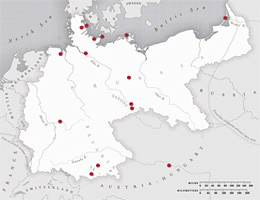 View maps »
Chronology
1909
Kandinsky paints first Improvisations
Heckel, Kirchner, and Pechstein work closely together at the Moritzburg ponds ...
Premiere of Kokoschka's one-act play Murderer, Hope of Women at the Gartentheater of the Internationale Kunstschau ...
View full chronology »
Artists

Emil Nolde
German, 1867–1956
Painter, printmaker, watercolorist. First trained as a woodcarver; later studied painting ...
View all featured artists »
If you are interested in reproducing images from The Museum of Modern Art web site, please visit the Image Permissions page (www.moma.org/permissions). For additional information about using content from MoMA.org, please visit About this Site (www.moma.org/site).
© Copyright 2016 The Museum of Modern Art