Mierle Laderman Ukeles on (Re)Imagining Freshkills Park
See how New York's largest landfill is being transformed into an urban oasis.
In 2001, the design office of James Corner Field Operations won the competition to transform Fresh Kills, New York's largest landfill, into a park. The project's first completed segment, which will allow the public access to this vast site, is scheduled to open later this year. Freshkills Park is one of 12 projects featured in the exhibition Architecture Now: New York, New Publics, on view at MoMA through July 29, 2023.
Among the materials included in the Freshkills Park display is a photograph of Mierle Laderman Ukeles's landmark Social Mirror, an artwork comprising a sanitation truck covered in mirrored panels. Having worked as the artist-in-residence at the Department of Sanitation in New York since 1977, a role she initiated, Ukeles is closely linked to the creation of Freshkills Park. We recently spoke to the artist about her long-standing relationship with this contested site and two of the numerous art projects she has proposed for it since 1989.
—Evangelos Kotsioris and Paula Vilaplana de Miguel
Mierle Laderman Ukeles: I discovered Fresh Kills in the late 1970s, while working on an art project titled Touch Sanitation, which involved visiting every single sanitation district in New York, shaking hands with each of the 8,500 workers, and saying to each, "Thank you for keeping New York City alive." Between 1979 and '80, I was going to Staten Island often. I had been to all of the other landfills in the city. But when I went to Fresh Kills for the first time, I was stunned. The all-night unloading operation was remarkable: a continuous flow of garbage.
There were seven operating landfills at the time, and by 1985, the State Department of Environmental Conservation shut all of them down except for one in Queens, which was temporarily left open. After that was closed too, the only landfill that would receive waste—a big decision made by the city, because of its size—was Fresh Kills in Staten Island. Fresh Kills continued to operate until its closure in 2001. Following that, an exception had to be made for it to receive the debris of the World Trade Center. There were 300 people working 24 hours a day at Fresh Kills at that time. It was a very busy workplace with a constant stream of barges unloading waste 24/7, except for Christmas Day—only one day off a year, that's it!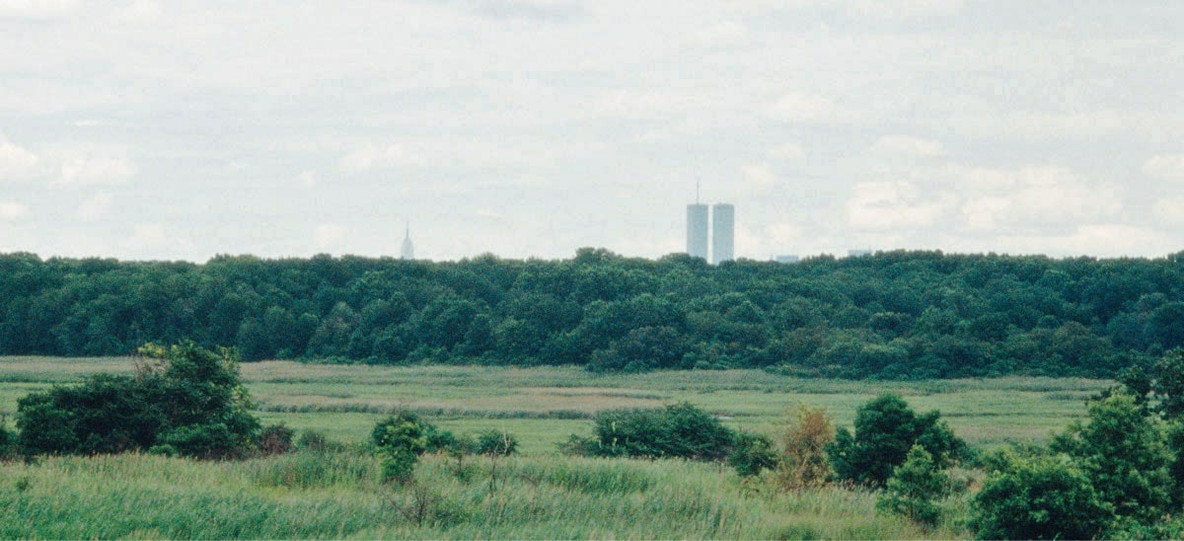 "Earlier favorite viewpoint of the classical Manhattan skyline from the top of the North Mound showing the World Trade Center towers and the Empire State Building: the scale of that huge city's waste makes the scale of this site." Mierle Laderman Ukeles. Penetration and Transparency: Morphed (detail). Six-channel video. 2001–02
I became very attached to the site, and in 1989 I was awarded a Percent for Art Commission for Fresh Kills. The city had by then determined to halt operations at the landfill and transform the site—2,200 acres around a stream and freshwater estuary—into a public park, a project that eventually became today's Freshkills Park. They provided me with $90,000, after which an assistant commissioner at the Department of Sanitation told me I would not be able to build anything visible with this amount of funding. He suggested that I use this for conceptual design, and the Department of Sanitation would integrate and build my work out of their construction contracts.
The funds generated a radically different environment for my work, and a very productive one, too. I've been doing numerous projects at Fresh Kills ever since. I did a huge amount of research, as I always do for my work, and set up my office as an artist-in-residence with Fresh Kills Landfill Engineering—the team of experts responsible for stabilizing and remediating the covered waste that still lies underneath today's park. They taught me what could be done, shared engineering studies, and have kept me updated about the progress of this ambitious undertaking.
As an engineering project, the transformation of the landfill into a public space was a magnificent feat: in order to make Fresh Kills accessible, they had to work around the garbage. This is an unusual place, and I wanted to focus on its uniqueness. It might look like any other park today, but it's not. I don't want to forget its past: we're standing on it. I see Fresh Kills as the belly button of our culture, something you can see by standing on any of the four mounds that form the park now. To the west, you have a one-mile-long shopping center: a temple of consumerism. I have always had this image of it saying "buy, buy, buy, throw out, throw out, throw out…." It's so visual. And on the other side you see the fossil fuel farms of Elizabeth, New Jersey: the other "motor" driving our culture. The former landfill one can stand on today was the product of these two engines: consumerism and fossil fuels. Using, living in, and passing through New York has produced the social sculpture of these mounds. I don't want to forget that.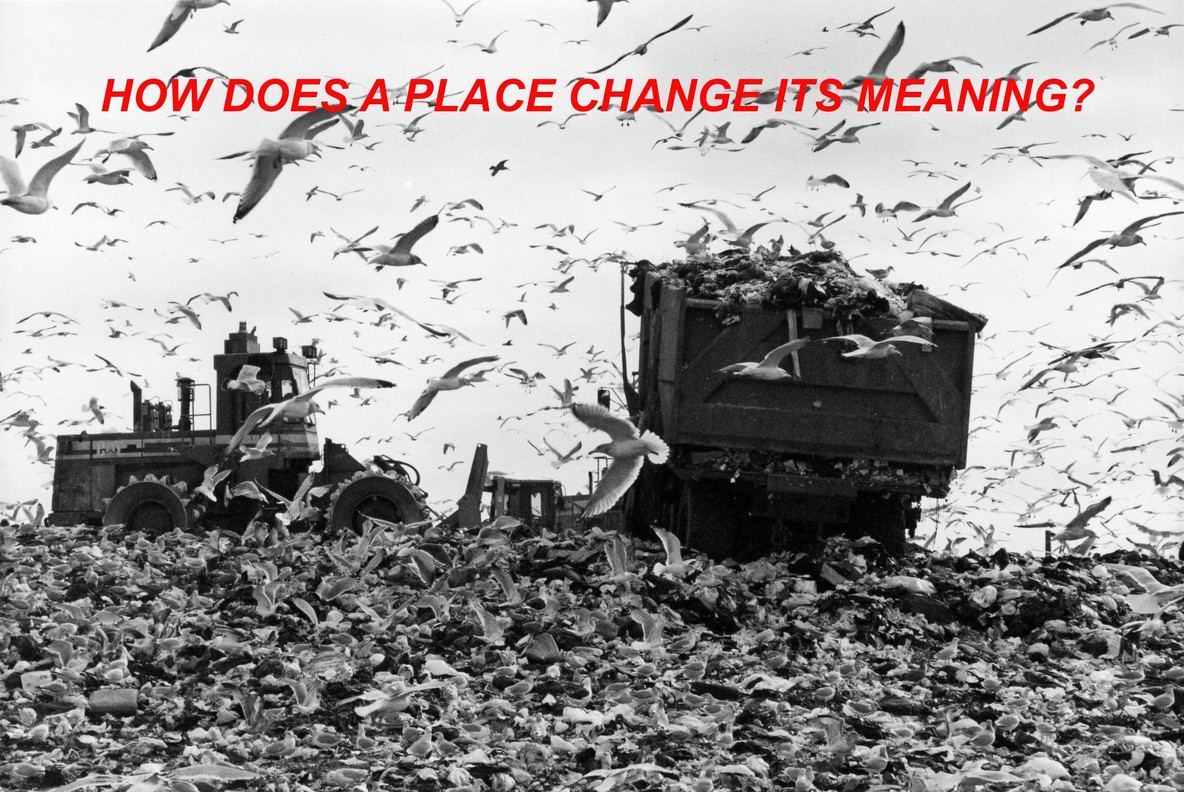 "How does a place change its meaning?" Asking the big question: How can this place be changed from its 50 year old deeply fraught past? What is the role of the people whose billions of acts of rejection of their formerly possessed material objects made this social sculpture? Mierle Laderman Ukeles. Proposal for 1 Million People to Participate in a Public Artwork at Fresh Kills: An Intergenerational Project (detail). 2000, 2010–present
By 2000–01 I had proposed 18 different projects that I wanted to do at Fresh Kills. I had a powerful vision for the site at such a delicate moment of transition. One of these projects is really conceived as an intergenerational endeavor. It is titled Public Offerings: Made by All, Redeemed by All. I first proposed it in 2000. The idea is that one million people would make a public artwork project in Freshkills Park. I wanted to make the point that whichever landscape architect works on the park would make it a beautiful site. But until there's a big gesture of redemption by people, the site won't be absolved. What's the 150 million tons of unseen garbage under my feet? And to whom does this site belong? And the deeper question is: what is garbage to begin with? When you buy something, you possess it and it becomes not only yours but maybe even a part of you and your identity. Then you get tired of this object and reject it and give it this collusory name: garbage. It gets stripped of its identity and becomes this material called garbage. And it is the outcome of billions of individual decisions of rejection.
We are material, and we live in a material world. Do we only reject so we can move ahead? I suggest an alternative way forward: I invite people to make something or find something or choose something that has value, that is not abject. And then "release" it. The act of "release" is associated with the abject nature of rejection. Rather than saying, "You have no identity anymore, you are garbage," I ask people to "release" objects in community. The entire artwork speaks of one's conscious decision to say, "This is meaningful," and to share it by giving it away. I've been working with the Department of Sanitation for decades and know well the scale of material waste they handle every day. To have a public artwork that speaks to the number of people that have benefited from the work of the Department of Sanitation, it would need to comprise at least one million objects released by at least one million participants.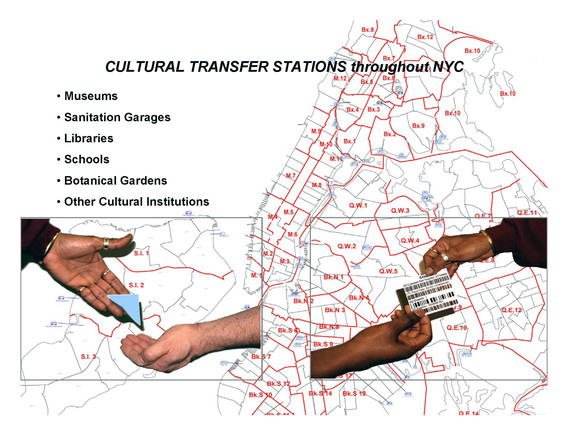 "Cultural transfer stations throughout NYC." Mierle Laderman Ukeles. Proposal for 1 Million People to Participate in a Public Artwork at Fresh Kills: An Intergenerational Project (detail). 2000, 2010–present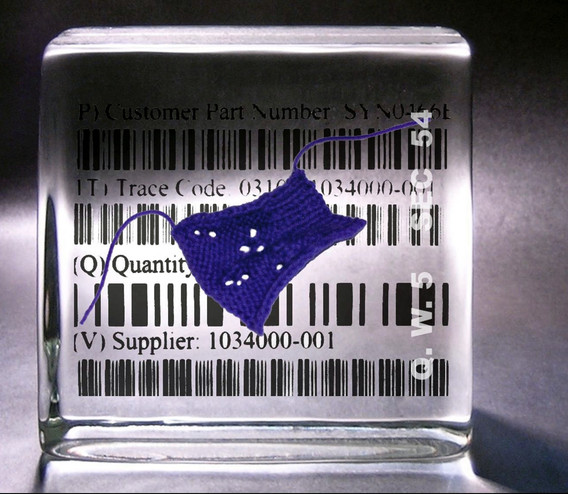 "Example of an offering." Mierle Laderman Ukeles. Proposal for 1 Million People to Participate in a Public Artwork at Fresh Kills: An Intergenerational Project (detail). 2000, 2010–present
Each object would be placed into a recyclable glass block, and the backside of the block would have a barcode. The entire installation would require employing the edges of the more than 50 miles of paths in Freshkills Park. One million eight-inch-wide blocks would be placed alongside the paths, so visitors could explore them. If they use their phones they would be able to scan each block and listen to the person who "released" that specific object telling them why it is meaningful, and why they are sharing it. Instead of a material object being condemned to an abject or dangerous state, it would become something that absorbed and communicated meaning.
If we could pull this off, the surface of the park would be "kissed" by people. It would be like acknowledging that "what we did below is very problematic and harmful." The notion of the entire project is that it is a gift to the world that shows how art can change the meanings of things. But how do you collect one million objects? My proposal is that the Department of Sanitation's waste transfer stations could take on this radical proposition: to handle both "waste" and "art" objects. In addition to these existing stations, I propose to also establish a network of what I call "cultural transfer stations" throughout New York.
Every resident would be able to bring an Offering to one of these stations and get a receipt. City-owned museums like the Metropolitan Museum, the Brooklyn Museum, and the Queens Museum, as well as other cultural institutions, could participate. I love the idea that the Department of Sanitation and the Met could do the same thing! Offerings would be received and stored in individual glass blocks, and the person "releasing" each object would get their barcode. One million of them sounds daunting, but compared to the scale of what sanitation workers deal with, and how many customers use Department of Sanitation services every day, what we're proposing is a rather modest work.
At some point, more recently, I also discovered a secret place that is quite small and personal in the park's south mound. The scale of Freshkills Park is so big that it's a bit mind-numbing. In contrast, this intimate place, situated between two mounds, is unique: there, the moon picks up the water and drops it back down again every day.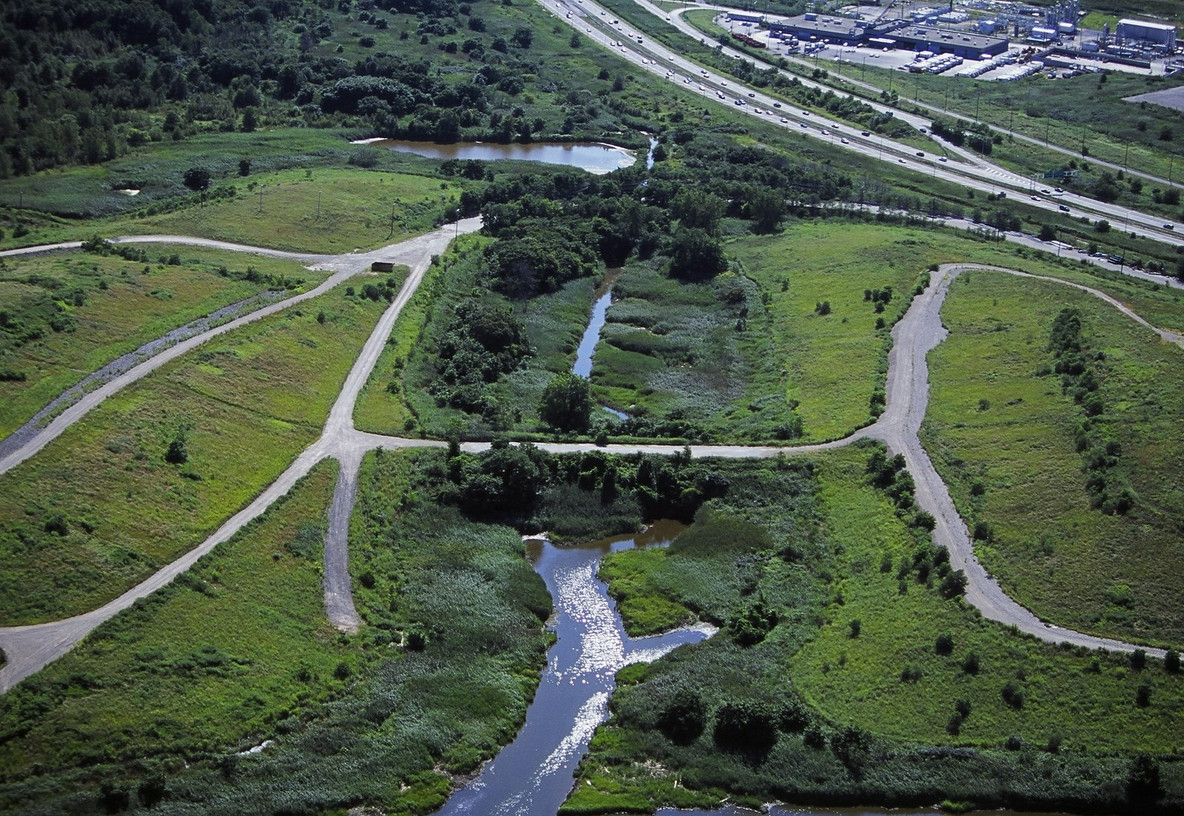 Aerial view of the site inside Freshkills Park proposed by Mierle Laderman Ukeles for the installation of Landing
It's almost a breathing place, deep within, but legally "off the site" of the landfill. It's also one of the few places—and this has been a secret—where garbage wasn't piled up. Since this place never received waste, it also did not have to be "capped" after the closure of the landfill. So you can dig all the way to the bedrock to support a structure above, without altering the complex stabilization and remediation operation that allowed Fresh Kills to become the Freshkills Park. It's in this small area that I envision Landing, a cantilever over the wetland that marks this spot.
I see Landing as an intimate experience, for perhaps only a few people at a time. It will consist of a soaring cantilevered structure that will form a magnificent dome between the two mounds. At the top of the 62-foot-long path that takes you there, you will enter an intersection of viewpoints from which to look closely downward at the ancient, protected original landscape and wetlands. You won't be able to go into the wetlands, but you will be suspended over them as though you were a bird hovering over the site. Yet, if you shift your view outward and far, you'll be able to see a clear two-mile-long view of the park along Richmond Avenue, the location of a mound that has been—and is being—transformed from a very degraded site into a healthy public place for people. So, the intersection also connects two questions: "What can we do?" and "What nature can we save in this place?" It's also asking my question: "Where are we heading from this place?" In addition to Landing itself, there will be two earthworks, Earth Bench and Earth Triangle, placed alongside it for people to pause and observe the surroundings. Their plantings will be mostly lavenders and purples, because that's what the original Paleo-Indian inhabitants planted here.
And that's what it is: a spiritual, contemplative space at a simple, intimate, human scale. Fresh Kills has been such a difficult, problematic site. And now you'll be able to settle down there slowly. And finally "land."