Watch the first episode of MoMA's new video series on architecture and the environment, a profile of the groundbreaking SITE work of James Wines.
Today marks the launch of Built Ecologies: Architecture and Environment, a video series from MoMA's Emilio Ambasz Institute for the Joint Study of the Built and the Natural Environment that features prominent architects and thinkers doing innovative work across environmental topics. In each episode, these figures are invited to define the terms "architecture" and "environment," producing a through-line between videos that otherwise capture a wide variety of practices and backgrounds.
At the Ambasz Institute, we believe art, architecture, and design exist in an ecological context. This is echoed in MoMA's sustainability statement, in which we affirm our intellectual and cultural work as inseparable from the biological and climatic systems that govern the planet. As the realities of the climate crisis continue to transform societies and traditions in unforeseen ways, new narratives and methods are needed to forge a path of hope, resilience, innovation, and empathy. Built Ecologies speaks to the urgency of our current environmental crises, prompting audiences to think more critically about architecture as we look toward building more sustainable futures.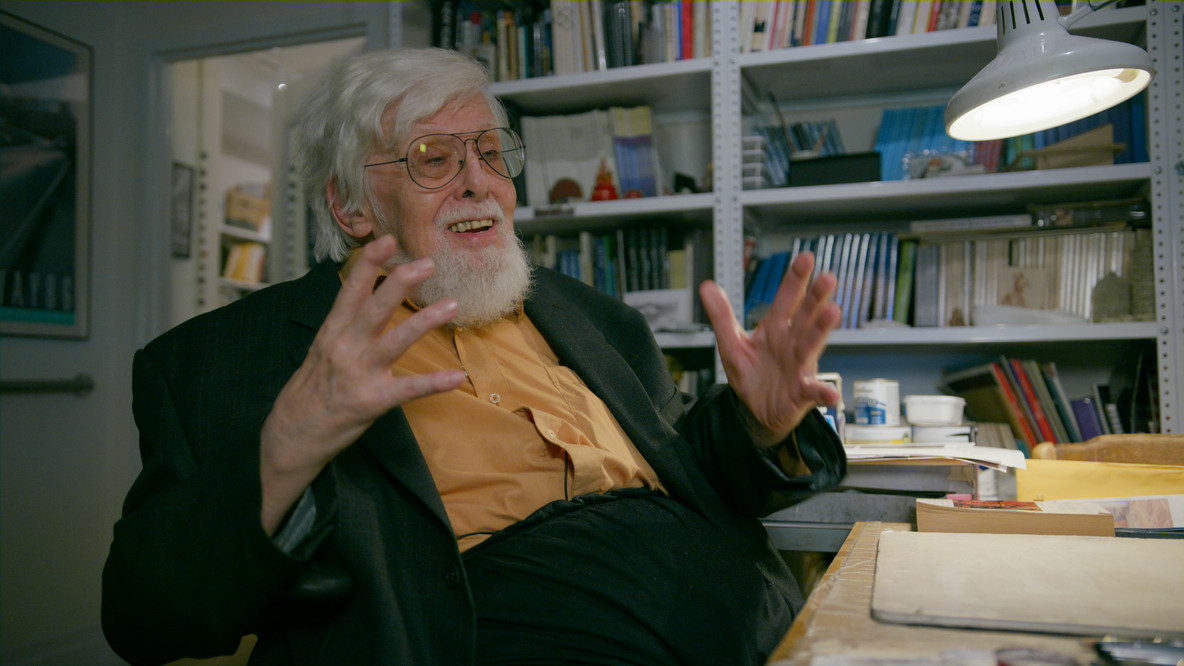 James Wines, in a still from the first episode of the Built Ecologies: Architecture and Environment video series
This inaugural episode features landmark artist and architectural designer James Wines, a singular visionary in American architecture who has foregrounded ecology and the environment. Cofounder of SITE (Sculpture in the Environment), an environmental arts studio based in New York, Wines has focused on the creation of decades' worth of fantastical drawings—a trove of ecological narratives that often run counter to mainstream, Western architectural discourses. Wines started out as a sculptor, and many of his projects are arguably sculptures on a building's scale. In his iconic BEST department store buildings, we see a range of sculptural feats, from the "collapsing" facade of the building to piles of stacked bricks as unfinished physical deconstructions of a building "in process." Wines's architectural "ethos" involves designing buildings, landscapes, and public spaces based on how they connect and converse with their surroundings. For Wines, architecture is a process rather than an end product, and we must build with nature and our environment, as opposed to destroying it.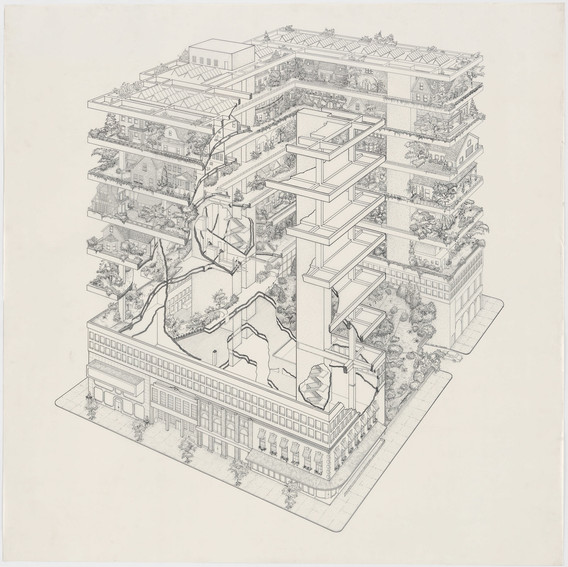 James Wines. Highrise of Homes project. 1981