History in the Present Tense: Storytelling in the Art of Julie Ault and Alejandro Cesarco
The artists have a conversation about the conversations in their work.
The exhibition Chosen Memories: Contemporary Latin American Art from the Patricia Phelps de Cisneros Gift and Beyond both opens and closes with works by the Uruguayan-born, New York–based artist Alejandro Cesarco. Studies for a Series on Love (Wendy's Hands) (2015) is described by the artist as "placed on opposite gallery walls, two slightly-larger-than-life-size portraits of the artist's partner's hands appearing to hold the exhibition space in their grasp." The two small works are a huge acknowledgement of the artist's partner's support, and a public declaration of love—to give a hand, to take in hand, to keep at hand, the space between our hands, to embrace, to hold, to caress, to support. Questions of love and absence reappear in the last work in the show, Present Memory (2009), a silent, three-minute video in which Cesarco makes a slow, careful portrait of his father before his death. An affirmation of memory as a vital element of the present, the video inspired the entire exhibition.
In the following conversation, Cesarco invites his friend, artist and curator Julie Ault, to discuss their methods, focusing on narrative modes. Ault, one of the cofounders of Group Material (1979–96), has devoted her life to activism and the recuperation of personal and collective histories through multiple strategies, including editing, writing, and exhibition making.
—Inés Katzenstein, Director, Patricia Phelps de Cisneros Research Institute for the Study of Art from Latin America and Curator of Latin American Art
Este artículo está disponible en español.
Alejandro Cesarco: We've participated in each other's work over the years in multiple ways. This, however, is the first time we are having a public conversation. Perhaps we could start by unpacking how storytelling functions in both of our practices. Generally speaking, your work is concerned with archiving and historicizing. While my work is more concerned with questions of translation and repetition. We both investigate the relationship between time, history, lived experience, narrative, and memory through different strategies and methods. Your work deals with how (your) personal and (our) public narratives intertwine.
Something you have referred to is this idea of "having history" and of being "in history." Would you expand on this?
Julie Ault: Having personal, communal, and collective stakes is an ongoing touchstone in my practice. I investigate past events and contexts with the understanding that history is always in the present to some degree, whether because it lives within us or because we are living its implicit, explicit, active, and embedded consequences and traces. We are in historical continuities, not outside looking through a window. History is not frozen in time but an ongoing accumulation and articulation of converging forces impacted by perspective, desire, and objective. The challenge is how to activate histories for the present. Just as the concrete and intangible subject matter of each historical inquiry is particular, its ways and means are also distinct and influenced by what one is looking for and to what degree that search is open-ended. Identifying or fashioning narrative modes on a case-by-case basis is integral to my work, whether writing, archiving, or making a publication or exhibition. I genuinely enjoy the process of thinking of subtle ways to narrate and guide [someone to experience my work] textually, visually, and spatially.
My aim is to approach the question of agency anew in each situation. In an exhibition, it might make sense to situate contextual material within rather than at its entrance, designate a documentary video as an introduction, or subtly position guiding information or dialogic excerpts throughout. Usually, I want the narration to derive from the setting that is the subject or inquiry at the heart of the project.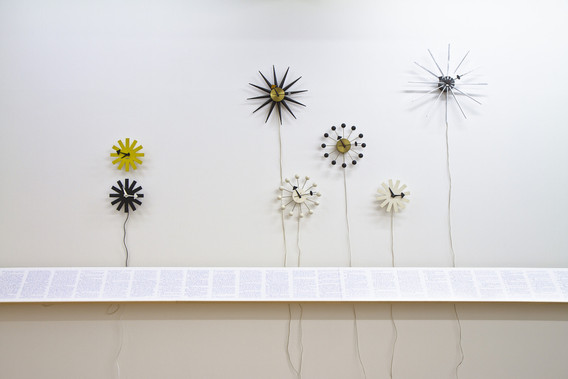 Installation view of Ever Ephemeral, Remembering and Forgetting in the Archive, Signal and Inter Arts Center, Malmö, September 23–November 13, 2011. Curated by Julie Ault. Shown, from top: Twelve vintage clocks designed by George Nelson and collected by Felix Gonzalez-Torres; Danh Vo. Death Sentence. 2009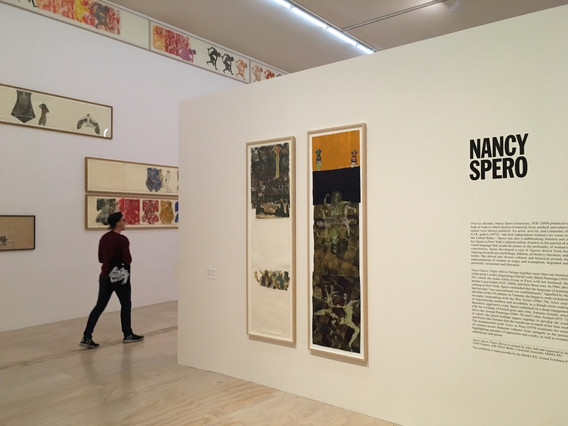 Nancy Spero: Paper Mirror, curated by Julie Ault, MoMA PS1, Queens, New York, 2018
I'm reluctant to exemplify recent projects. I'd rather enact than represent. How do you conceptualize or inhabit roles of narration, particularly in your film work, where there often seem to be voices that speak not only for themselves but in double or multiple ways?
AC: The way you characterize voice or narrative makes me think of how Marguerite Duras uses "the voices" in India Song. In the play, four unseen voices recount a love story that unfolds before the viewer at the same time as the voices that narrate remember, or are reminded, by the events unfolding before them. This creates an echo-chamber effect that perpetuates the past as it is being recalled. In her introductory notes to the text, Duras clarifies, "The difference between the voices, between forgetfulness on the one hand and remembrance on the other, arises from the same cause—the fascination the story exerts on the voices. Some have rejected the fascination, others have better tolerated it."
Often the voice in my work appears as an intimate conversation between two people who are seemingly aware they are being listened to. Or it's a conversation that could be a monologue. In general, the tone of the conversations are highly personal, but also somewhat artificial. A tone that is intimate but in the sense of intimation. They are characters that speak as if they were reading or citing something from a book. And often they actually are (something I've elsewhere referred to as the use of emotional-readymades). Perhaps this is something else learned from growing up watching a lot of nouvelle vague films.
"Silence is part of every conversation and of every narrative."
Alejandro Cesarco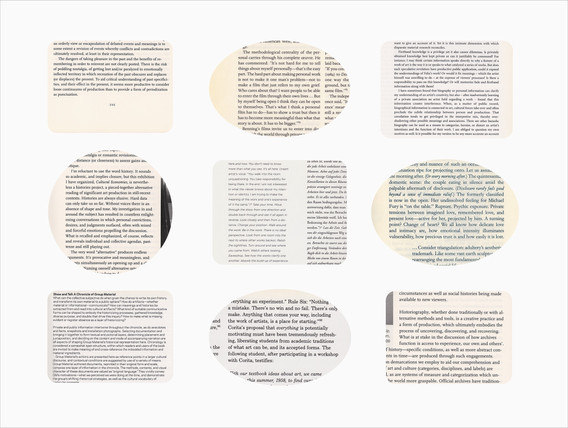 Alejandro Cesarco. A Printed Portrait of Julie Ault. 2013
JA: Your description of voice fits my experience of your films. I often sense that the apparent subject of your work is not the only subject; characters foretell others' stories across time. Tenses intertwine. To me, personal experience and "the telling of selves" runs through your work. The absence of spoken or written words in Present Memory struck me. The figure, your father, is silent. The means you used in the film to denote a fusion of tenses is effective. What is the structure of the work?
AC: Present Memory is a portrait of my father shortly after he had been diagnosed with lung cancer. I filmed him in his office (he was a doctor) using a handheld 16mm camera that kind of caresses him. I later projected what I had filmed onto the same wall and recorded that projection on video.
The work documents both a constructed and an anticipated memory. The literal and metaphorical projection staged in the work is a rehearsal of fears: an attempt at dealing with a future absence, the process of mourning and remembering, mortality and letting go. It was, in a way, an attempt at managing or controlling the feeling of loss by anticipating someone's absence. However, the process of mourning of course exceeds any foretelling or rationalization: one can never fully prepare for it. Working on this video was also, at its most basic, an excuse to spend time with my dad. To acknowledge and face the moment together and help each other process what was happening.
In terms of silence, one of the tragedies of death is the silencing of conversation through loss. Yet silence is part of every conversation and of every narrative. It is how language unfolds and how we recognize the other by yielding to silence. Related to this, and following your own wish to enact, and as if I were playing one of my own characters, I'd like to share a line from a poem by Rosemarie Waldrop I was just reading: "A sentence with the word 'time' in it already contains a shadow."1
JA: I take shadow to mean something in process that is unformed, coming into view, perhaps metaphysical. Whether having passed or yet to come or intrinsically intangible, shadows occupy our minds. For me, the death of a loved one does not sever or silence our conversation any more than something of someone being "historical" does. The dialogues, ways of being, and even collaborations may continue.
AC: In part that is true. Yet the register of the conversation changes, not least because it becomes one-sided. For me, regardless of the lingering presence, there is undeniable loss. A shadow is also a distortion, an abstraction. In Waldrop's sentence, "shadow" indicates something outside of itself, in the past, out of frame, but ongoing. The shadow, perhaps by prolonging time (stretching the sentence), gives a sense of continuity. I don't want to get into the possible psychological reading of shadows, but I agree with what you said: shadows occupy our minds.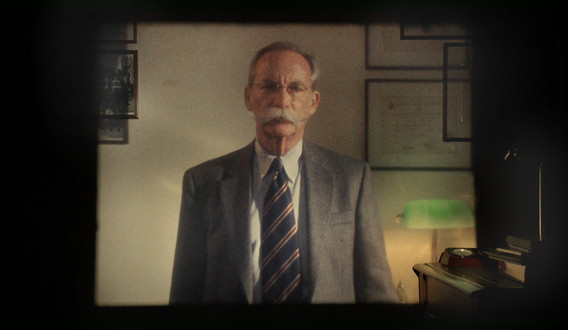 Alejandro Cesarco. Present Memory. 2010