Working with Time: Seven Photographers Share Their Creative Processes
Go behind the lens and into the minds of this year's New Photography 2023 artists.
2023 marks the return of MoMA's New Photography series—a biannual presentation of contemporary perspectives on photography—after five years away from the Museum's galleries. This year, the series has shifted approach to focus on artists working in relation to a specific art scene across the globe. New Photography 2023 features the work of seven international artists—Kelani Abass, Akinbode Akinbiyi, Yagazie Emezi, Amanda Iheme, Abraham Oghobase, Karl Ohiri, and Logo Oluwamuyiwa—each of whom maintains a connection to the art community flourishing in the port city of Lagos, Nigeria.
Over the last year and a half, we have worked with these artists within and beyond the bounds of the city in order to make this exhibition. The following questionnaire provides an opportunity to get to know these artists. It surveys the motivations and creative decisions that shape their practices, articulating the stakes of their works in relationship to the flow of time. These photographers are alert to how images project instant visions into the future, ossifying ephemeral moments into bounded carriers of meaning. They are attuned to the effects of time on pictures—altering them as objects and shifting their messages continually. Their relationships to the picture are inflected with space and poetry, social motivations and political awareness. Engaging the photograph as a site that is ever unfolding, their positions are exemplified in Yagazie Emezi's statement: "I work with time."
What compels you most in your photographic practice?
The camera is always in hand, usually in a bag. So is the other equipment: the light meter, extra film, wide-angle and telescopic attachments. But these are peripheral to the essential movement of the eyes, which are constantly scanning, looking, weighing in. They work in tandem with the ears, with olfaction. The skin, too, pulsates and wants to partake in the holistic sensing. It's a vital urge to understand.
Serendipity, happenstance, are of extreme importance, intuitively responding to the epiphany of the moment, nanoseconds of clarity that swiftly, almost imperceptibly, go by. The camera, too, has to be right there, almost an extension of the fleetingness, the soft gentleness, of time herself.
We are constantly moving through time, constantly trying to perceive her, picture her in her eternal flow. The camera's aperture and shutter are inadequate to the task of fully taking and making, and create image fragments, imaginaries of a subjective gaze.
Ultimately, we are trying to overcome this subjectivity. We are aware of it and at the same time merge into the surroundings, striving just to be.
—Akinbode Akinbiyi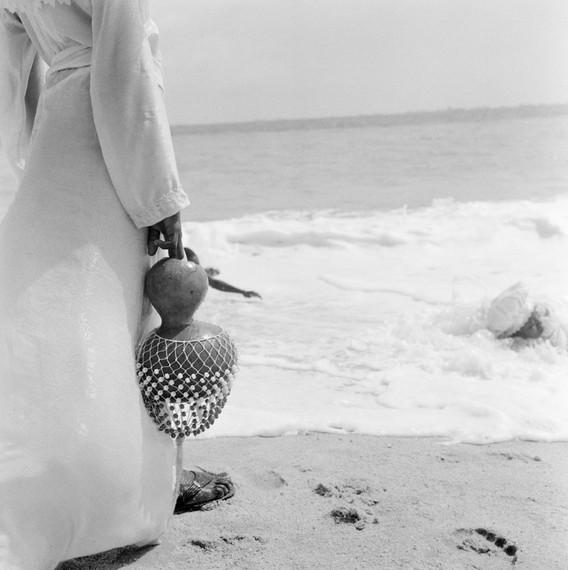 Akinbode Akinbiyi. Bar Beach, Victoria Island, Lagos from the series Sea Never Dry. 2010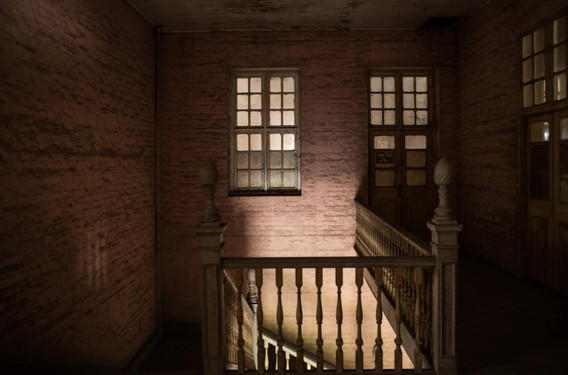 Amanda Iheme. Old Secretariat—Stagnation—11 from the series The Way of Life. 2018
I am compelled by the desire to preserve, document, and celebrate the beauty of architecture in my home country and continent.
I was born and raised in Lagos and have witnessed the changing visual landscape of the city. I often say to myself that when I was younger, there was a lifestyle that Lagos promised me. The homes of family members and friends that we visited had garages, gardens for playing, trees for climbing, and cross-ventilation. They had sunlight that came in through large windows, and balconies, and gates with beautiful designs. These days, most of our homes are like boxes—functional but unappealing to the eyes. The style of the buildings lacks personality, consideration, and is incompatible with the climate of Lagos. When I document these buildings, it is to preserve some of what we had that worked for us, designs and styles that I hope will inspire and inform future ways of buildings.
Apart from form and functionality, these buildings have historical and cultural significance. I believe the way we build is a testament to where we were and are as a community—socially, culturally, and spiritually. We can see this in the transition from the Afro-Brazilian style of building to the Colonial style to Tropical Modernism and to what we now call Afromodernism. These styles were created and changed because the people changed and had different needs. However, as we move through these changes, the stories of these buildings and the lifestyles that created them must not be lost, because they can give us insight into who we were and help us understand where we are going. For us Nigerians, the preservation of our architectural heritage is paramount.
— Amanda Iheme
What are you trying to communicate with the material choices you make?
The materials I use are historical resources. They inform my creative process, even though most of the images I work with are unknown and vernacular. They are testaments to the fact that we are all connected to a collective past and future. I want people to see and recover lost memories through my work. I replace traditional painting with archival images, which is equivalent to a painter generating values by mixing colors on a palette. The older an image gets, the paler it becomes. With the passage of time it expresses feelings and emotions, essentially painting with time. I am excited about the new possibilities and inherent challenges that come with my choices of materials, which continuously interrogate technological developments in relation to humans, and the concept of time, as well as themes of memory and the societal role of archives.
— Kelani Abass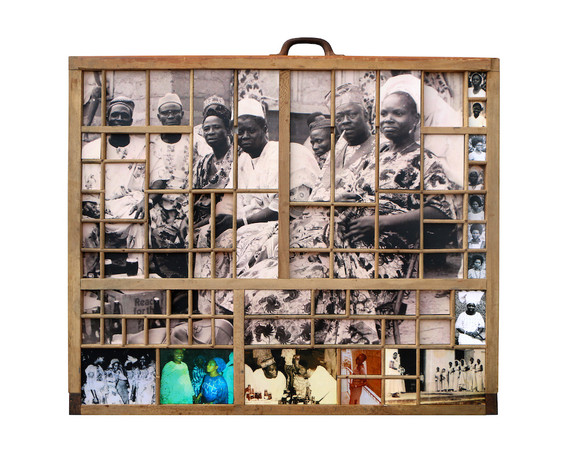 Kelani Abass. Unfolding Layers 6. 2021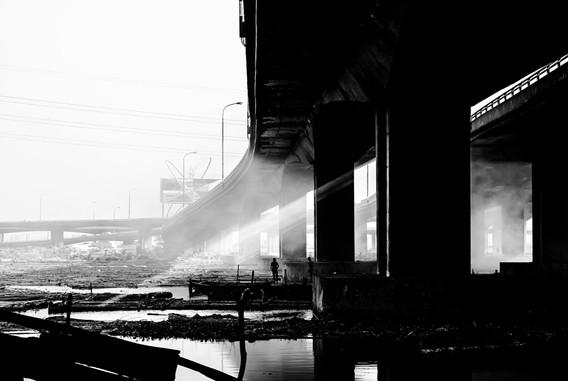 Logo Oluwamuyiwa. Hazy II, from the series Monochrome Lagos. 2015
Photography helps me be introspective in a very busy world, and helps me understand the power of symmetry and balance through the arrangement, subversion, and platforming of objects. Art is where imagination meets erudition, and through my photographs I hope to show that I care. I care about life and its design. I want to engage with it and feel it. I am limited, but through my artistic practice I can communicate beauty; I can communicate abstractly using languages that aren't fully formed or processes that whisper; I can communicate that urban life, however loud in itself, has a soul as compelling as a quiet stream cutting through a green hillside.
— Logo Oluwamuyiwa
What aspects of photography do you work with, and work against?
I think about photography as a visual language, but also about photographs as objects. I also think about images in terms of the types of vibrations or frequencies they carry. In the sense that something is at stake, I am working against certain forces—for example generalizations and stereotypes as they pertain to the Black body and how the Black body has been historically treated in photography. My work seeks ways to address and subvert historical subjugation in photography and make it empowering.
I engage with photography and collections of photographs. These archives become a basis for interrogation, inspection, introspection, and conversation. Images carry a certain power and have been used to propagate certain ideas throughout history, so in my work I'm taking this into consideration and weighing what aspects of the image I want to work with as well as against. This can manifest in how I engage with a material in printing, or through processes such as repeated photocopying or collage, as a way to dismantle, erode, or deconstruct images (and ideas) and create fragments and new narratives that empower and protect.
My work and process also attempt to go against the conventions of the medium—for example, traditions that dictate how photographs should be made and/or composed, what constitutes a camera, which tools can be used for image-making, and what specific material photographs should be printed on. For me, being able to tell the complex stories around colonial history, land, and exploitation requires that I remove these limitations of form-making and think/act outside of the box.
— Abraham Oghobase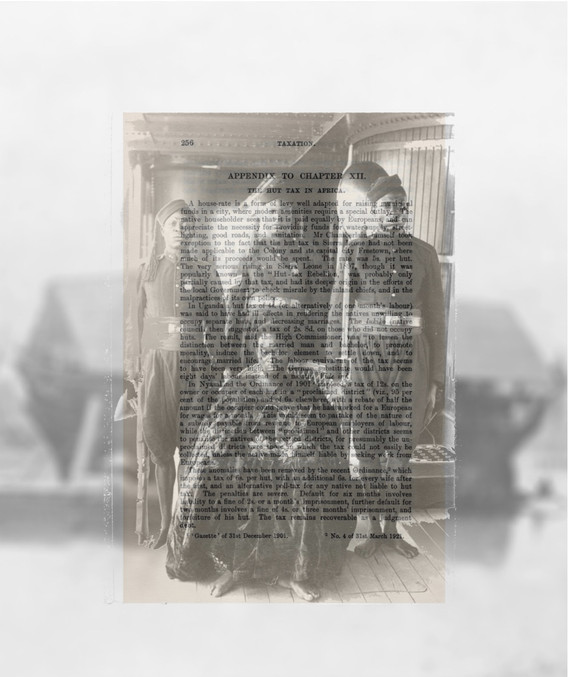 Abraham Oghobase. From Constructed Realities. 2019–22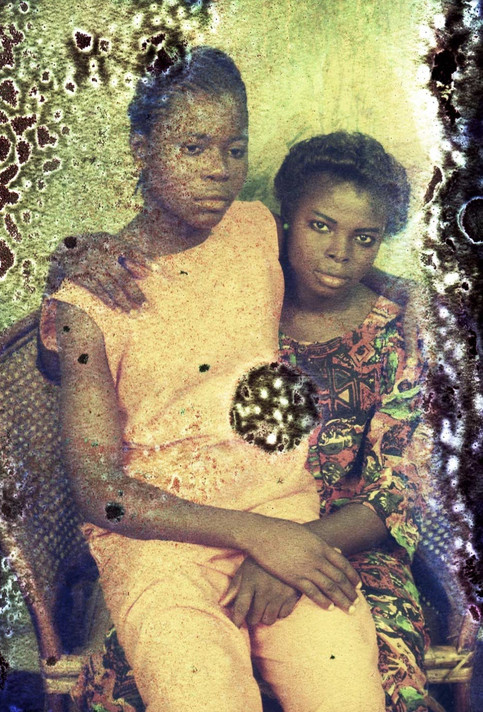 Karl Ohiri. Untitled, from the series The Archive of Becoming. 2015–ongoing
When working with photography, I am mostly concerned with presenting images that evoke emotions in the viewer and facilitate dialogues about photography in thought-provoking ways. I am interested in the many forms the photographic document can take, and how these forms can be interpreted over time. This has led me to work against ideas concerning the boundaries between the public and private. In the Archive of Becoming at MoMA, we see a series of family photographs reproduced from dilapidated negatives. They have been resurrected and shown in a museum context to create conversations about the preservation of heritage, collective memory, time, and notions of beauty—and about how we can interpret these images in different contexts. What new narratives can we create by recontextualizing vernacular photography? And what conversations can take place when we see the photograph as an entirely fluid document?
— Karl Ohiri
I work in collaboration with the people I photograph and the stories they choose to share. I believe that a good photograph is created before a camera is used. I work by waiting, watching, and talking. I work with time.
— Yagazie Emezi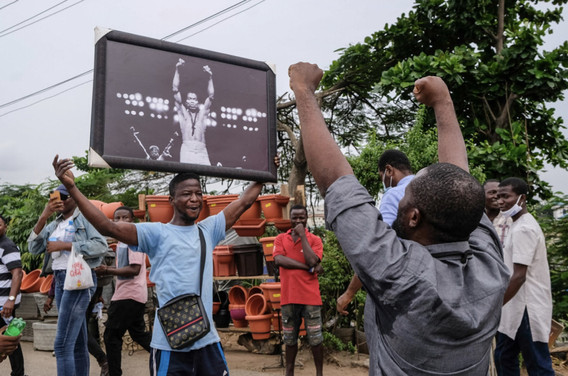 Yagazie Emezi. Untitled, from the series #EndSARS Protests. 2020
New Photography 2023, organized by Oluremi C. Onabanjo, Associate Curator, with Kaitlin Booher, Newhall Curatorial Fellow, and Samuel Allen, MRC Fellow, Department of Photography, is on view May 28–September 16, 2023.