Planting the Seeds of Future Possibility at Lagos Art Week
The Lagos Portfolio Review and Critical Workshop gathered emerging artists who embody the many futures of lens-based media.
During Lagos Art Week, which took place from October 31 to November 2, 2022, we convened Lagos Portfolio Review and Critical Workshop, gathering an intergenerational group of image makers in collaboration with the Nlele Institute, a Pan-African nonprofit organization with a focus on lens-based media. During the first two days, we invited 30 emerging photographers (selected through an open call) to share portfolios and an aspect of their practice in an "open crit" context. On the last day, we held a critical workshop, which provided an opportunity for Lagos-based artists, critics, scholars, curators, and culture workers to share space and spend time together working through emergent issues in the field. The convening took up key themes in the forthcoming MoMA exhibition New Photography 2023: Kelani Abass, Akinbode Akinbiyi, Yagazie Emezi, Amanda Iheme, Abraham Oghobase, Karl Ohiri, and Logo Oluwamuyiwa (May 28–September 16, 2023). Five months later, we reflected together on the stakes of creating this collaborative program and its potential to generate future possibilities.
Oluremi C. Onabanjo: Though Lagos is no stranger to either of us, I must say it was rather special to travel there last fall as colleagues. The Lagos Portfolio Review and Critical Workshop was an immersion in an expansive community of photographers, artists, thinkers, and curators. How did you enter this conversation on contemporary photographic practice in West Africa, and specifically in Nigeria?
Kunbi Oni: I think I entered it during my master's program—now 23 years ago—at a time when African photography was this blip on the map of art history. I was drawn to photography because I felt the medium's immediacy. As soon as the medium was introduced, it was everywhere. Photography is technology and people moved around with it—which of course was facilitated through colonial routes. Just by virtue of the materials, this is a mode of making that really cuts through the instinct to center European and American makers.
We experienced this in Lagos. Whether someone is using a film camera, digital camera, or even their iPhone camera, people are making amazing images and are becoming connected within this creative sphere that they may not otherwise have opportunities to be able to do. The photograph as an occasion for connection—that has always been the most attractive part for me.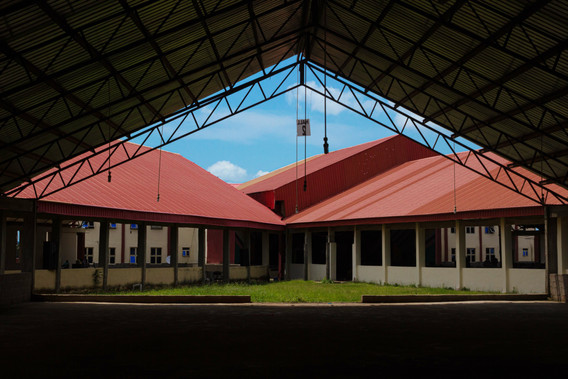 Praise Hassan. FFH_14 from Fragments from Home. 2020
OCO: You're already getting to the core of what it felt like to witness this quality of the photographic medium among a number of photographers at the earliest stages of their careers—some conceptual in their thinking, some documentary, some poetic, some editorial. What would you say were the most memorable moments during our two days of portfolio reviews?
KO: I'd say it was the overall energy. There was a great deal of calm in the space, and I felt this reflected among everyone gathered there. The photographers felt safe. They trusted us and very quickly were able to reciprocate the energy that we were putting out. I thought that it was special that we were able to bring them what I might call normalcy in the professional sphere. We could just cut to the chase; it was really about the content of what we were looking at.
And, of course, the photographers themselves. There was Praise Hassan and Ayorinde Ogundele, two very different image makers, but each really powerful. Both of them used what they had, what they knew, where they were. With Praise, it was exciting to see someone be so conceptual while so young, and so dedicated to her idea. Her series Fragments from Home (2020) consisted of unpopulated images made during the pandemic, but you could still sense the presence of people, which is really powerful on an emotional level.
Ayorinde Ogundele. Fatigue sets in as contestants participate in Military Push Up from All Work and No Play. 2019
OCO: I love that you've picked up on two photographers who have such a different relationship to space and the body. There's Praise on one hand, thinking about life in Nigeria during the pandemic through its traces, and bringing a rigorous treatment of space through the collision of lines and light. Then Ayorinde, diving headfirst into the heart of the crush among his fellow students. In some ways, I felt like his work is such a riff on 1960s and 1970s West African studio photography—a genre that loves the boxer as a figure.
KO: Totally.
OCO: He takes us out of the studio and into life. Right into the social places where those bodies are shaped and where they move. It takes place among friends, and is as much about performativity as it is about cultivating the body.
Praise and Ayorinde are also great examples of the kind of generosity that took root in that space. They really took the opportunity to give feedback to their colleagues and to ask for guidance and counsel. These inquiries came to us and to our fellow facilitators, Nlele Institute instructors Amaize Ojeikere and Uche Okpa-Iroha. Their perspectives as image-makers—true pillars in the Lagos photography community—enriched our discussions and offered different points of entry and engagement.
KO: Can you talk about our engagement with this group of reviewers and reviewees, and their connection with us, and to MoMA?
OCO: I really appreciate what you had said about the sense of safety, honesty, and care in the air over those days. I also felt that. I think that because each of us was called on to respond in the portfolio reviews, rather than it being a kind of speed-dating model where it's one person and one artist—this really shifted the dynamic. Using the "open crit" model in the spirit of respect, generosity, and care allowed us to strike a nice balance between criticality and openness, especially given that all of the New Photography 2023 artists were present during the portfolio review, and then themselves presented their work on the final day. There was a sense that anyone could contribute, but were also invested in the practices they were seeing. This allowed the program to take on an incubator quality. Incubation coming from the gestational space, not from the start-up space. I felt like something was growing.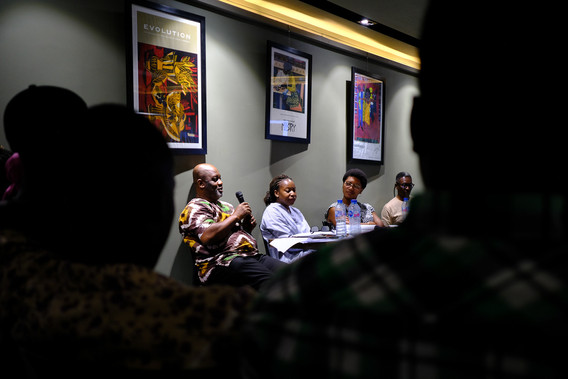 The Lagos Portfolio Review at Angels & Muse, October 31, 2022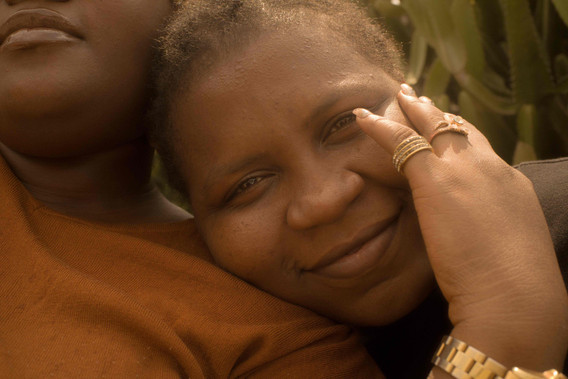 Rachel Seidu. Alex and Debbie from Repossessing Identity: Culture and Sexuality in Postcolonial Nigeria. October 2021
KO: Which emerging photographer's presentation was particularly memorable for you?
OCO: I was really struck by Rachel Seidu's work. Her practice is crucial within the landscape of contemporary photography on the African continent. She's transnational—a Ghanaian living in Nigeria, but also, in my opinion, very much in the lineage of the South African photographer Zanele Muholi, through a commitment to documenting queer love and the perspectives of gay, lesbian, bisexual, and trans people in Nigeria.
OCO: The fact that Rachel shared her work in that context was a real act of trust. I think that photographers of different generations and many of the people in the room benefited from seeing her work. The images were not only important from their documentary perspective, but she's also a wonderful portraitist, attuned to the ways that intimate studies can yield lush, delicate encounters with individuals. This is a difficult balance to strike without being invasive.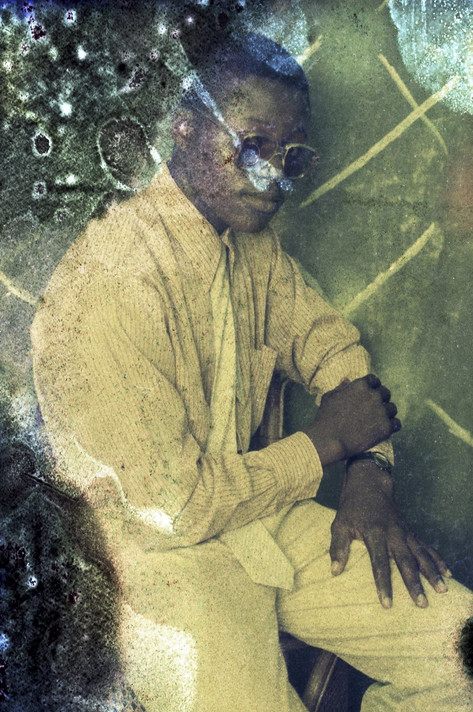 Karl Ohiri. Untitled from Archive of Becoming. 2015–ongoing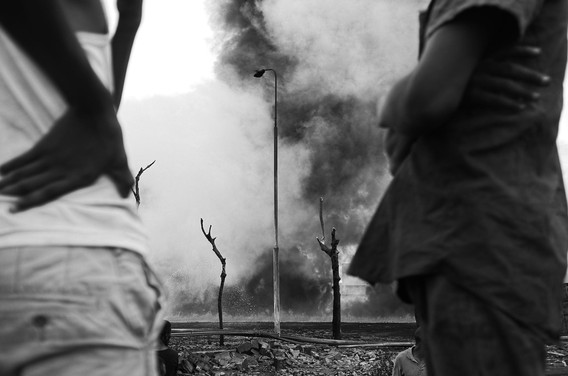 Logo Oluwamuyiwa. A Daring Smoke from Monochrome Lagos. 2016
KO: I think the power behind her images was also enabling. Her being able to show her work planted something in her peers that perhaps they could explore further than they felt safe enough to do before. Beyond the workshop, how did you engage with emerging African photographers outside of the mainstream?
OCO: I love this question because it demonstrates the link between this workshop and the making of New Photography 2023. This environment is my favorite way to encounter artists. To see an artist at the beginning of their career, figuring things out, and to continue to follow their work as they grow is one of the joys and honors of being a curator. While I may not have encountered the artists featured in New Photography 2023 in a portfolio review or workshop context, I have been following their work for years.
I'm thinking about following Karl Ohiri's Lagos Studio Archive project for years and then learning about his Archive of Becoming, which propelled me to different possibilities. Or Logo Oluwamuyiwa's monumental Monochrome Lagos project (2013–ongoing), which I wrote about in 2016 and continued to witness as it grew exponentially. Or even Yagazie Emezi, whose work I had been following across many contexts. Then she made #EndSARS 2020, a series so responsive to the moment yet so markedly different from what was circulating at the time that I was immediately in awe.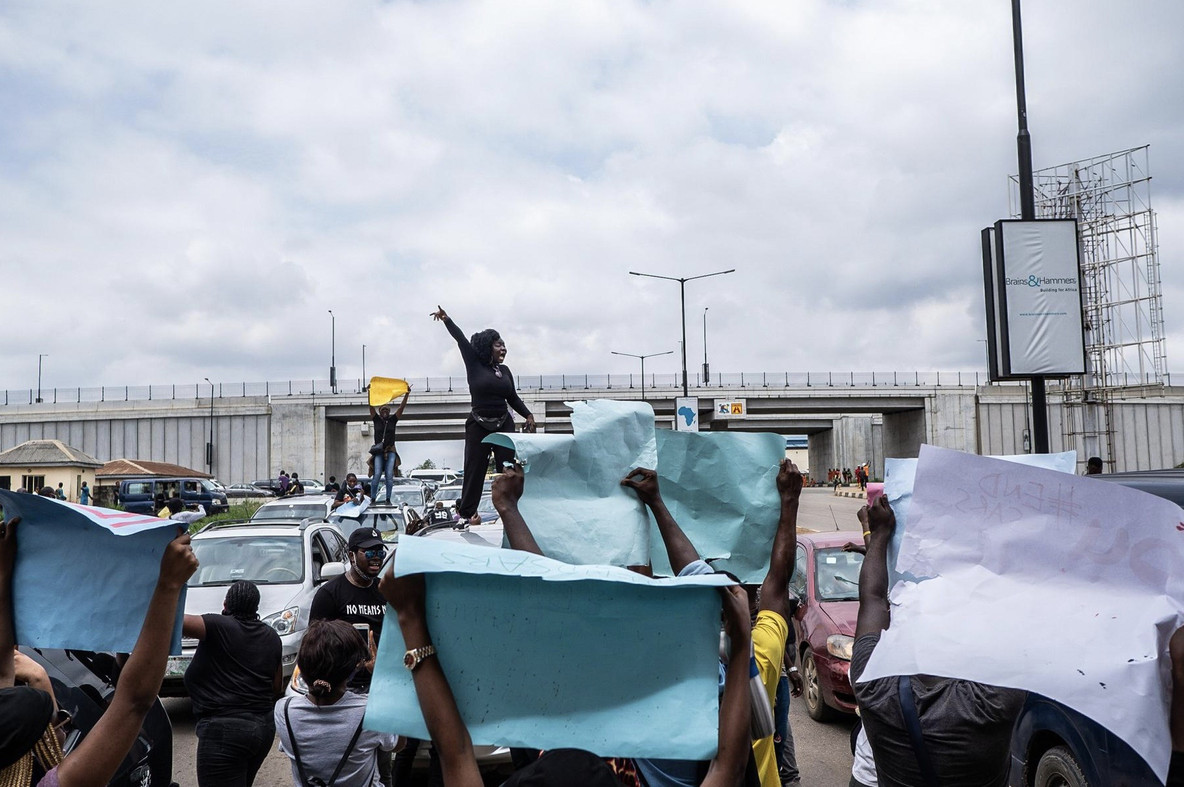 Yagazie Emezi. Untitled from #EndSARS. 2020
KO: How would you identify growth within this community in Lagos?
OCO: I think structurally. It's not enough to say that there's this many rockstar artists coming out of Lagos and that this qualifies it as a scene. It's more important to see how the community is thriving. Relationships are key. Being myself a curatorial mentee of the late Olabisi Silva (1962–2019), it's important to note that you do not get someone as rigorous and thoughtful as Abraham Oghobase or as inventive or creative as Kelani Abass without a place like Contemporary Centre for Art Lagos (CCA Lagos), which Silva founded in 2007.
I was also struck by how important it was for the emerging photographer Christopher Obuh Nelson to take the time to acknowledge Uche Okpa-Iroha for all of his sacrifices in building Nlele Institute and carrying its programming forward. In Lagos, artistic infrastructure functions differently than it does in places like New York, London, or Paris. In Lagos institutions and people play multiple roles. For example, the space where we held the program, Angels & Muse, was founded by the artist Victor Ehikhamenor, and functions as a residency space, cultural center, and artist's studio. So, I would say growth is when artists benefit from a healthy intersection of critical, programmatic, and curatorial possibilities.
KO: You organized this portfolio review and critical workshop in conjunction with your forthcoming exhibition New Photography 2023. Can you talk about the show and why it was important to connect this program to it?
OCO: With the guidance of Clément Chéroux, former chief curator of MoMA's Department of Photography, I conceived of New Photography 2023 as an iteration of the series where we take an artistic scene as a starting point. The city of Lagos is not the object of the exhibition but rather functions as the curatorial ground. Within this framework, I am looking at a set of interrelated visual positions bouncing and reverberating off of one another and helping pursue different pathways in relation to a particular conceptual idea. In making New Photography 2023, I was struck by the different ways in which these seven artists were deconstructing "the photograph as document," and moving toward the poetic, spatial, and social possibilities that exist in the undercurrent of the image.
As a result, it felt important to think about how these undercurrents function within a scene that is fluid—in a metaphorical sense, but also literally dependent on water. Lagos comes from the Portuguese word for "lakes"; it is a city sutured together by bridges spanning the mainland and its islands. I wanted to be sensitive to these realities That is why New Photography 2023 needed to be engaged with the city in a way that wasn't superficial, but by situating ourselves—and by extension MoMA—within the infrastructure that supports the seven artists featured in the show. To come back, again and again, and to see how experiences shift and change as time passes, is another way to engage ethically and thoughtfully with the "art of our time." To me, we must look at art from as many different positions as possible, and learn from the artists occupying these positions. Only then will we see that the space between the institution and the world is really not space at all.
Watch this video to learn more about the 2022 Lagos Portfolio Review and Critical Workshop.
We would like to extend gratitude and respect to the emerging image-makers who presented their work during Lagos Portfolio Review: Emmanuel Abor, Neec Nonso, Badejo Fuwa, Chioma Agba, Bell-Gam Gabriel, John Amusan, Ugochukwe Ezeokoli, Christopher Obuh Nelson, Bashir Onuche Aminu, Peter John Chukwu, Ugochukwu Azuya, Emmanuel Lucky, Eragbie Joshua, Praise Hassan, Apah Benson, Tolulope Owoeye, Kamilu Balogun, Zainab Abiola, Chukwuka Obu, Tomiwa Arije, Oluwayemisi Onadipe, Ebenezer Okike, Zainab Asafa, Oluwatoyin Adedokun, Adetutu Adediran, Ayorinde Ogundele, Amanda Madumere, Rachel Seidu, Bishop Duke, Stephen Arudi. We acknowledge the rich perspectives and wisdom provided by the artists, curators, and scholars who presented at the Critical Workshop, including Akinbode Akinbiyi, Logo Oluwamuyiwa, Karl Ohiri, Amanda Iheme, Abraham Oghobase, Kelani Abass, Uche Okpa-Iroha, Temitayo Ogunbiyi, and Victor Ehikhamenor, who generously hosted the program at his space Angels & Muse. Special thanks to our collaborators at the Nlele Institute: Uche Okpa-Iroha, Ayo Okpa-Iroha, Amaize Ojeikere, Kunbi Rowland, Obasola Bamigbola, Ololade Lawal, Kayode Oluwa, Chukwudi Onwumere, Bola Ajakaiye, and Ebun Ikenze. This program was made possible through transformative support from the International Council; thank you Jay Levenson, Marta Dansie, and Smooth Ugochukwu Nzewi for your trust.
New Photography 2023: Kelani Abass, Akinbode Akinbiyi, Yagazie Emezi, Amanda Iheme, Abraham Oghobase, Karl Ohiri, and Logo Oluwamuyiwa, organized by Oluremi C. Onabanjo, Associate Curator, with Kaitlin Booher, Newhall Curatorial Fellow, and Samuel Allen, MRC Fellow, Department of Photography, is on view at MoMA May 28–September 16, 2023.