Black Archives founder Renata Cherlise presents a selection of photographs from MoMA's collection that highlight everyday moments of Black life.
I was born under the Florida sun. And ain't nothing new about me. I've been here before and some version of myself shall return here again and again.
The written part of my story begins with Theresa "Ressie" Candy (b. 1891), my third great-grandmother and the first name documented in our family Bible, a keepsake that's been in my family for generations. For my family, and many others, the Bible is a primary source for record-keeping—and one that I first encountered as a child while poking around my grandmother's dresser. Further down the list of relatives, written in my grandmother's handwriting, my name appeared along with the place of my birth and birth date. It's a moment that I'll always recognize as being attached to intense feelings of knowing and not knowing. A type of response that I would later come to identify as a call for me to remember.
I consider my entry into archival work as one that was retrieved through a patchwork of ancestral dreams. It is not one that derives from a particular institution or leans solely on academic coursework. Rather, it comes from an urgent compulsion within my matrilineage to be remembered.
There aren't many photographs of my family prior to the 1960s. This can be attributed to a number of reasons. But despite such visual gaps in our family's archive, the commitment to recording our names and birth dates is a testament to surviving a system that wanted us erased. Stories are carried by the women in my family. Ressie thought of and remembered me. And so I remember her and the others who wrote their names not in Bibles, but in the dreams of their descendants. And I will go on to remember the many versions of ourselves and their-selves, and the selves of us and them that do not yet exist.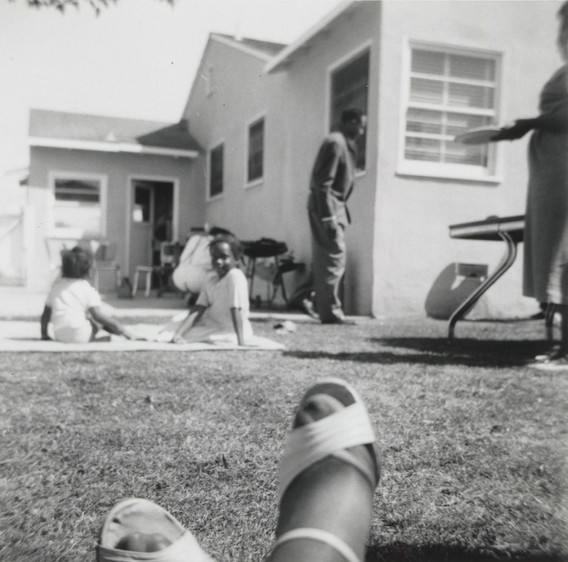 Unknown photographer. Untitled. c. 1960
And then I will imagine, in a direct refusal to forget.
Alongside those who came before me, I imagined Black Archives in an effort to immerse myself within the vastness of Blackness. To reconcile the images of Black folks that I saw depicted in the media and that conflicted with our very existence. The very thing about us that I knew to be true was falsely presented.
My archival work is an ushering of the faces left behind. A space to reemerge fully and joyously outside of bare bones and frameworks. A passageway to reconnect with kin. An affirmation that there shall be no surprises when we witness the sayings of our elders, when our ancestors pierce through our lips and ascend. We see them as they see us. Their facial features as ours—their poses are now our poses, and we are reminded through these photographs that we are not the first, and there's nothing new about us that is born under the sun.
It is imperative that we collectively (re)imagine the archive as more than just a register holding the accounts of dead things. We must make space for the multidimensional lives of Black folks—beyond just the metadata. We must view the archive as a living extension of ourselves and listen for the breaths while counting the heartbeats beyond the unknown, the unnamed, and the unspecified.
In this selection of photographs from MoMA's collection, I chose to highlight the everyday moments of Black life. Not as a way to correct the narrative or "enable some kind of redress," but rather as an exercise in love and narrative reflection.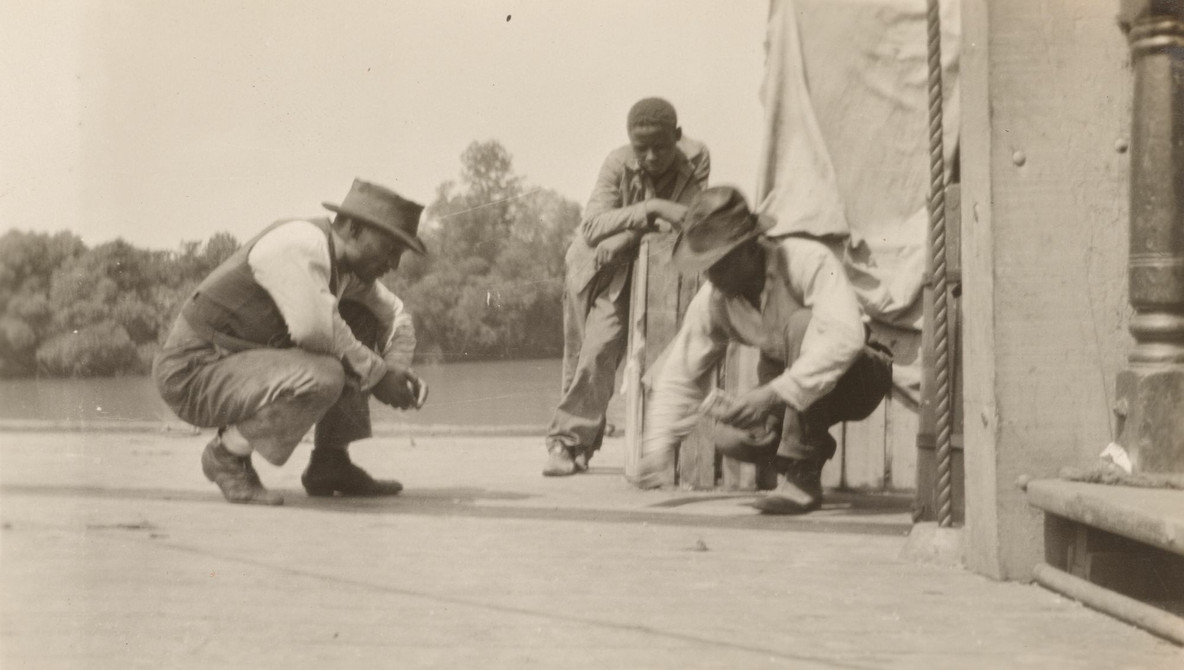 Unknown photographer. Untitled. c. 1923
And I will go on to remember the many versions of ourselves and their-selves, and the selves of us and them that do not yet exist.
This photograph brings me back to my childhood. The poses are part of the inherent language of Black girlhood. It's one of the ways we converse with ourselves and with one another through time.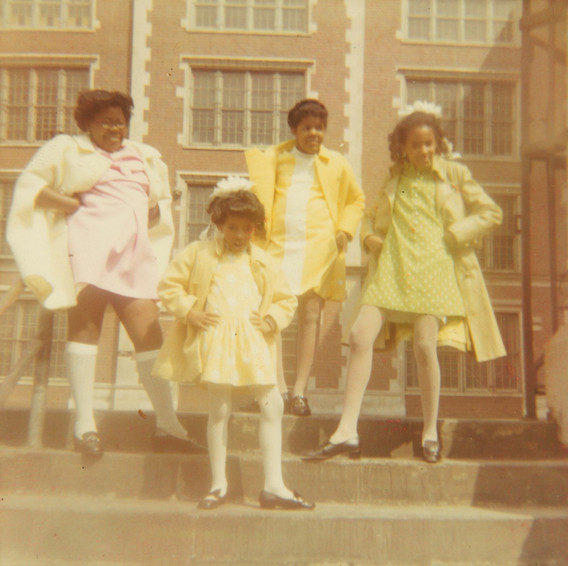 Unknown photographer. Untitled. c. 1965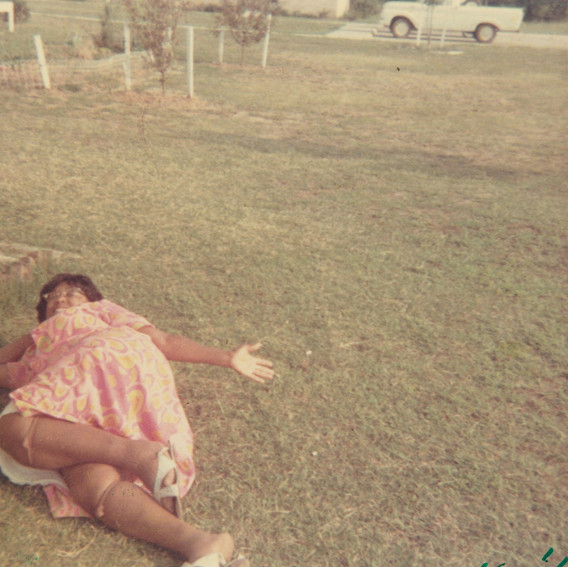 Unknown photographer. Untitled. 1968
One can only imagine what transpired just moments before this photograph was taken. Even though we're missing the contextual clues embedded in digital "live" photography, what we do have is stillness and the beauty of wonder.
I've always felt a strong gravitational pull towards the 1970s. A familiar place I've only visited in the imagination through portals of cigarette smoke and soulful music. This way of being is a timely reminder that Black folks have been birthing cool since the very beginning.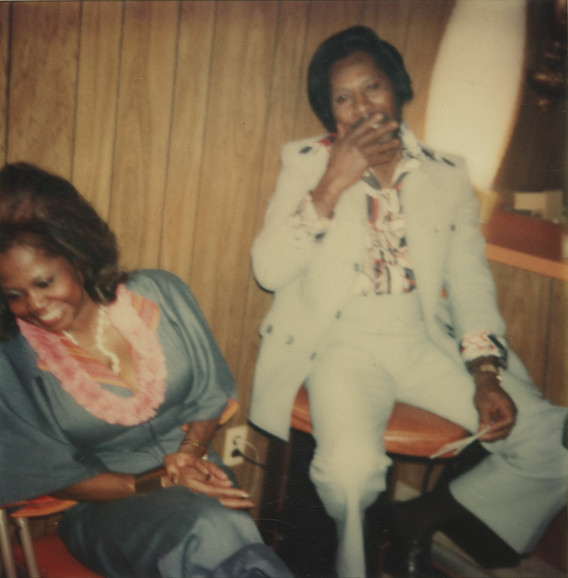 Unknown photographer. Untitled. c. 1970
Unknown photographer. Untitled. c. 1975
Aside from cooking, the kitchen served as a gathering place for many things, but especially for hair clippers and hot combs. This photograph is alive with memory and sustenance, nourished by Easter Sunday mornings and the feeling of cutting my grandfather's hair for the first time.
This joyful moment reminds me of the times I shared with my grandmother. She was a serious woman for the most part, but every now and again we'd share in the opportunity of witnessing one of her many selves.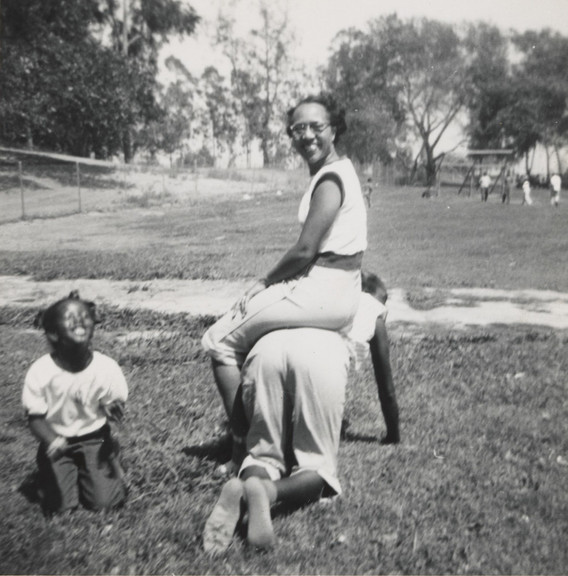 Unknown photographer. Untitled. c. 1960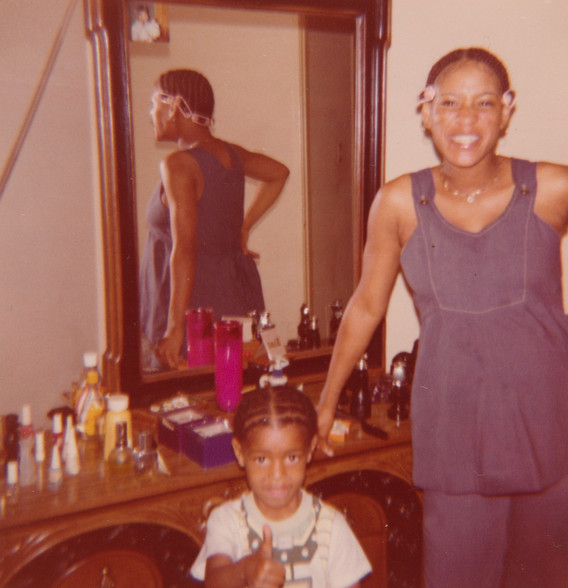 Unknown photographer. Untitled. c. 1970s
I've always been fascinated by interiors and the placement of items on bedroom dressers. This is Black curation at its finest. And exactly the type of thing that pulled me toward the family Bible on my grandmother's dresser. This curation is the thing that keeps me here.
A visual representation of finding oneself propelled into the center of a Black embrace, this photograph reveals a whirlwind of emotions. The figures situate themselves between singing and dancing, between love and time.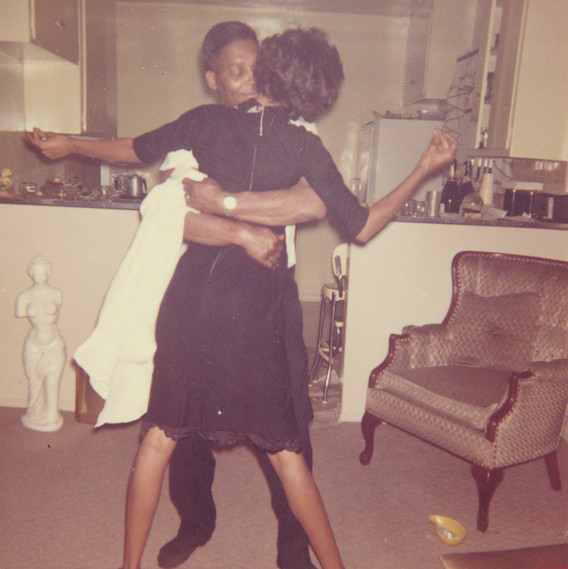 Unknown photographer. Untitled. c. 1960–70
Renata Cherlise is a research-based visual artist and memory worker who uses various mediums to explore themes of identity and familial interiors within the Black community. Her work reimagines themes in literature, history, and photography to render different perspectives of the Black experience. These ideas became the foundation for Black Archives, a multimedia platform that provides dynamic accessibility to a Black past, present, and future.

Explore additional vernacular photographs in Gallery 214: Critical Fabulations, which includes artworks related to artifacts, archives, and testimonies.