Tiona Nekkia McClodden: Conversations through the Archive, Part Two
The artist explores the limits of kink through an adopted ancestor.
In Tiona Nekkia McClodden's 2017 work The Brad Johnson Tape, X — On Subjugation, the artist revives the presence of poet Brad Johnson as a posthumous mentor, activating her body as a medium through which his words, gestures, and ideas survive in the present. This room-sized installation comprises dozens of found objects that reference McClodden's meticulous research into Johnson's archives and biography. Among the elements is a video projected through a peephole in the gallery wall that depicts the tenth in a series of VHS-recorded exercises in which the artist recited Johnson's writing while performing acts of BDSM on herself. On the occasion of installing this work at MoMA, McClodden and I spoke about "the body as a poem," the limits of kink, and the unique balance of tension, pain, and care that runs throughout the artist's work. (And be sure to read the first part of this interview series.)
—Gee Wesley, Curatorial Assistant, Department of Media and Performance
BDSM is a consensual dynamic of play with expressed boundaries that one or many people may engage within in a space. A scene is also a space for people trying to work out positions of domination and submission physically. That's really where I enter into this work. The viewer is only able to see this final scene, but there are nine scenes that precede it that are extraordinarily ranging from something light to something more brutal. I tried to work towards a particular harmony between the submissiveness and the dominance within myself while also taking in and reading Brad [Johnson]'s poem "On Subjugation."
In On Subjugation, you see me suspended by my feet because it's the only thing that would ever put me in a place of pure physical subjugation. I decided to read the poem while in that position because when you're suspended by your feet, your blood rushes to your head. It creates a neurological response akin to drowning, and while you're trying to focus your heartbeat is amplified. Your pulse is so loud that you almost can't hear yourself breathe. I was thinking about what it would take for me, as someone who's dominant, to be put in that place and I decided to put myself in a position that someone else had to let me out of.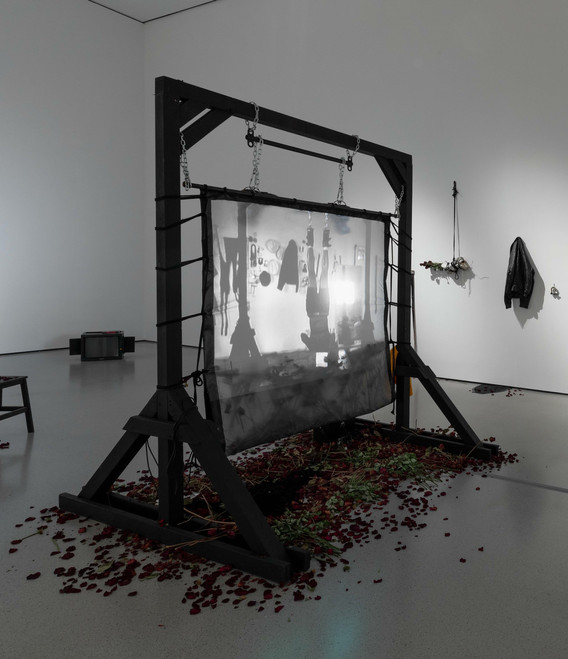 Tiona Nekkia McClodden's The Brad Johnson Tape, X – On Subjugation at MoMA, 2022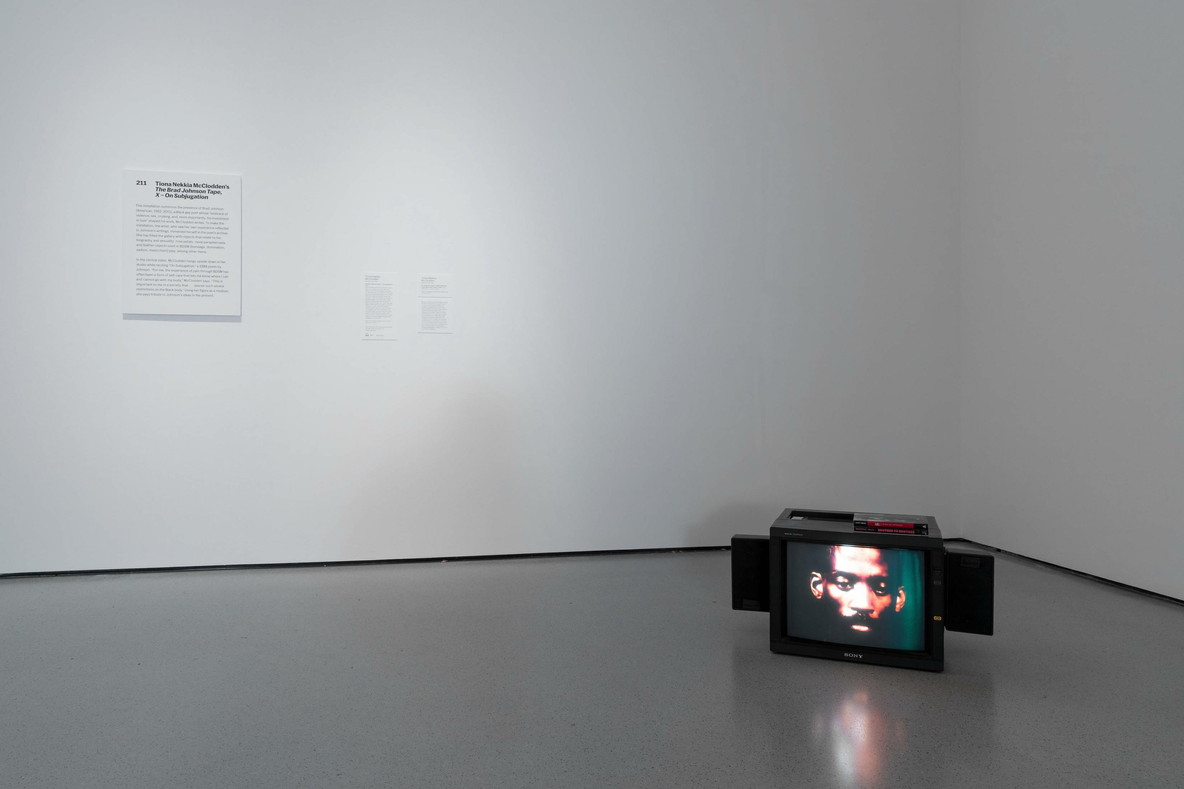 Tiona Nekkia McClodden's The Brad Johnson Tape, X – On Subjugation at MoMA, 2022
I've often searched for things that make me shake a bit. I want to be equal parts afraid, excited, blissfully in some kind of molasses joy. I wanted to handle something that was extraordinarily dangerous in the studio, and not think about how it was going to land. And that's what I think this work is. It's probably one of the more joyful works that I've done. What happens at the end, when you see me finish reading Brad's poem suspended with the mic, and I drop the mic—it's like, "I did it!"
This work, On Subjugation, I think it's the biggest gift Brad gave me.
Tiona Nekkia McClodden
When you look at the work you should wrestle with your proximity to it. Maybe you run away, or maybe it will bring you closer to something that you don't have language for, but that's what tension is for me. This work, On Subjugation, I think it's the biggest gift Brad gave me. When I went back and read all his work I was like, oh my gosh, here's someone who has language for anxiety, for tension, for rage—but also for the desire for these things. Most people would never talk about a desire for tension or a desire for rage. These are things that are explored and found through play, kink, and BDSM.
When you're in this room, it should buzz. I always try to go for the sound of a slowly deflating balloon. I think that tension is something I'm trying to figure out how to make physical, then how it can put it back into the body of the viewer or the person that enters into the installation or the space of a work. Tension has been something that I've been continually investigating across all the work that I've done. It's a way to be confrontational, or to say that you should feel something, because I think the work is very polarizing. There's care there, for sure, but there's also this form of edging that I'm interested in, and pushing people to think about and reevaluate their subjectivity in the space of this work.
Tiona Nekkia McClodden's The Brad Johnson Tape, X – On Subjugation at MoMA, 2022