Tiona Nekkia McClodden: Conversations through the Archive, Part One
A multimedia artist explores the life and work of an adopted ancestor, and discovers he was part of her journey years before she realized.
Artist and filmmaker Tiona Nekkia McClodden is on a journey to speak to her ancestors. Not blood ancestors, but queer artistic predecessors. From 2014 to 2017, McClodden completed a series of works that revived the contributions of Black gay artists active during the 1980s AIDS crisis. McClodden's 2017 work The Brad Johnson Tape, X — On Subjugation, which examines the life of the Black gay poet Brad Johnson (1952–2011), is currently on view at MoMA. Johnson, who was based in Philadelphia, where McClodden has lived and worked since 2007, is best known for his contributions to several groundbreaking anthologies of Black queer literature. While McClodden never met Johnson, who died in 2011 of AIDS-related complications, the poet's life, papers, and writing are evoked throughout McClodden's installation. The artist recently spoke to me about her interest in the archive and how she came to rediscover Johnson, her adopted ancestor.
—Gee Wesley, Curatorial Assistant, Department of Media and Performance

From 2014 onward, I was in a very particular place. There was the various waves of violence that start to, like, rear their head. For me more personally, I was in a wave of a lot of people dying who were elders, queer elders. You have older lesbians who are dying of breast cancer. You have elder Black men who have been HIV positive for a long time dying of complications because they're getting of a certain age.
There was a severe gap. There were no elders. And the ones that I wanted to be around, the wild ones, were gone. What was left, and there are many that still exist, they were too conservative for me, and so I couldn't relate. I decided that I needed to really handle materials that were specifically tied to Black, queer, genealogical-like subjects. And so I started to go in the archive.
I need[ed] to look at people—specifically Black gay men who were producing work at the height of the AIDS epidemic, because those artists were facing death. I was born in 1981 and there was something that I knew about that time period. I wanted to look at that moment and learn how to deal with anger, how to deal with the fear of death, how to deal with a lot of difficult things that I felt like a lot of my peers and younger people definitely did not want to deal with.
It became very specific in this search for Black, gay, posthumous mentors. I felt like I wanted to take care of them in a different kind of way—artistically. That's pretty much what it was about. I had to find people who could be a mentor for me, even though I missed them...like, literally missed them.
[If] I have interest in someone or something, I'll go to the archive. I'll look at it. I've never settled for people who say things that didn't exist. I need to know what did exist. I don't want to be ignorant. And I've never chosen ignorance when it comes to dealing with people who are Black and queer.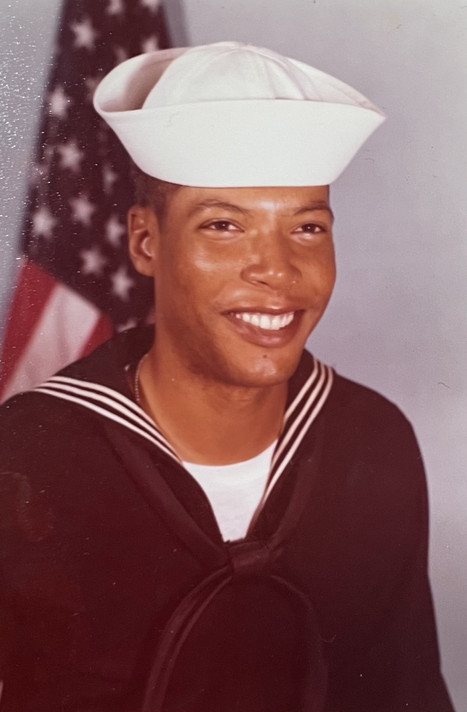 Brad Johnson in Navy portrait, Orlando, Florida, 1981
He's not my biological ancestor, but I consider him a queer ancestor, and I decided to approach him in kind of the way that you would engage with a deity.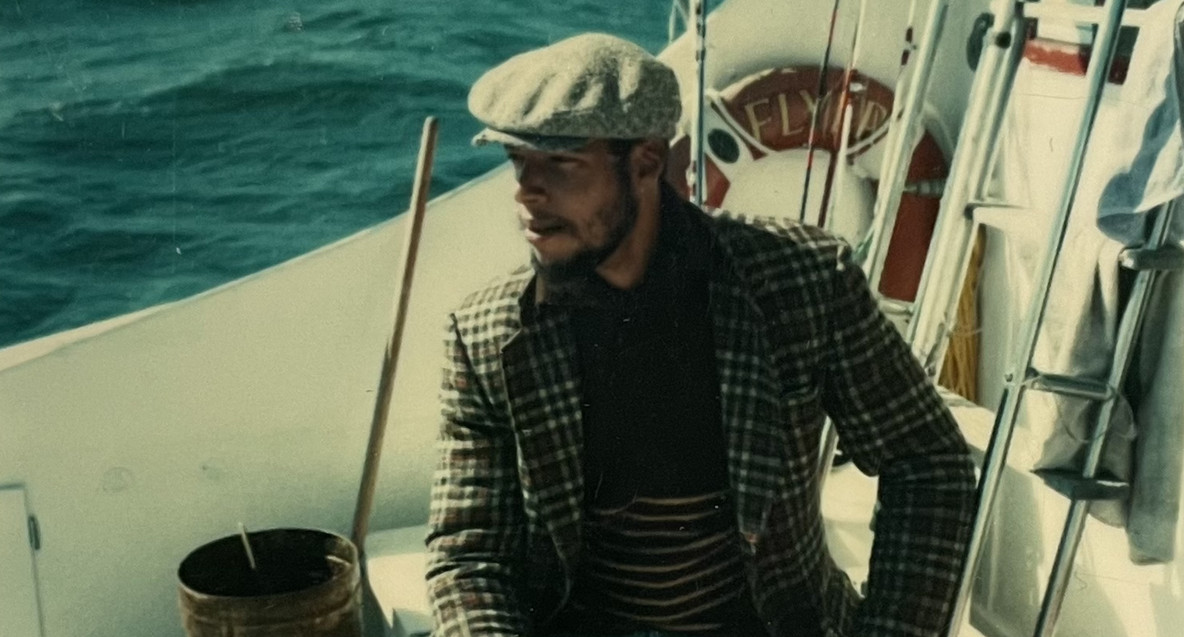 Brad Johnson aboard a blue fishing boat, 1984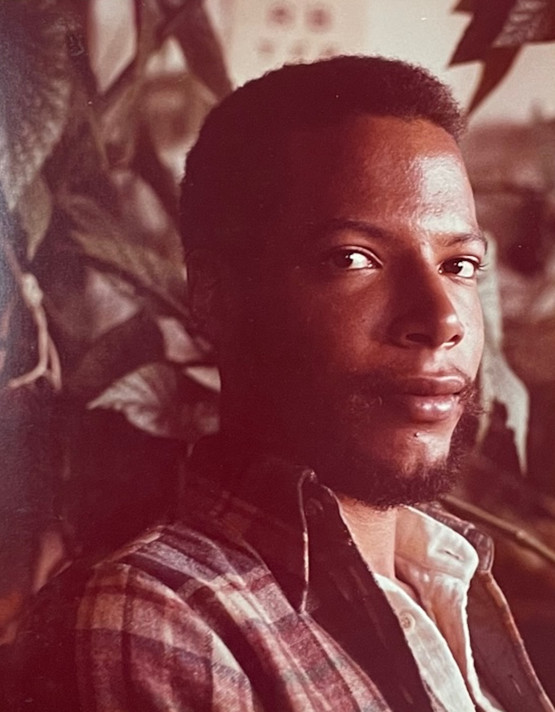 Brad Johnson, San Francisco, 1974
Brad Johnson, ultimately, is a writer. He wrote across a couple of forms—poetry mainly, and prose. He lived in Philadelphia, like I do, at a very specific time. [Before that] he was in the military in the early '80s. He was out. He actually has documents in there where he talks about his superior basically, like, giving him an envelope of porn of men. And he has pictures in [his] archives of sleeping naked soldiers and lovers. A lot of the lovers that he's writing about in some of [his] earlier texts are coming from his time in the military. But he was also very, very, very exceptional in the military. When he left, he left because he did a term, he wasn't kicked out or ostracized.
The way I came about him is so bizarre because I read his work without really knowing who he was. My freshman year of college, I was able to get my hands on a copy of In the Life and, quite frankly, I overlooked him. And then in 2016, I went to Avril 50 in West Philly. It's the only place in Philadelphia where you can get a range of art magazines, [including] an LGBTQ section of journals and what they call dead stock magazines that go all the way back to, like, the '70s or something, '80s. I would make my way through the store over time and decided to go through all of the LGBTQ journals and things when I saw Other Countries.
I knew about this journal and was so shocked that I almost didn't believe that I saw it because it was an original. I flew out of the store determined to read the opening essay on Bayard Rustin. I wasn't even really thinking about Brad at that point. But I had the book with me on the train rides over the next couple of weeks and I opened it and saw [Brad Johnson's essay] "On Subjugation," and I read it so intensely I missed my stop.
I was completely disoriented after reading that text. I was like, who is this man? I have to figure out who would dare write something like this in the '80s. And that's how my fascination, obsession, investment in Brad started.
He's not my biological ancestor, but I consider him a queer ancestor. [After his death] Brad Johnson had his papers donated to the Schomburg Center for Research in Black Culture for their archive. What is generally an archive is usually a box containing unorthodox things. And in his box was all the books that he was published in, these anthologies. It was in this moment that I realized text can die.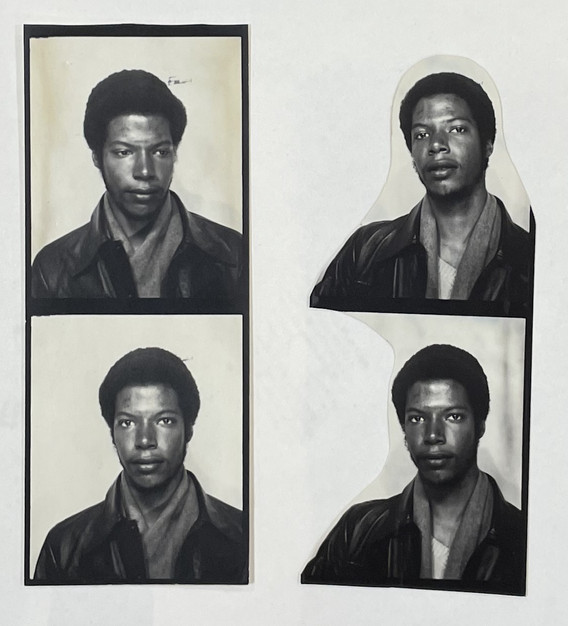 Brad Johnson in Paris, c. 1972–73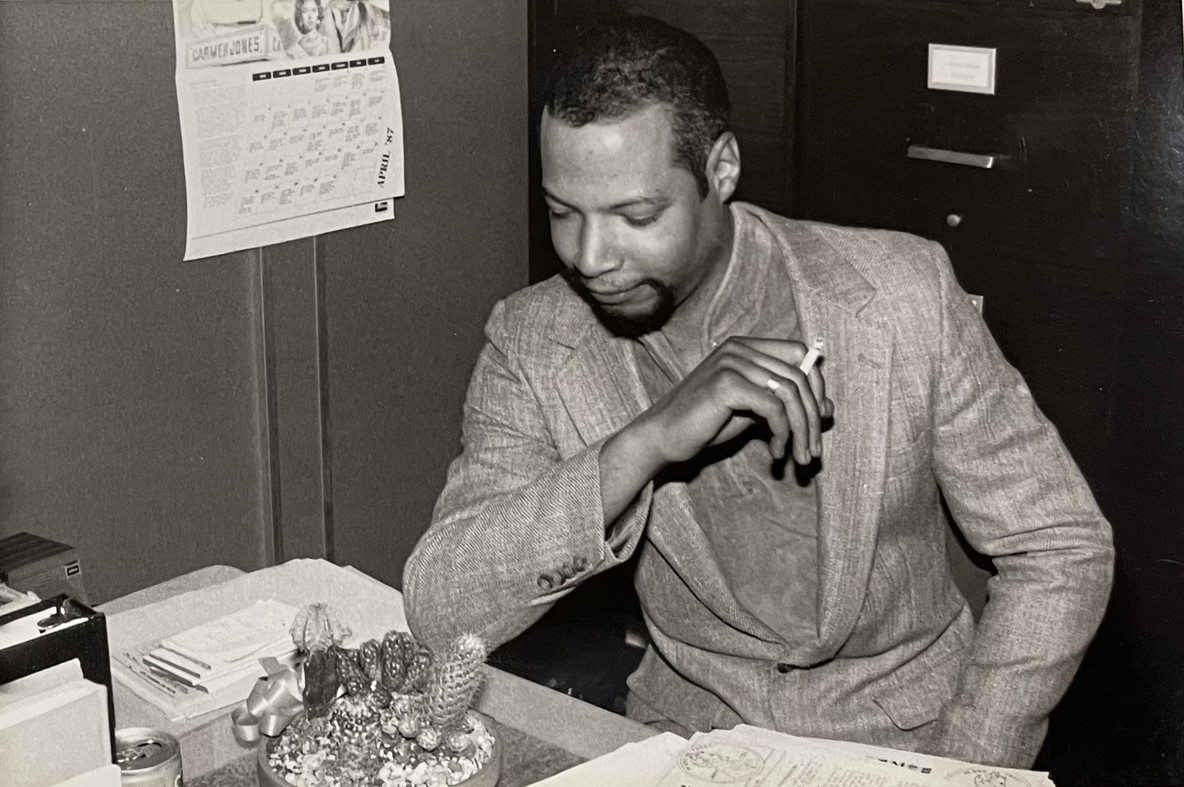 Brad Johnson working at the US Mint in Philadelphia, 1986
Brad died thinking and feeling like he was a failure. [But] the failure that I saw was the lack of the transition of textual base or publication into this digital space that we're in. But also, if you're thinking about publications at the time, things are published in limited runs, and people have them on their shelves, but they're not republished.
[The archive] came after a four-page letter was written to the director [of the Schomburg] at the time to ask that she take the papers because otherwise his family would erase him. So the papers are safe, but his objects and things—there's no one who has them.
When you're dealing with the archive of Black queer subjects, you're dealing with something that is inherently dangerous because of how that archive has always been handled. Oftentimes, it's aided in what people refer to as a "dual death." Someone dies, and then people purposefully get rid of their things to erase them again.
In terms of archival acquisition, I think the [presence of the] Black queer subject, first of all, is very minimal. And then when it is [present], you'll find some of the more extreme stipulations on what can be read, how many years down the line [until] it can be read, and it just gets really intense. You begin to understand just how difficult it is for these [stories] to exist in the archive.
But it makes me want to look. I'm like, "What are you trying to hide?" And by "you," I mean the institution, the state—not so much the person. Because their things are there, there's just other people trying to control a particular narrative.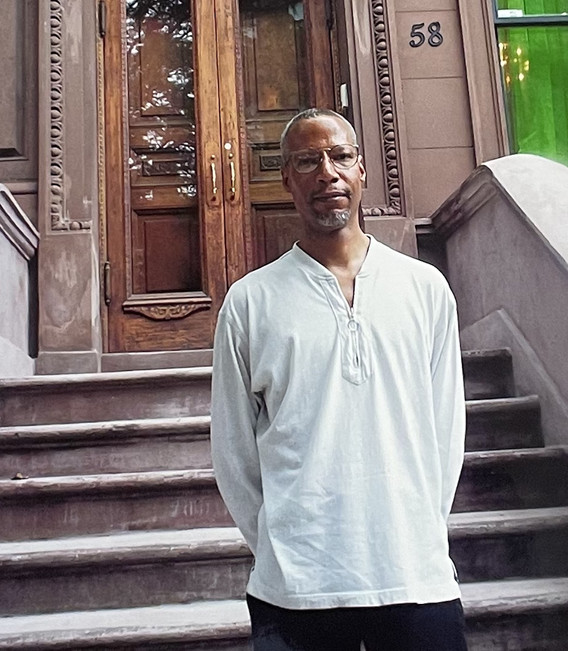 Brad Johnson in front of Maya Angelou's Harlem home, 2004
The archive, for me, is so specific. I've gone there to have conversations with people and make them very real. I have less than a degree separation from Brad. I know people who knew them. I know people who've cared for them. You want to get super creepy? His PO box is right next to mine. I found that [out] when I saw his résumé. He dies in 2011. I moved to Philly in 2006. I could have seen the man. I'm pretty sure we were in rooms together. People say events that he was at, and I was like, I was at that event. It's giving me chills now.
The reason I talk so freely about the spiritual aspect is because it felt like that, and I tried to follow it like that.