Building Self-Determination
Curators share highlights from The Project of Independence: Architectures of Decolonization in South Asia, 1947–1985
On view at MoMA beginning February 20, 2022, The Project of Independence: Architectures of Decolonization in South Asia, 1947–1985 showcases the remarkable contributions made by the first generation of post-Independence South Asian architects. The violent Partition of 1947, which divided British India into two dominions, also signaled the beginning of an ambitious process of nation-building across the subcontinent. In each of the newly independent countries of India, Pakistan, Bangladesh (formerly East Pakistan), and Sri Lanka (formerly the British Crown Colony of Ceylon), modern architecture became a means for asserting participation in progressive global politics, forging a common regional identity, and breaking with the colonial past. With many buildings in South Asia now facing demolition threats and falling into disuse, these projects mark a historical moment of unfettered optimism and stand as powerful manifestations of a collective trust in architecture's transformative potential.
The photographs illustrating the text below are part of a newly commissioned portfolio by New Delhi-based architectural photographer Randhir Singh.
Raj Rewal, Mahendra Raj. Hall of Nations, Pragati Maidan, New Delhi, India. 1970–72. Demolished 2017. Exterior view. 2015
Erected for the 1972 International Trade Fair, which was held to commemorate India's 25th anniversary of Independence, the Hall of Nations and Halls of Industries showcased Indian industrialization and international commerce. Designed by Raj Rewal, both buildings featured modular, concrete tetrahedrons that interlocked to create the largest pyramidal space-frame structures of their kind. Although born of economic constraints, the decision not to use prefabricated steel produced a highly complex design that could only be realized thanks to the abundance of laborers who could cast concrete on-site. After being in a state of disrepair for years, the pavilions were demolished over a single night in April 2017, despite objections from the international architectural community and requests for heritage status. Their rushed destruction, which Rewal called "an act of outrage," points to the precarious status of India's post-Independence modernist architecture, which local governments and private owners routinely deem unworthy of preservation, unlike the architecture of earlier periods.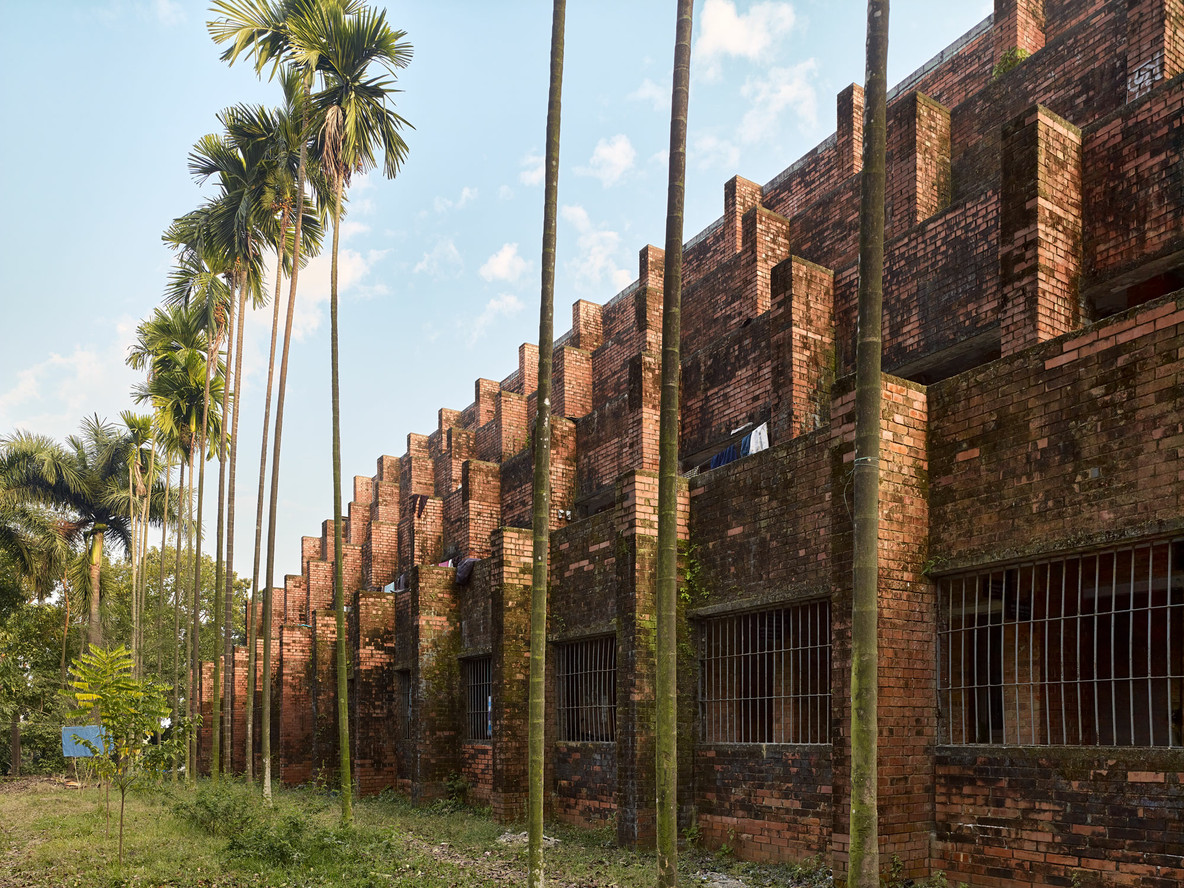 Muzharul Islam. Chittagong University, Chittagong, Bangladesh (formerly East Pakistan). 1965–71. Exterior view. 2020
In his plan for a university located on forested, hilly terrain in a riverine delta, Muzharul Islam aspired to leave the site's ecosystem undisturbed. The 600-acre (243-hectare) campus superimposes a distinct layer of complex geometries over the existing landscape, creating a strong synthesis of architecture and nature. Nestled into the topography, freestanding brick and concrete structures are connected by paths that allow for 15-minute walks between them. The buildings clustered along the edges of the hills comprise classrooms, administrative offices, and housing complexes. Islam's design brings a modernist sensibility to the architecture of Bangladesh in a convergence of materials, form, and nature.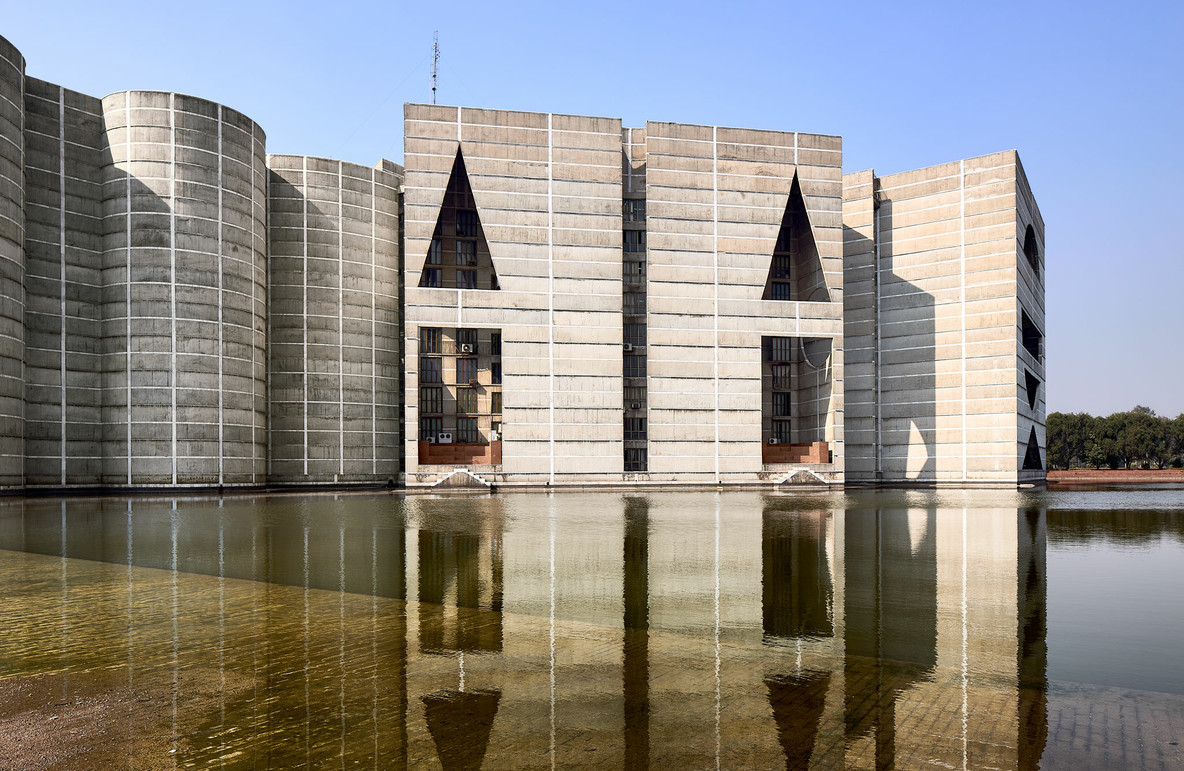 Louis I. Kahn, completed by David Wisdom & Associates. National Parliament House, Sher-e-Bangla Nagar, Dhaka, Bangladesh (formerly East Pakistan). 1962–82. Exterior view. 2017
The National Parliament House in Sher-e-Bangla Nagar, Dhaka, designed by Louis I. Kahn, is formed by squares, circles, and triangles that intersect and are inscribed into one another. It is part of a larger governmental and civic complex, which includes a mosque, dining hall, hospital, museum, offices, residences, and schools. The structure was meant to stand as a symbol of national unity and to function as the political center of what was, at the outset, the capital of East Pakistan. Construction was halted during the Bangladesh Liberation War of 1971; when it resumed, the National Parliament House was reconfigured as the parliamentary assembly of Bangladesh's new national capital.
While working as the principal architect of the Capital Development Authority of Islamabad, Anwar Said designed a series of prototypical mosques. Punctuating the Islamabad master plan designed by Doxiadis Associates (DA), which configured the city as a hierarchical mosaic of nested, self-contained sectors, Said's concept envisaged small, medium, and large ("A," "B," and "C" type) structures. These mosques made a culturally inflected version of modernism an integral part of Islamabad's daily life. The Ahle-Hadith Mosque stands in the city's sector G-6/1 and is the only realized example of the "C" type. Its diamond-shaped plan revolves around a central courtyard, with concrete groin vaults and pointed arches forming tessellated coverings over interior spaces, including a double-height central prayer hall.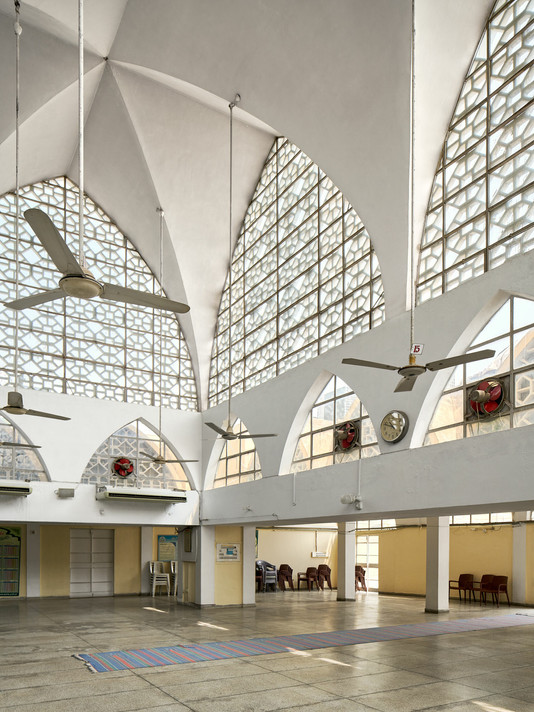 Anwar Said. "C" Type Mosque (Ahle-Hadith Mosque), Islamabad, Pakistan. 1969–73/1975–77. Interior view. 2020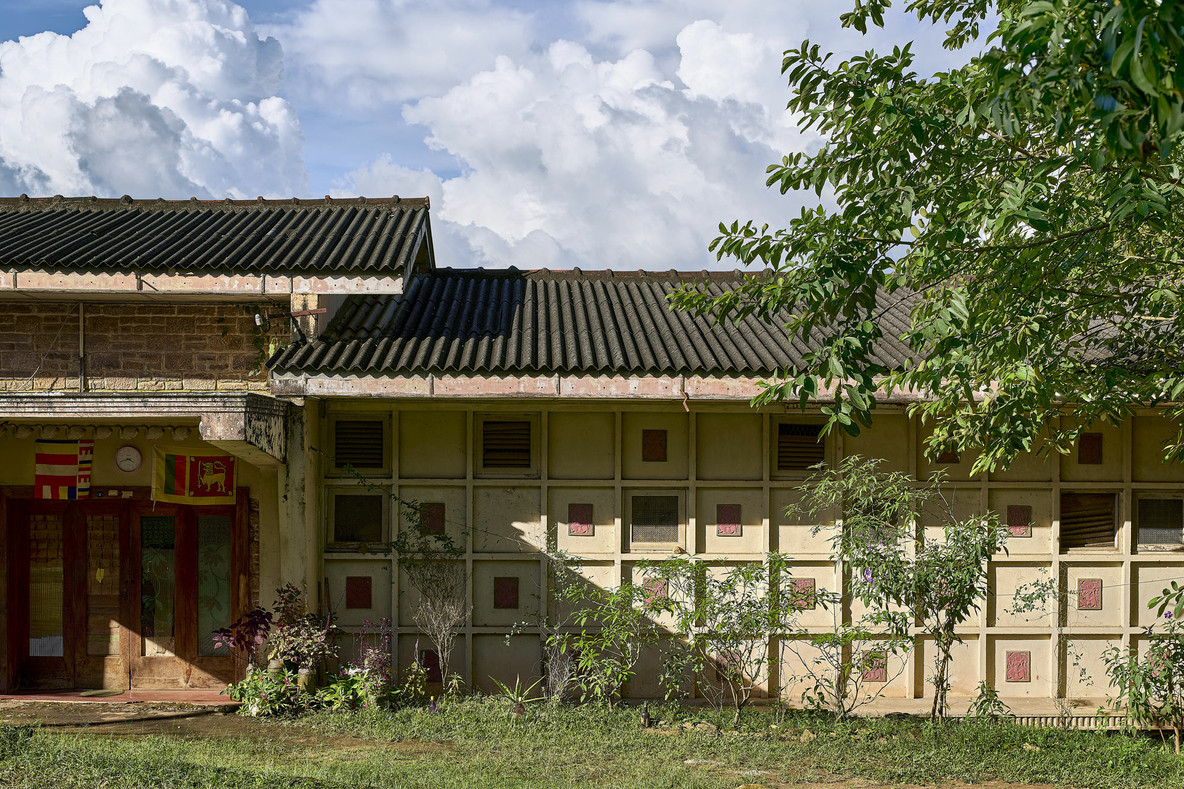 Minnette de Silva. Karunaratne House, Kandy, Sri Lanka (formerly Ceylon). Exterior view. 2021
"Much of my work has been based on finding a workable synthesis of traditional and modern architecture," Minette de Silva has written. "Throughout my childhood I have lived and moved among Kandyan craftsmen and artists." Her private houses and small housing complexes reflect this synthesis with their mix of materials, from concrete and brick to terracotta and wrought iron, as well as their inclusion of local craft techniques, such as Kandyan woodwork, woven hemp Dumbara mats, traditional ornamental motifs, and murals. De Silva's work is iterative yet flexible and unconstrained, with spaces for indoor and outdoor activities flowing into each other and open areas adjacent to intimately scaled ones. Through both her theoretical and built work, she was an early proponent of climate-responsive design.
Alongside Indian Institutes of Technology (IITs) and State Agricultural Universities, a number of Indian Institutes of Management (IIMs) were established in the decades following Independence, offering business training through courses in science and technology. IIM Bangalore is one of four IIMs designed by Balkrishna V. Doshi. The others are IIM Ahmedabad, designed with American architect Louis I. Kahn, IIM Lucknow, and IIM Udaipur. The expansive feeling of the 100-acre (40-hectare) campus in Bengaluru (formerly Bangalore) is heightened through intersecting sequences of concrete-and-granite stairways and semicovered passageways, arranged in an orthogonal plan and strewn with tropical vegetation. Cross-breezes flow through sunlit courtyard spaces, diminishing the distinction between indoors and outdoors.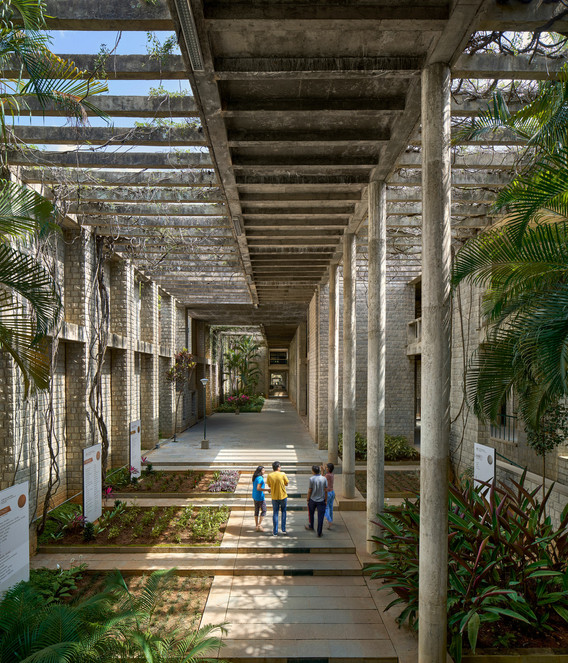 Balkrishna V. Doshi. Indian Institute of Management (IIM) Bangalore, Bengaluru, India. 1977–92. View of walkway. 2020
The Project of Independence: Architectures of Decolonization in South Asia, 1947–1985 is on view at MoMA February 20–July 2, 2022.