An Introduction to The Project of Independence: Architectures of Decolonization in South Asia, 1947–1985
Read an exclusive excerpt from the exhibition catalogue.
South Asia holds a unique place among the many regions of the world where modern architecture served both as an instrument and an active agent of social progress in the second half of the twentieth century. Architects, planners, and engineers in the newly formed nation-states of what had been British India and the Crown Colony of Ceylon after the end of colonial rule in 1947/48 made a significant contribution to the project of independence. Through their work, they articulated a powerful vision of a self-determined postcolonial society. This aspiration was expressed in new cities and spaces of political representation, and in the construction of formally and typologically innovative buildings. By responding to the social and material conditions on the ground, they asserted a cosmopolitan worldview that was uniquely situated in the subcontinent. In so doing, Pioneering South Asian architects set in train processes that disrupted the colonial hierarchy of center and periphery by challenging modernism's universalist claims in ways that would reverberate across Asia, Africa, the Caribbean, and beyond.
The four countries that are the focus of this book and the exhibition it accompanies—India, Pakistan, Bangladesh, and Sri Lanka—all had a centuries-long history of (British) colonization;1 they are therefore often represented as a shared cultural space, whose identity is defined as much by an interconnected history in the precolonial and colonial periods as by the ways in which, after Independence, they reimagined themselves as progressive, egalitarian, predominantly secular nation-states. This holds true notwithstanding the trauma, in India and (East and West) Pakistan, of Partition—which left hundreds of thousands dead and led to one of the largest refugee crises in human history—and nationalist armed conflicts, including that which led to the independence of East Pakistan as Bangladesh in 1971. If the transition to independence in Sri Lanka (then Ceylon) was in many respects more organic and gradual, minoritarian challenges to hegemonic state-building would escalate into a bloody civil war that began in 1983 and would last three decades.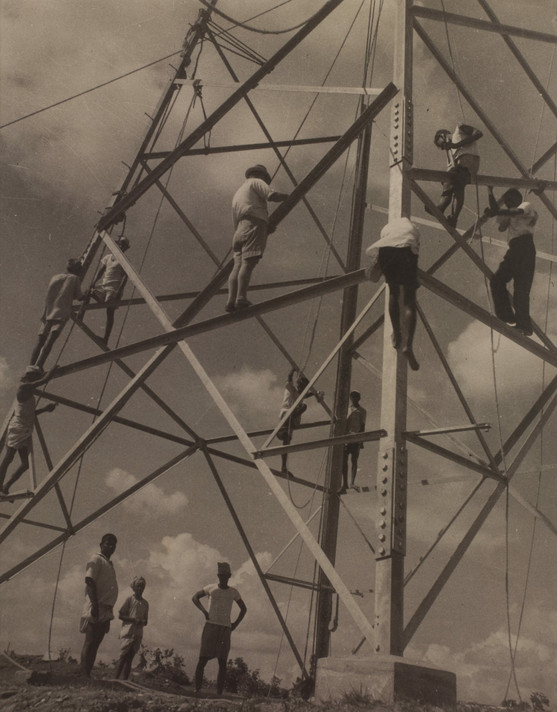 Sunil Janah. Industrial Documents. Untitled. 1940s–1960s
Having achieved political Independence, these respective South Asian territories forged distinctive pathways to self-determination against the backdrop of ongoing Cold War political tensions and rivalries. Despite various and in some cases shifting alignments with the Soviet Union and the United States, whose strategic interests were reflected in funding priorities, the notion of a shared space is also evident in political bids for greater self-determination through India, Ceylon, and Bangladesh's membership of the Non-Aligned Movement during the 1960s and 1970s (Pakistan ultimately joined in 1979) and the formation of the South Asian Association for Regional Cooperation (SAARC) in 1985. That year marks the end point of our project, as it also coincides with the increasing dominance of regionalist tendencies in South Asian architecture. The tenets of regionalism in many ways paralleled the emergence of postmodernist discourse in the West, which constituted a separate but related indication of an increasing disenchantment with the unfulfilled utopian visions of modernism.2
Our focus, then, is on a period of architectural production shaped more by secular "statist" goals than these later "culturalist" agendas. The Project of Independence: Architectures of Decolonization in South Asia, 1947–1985 seeks to acknowledge the agency of architects in devising a built trajectory of self-determination for their respective countries while also accounting for the larger political and economic parameters that made their work possible. To this end, it is addressed in the pages that follow alongside various facets of the project of independence, among them politics and urbanism, industry and housing, and the role played by new institutions in shaping greater self-reliance and self-determination, generally giving less emphasis to more private commercial commissions. The relative dominance afforded to India in this narrative is a consequence of its sheer size and population compared to those of the three others. It is also a result of the greater availability of architectural archives. Much of the original material, in terms of sketches, architectural drawings, and plans, is presented here for the first time to a wider audience. And while several prominent South Asian architects have in recent years received monographic exhibitions, this project is the first attempt to consider their impressive and significant output within the ideological frameworks of its creation and the political context of the region as a whole.3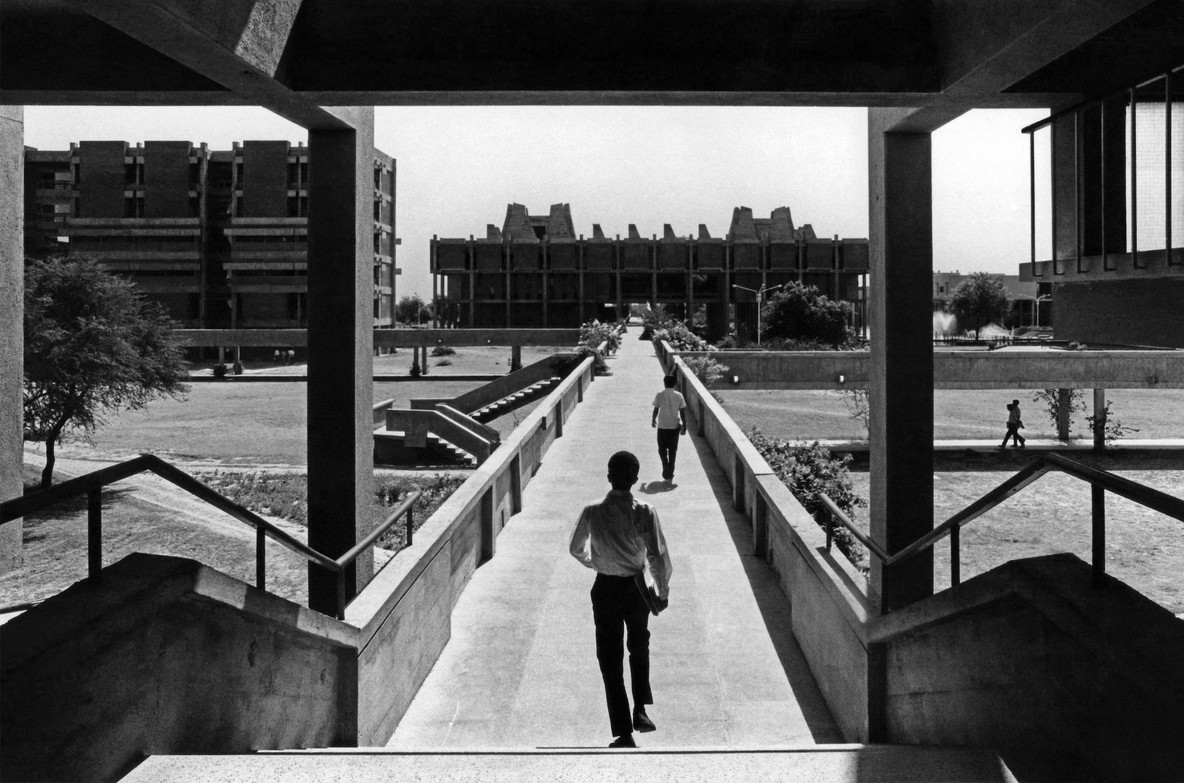 Achyut Kanvinde, Kanvinde & Rai (est. 1955). Indian Institute of Technology (IIT), Kanpur, India. 1959–66
In her recent study Worldmaking after Empire, Adom Getachew presents a powerful argument for understanding the political project of decolonization in the mid-20th century through a reconceptualization of "anticolonial nationalism as worldmaking."4 Translated to the context of South Asian architecture from Getachew's primary focus
on the Black Atlantic world and the sphere of international politics, this position implies a practice of design and construction that speaks not only to the immediate needs of the newly founded nation-states and their respective desires for self-representation, but also to the aspiration to be part of a larger international conversation about modernity. The construction of a new built environment was an important dimension of postcolonial cultural production that gained aesthetic agency and symbolic meaning by aligning with political goals. Hence, in post-Independence South Asia, modern architecture can be considered a constitutive part of the process of postcolonial political and cultural decolonization within a broader project of worldmaking that sought to create what Getachew calls an "egalitarian international order."5 Nationalism and cosmopolitanism, from this perspective, are not to be understood as mutually exclusive, but rather as interdependent forces that defined the politics of decolonization in the Global South.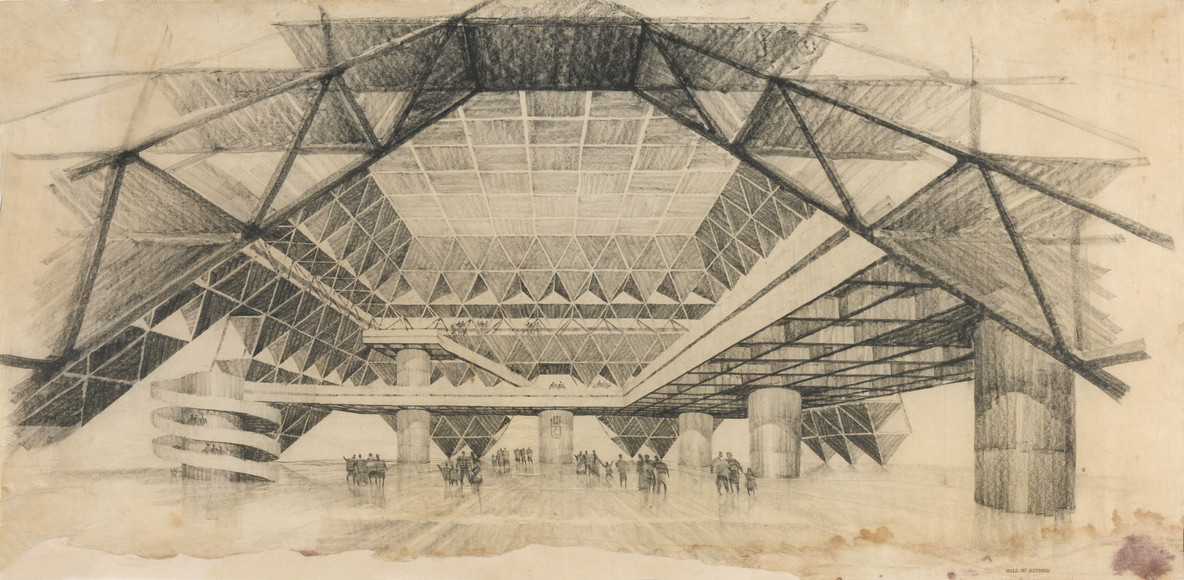 Raj Rewal, Raj Rewal Associates (est. 1962). Hall of Nations, Pragati Maidan, New Delhi, India. 1970–72. Demolished 2017
Our project thus intends to speak to the productive intellectual double-bind between nationalism and internationalism. What the literary scholar Alpana Sharma has identified for some of the most prominent first-generation, post-Independence writers from the region, such as Mulk Raj Anand, Attia Hosain, and Raja Rao, is relevant for their architectural colleagues as well, namely that "modernism is the natural idiom of these writers in so far as it provided them with a sharp-edged tool with which to chip away at the edifice of colonialism."6 Thus, while recent research across disciplines has powerfully asserted the degree to which modernity and colonialism were and are intertwined and unthinkable without each other, it is worth emphasizing that modernity—and modernism as its cultural articulation—was also embraced as a powerful tool in the process of decolonization, not least through the ways in which it embodied and expressed the collective social aspirations of the region's newly independent nations. It was only consequential in this context that many architects turned away from British models of architectural pedagogy and versions of the modern—such as Art Deco, which had been popularized in urban centers such as Bombay under colonial rule, or the incorporation of aspects of traditional monumental architecture in the colonial-modern "Indo-Saracenic" style—and instead looked to align themselves with a Continental conception of modernism, often filtered through the so-called International Style in the United States, but adapted to the very different economic, cultural, climatic, and technological situation of South Asia.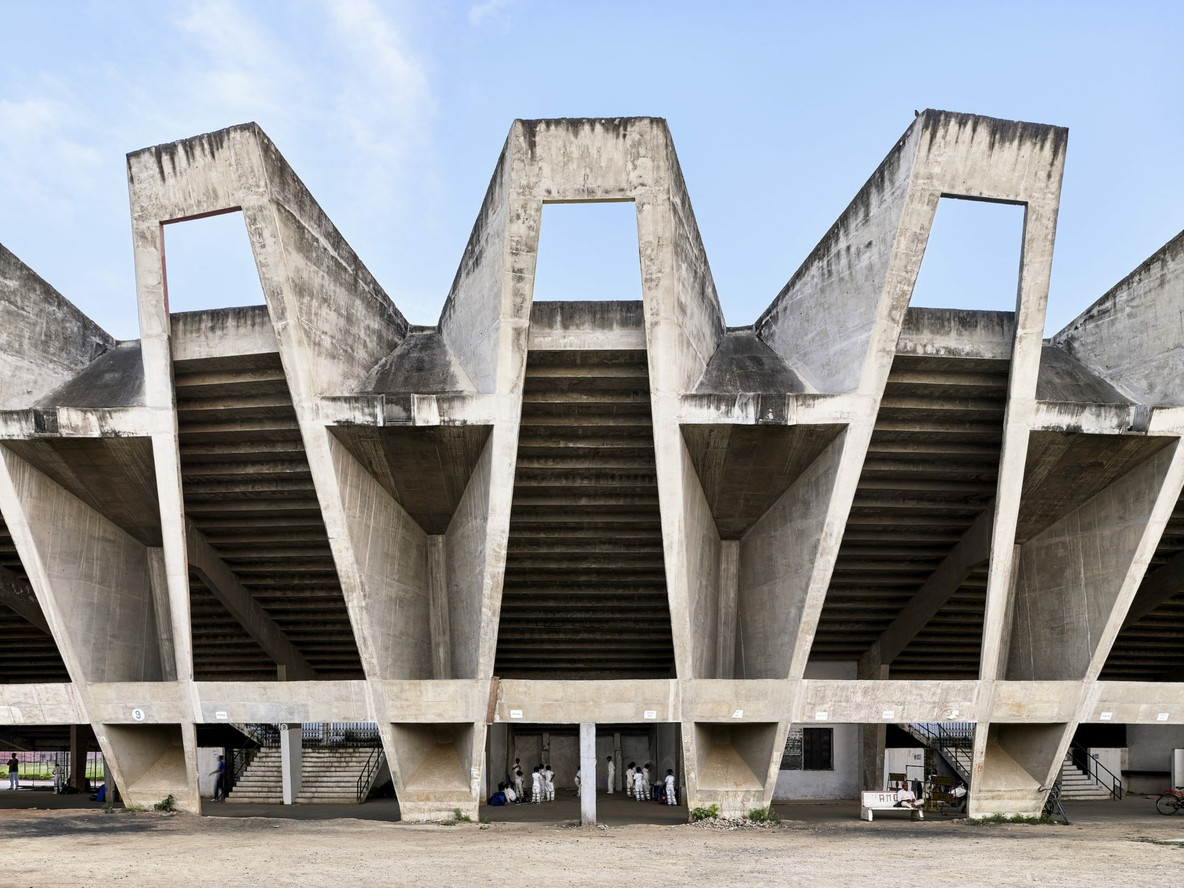 Charles Correa. Sardar Vallabhbhai Patel Municipal Stadium, Ahmedabad, India. 1959–66
Modern architecture, in this light, can be understood as serving as an instrument of cultural emancipation not only from the weight of political and cultural colonization but also from a rigid conception of modernism as uniquely developed by the West and considered from a Western perspective. South Asian post-Independence architecture stands in a specific relation to the concept of cosmopolitanism—"ways of thinking, feeling, and acting beyond one's particular society"7—which has held center stage in postcolonial theory since its introduction by thinkers such as Homi K. Bhabha, Gayatri Chakravorty Spivak, and Arjun Appadurai.8 Related theories of "cosmopolitics" explored the situated and embodied character and complexity of cosmopolitanism.9 Building on the work of a generation of postcolonial scholars who have opened up new decentered points of view by considering the multiplicity and entanglements of modernist architectures and urbanisms, Duanfang Lu conceptualizes the "distinctive meanings, practices, trajectories, transformations, and consequences" of what she calls "Third World modernism."10 Lu writes: "Recognition of other modernities has to be posited at the level of epistemology in order to imagine an open globality based not on asymmetry and dominance but on connectivity and dialogue on an equal basis."11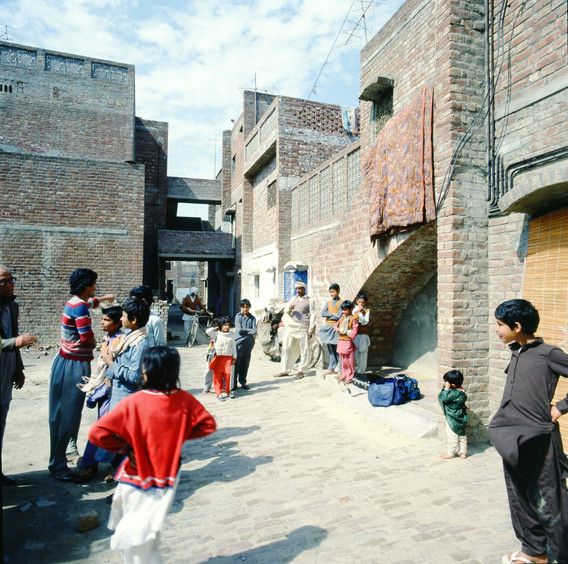 Yasmeen Lari. Anguri Bagh Housing, Lahore, Pakistan. 1972–73. Exterior view, c. 1980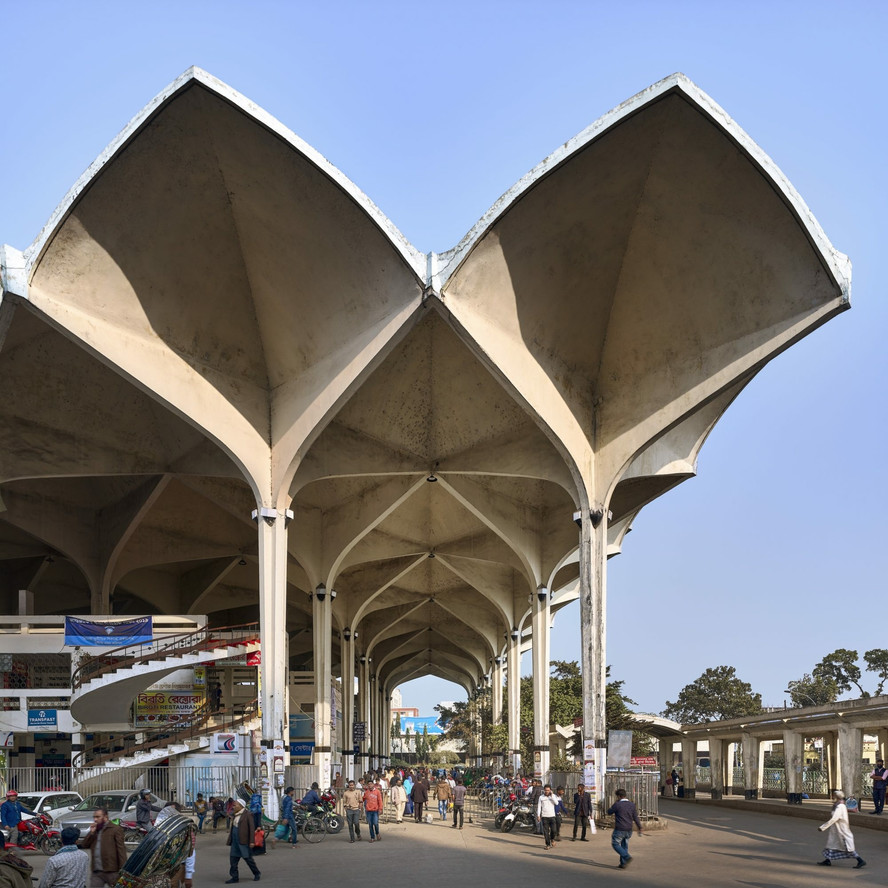 Daniel Dunham and Robert Boughey, Louis Berger and Consulting Engineers (est. 1953). Kamalapur Railway Station, Dhaka, East Pakistan (Bangladesh). 1968
In this spirit, we do not dwell at length on Le Corbusier and Louis I. Kahn, the two seminal Western figures who have been celebrated many times previously for their bold contributions to architectural modernism in South Asia. Nor do we offer an expansive discussion of the many other foreign architects who were realizing projects in the region after Independence, among them figures such as Richard Neutra, Edward Durell Stone, and Gio Ponti. Instead, the focus is on significant projects of the first generation of post-Independence architects who either were born in the region or settled there permanently. Many members of this generation trained in the West, and upon their return to the region adapted and interrogated their education in addressing the social, economic, cultural, and material conditions on-site, furthering the notion of a hybrid approach that speaks to both global and local frames of reference. While some of these efforts have in the past been judged harshly as having aligned too closely with Western precedents, these architects' highly reflexive design processes were shaped by competing notions of identity: one anchored in a sense of transnational modernity and the other rooted in the specificity of place. It is in this tension between the universal and the specific that the historical and aesthetic significance of the impressive body of work of the first generation of post-Independence architects in South Asia is situated. The plurality of voices and approaches evident in their architectural production is reflected by the range of the essays by leading scholars in the field gathered in this book, through which we hope to illuminate the significance of South Asia's modern architecture in the histories of global modernism.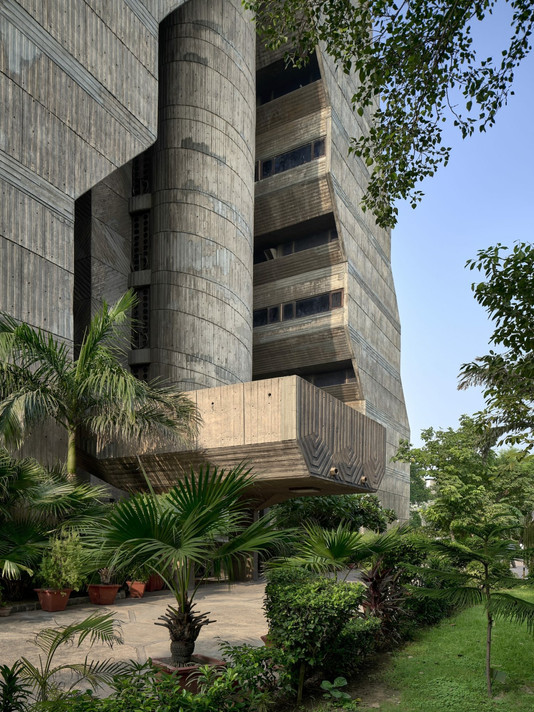 Kuldip Singh. National Cooperative Development Corporation (NCDC) Office Building, New Delhi, India. 1978–80
The Project of Independence: Architectures of Decolonization in South Asia, 1947–1985 is on view at MoMA February 20–July 2, 2022.