Poet Camille T. Dungy reads her poem, inspired by David Hammons's enigmatic sculpture.
For this year's edition of our Poetry Project, we asked poet Ada Limón to select nine distinguished American poets to respond to artworks from the Museum's collection. Here, Camille T. Dungy shares her poem inspired by David Hammons's High Falutin'.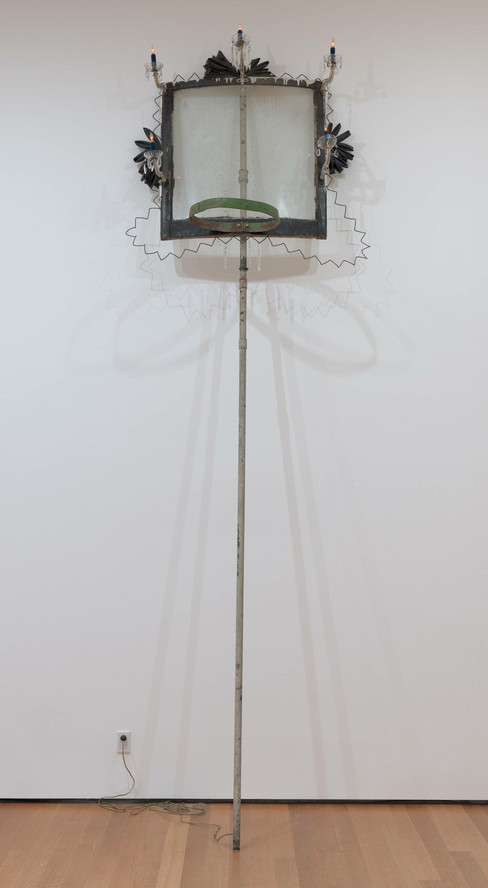 David Hammons. High Falutin'. 1990
Benediction
—after David Hammons's High Falutin' (1990)
I wish you could smell it,
summer in the cities
where all these men were once
boys. Bless the bakeries.
The owners who had no heirs
willing to wake daily
at 3 am, and bless
the men those children made
of themselves instead. Bless
the holy mess they made
of their musculature.
Bless their many bones
and the crystals that drop
like water from their eyes.
Bless, also, the tarnish.
The rust. Bless the wrinkles.
There is no getting out
and no getting over.
This is a locked door,
an altar, a well-sealed
window. So bless this glass
backboard they throw their love
into, this dream catching
backboard of scavenged glass
which bubbles like liquid
soap. The cheap kind that smells
unlike any flower
God ever grew. Let it
not break when they touch it.
Let nothing break. Bless them,
the twisted and the bent,
thin, strips of metal. These
chandelier parts they call
their hearts. (Outrageously
adapted from nothing
but a symbol.) Please bless
even this reflected light.
These spikes arranged like rays.
It's wholly possible
they are seeking mercy.
Or vengeance. That's the same
apple. The difference
is only in how rank.
It is also entirely possible
they love themselves
completely and just this way.
There is always a court.
That is where you'll find them.
There is always a ball.
There is always a reason
to burn another sweet morning.
They might play one-on-one,
skins against shirts, but them
against the whole hard world
is how they play the most.
So, please, bless this, the court
they keep imagining,
and bless, especially,
this hoop whose shadows look
just like some angels' wings.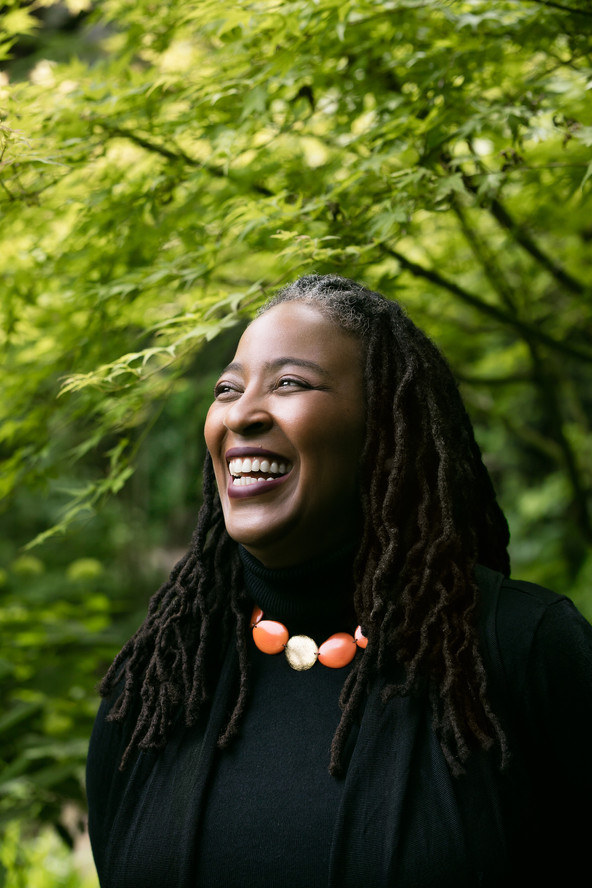 Why did you choose this work of art?
The art is visually arresting, in the best kind of way. It made me stop and look and look again. And the artist, David Hammons, happens to be from my father's hometown, the town where my grandmother and uncle are buried. I just felt a deep connection to both the artist's history and the work.
What was your approach to writing a poem about it?
I read a lot about David Hammons and his process. Then I set about building a poem that felt like a reflection of what I received from the work.
Camille T. Dungy is the author of four collections of poetry, most recently Trophic Cascade, winner of the Colorado Book Award, and the essay collection Guidebook to Relative Strangers: Journeys into Race, Motherhood and History, finalist for the National Book Critics Circle Award. She has edited three anthologies, including Black Nature: Four Centuries of African American Nature Poetry. Her honors include a Guggenheim Fellowship, an American Book Award, and NEA fellowships in both poetry and prose. She is a University Distinguished Professor at Colorado State University.