Poet Victoria Chang reads her poem, inspired by one of the screenprints in Agnes Martin's series of the same name.
For this year's edition of our Poetry Project, we asked poet Ada Limón to select nine distinguished American poets to respond to artworks from the Museum's collection. Here, Victoria Chang shares her poem inspired by Agnes Martin's print series.
Agnes Martin. Untitled from On a Clear Day. 1973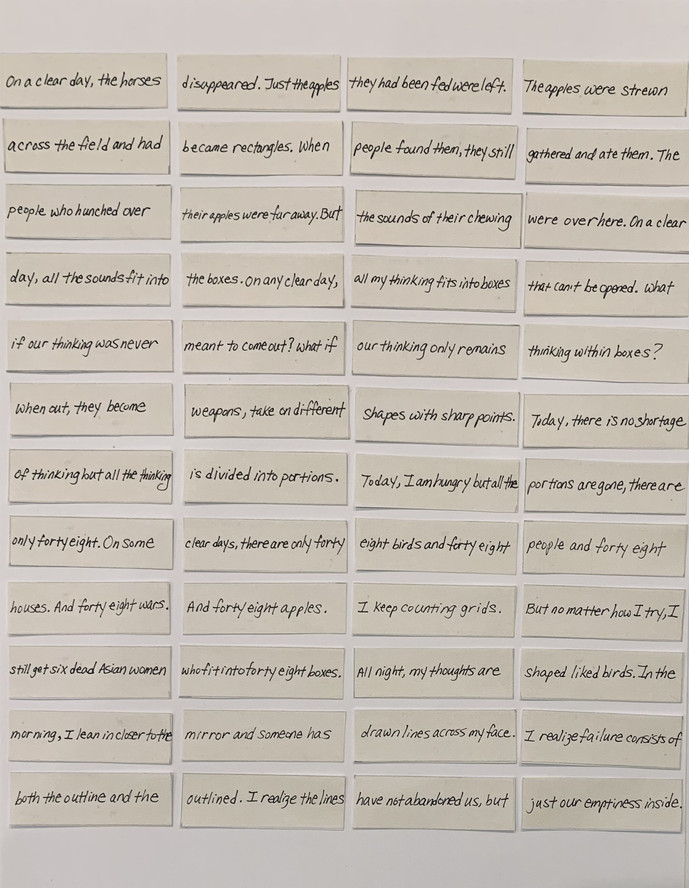 Victoria Chang's poem "On a Clear Day" in proper layout
On a Clear Day
—after Agnes Martin's Untitled from On a Clear Day (1973)
On a clear day, the horses disappeared.
All that was left were the apples they had been fed.
The apples were strewn across the field and
had become rectangles.
When people found them, they still gathered
and ate them.
The people who hunched over their
apples were far away, over there.
But the sounds of their chewing were
over here.
On a clear day, all the sounds fit into the boxes.
On any clear day, all my thinking fits
into boxes that can't be opened.
What if our thinking was never meant to
come out?
What if our thinking only remains thinking
within boxes?
When out, they become weapons, take
on different shapes with sharp points.
Today, there is no shortage of thinking but
all the thinking is divided into portions.
Today, I am hungry but all the portions are gone,
there are only forty eight.
On some clear days, there are only forty eight birds
and forty eight people and forty eight houses.
And forty eight wars. And forty eight apples.
I keep counting grids. But no matter how I try,
I still get six dead Asian women who fit into
forty eight boxes.
All night, my thoughts are shaped
like birds.
In the morning, I lean in closer to the mirror and
someone has drawn lines across my face.
I realize failure consists of both the outline and
the outlined.
I realize the lines have not abandoned us,
but just our emptiness inside.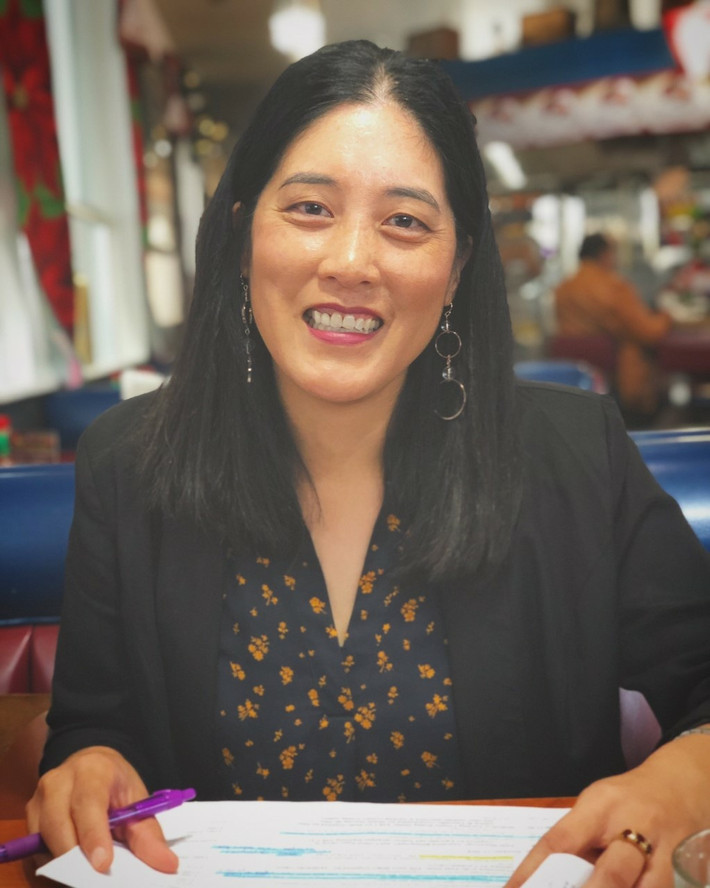 Why did you choose this work of art?
I have always been intrigued by Agnes Martin's art, especially after reading her book Writings. I chose this piece because of how its silence and the stillness resonated with me. I also love the exactness of Martin's work, an aspiration toward perfection.
What was your approach to writing a poem about it?
My process was very organic. I initially wrote the poem in a notebook by hand. At the time of my writing, the Atlanta shootings had just occurred and I kept thinking about the six Asian American women who were killed. Once the number six emerged, I went back and counted Martin's grids (48) and I decided to hand-write the poem in 48 rectangles, but wanted the rectangles to be lifted off of the paper as a reversal, and also imperfect, so I cut them out by hand. In some way, this felt closer to the rendering of grief that I was feeling.
Victoria Chang's latest poetry book is OBIT, which was named a New York Times Notable Book and received the Los Angeles Times Book Prize, the Anisfield-Wolf Book Award, and the PEN Voelcker Award. It was also long-listed for a National Book Award and a finalist for the National Book Critics Circle Award and the Griffin International Poetry Prize. Her forthcoming hybrid nonfiction book is Dear Memory. She has received a Guggenheim Fellowship and lives in Los Angeles.