An Interview with Sung Hwan Kim
The artist behind the new Kravis Studio installation Temper Clay talks about Shakespeare, real estate, and how an artwork continues to evolve.
Ana Janevski: I was thinking we could start with the title of the video work that is currently showing in the Kravis Studio as part of The Hyundai Card Performance Series, Temper Clay. "Temper clay" is a phrase from William Shakespeare's King Lear, and as you said yourself, the work is a re-sketching of that play. What about it did you find inspiring?
Sung Hwan Kim: The first and last words of my film are "temper clay," taken from these lines in King Lear: "Old fond eyes,/Beweep this cause again, I'll pluck ye out/And cast you, with the waters that you loose,/To temper clay."
King Lear starts with land distribution. We don't know how the king accumulated his power, land, and family. The whole play is about how that land (an already acquired asset) is bequeathed, divided, replicated, multiplied, or destroyed. It intrigued me that the product of distribution is a tragedy. Shakespeare knew that maintenance agreements were established so that the aging would bequeath power to the young so long as the young followed certain conditions. We act this out with respect to our own bodies in the form of Social Security in the US. And there's great anger in our generation because that system is already understood to be a broken contract.
When I was making this film, it was the beginning of the Arab Spring in December 2010. The media was inundated with images of fire. These were images familiar to me from 1987 in Korea, during the protest against the military government. Where we are right now in New York, there are different indelible images associated with the protests around Black Lives Matter. I knew I wanted to deal with anger when I was making this film.
AJ: There are some personal elements in Temper Clay, in the sense that you are filming in the Hyundai apartment complex in Seoul where your parents reside, and then you are also going to the countryside where your father has a house. But it's definitely not an autobiographical film. So I wanted to know how you deal with personal material and experience?
SHK: I had been paying attention to real estate development and its (repeated) moments of sudden decline in New York, where I live now, and Seoul, where I came from. I was reading Gotham by Edwin G. Burrows and Mike Wallace, about the development of New York City, and Jane Jacobs's The Death and Life of Great American Cities. I was taken by how she proposed revitalizing a city through giving different functions to a building over time. I wanted to use this idea by transposing my surroundings to a film world.
I wanted to work with two houses of my parents as a set. One was the Hyundai Apartment in Apkujung-dong (there are many apartments with the same name and almost identical design in Korea) and the other is the country house that my father built in the '80s with the intention of retiring there—he didn't. For my father, the first can be called practical and the second, a materialization of what was once a dream space. From my perspective, they are both properties. Naturally, a generational distance—a father's economy seen from a son's eyes—is one element of Temper Clay.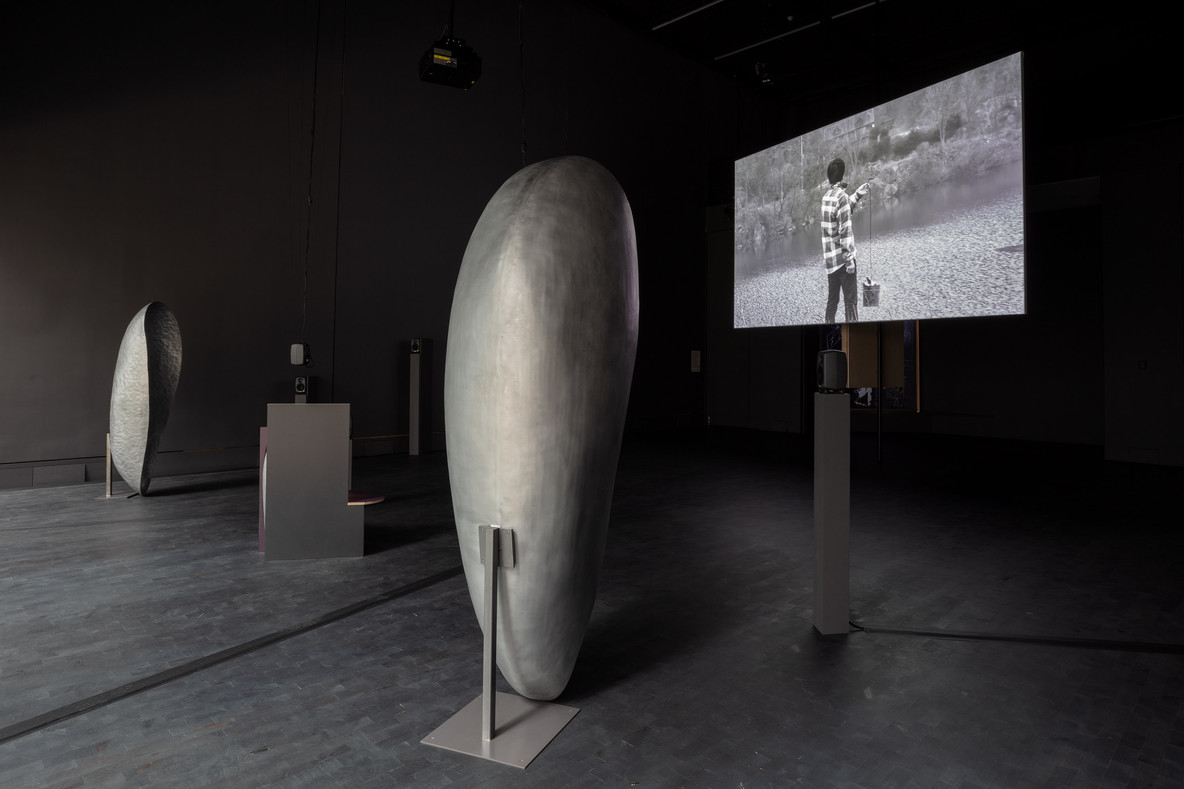 Installation view of Sung Hwan Kim's Temper Clay, The Museum of Modern Art, New York, June 5–July 18, 2021
Martha Joseph: Your mentioning Jane Jacobs segues nicely to the aspect of the film that focuses on the Hyundai apartment complex, which was built in the '70s. And hyundai means "modern" in Korean. Some of your earlier work too, such as Washing Brain and Corn, is engaged with specific narratives around modernity, and in that case, North Korea and South Korea. Could you say more about the importance of the specific Hyundai development, and modernization, in the context of Temper Clay?
SHK: The Hyundai apartment complex, developed by one of the major conglomerates, Hyundai Corporation, is a successful case of a neighborhood unit that includes schools and markets. It not only protected but also regenerated a network of different classes between the 1970s and 2000s. For instance, it is not uncommon to witness second- and third-generation offspring of original inhabitants moving house only within this apartment complex. It is not a secret that real estate and access to real estate has been used in a divisive way to segregate race and class through different generations in the US. In Seoul, although it's not so much about race, one is aware that inheritance begins from your birth as you are endowed with cultural capital and real property. This deed is done to maintain the family legacy, which across many classes and cultures is kept precious and sacred, even in the US.
MJ: In contrast to those urban landscapes, Temper Clay also has a strong relationship to rural, pastoral, and even romantic landscapes. And you open with a dramatic shot of a cloudy sky while the first song in Schubert's Winterreise plays. And winterreise means "winter journeys"—this landscape as a metaphor for human life cycles, family, love, emotion. Could you talk about your interest in these rural landscapes and the way they dovetail with land ownership and family?
SHK: Yeah. Winterreise was played by my niece, Yoonjin Kim, who was born in New York and was 10 years old when filming. Like her mother, my sister, and me, she learned to play the piano. Juilliard, where my sister attended college, was full of Korean and Japanese students in the '80s. What intrigues me is why these groups of people in different parts of Asia access this city in waves via a European composer from the 19th century like Schubert. There is something anachronistic about this phenomenon.
The Hyundai apartment complex was built on reclaimed land. The ground used to be a floodplain next to the Han River. In the film, the site where you see several small figures sitting or running in what looks like a forest was actually just a strip of park between the building and the highway. I used the building as a giant tripod with a long telephoto lens in order to shoot that site as if it were nature. It's questionable what we consider to be rural or nature. Is a jungle where people live rural? There are many heart-rending stories set or stuck in the space between nature and cultivation.
Installation view of Temper Clay
AJ: One reason I really love the film is its lack of dramatic narrative. And even with the many references, you leave space for the viewer to think, to connect, to associate, to investigate. You've said, "I use devices already established in the medium of poetry and music, such as rhythm, unison, speed, variation, dramatic style." How do other structures, in terms of music and poetry, influence your way of building the film, of editing or modeling the work?
SHK: I often start to see the structure or the layers. When you have a building, for example, you can just enter it to get things done and then come out. But you can also approach a building by studying it from different perspectives, trajectories, circulations, all the blueprint drafts drawn up for the sections, floor plans, and distinct relationships between them. Different forms of poetry have their own algorithms. There are different fields of language. And in the film, I use repetition almost like a hammering, again and again at different speeds.
Another quality of Temper Clay relates to transposition—taking the same story and putting it into a different space. Here, I transpose King Lear into a different context and a different setting. When you tell this tale in the context of contemporary Korea, if you have an older father cursing his daughters, you immediately have the connotation of male chauvinism. At the same time, the male chauvinism in other cultures, such as Britain, can be obliterated because of this focal shift. Ran, by Akira Kurosawa, was interesting because the director changed the daughters to sons so such a connotation was not there. It was about posterity and ancestry.
AJ: I'm very impressed with the gestures in the film that are repetitive. They're very choreographed.
SHK: Harold Pinter once said that when he's writing a play, until the midpoint, he doesn't even know the gender of the characters. This gets revealed to him at the same time as the writing reveals the fact. I think making a film or performance in my case is a little bit like that. So I have a workshop, and I have something that I prepare, like a costume, camera lens, light conditions, and some people. I know where I want to shoot it, and then I vary that site from one place to another, and then we try it out. That's how I gather materials. Then we rehearse. My script is a list of items that I want to see play out. My transcript of the final film becomes what can be called a script, and it can be written as a score where timing and exact layering of moments become important.
I work with nonprofessional models who play different roles in the film, so I have to discover what they are able to do in their movements; and also what they can do when they are not in front of the camera. And that's how it gets developed. In Temper Clay, there was a lot of emphasis on one and one before they become two. So if you see two hands, it's one (left hand) and one (right hand). If you see moons, it's one becoming two or two becoming one. A lot of the scenes start to become multiple. I can talk about the whole film in terms of the jump between one, two, and three.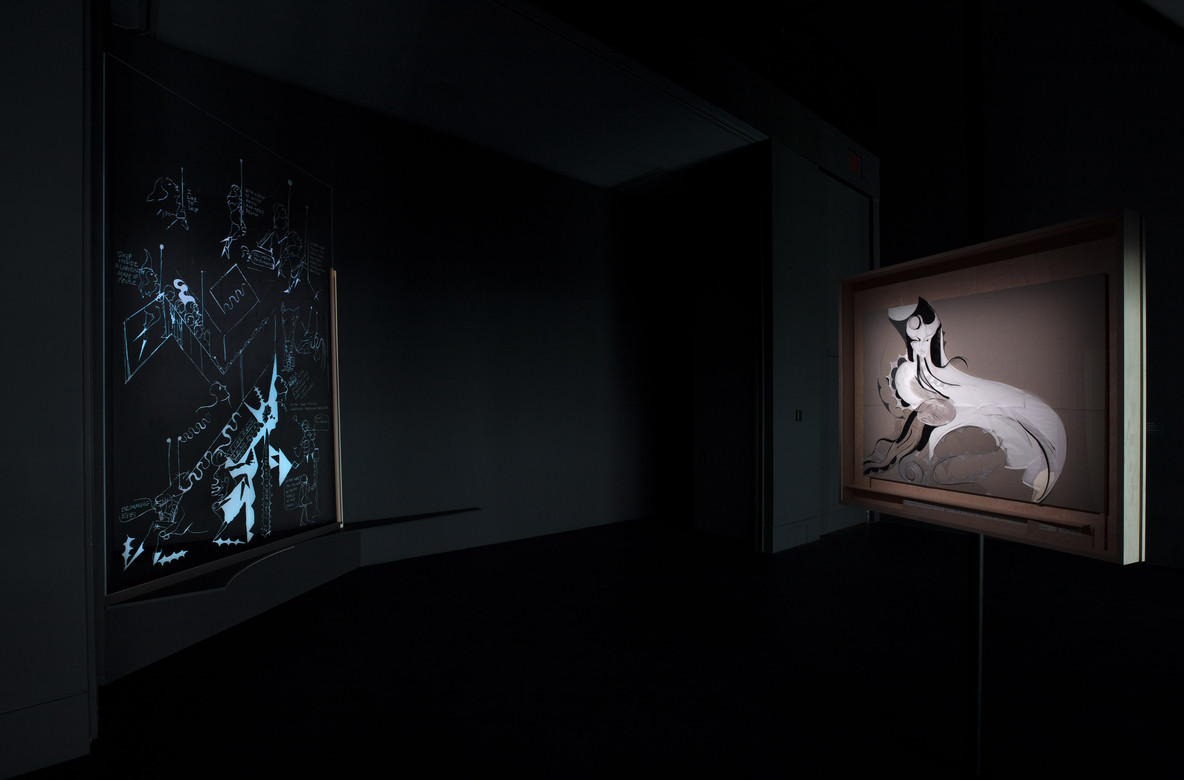 Installation view of Temper Clay
AJ: Temper Clay was commissioned for the opening of The Tanks at Tate Modern, a space for performance, live art, and moving image. In its subsequent iterations, including this one at MoMA, the presentation of the work has evolved in new forms unique to each venue. And here at MoMA, you responded to the Kravis Studio with some new elements, including drawings and a second seat for one person. What is the logic when you approach those expanded versions?
SHK: The seat in MoMA's installation is functional, but I didn't want it to be just a seat. I want it to be something that is imbued with some kind of meaning and direction for the one who eventually sits on it or sees someone sitting on it. In the exhibition space, there is always tension between being directed and wanting to avoid direction. Wanting to roam about versus wanting to actually listen, wanting to understand and not wanting to learn anything. And I was interested in the space that further details the shape of the tension.
The smaller drawing is called Metaphor carries another metaphor. I plan to draw different versions of this drawing for my new series at the Hawaii Triennial 2022. This series started with Hair is a piece of head (2021), which recently screened at MoMA's Modern Mondays.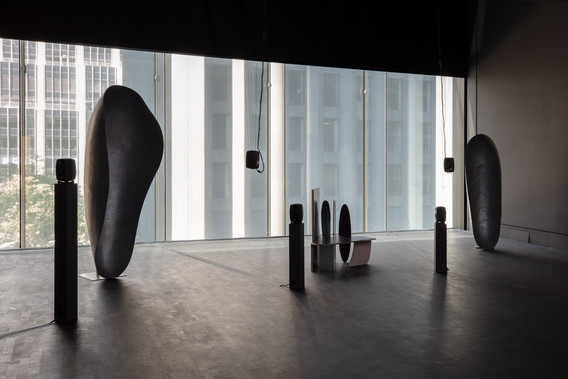 Installation view of Temper Clay
MJ: Temper Clay is shot in black and white, and then all of a sudden you introduce color. Could you say more about how you thought about color, or the lack thereof?
SHK: Well, I wanted the film to have the qualities I like in drawing. Most of the film is shot with a long telephoto lens from very far away into a close-up because I wanted the foreground and the background to look even, and not distorted by the lens. I didn't want color to interfere in the graphic nature of the lines that composed each frame. One sees a lot by getting rid of color.
AJ: Some of the methods or the ways of thinking and working that you're mentioning lead us to the question of your relationship with the artist Joan Jonas, who was your teacher and is also a friend. There's something really beautiful about the fact that Temper Clay and her work Mirage will be on view at MoMA at the same time, just a few galleries apart. How would you define your professional and personal relationship?
SHK: I never thought of becoming an artist, by the way, in 1998, when I first met Joan. And I was taking two other film classes at the time, an experimental film class with Alfred Guzzetti, and a cinéma vérité documentary class with Richard P. Rogers, who was a partner of Susan Meiselas. And so I was exposed to this whole genre of film when I was there. And not just in class; I was seeing a lot of films almost every day at the Harvard Film Archive. I was intrigued and immediately fascinated by a lot of women filmmakers and dancers and writers, including Agnès Varda and the way that she used sites and houses repeatedly.
And another thing that was very instrumental to me there: I started taking a comparative literature class. John Hamilton taught a class about madness in civilization and genius and inspiration and music. That period, to me, represents the ideal idea of being in a school. I was connecting all this amazing artwork, films, and video; and then the films that I grew up with, which comprise a completely different genre of films; and music and literature, so they started to make sense to me in many different ways. Joan and I go see films together. We love films and being taken into a different world for a few hours.
And I remember seeing Joan's video for the first time when she showed it in class. I told her, "I know that there is inner logic there, but I can't figure out what it is. What is it?" She didn't tell me—the grammar is not always the point of the poetry it created. There are different poetic devices in different cultures. But once you start to learn the language, you know how to build up your own story with the language. I find it beautiful that Joan found a way to work with different economies in art, in different places and in different times, whenever she could. Perhaps it was possible because of her versatility and humor. I related to those qualities.
AJ: Within your installations or with your work, you have collaborators, like the composer David Michael DiGregorio. Can you speak a little about your relationship to performance?
SHK: Performance is often about budget. It starts with one's take on the cost for that place and time. When one doesn't think about that, it shows. As Godard says, if a father gives you money, and then tells you, "You should use it in this way," it's no longer your money anymore. It's the way money has been used for years by our fathers. When I see a performance, it's difficult to not focus on how that artist deals with a particular scale of budget in relation to a body, which is so personal. My in the room series, which started my collaboration and personal partnership with David, might look dreamy, but it began by dealing with how I could live with another person in one room without making that person into an obstacle. Nowadays, especially, to bring a body into an artist's space, you can't avoid being personal. The gender, race, ethnicity directs knowledge and the connotations we have regarding that body. That becomes very visible because, in performance, one often uses a person's body. It's not just an image of a body.
AJ: I didn't expect you to talk about the economics of performance.
SHK: To get back to King Lear, one way to see art is to examine how one distributes money, power. This is not necessarily bleak, since the play is great and the language is beautiful. There is a world outside the theater, and we use the knowledge and language from that world to read the pieces that the artist presents in their art. We cannot separate from the economy that allows us to dream.
Sung Hwan Kim's Temper Clay, organized by Ana Janevski, Curator, and Martha Joseph, Assistant Curator, Department of Media and Performance, is on view through July 18.
Sung Hwan Kim. Still from Temper Clay. 2012