The Evolution of David Tudor's Rainforest
A pair of MoMA curators share a brief history of the work.
The opening work to kick off the Kravis Studio, our new space for performance and time-based art, is Rainforest V (variation 1) (1973/2015), conceived by David Tudor and realized by Composers Inside Electronics Inc. Rainforest began as an experimental musical composition and grew into a large-scale sculptural sound installation. Like many performance-based installation works, it has appeared in many variations, evolving over time.
Listen to the binaural audio recording of Rainforest V (variation 1) currently on view in the Kravis Studio. To experience the full spatial effect of the recording, we recommend wearing headphones.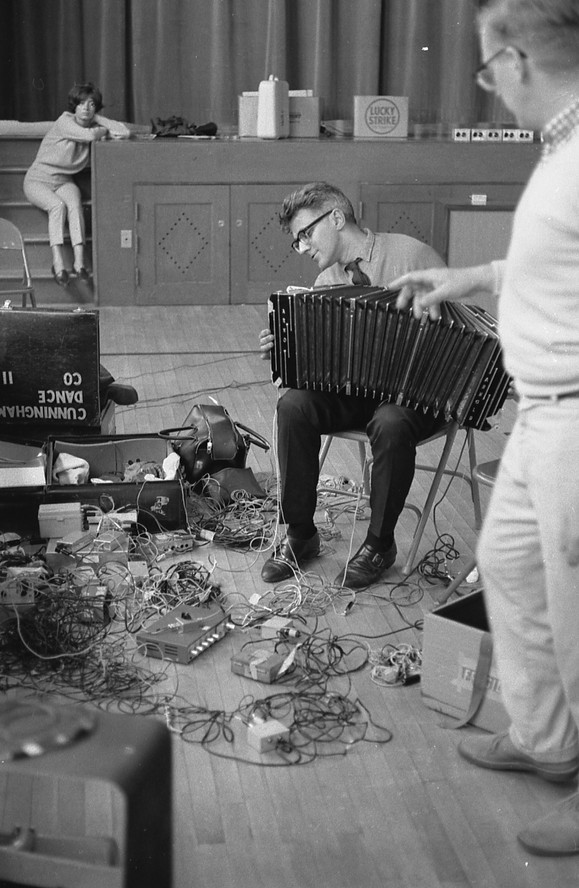 David Tudor's Bandoneon! (a combine), Berkeley Heights School rehearsal, Berkeley Heights, New Jersey, c. 1965
David Tudor (pictured above) was one of the most technically accomplished pianists of his generation. Over the course of many collaborations with artist friends, Tudor became a composer and sound artist and began building electronic instruments of his own. His friend, composer Gordon Mumma, described Tudor's collaborative approach as "a garden of shared ideas with minimal fences."
Among the most influential figures Tudor collaborated with was composer John Cage. Tudor premiered Cage's landmark composition 4'33" in August 1953. In this remarkable silent work, Cage challenged us to consider that any sound (even silence) could be music. Tudor explored this idea as well by creating unconventional sounds in his work.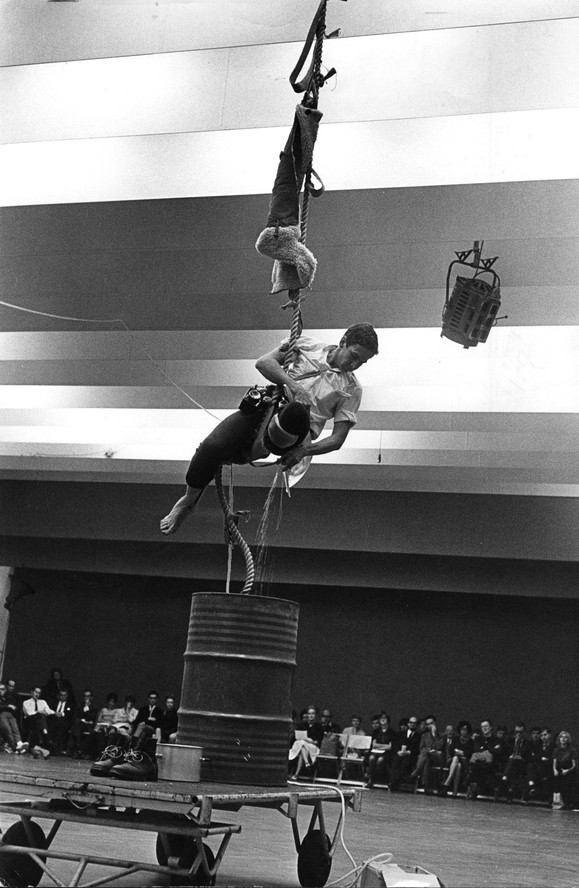 Robert Rauschenberg performing Elgin Tie in September 1964
In 1964, Tudor created the first composition of his own as part of Robert Rauschenberg's performance Elgin Tie, at the Moderna Museet in Stockholm. Calling the work Flourescent Sound, Tudor performed a lighting switchboard of his own design, controlling roughly 200 fluorescent lights, each outfitted with a microphone that amplified the distinctive buzz of the lights every time they were turned on or off.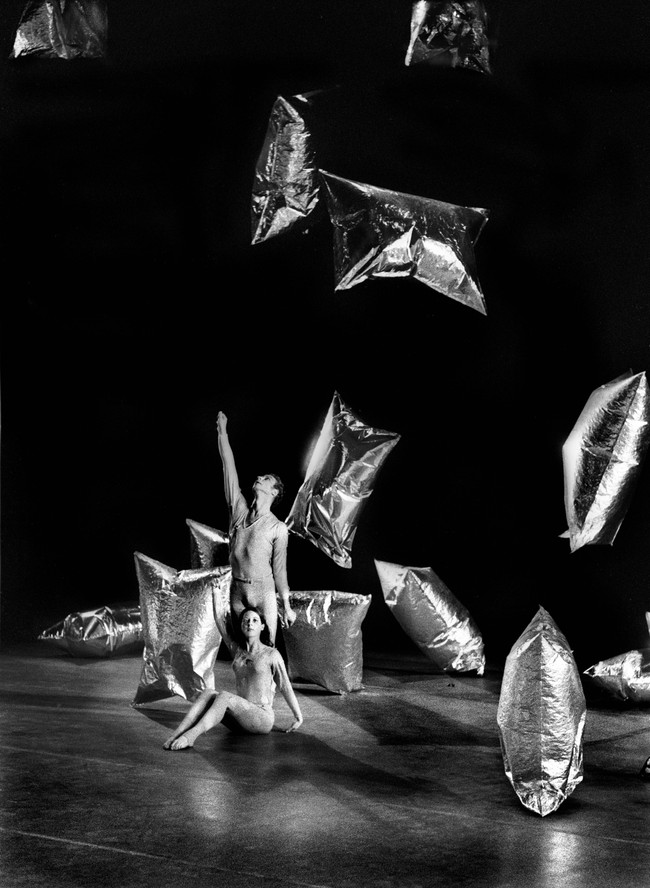 Merce Cunningham and Meg Harper in RainForest at the Brooklyn Academy of Music, 1969
In 1968, Tudor created a sound score for Merce Cunningham's dance RainForest, which featured Andy Warhol's Silver Clouds—mylar pillows filled with helium that floated around—as the set, and costumes by Jasper Johns. The title of RainForest came from Cunningham's childhood memories of the Pacific Northwest's lush Olympic National Forest. Tudor took this as a prompt, creating bird- and other animal-like sounds through custom objects, which he called "instrumental loudspeakers." This first group included eight table-top-sized objects , that amplified and shaped sound just as traditional loudspeakers do.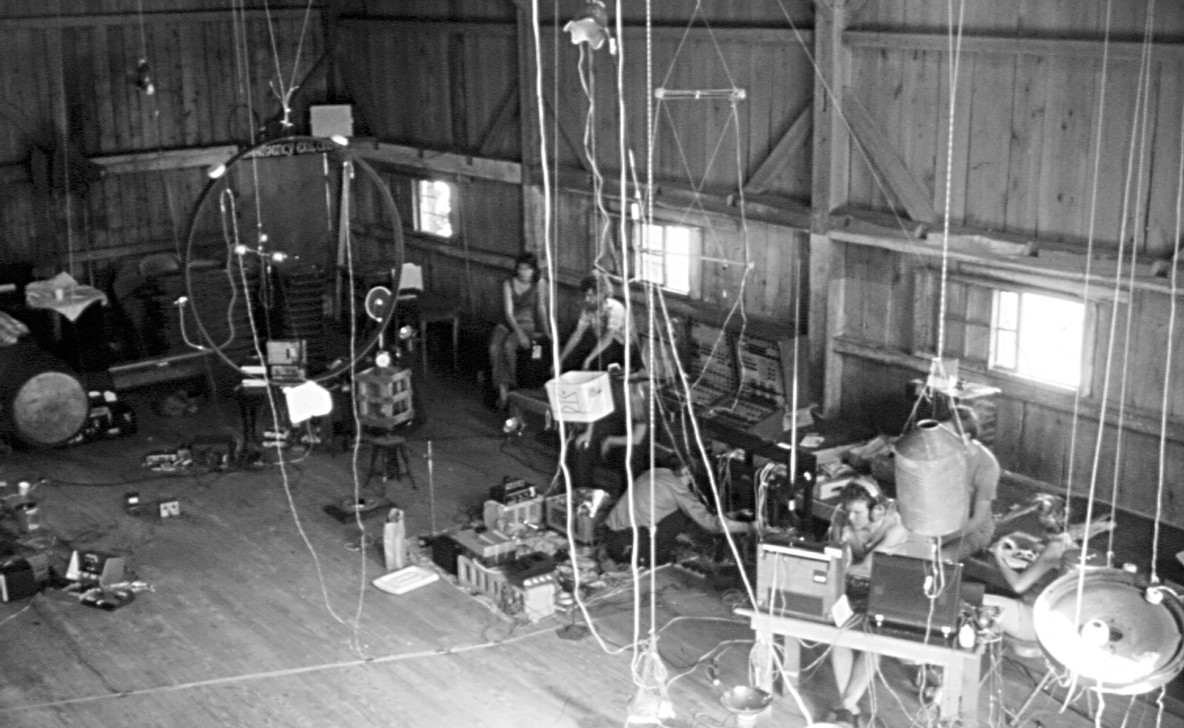 Preparation for Rainforest IV at New Music in New Hampshire, July 1973
In 1973 Tudor presented his RainForest score to a group of young artists and composers at the New Music in New Hampshire festival in Chocorua, NH. Working in a large barn, the participants experimented with larger objects, which were suspended in order to resonate freely. This first performance of Rainforest IV lasted six hours. The audience was encouraged to walk among the objects and take advantage of the spatial aspect of the work.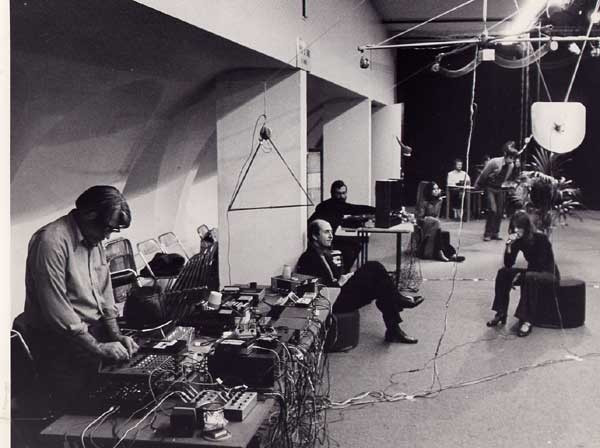 Rainforest IV performed at L'espace Pierre Cardin, Paris, France, 1976
The group—including John Driscoll, Phil Edelstein, and others—continued performing together, eventually adopting the name Composers Inside Electronics (CIE). The name, they felt, emphasized the concept of starting with the electronics and letting the music evolve from their potential. CIE continued performing Rainforest with Tudor through the 1990s, and even after his death in 1996. Using anywhere from 12 to 40 objects, they often gathered new objects along the way.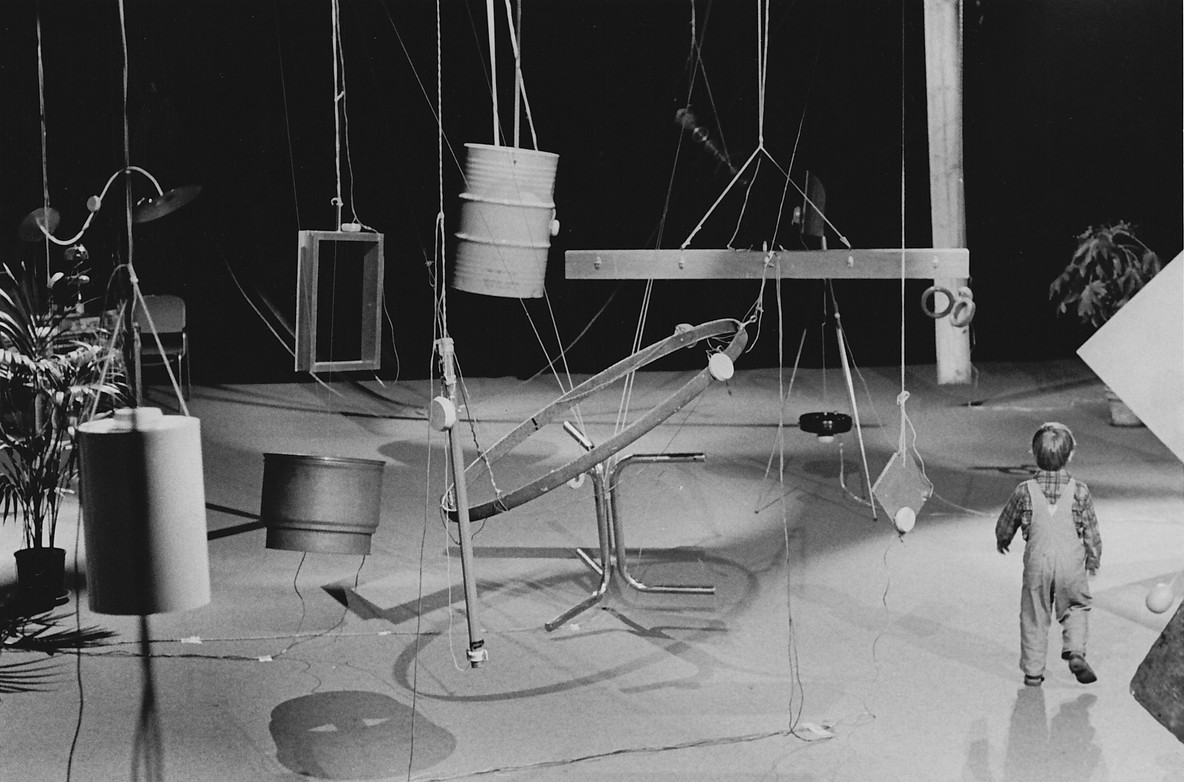 Rainforest IV performed at L'espace Pierre Cardin, Paris, France, 1976
Rainforest IV has been shown in a variety of different spaces, from the initial presentation in a barn to university art galleries to more traditional black box theaters and even Pierre Cardin's studio in Paris. In the display seen above, the objects are theatrically lit so their shadows add to the visual element of the installation.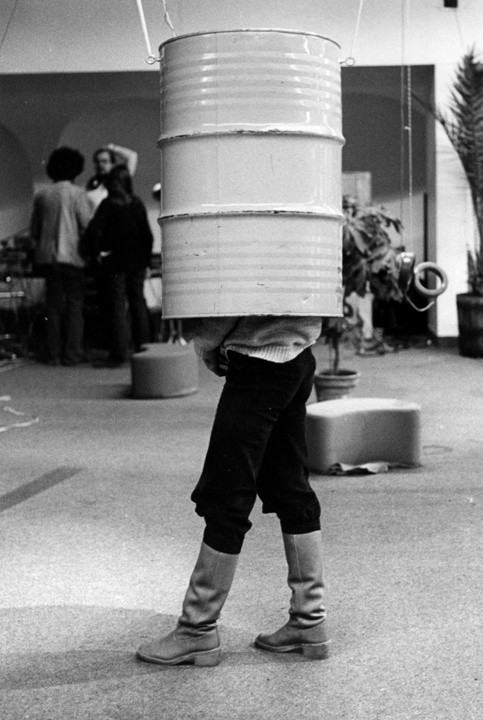 Rainforest IV performed at L'espace Pierre Cardin, Paris, France, 1976
Visitors to Rainforest IV were encouraged to touch the sculptures and press their ears against the objects to feel the sonic resonance. Standing inside the oil drum, an object added by artist Bill Viola to the first presentation in Chocorua, audience members could experience the deep, emanating bass.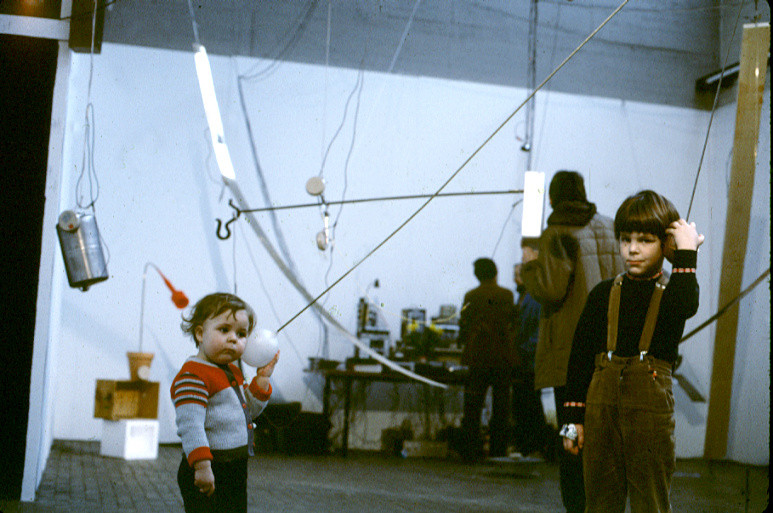 Rainforest IV performed at Akademie der Künste, Berlin, 1980
Pressing one's ear to the vibrating objects augments their resonance through bone conduction: sound waves vibrate the bones of the skull and allow the listener to hear in a different way. This effect can be experienced by people with varied hearing capacities. In MoMA's galleries, the public is allowed to gently place their ears on the objects.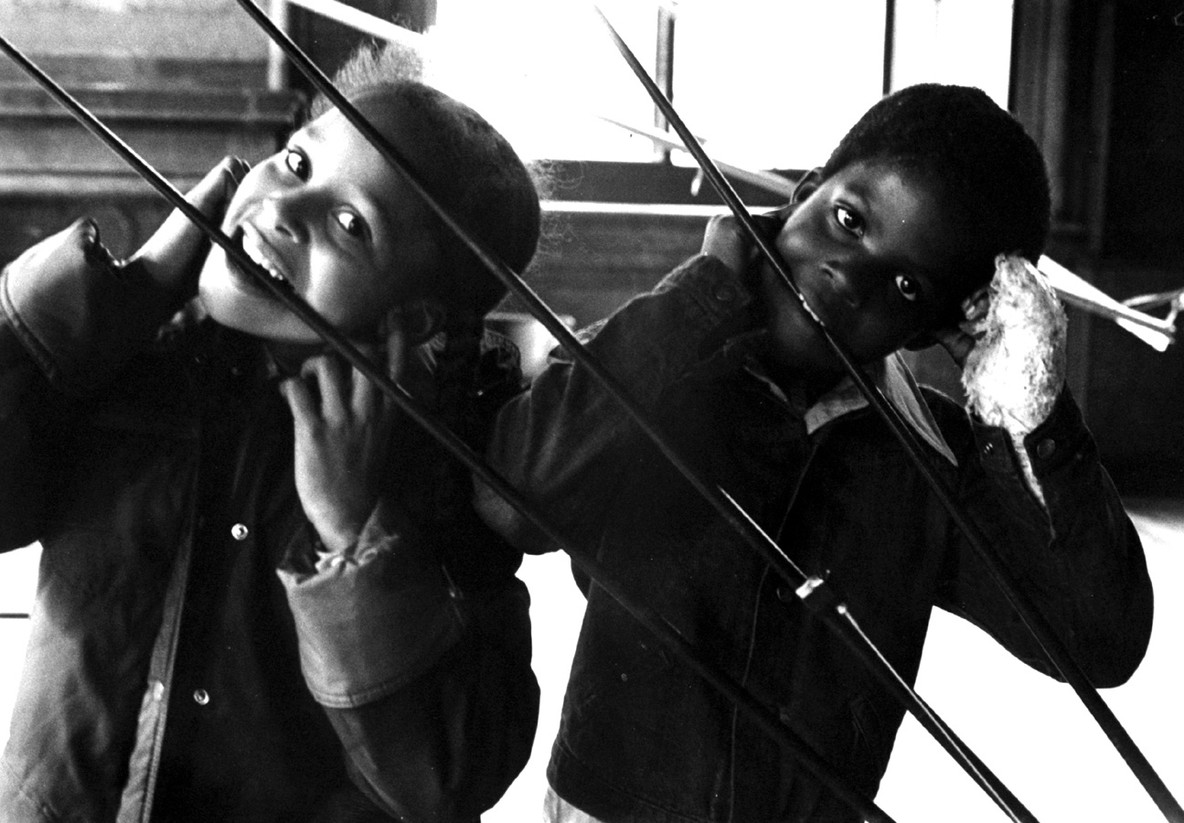 Children interacting with David Tudor's Rainforest IV at Institute of Contemporary Art, Philadelphia, 1979
Teeth, like bones, are good conductors of sound, and in past iterations of Rainforest people even placed their teeth on the vibrating objects for a more physical experience of the noise. (This particular interaction is not part of MoMA's installation because of conservation and health risks!)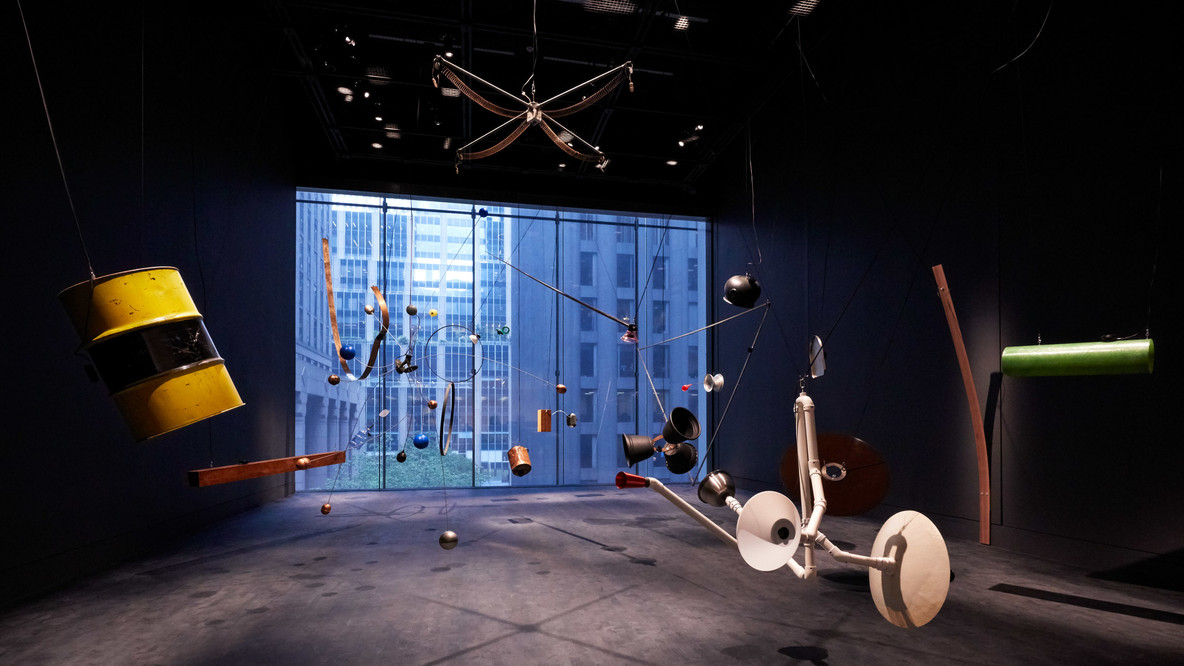 Rainforest V (variation 1). 1973/2015
After *Rainforest*'s long history as a performance, CIE members John Driscoll, Phil Edelstein, and Matt Rogalsky created a self-running installation version of the work in 2009 titled Rainforest V. They described it as an "evolution," rather than a "reconstruction" of the historical work, encapsulating different generations of the piece with objects in the installation dating from 1973 to 2009. Here, a computer randomly sequences hundreds of unique sounds tailored to each object. Rainforest V (variation 1) became part of MoMA's collection in 2015.
David Tudor and Composers Inside Electronics Inc.: Rainforest V (variation 1) is on view at MoMA October 21, 2019–January 5, 2020.