Cooking with Artists: Caledonia Curry
In MoMA PS1's ongoing series with chef Mina Stone, the artist also known as Swoon tells Mina about how cornbread can transport her back in time.
"The core of my practice is portraiture. I consider portraiture as a seed in the middle of everything. It's about looking at people and who we are, what do we do, how do we live, what do we make, and what kind of stories do we tell? All of those things blossom outward from portraiture."
When I first heard about Swoon [Caledonia Curry], I was a freshman at Pratt Institute. She had graduated already but she was still sneaking in to use the facilities and had become somewhat of a legend on campus. My friends told me about something she and her friends did called "dumpster diving." Food? Out of the dumpster? It doesn't get more New York than this, I thought, and it's not something I'm going to tell my mom about. Over 20 years later, Callie and I spoke about her dumpster diving days. We both agreed that it seems to be of a bygone New York era—when grocery stores threw out tons of expired food every day—filling their dumpsters on the side of the street.
"Back then you could go to all the health food stores and in the dumpsters—even on the sidewalk—people would throw out crazy amounts of food. We'd all meet up and collect the food on bikes. Then, we would have this table full of food and process what's good and what's not. It was fun watching people get visionary. Somebody would say, 'Oh we have 15 pounds of celery—what are we going to do with this?' And somebody would say, 'I got it.' And then we would serve dinner to 50 people."
Looking back, dumpster diving shaped my first impressions of New York City as an 18-year-old. I never participated, but as an idea it challenged what I understood about food and politics, and planted a seed that I have thought about ever since—the structure of capitalism, food waste, creativity, and the process in which all things can transform. From garbage to raw material, from nourishment to communion.
"It was about saying no to waste and saying yes to being together. I think in that way the dinner was a portrait of a community."
Callie is a great communicator and, not surprisingly, a rapt listener. To this day, I am not sure if we had an interview or a therapy session, but after we spoke it felt cathartic, like something bigger than both of us had been shared. I hung onto her every word. She is open about the more painful and personal aspects of her life, such as her parents' struggles with addiction and substance abuse. Much like her art practice, she makes her emotions and life experiences accessible to others.
Callie has had to mourn the loss of both of her parents in the past years.
We spoke about how a piece of cornbread at a meditation retreat transported her back in time to when her father, just out of rehab, created a safe haven at their apartment in Florida. At the time, he made his kids the same cornbread box-mix that Callie had at the meditation retreat. That flavor represented an idea of home, security, and appreciation for her father, albeit through her sadness and anger.
"I want to share. I want us to be able to have these moments publicly together and know that we all have feelings, we all go through shit, and we all don't think we're going to make it. Then we make it and find these other forms of beauty."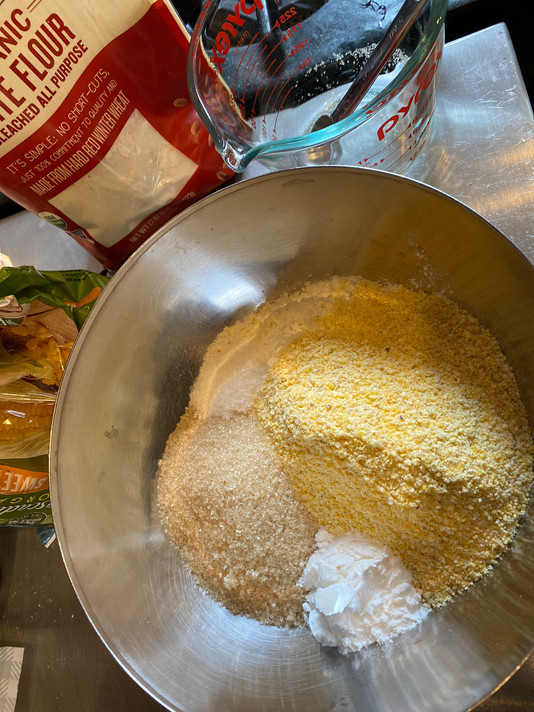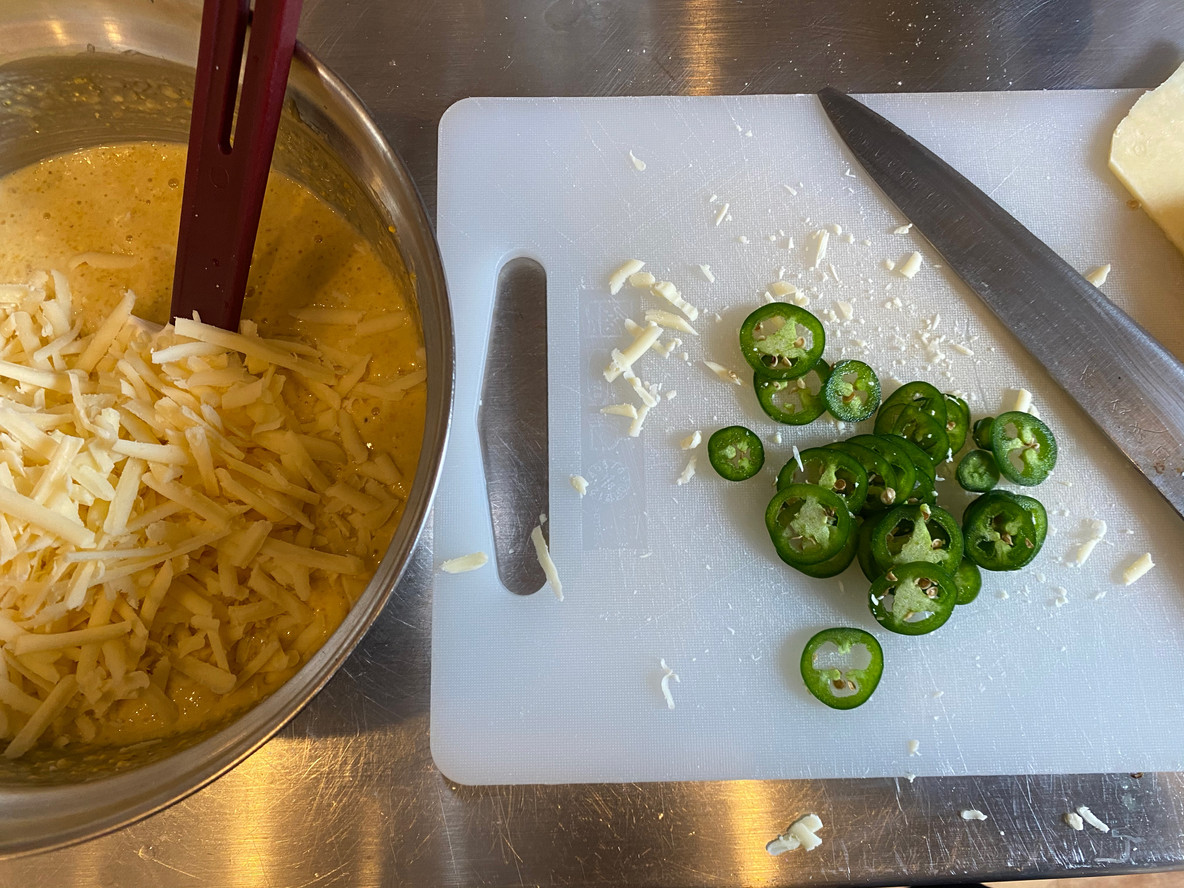 In this interview, Callie shares cornbread recipes from both her parents: her dad's box-mix and her mom's quiche-like cornbread. For both her parents, food comes to signify the times when things were okay, despite all odds.
Dumpster diving, addiction, grief, care, cornbread. The common thread, I think, is transformation. What was once garbage can become a communal meal. And what was the humblest cornbread box-mix can catalyze profound healing.
"I made my mom's cornbread for myself on my birthday. I had been wanting to make it for a really long time. When I finally made it, all of the work that I've been doing to heal the traumatic upbringing of growing up around addiction came up. When you have to heal, you're focused on the pain and the suffering because you've got to feel it to heal it, right? I've been doing a lot of writing and talking about moments where my mom was deeply unstable. But the truth that I keep in mind is that addiction was only one part of her, and that wasn't even the most important part."
This cornbread is a physical manifestation of Callie's mom's spirit, who, as Callie described it, could light up a room with joy and laughter. It is rich, cheesy, and flavorful. It is a meal all on its own, and a great accompaniment to just about anything.
"I kept your tradition alive. Your tradition is here. It is a physical thing."
Mom's Cast Iron Skillet Cornbread:
3/4 cup yellow cornmeal
1 cup all-purpose flour
1/3 cup sugar (I like to use raw, unprocessed, or even brown sugar)
3 teaspoons of baking powder
1 teaspoon salt
1 cup of half and half
2 eggs (well-beaten)
4 tablespoons butter (melted)
1 jalapeño thinly diced
1 cup cooked (or canned) corn kernels
1 1/2 cups grated sharp cheddar cheese
Preheat the oven to 450. Grease a 10" cast iron skillet with some butter and set aside.
Mix the cornmeal, flour, sugar, baking powder, and salt in a bowl. Make a well in the center and add the half and half, whisked eggs, and melted butter. Fold in the jalapeño, corn, and cheese. bake at 450 for 20 minutes or until golden brown on top.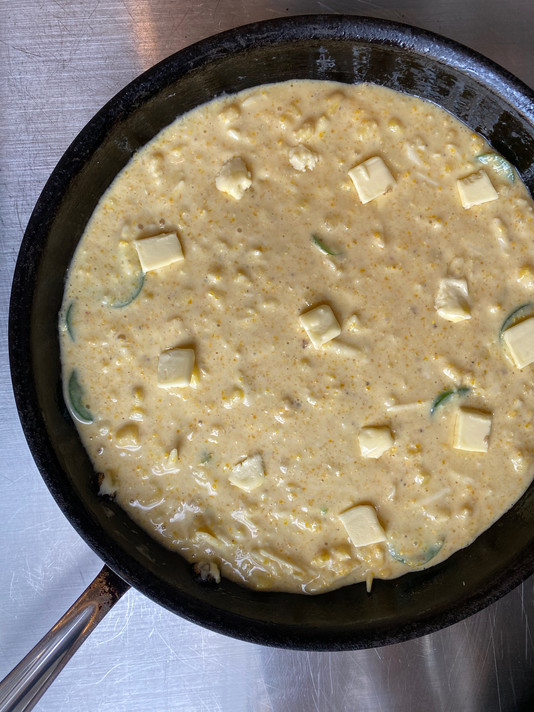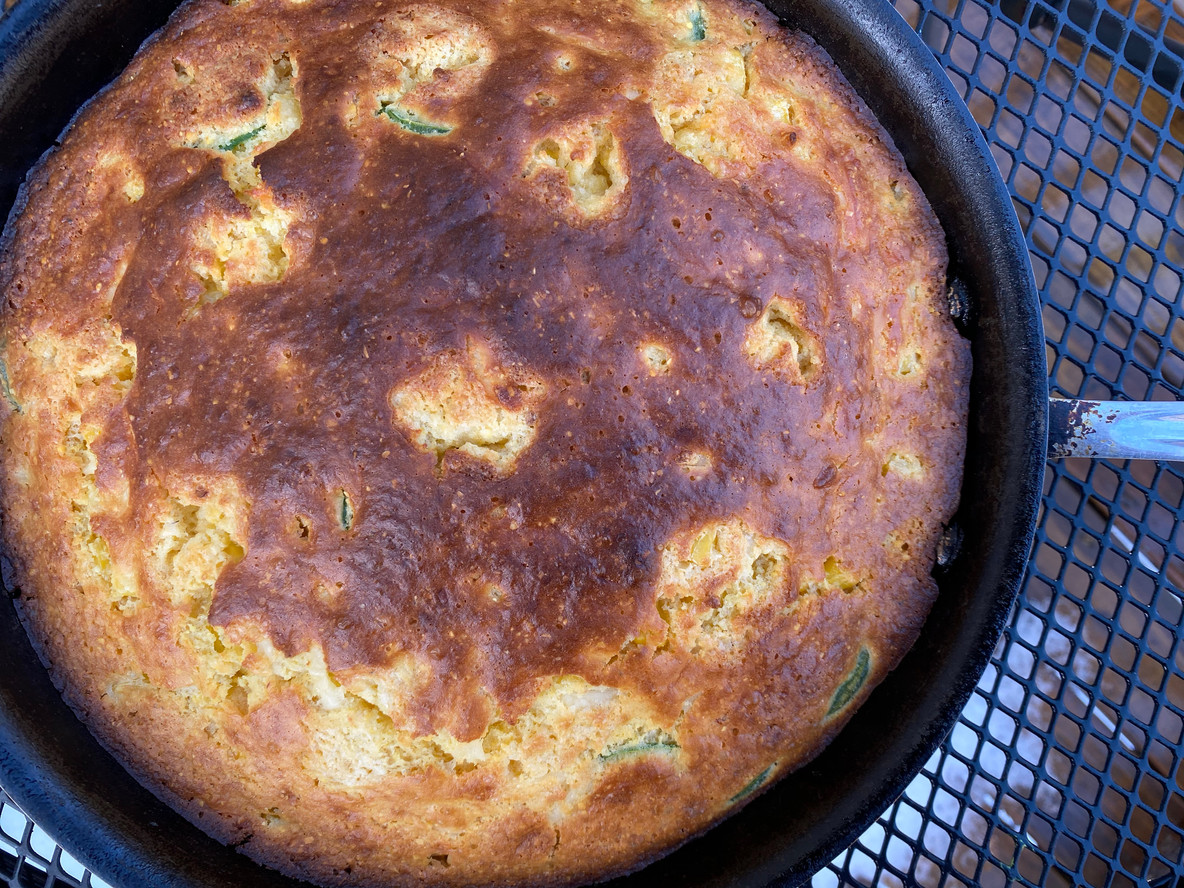 Callie's notes:
Optional: you can add a little extra butter on top when it's browning in the oven.
My mom used to say that this dish was almost like a cross between a quiche and a cornbread. You could eat it as a meal. Sometimes she would add zucchini or mushrooms—just throw whatever she had in there.
Swoon: The Houses Our Families Built will be at Prospect Park on February 27 and 28 as part of PBS American Portrait.