Cooking with Artists: Shaun Leonardo
This holiday season, the artist shares some favorite childhood Dominican recipes, passed down by his grandparents.
"I find myself, while navigating very difficult subject matter, having to remind myself of my purpose and in a belief that this work can provide or offer a different space of contemplation, a different type of existing and slowness that leads to healing." –Shaun Leonardo
Shaun Leonardo, an artist known for his performance and large scale charcoal drawings, lives a few blocks away from me. We both have children around the same age, and as the years have gone by we've shared fleeting moments in the park or on the street, as our kids have gone from toddlers to little kids and little kids to teenagers. There are blocks of time missing here and there, spaces in my mind as I slowly play back the reel of my family movie. But one memory stands out as a vivid snapshot of our community.
For his daughter's birthday party, Shaun's mother had a table in the park laid out with a bounty of pastelitos (a savory Dominican pastry). I went back for thirds and fourths of this delicious fried pastry, hoping no one noticed I was eating most of them. They reminded me of something familiar—both in flavor and spirit.
My Greek grandmother would make piles of tyropites, softly folded cheese pies she would fry in hot oil and then proudly display on paper towels layered on top of aluminum foil. In their essence, pastelitos and tyropites are very similar. The fried dough is addictively soft but crunchy, the filling salty and savory. Most of all, they taste like home.
"I've been to the Dominican Republic numerous times. Especially in my adult life, there's a way in which, when I'm there, a type of deja vu occurs. I'll enter these spaces and logically understand that I have never been physically present there before. But there's something deeply soulful that makes it feel familiar and gives me a sense of belonging. I often believe that food is the thing that leads to that sense of connection because you quite literally ingest the flavors of the place. It becomes familiar even before going there."
In the spiritual realm, our identities are inextricably linked to the flavors of our lives—a relationship that can be complicated, incomplete, and fraught with history.
"Lineage is a difficult thing for peoples from the African diaspora. I don't know anything beyond my grandparents in terms of historical legacy. I have received pieces of those narratives as have been told through oral histories, but I know very little about those individuals because they migrated from other places."
Recipes are the markers of nurturing attention that reflect one's identity—a way of communicating from one generation to the next through flavor. Being connected to our families and our grandparents is a privilege. Being a part of a family means exploring, remembering, and nurturing. It takes the work of passing down life stories, family history, and recipes (my favorite).
Shaun shared two recipes, one for bacalao guisado his grandmother would make, and another for aromatic orange tea his grandfather made and Shaun makes all the time.
As we head into the holiday season, I want to leave you with something Shaun said about family:
"Your sense of purpose and anything that you create and produce must be connected to who you are in life and how you act with the people you love. And if it's shown me anything, it is that you cannot be anything for anyone else if you don't start with your own family, if you're not prioritizing that space of healing and joy.
My abuela, my grandmother on the Dominican side, used to make bacalao guisado, cod fish stew. It is a very complex dish in terms of flavors. It's salted codfish that is stewed with peppers, onions, garlic, tomato, and then simmered for a long time in order for that richness to come out. I can remember as a small child, it was baffling the older members of my family that I would eat and love bacalao guisado as if it was mac and cheese."
Shaun's Bacalao Guisado
Serves 4–6
2 lbs of salt cod
1 lbs of potatoes, peeled and cut into 3" pieces (I used russet potatoes)
4 tablespoons of olive oil
1 small red onion, cut into thin half moons
1 tablespoon of crushed garlic (about 2–4 cloves)
2 green bell peppers, cut into strips
1 cup of diced tomatoes
1 cup of tomato sauce (or 5 tbsp of tomato paste)
1 handful of fresh parsley, chopped
2 cups of water (aside from all the water for washing and boiling)
1 teaspoon of salt (or more, to taste)
Shaun's note: I also add paprika, oregano, thyme...or any other herbs I have at my disposal.
(I used oregano when I made this dish, and it was awesome.)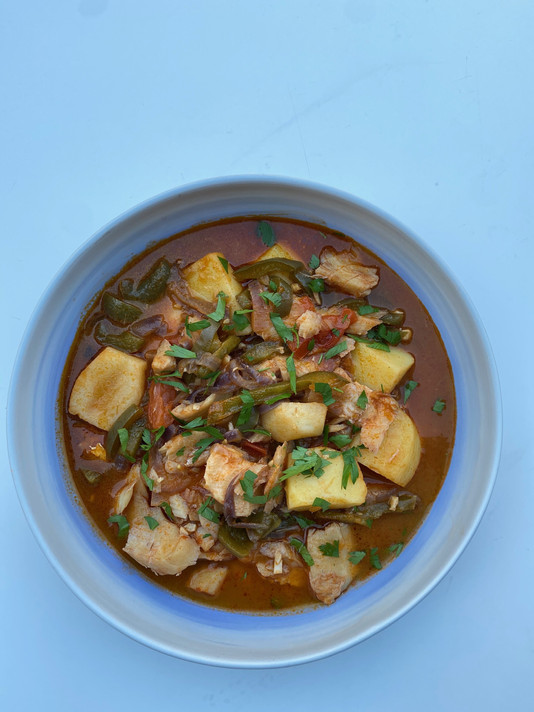 Desalting codfish:
Rinse the codfish in running water, scrubbing off as much surface salt as possible. Soak the codfish in abundant water overnight. Change the water at least once during this period of time.
Place the salt cod in a big pot and cover it with ample water. Bring to a boil and then reduce to medium-low heat and simmer until the codfish starts flaking, about 30–45 minutes. Top off water as needed. Once the bacalao starts to flake, add potatoes and boil until barely cooked through (about two minutes). Drain the fish and potatoes and set aside to cool.
Shaun's note: Taste the fish, it should be pleasantly salty, but not excessively so. If it is still too salty you will have to soak in clean water for about an hour more.
Flake the codfish into small, spoon-size pieces, and make sure to discard any bones, scales, and skin.
Heat the olive oil over medium-low heat in a pot. Add the onions and a pinch of salt and sauté until translucent, about five minutes. Add the garlic and sauté for another minute. Add the diced tomatoes, bell peppers, and chopped parsley. Sauté for another three to four minutes.
Add the codfish and potatoes and stir to incorporate into the tomato mixture. Add the tomato sauce and water, mixing to combine. Lower the heat, cover, and simmer until the sauce has thickened (20–25 minutes). Taste and season with salt if needed. Remove from the heat.
Serve with moro (rice and beans) and avocado slices.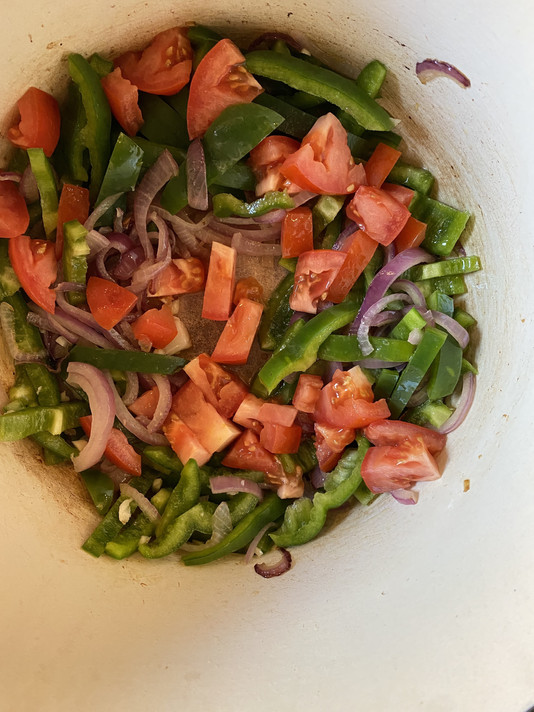 Shaun's Restorative Orange Tea
Makes 2–3 cups
"I often make tea. It's a tea that my Dominican grandfather used to make that is incredibly soothing. It's made of orange peels, ginger, cinnamon sticks, anise, and really any other spices that are handy. You simmer it for a minimum of 20 minutes, and drink it with honey and lemon. That is my way of dialing right back into the care and safety that he symbolizes for me, my abuelo, Damian.
6–8 slices of freshly, peeled ginger,
Peel from one whole orange
1 cinnamon stick
2–3 whole anise
4–6 whole cloves
A pinch of coriander seeds
Honey and lemon to taste
Place all ingredients in a small pot with three cups of water and simmer for 20 minutes until all the flavors come together. Strain and serve with honey and lemon.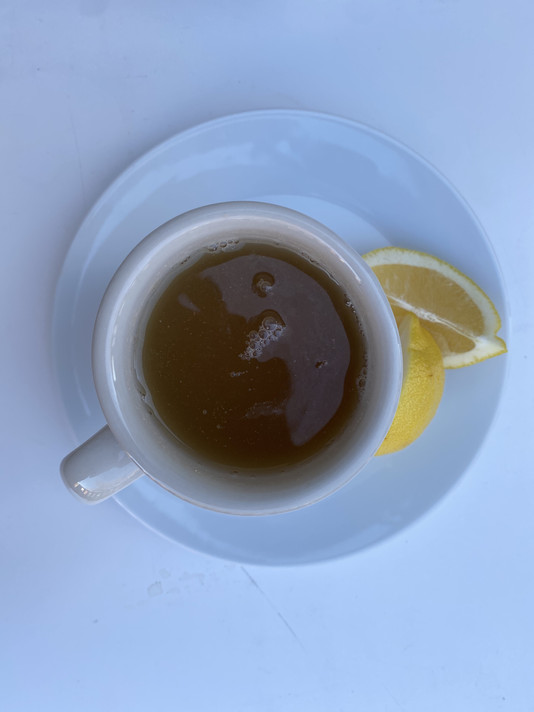 Shaun's exhibition The Breath of Empty Space is currently on view at MASS MoCA, Massachusetts Museum of Contemporary Art.