Cooking with Artists: Dan Herschlein
The artist shares his recipe for meatloaf, the "white picket fence of the American dinner table," in MoMA PS1's ongoing series with chef Mina Stone.
"I'm trying to express how the sense of exploring and getting to know yourself—your position in your own world—is something that seems foreboding and off limits. It's scary and not encouraged." —Dan Herschlein
Artist Dan Herschlein makes sculpture and relief works from a variety of materials. He spoke with me about the comfort found in a slice of pizza, his recipe for meatloaf, and how he draws inspiration for his artwork from horror movies.
"I generally try to imagine the physical body as an architectural space that's inhabited by puppet-like figures which represent different aspects of the self. I look to horror films for inspiration on how to frame pieces—so I can create a tense space where the individual feels like an intruder in their own body. They are going around, opening doors that are closed, and hopefully realizing how this applies to more socially constructed thresholds. For example, the picket fence—the power lies in what it symbolizes, rather than what it performs."
Meatloaf is the white picket fence of the American dinner table. It is the iconic meal symbolizing the traditional, frugal, and resourceful nuclear family. It is an American staple that has historically signified family values, yet the American dream is an elusive and exclusionary fantasy. The reality can more closely resemble a nightmare, or a horror film.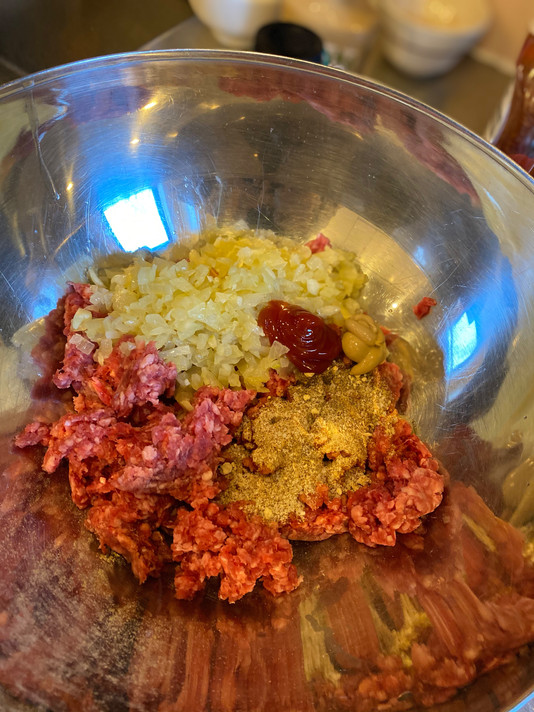 Oftentimes my conversations with artists in this series reinforce the many ways cooking and communing around the table is a source of comfort and connection. What it hasn't addressed is how food can represent alienation and discomfort. The dinner table can be dangerous—a place where problems, dysfunctions, and differences come to light. When making the meatloaf for friends and family in the past, Dan has sculpted the ground meat to resemble a human head.
Dan's work harnesses the power of suspense and tension in horror movies as a tool to explore your inner depths. Navigating that which is scary becomes an opportunity to grow ("leaving out the violence and gore, because it's hard enough to get to know yourself without it").
"I think it's interesting to think about meatloaf as a symbol. To be shaping it with your hands and realize you have control over what that symbol turns out to be. You might not have cultural control over it, but you do have personal control. Then, you literally sit at your table and eat it."
Dan's Meatloaf
"Meatloaf is something my mom made probably once a week when I was growing up. What I really loved is if I had a slice of cheese to melt on top. That's always been a special thing..."
Dan's meatloaf is yummy. Like, very, very good. It has all the great flavors of a hamburger in one tasty, crispy-bottomed loaf (I chose to sculpt mine into a heart shape) with the savory-sweet glaze that brings it all together. It made me happy to make it, mold it, and eat it. (It was also fast and easy.) This American dish has found a place in my home thanks to Dan (and his mom!).
For the meatloaf:
1 lb ground beef
1 small onion, finely chopped
2 garlic cloves, chopped
2 teaspoons ketchup
1 tablespoon Dijon mustard
1 teaspoon Worcester sauce
1/2 cup plain breadcrumbs
1 egg, whisked
1 teaspoon salt plus a little more to saute the onions
1 teaspoon black pepper
1 teaspoon paprika
For the glaze:
1/4 cup ketchup
1 tablespoon apple cider vinegar
1 teaspoon brown sugar
1 teaspoon garlic salt
1 teaspoon black pepper
1 teaspoon cayenne pepper
Preheat the oven to 350 and lightly grease a baking pan.
In a frying pan over medium heat, sauté the onion and garlic in a little bit of vegetable oil (or any oil of your choice) and a sprinkle of salt for about four minutes—until the onion and garlic are nice and soft but not browned.
In a large bowl, add the onion and garlic mixture to the ground beef, along with the rest of the ingredients. Gently mix and knead (I used my hands) until fully incorporated.
Shape the meatloaf mixture "into a perfect little loaf or something..." right on the baking tray. (Dan's note: It should have a nice workability for shaping—if it's too wet, use some more breadcrumbs, but just a little.)
In a small bowl or cup, mix all the ingredients together to make the glaze. Spread it evenly over the top of the meatloaf.
Bake for 45 minutes; it should be slightly crispy on the exterior and fully cooked when you slice it. (Dan's note: I usually accompany my meatloaf with sautéed greens or a simple salad—both good with some acid like apple cider vinegar/ lemon juice.)