Remembering Herman Daled, 1930–2020
Artists recall the late collector's support and deep appreciation for "objects of knowledge."
For art to be passed on, it first needs to be collected and preserved. Museums often serve this function, but sometimes, particularly when artists are not immediately recognized, such a role falls to private individuals. In the late 1960s and 1970s, Herman Daled, with his former wife, Nicole Daled-Verstraeten, brought together one of the greatest collections of Conceptual art ever assembled. Herman understood that artists who thought of their work not as objects to be looked at, but as ideas and thoughts to be shared, needed a form of support that was mostly nonexistent at the time.
Close to the artists—long before they had achieved broad recognition—Herman tied his life to theirs from the outset. This was especially true in the case of Marcel Broodthaers, to whom he showed an unfailing loyalty and a lifelong commitment, but also to a wide range of artists living throughout Europe and the United States. Thanks to a partial gift and purchase, 223 works from the Daleds, together with Herman's personal archive, entered the collection of The Museum of Modern Art in 2011. Their arrival at MoMA gave Conceptual art a new level of recognition, while laying the groundwork for exciting new directions for the Museum to explore going forward.
In order to better appreciate his long-lasting impact on the art of our time, we asked four artists, living in or around New York, whose works were particularly dear to him, to reflect on his life and legacy.
—Christophe Cherix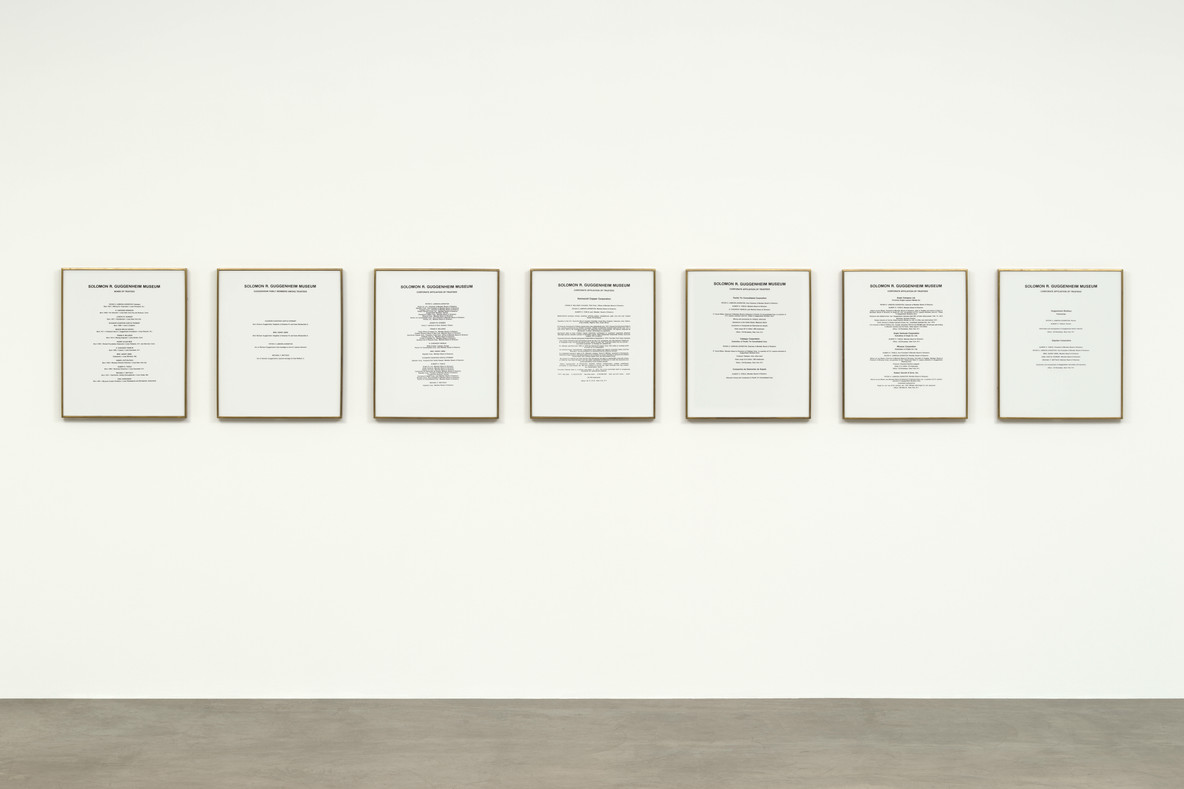 Hans Haacke. Solomon R. Guggenheim Museum Board of Trustees. 1974
It was sad to hear that Herman Daled passed away, a man whom many artists, particularly those of my generation, remember fondly.
My first encounter with him was in 1974 at Live!, a group exhibition at the Stefanotti Gallery.
Live! included my work Solomon R. Guggenheim Board of Trustees, three years after the Guggenheim Museum had cancelled a solo exhibition of mine because its director claimed three of my works were an "alien substance" that threatened to enter the Museum's organism. With my work at the Stefanotti Gallery, I tried to expose those who had backed the director's censorship of my show and the firing of the curator, Edward Fry, who stood up for me.
Daled was the first private collector who bought a work of mine after my troubles with the Guggenheim. It meant a lot to me, and it was a significant statement, noted by many. He acquired my examination of extensive international business interests of the Museum's trustees, including a major stake in El Teniente, a very large copper mine in Chile. I quoted Salvador Allende's address to the United Nations in 1972, when he said the Kennecott Copper Corporation had "dug their claws into my country" and meant "to manage our political life." The president of Kennecott and two other members of the corporation's board of directors were also members of the Board of Trustees of the Guggenheim Museum; one was its president.
In the early 1970s, Daled had the "Agreement of Original Transfer of Work of Art" translated into French and distributed it in Europe. It was a contract, designed in 1971 by Seth Siegelaub and the New York attorney Robert Projansky, that reserves certain rights to artists when they sell a work. It stipulates that the artist receives 15 percent of the profit, if there is one, at the resale of the work and that he or she has a say on the conditions under which it is exhibited publicly. It was absolutely normal for Daled that the acquisition of my work was also done under the terms of this contract.
In 2011, at the initiative of curator Christophe Cherix, The Museum of Modern Art acquired a large portion of Herman Daled's remarkable collection. Two years later, my tribute to the trustees of the Guggenheim was also acquired by MoMA. Herman Daled and I saw each other on the occasion of the Museum's signing the transfer agreement of the Siegelaub contract. Christophe was a beaming witness. It was a memorable event.
We met numerous times in Europe and New York. The last time we saw each other was to celebrate the unveiling of my Gift Horse on the fourth plinth on Trafalgar Square, in London.
Herman Daled was a radiologist. It was his profession but also, metaphorically, he was used to examining what was behind a cover. In 2011, when MoMA acquired a good part of his Conceptual art collection, he said "I believe that they are 'objects of knowledge' because they reveal to us new aspects that have nothing to do with the techniques, the know-how, or the subjectivity of the artists. [Conceptual art] was very cold, aesthetically very bare. I am interested in this because, for me, they are objects of knowledge and not objects of pleasure."
Marcel Broodthaers was one of Herman Daled's closest artist friends. He and his work were also an inspiration for me. I hope Daled will be an inspiring model for art collectors of the future.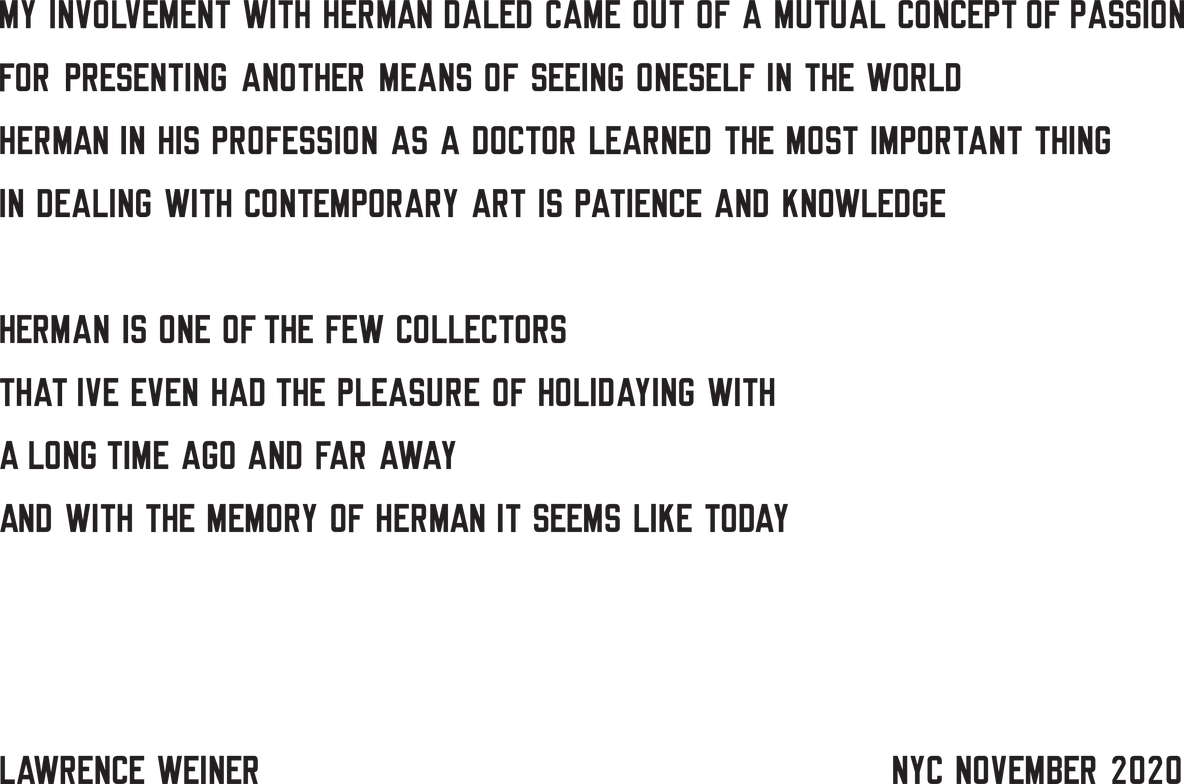 Dr. Herman Daled, when he came into my life as my first collector, and soon to be good friend, I remembered him as a young, good looking doctor, with a passion for art and the ideas around the contemporary art scene. Coming to New York from Brussels to attend a medical convention, he visited the most experimental and interesting gallery in New York in the '60s, the John Gibson Gallery, which is where he saw a small work of mine, Side Effects / Common Drugs, in the gallery's semi-private back room, where he purchased it for $500.
The John Gibson Gallery had organized very early exhibitions of emerging European and American artists, such as Matta-Clark, Richard Long, Dennis Oppenheim, as well as having editions of Marcel Broodthaers and Joseph Beuys.
I think Herman Daled, who had earlier bought the works of Daniel Buren and Marcel Broodthaers, probably showed Broodthaers the work of mine he purchased and I believe, through Marcel's intervention, I became an artist with the groundbreaking Brussels Gallery MTL, whose artists included Stanley Brown and André Cadere and Daniel Buren.
Side Effects / Common Drugs was typical for the kind of early works I was doing at that time. I saw these works as a hybrid between literature, possibly poetry. I didn't think of them as "fine Art," rather they were only meant to exist temporarily, as a disposable magazine page. Like the work of Broodthaers, which I didn't know that well at that time, it was dealing with clichés…in the sense that clichés referred to a kind of printed matter. Herman, being Flemish, coming from the outskirts of Bruges, when he moved to Brussels, fell in love with French Parisian intellectual culture. I think he loved to learn new current French art theories. He was probably aware of the "avant-garde" gallery MTL, where I was soon to show along with Marcel Broodthaers, Daniel Buren, as well as André Cadere.
Showing with the most important gallery in Brussels, MTL, was quite significant, as the artists at MTL shared ideas and mutually influenced each other. And for me, Brussels was the center of the art world, even more important than Cologne or Düsseldorf. With Dirk Snauwaert (who was also from Bruges), Herman was instrumental with helping to create a new "alternative" space, like WIELS in Brussels; Herman played a major role in financing the space.
My last and very happy memory of Herman was when he attended the screening at WIELS of a video of the performance of my rock'n'roll puppet show Don't trust anybody over 30. I noticed Herman enjoying the video with pleasurable fascination and perhaps sharing teenage, rock'n'roll "anti-Establishment" fantasies; maybe Herman, like me, was a fellow teenager young at heart.
Dan Graham. Side Effect/Common Drug. 1966
Writing a tribute to Herman Daled at this precipitous moment comes with an uneasy sense of losing my bearings as I turn my head toward what was, what I remember, and what I think and do now because of it. Even from my house away from everything I think I can detect the rumble of art-historical paradigms crashing. So in the spirit of my own art history I offer a few memories and thoughts, replete with blockages and aggrandizing wishes no doubt. I did not know Herman Daled well, having only had the pleasure of his company on a handful of occasions. I originally made his acquaintance back in the early '90s via my job as program coordinator at P.S.1. Through that job I came into contact with a specific group of men who influenced me at the outset of my career. Through these friendships I began on the path I, counterintuitively, chose to follow or think through in painting. They were the artists Dan Graham, Lawrence Weiner, and Daniel Buren, and the curators Chris Dercon and Dirk Snauwaert. I was, and remain, proud of the fact that the first artwork Daled acquired, just after selling his large collection of Conceptual art and archives to MoMA, was a work of mine. It is a small painting silkscreened in red, blue, and green. In it is a small matchbook sculpture by Lygia Clark sitting on a mirror and a painting I painted and then erased. It exemplifies the way I encoded an art history in which Daled played a significant role.
Dan Graham, who I worked for in the mid '90s, used to often talk/gossip/rail to me about all the men listed above. However, when he talked of Herman, it was always with high esteem. He would say that Belgian collectors were better than American ones because they didn't flaunt their wealth via their art. They came from the middle class. They were doctors and lawyers who got into art to engage with ideas, not to decorate their homes. As a doctor specializing in radiology, Herman knew not to trust the eyes alone. As he liked to say, "If it's beautiful, we already know it."
I remember how in 2012, when I titled Chapter 24 "Dalet," or the Hebrew ר, people assumed I was referring to Daled. He had befriended and collected many of the artists in the collection at the Museum Apteiberg that I was sourcing. I remember him coming to that opening and especially liking this painting showing Marcel Broodthaers looking weary as Daniel Buren stares at the viewer from the background. The news of Herman's death reminds me of the irretrievable nature of that time, that art, that scene. A time just before my time.
Thinking of all those men, those marriages, those art openings, dinners, and heady conversations, a word comes to my mind: husbandry. Husbandry in the agricultural sense, meaning someone who cares for and cultivates a farm. I often wish more men would practice this skill that requires careful management, good housekeeping, and economy. In this sense Daled was a true practitioner of Husbandry to a small band of American and European artists coming out of the '60s, '70s, and '80s. Daled was someone who escorted Conceptualism into this future.
My most vivid memory of Herman Daled was of the day he generously invited me to visit his home in Brussels. To give a little context, Back then I had recently finished restoring my current house in Connecticut, built in 1953 by the American sculptor Tony Smith. So house preservation and restoration was on my mind. Daled's home was originally a small hotel built in 1931 by Belgian architect Henry van der Veld. When I walked into this building it caught my breath and zoomed into my permanent memory. Firstly, the home put me to shame and made my restoration feel woefully thoughtless. Daled had kept his building just as it was the day he bought it back in 1977—broom clean. I remember him remarking that the only important thing was to make sure the roof doesn't leak. There was no furniture, no art, no tables, no couches, no rugs, no dishes, just the building with its faded wallpaper very much giving room to both time and to the architecture. Herman lived modestly in the basement in a few rooms. But the rest was kept as it was and remains, full of this emptiness—full of itself and its worn and yellowed past. Before going into the MoMA collection, Herman's art collection was stored away from sight in boxes upstairs. He cultivated an important moment in art by letting it be its difficult, not pretty, self. Herman engaged with his collection like he engaged with that house. He said, "Je n'y habite pas, j'y suis present."
During the pandemic I have been working on a group of paintings meant to be shown next year at Wiels in Brussels, a place very much grounded in Daled's nurturing spirit. I feel especially sad he won't be there to see.
Herman if you are out there somewhere, I know how you and I would laugh if you could see the painting I'm working on right now as I write your tribute. All I can say is I jumped right over your most beloved artist Marcel Broodthaers backwards and landed on Wiertz. You are one of the few that would understand.
Image at top: Douglas Huebler. Variable Piece #44 / Global. 1971. Offset lithograph with collage additions, sheet: 18 × 24" (45.7 × 61 cm). Publisher: Douglas Huebler. Edition: 100 unique variants. Partial gift of the Daled Collection and partial purchase through the generosity of Maja Oeri and Hans Bodenmann, Sue and Edgar Wachenheim III, Agnes Gund, Marlene Hess and James D. Zirin, Marie-Josée and Henry R. Kravis, and Jerry I. Speyer and Katherine G. Farley. © 2021 Estate of Douglas Huebler/Artists Rights Society (ARS), New York