Remembering Lotty Rosenfeld, 1943–2020
MoMA staff reflect on the political, poetic works of the late Chilean artist.
Lotty Rosenfeld (born Carlota Eugenia Rosenfeld Villarreal), who died last week at age 77, was one of the most brilliant members of the "Escena de Avanzada," a generation of Chilean artists who attempted to mobilize a society living under one of the last century's most repressive regimes. Along with poet Raúl Zurita, sociologist Fernando Balcells, novelist Diamela Eltit, and artist Juan Castillo, Rosenfeld was one of the founding members of the experimental group Colectivo Acciones de Arte (CADA). As a member of the collective, she produced ambitious public projects that disrupted daily life under Augusto Pinochet´s dictatorship and heightened awareness of social and political injustices under the regime. CADA members threw poetical-political pamphlets from airplanes over impoverished neighborhoods, and staged street interventions that spoke about the hunger brought about by the regime's neoliberal policies. "The future we desire for art is life itself, the creation of a different society as a great work of art," they proclaimed in an interview with Chilean critic Nelly Richard.
But it was Rosenfeld's individual work A Mile of Crosses on the Pavement that became her best-known piece. In 1979, she walked along the long, deserted Manquehue Street on the eastern edge of Santiago de Chile and, using a broad white tape, turned the lines in the road into crosses. The performance—a video and a series of photographs document the artist´s meticulous act of "drawing" the crosses—produced radical ambiguity through a simple intervention: the crosses became plus signs, death marks, signs of suppression or addition.
A Mile of Crosses on the Pavement is considered a direct precursor to No +, CADA's most celebrated and enduring project. A campaign begun in 1983, No + protested the 10th anniversary of Pinochet's dictatorship by spreading in public spaces an open-ended slogan that citizens were invited to complete. Its first appearance was accompanied by the image of a gun pointing at the viewer, but it quickly became a placeholder for multiple social grievances: "No + dictadura" (No more dictatorship), "No + hambre" (No more hunger) or "No + torturas" (No more torture) was written on public walls and displayed on political banners. In 1988, No + became the central slogan of the referendum that ended Pinochet's regime; during last year's social upheaval in Chile, the slogan continued to be used, appearing as "No + represión" (No more repression), "No + abusos" (No more abuses). Rosenfeld's work has continued to speak to and function in different political contexts.
An active member in Mujeres por la Vida (Women for Life), a feminist group that opposed the dictatorship, Rosenfeld participated in the group's demonstrations and incorporated the No+ symbol into the design of its banners. For years, she made crosses at different political sites, including La Casa de la Moneda, Chile, the White House in Washington, and the historically disputed Chilean-Argentine border.
Rosenfeld has left us, but her signs remain more vital than ever.
—Inés Katzenstein, Director, Patricia Phelps de Cisneros Research Institute for the Study of Art from Latin America, and Curator of Latin American Art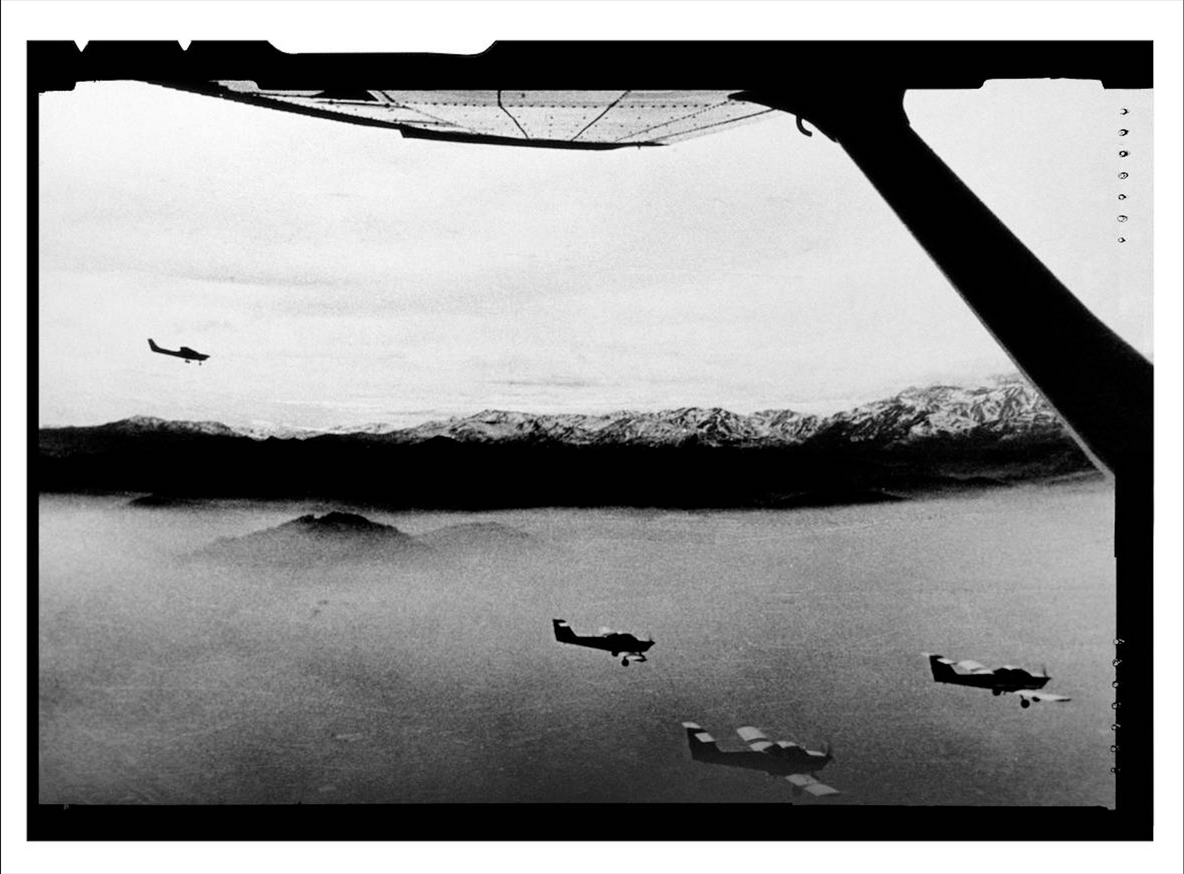 CADA (Colectivo Acciones de Arte), Raúl Zurita, Fernando Balcells, Diamela Eltit, Lotty Rosenfeld, Juan Castillo. ¡Ay Sudamérica! 1981
In the fraught political climate of the Chilean dictatorship of the late 1970s and early '80s, navigating the line between what could be said or seen, and what could not, was a risky proposition. In her work, Lotty Rosenfeld took on this challenge, defying the strictures of an oppressive society. Along with fellow members of the politically engaged Colectivo Acciones de Arte (Art Actions Collective), or CADA, Rosenfeld was dedicated to poetic interventions in public spaces, encouraging passersby to question their surroundings and the structures of daily life.
In December 1979, Rosenfeld's Una milla de cruces sobre el pavimento (A Mile of Crosses on the Pavement) nudged the space of art into the street. With the simple procedure of altering the lines dividing the lanes of traffic on a road in eastern Santiago by bisecting them with a strip of white cloth, Rosenfeld generated a striking new sign for the political movement opposing the Pinochet regime—the +. If transit signs represented the status quo, then cancelling them out signaled resistance. Applying crosses to the roadway summoned the Western symbolism of the cross and the implication of pain, also invoking notions of closing a wound and of healing.
Performing her provocative acts for the camera, Rosenfeld proposed a subtle new mode of defiance in Chile. The artist once described her work—both individual and collaborative—as contributing to "a collective construction of social happiness."(1) She returned, throughout her career, to multivalent images that referenced her country's struggles against the dictatorship. Her body of work encapsulated the spirit of opposition to authoritarianism, and encouraged Chile's citizens to mobilize their dissent. And it repeatedly insisted on an aspect already present in her original intervention in 1979: the imperative of issuing "calls to attention" and making "gestures of life."(2) When first performed, A Mile of Crosses on the Pavement radiated a poetic and political power, a quality it still retains today.
—Jason Dubs, Mellon-Marron Research Consortium Project Manager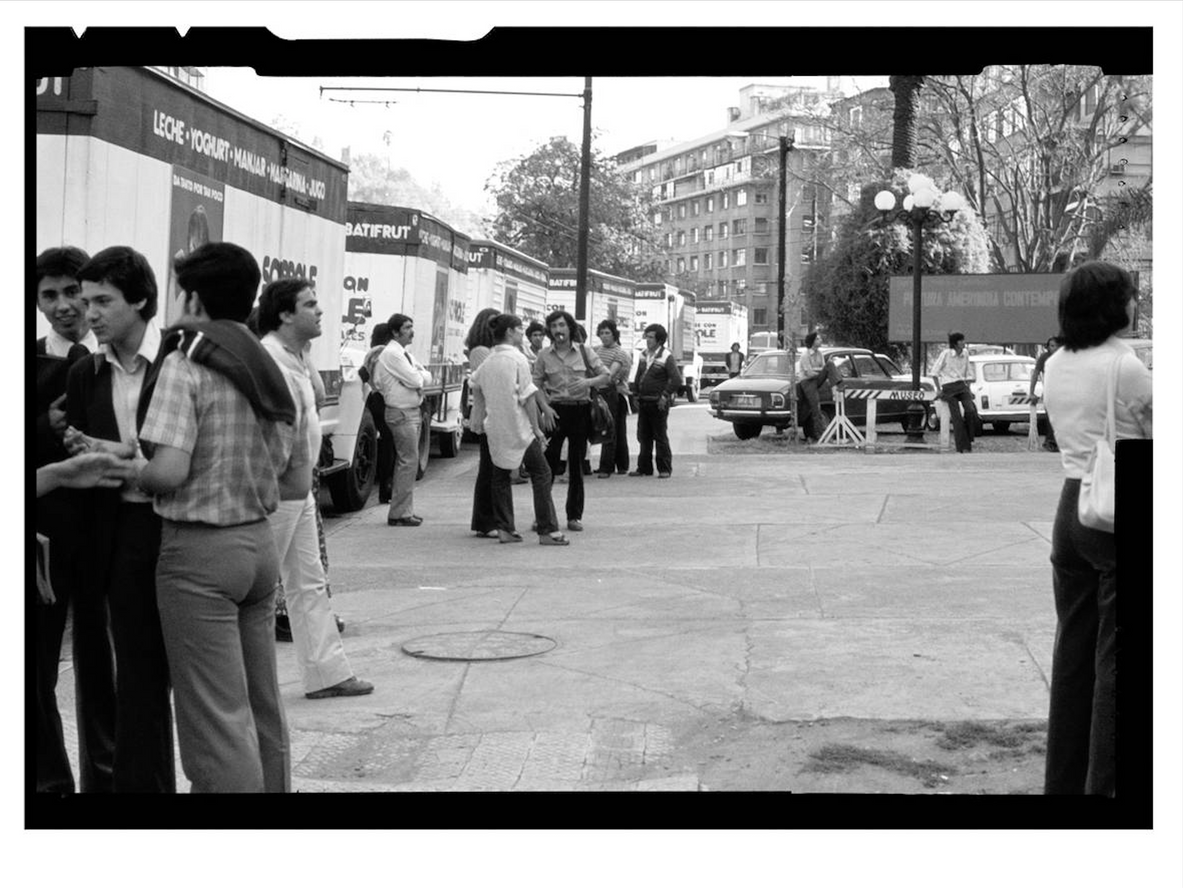 CADA (Colectivo Acciones de Arte), Raúl Zurita, Fernando Balcells, Diamela Eltit, Lotty Rosenfeld, Juan Castillo. Inversión de Escena (Scene Inversion). 1979
Lotty Rosenfeld's video of A Mile of Crosses on the Pavement is currently on view in the Museum's collection galleries. It's being shown on a small, square television monitor, next to a monumental painting. It doesn't matter, though—the simplicity of Rosenfeld, in jeans and sandals, slowly unrolling strips of white cloth onto the pavement, draws your attention and holds it. You don't have to know that, with this performance, Rosenfeld put herself in danger, that she and her collaborators in the Colectivo Acciones de Arte could have been punished for a work that pushed against the oppression of Chilean dictator Augusto Pinochet. Of course having this in mind adds anxiety to the viewing process—you wait for a police or army vehicle to enter the frame—but it doesn't phase Rosenfeld as she stands in the middle of a road, slowly changing the white lines that divide the lanes into crosses.
A white cross can signal a lot of things—humanitarian aid or religious devotion, for example—and Rosenfeld positioned the symbol so that it was bound to be run over and gradually destroyed by passing cars. Her action was intentionally ephemeral—less likely to get her in trouble, but also an accurate reflection of what it's like to hope in a time of hopelessness. You do something, you watch it fade, and you do something else; it's the doing that gets you through, and might get others through as well. In a gallery devoted to art made in response to war, to social and emotional turmoil across the world, Rosenfeld's work stands out because it physically existed in that world, at least for a time. It's a brave, inspiring action, and one that I've thought about often as I've stared out my window onto the street outside my apartment in the past months. Rosenfeld's voice and influence will stay with us far longer than her white crosses on the pavement.
—Esther Adler, Associate Curator, Department of Drawings and Prints
We presented Lotty Rosenfeld's A Mile of Crosses on the Pavement here from July 31 through August 31, 2020. The film is no longer available for streaming on this page.
(1) Lotty Rosenfeld, artist's statement, "Una herida americana," May 15, 1982, in Serie Cuadernos Marginales, Textos por Latinoamérica (Santiago: Talleres del Mar, 1982), n.p.
(2) Rosenfeld, Una milla de cruces sobre el pavimento (Santiago: Ediciones C.A.D.A., 1980), 28-29.