Anne Teresa De Keersmaeker
The artist discusses the incongruence between dance and COVID-19.
This letter is a part of Performing at a Distance, an artist project that unfolds with one letter a week.
May 2020
Dear MoMA,
Across the world, societies have been placed on lockdown and economies have been shuttered, pushing us all back into our private lives and closed-off homes. Undoubtedly, the dance world suffers deeply from this lockdown, perhaps more so than other sectors of the art world. This is not to deny the colossal economic damage the crisis has wrought in other parts of our society, all over the world. As an art form, however, dance and COVID are simply a terrible match. Together with cafés and restaurants, dancing is an activity that can only happen on site. Everyone knows that watching a performance online barely compares to the real thing. The orders passed down by authorities today—to not place our bodies in proximity to others in the same space—are nothing less than a death sentence to dance as we know it.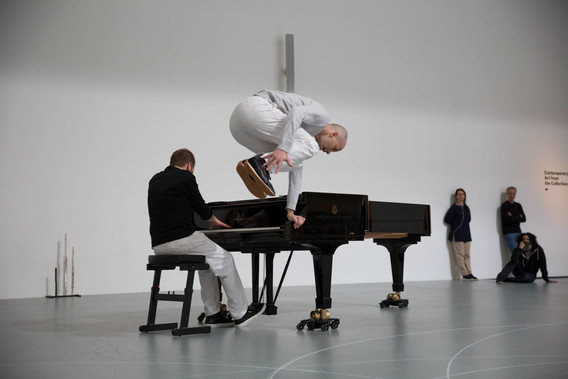 Anne Teresa De Keersmaeker. Work/Travail/Arbeid. Performed at The Museum of Modern Art, March 29–April 2, 2017. Performers pictured: Jean-Luc Plouvier and Carlos Garbin
Cafés and restaurants are steadily redesigning their interiors to make them COVID compatible. Supermarkets offer disinfectants. Even theaters can rearrange their performances to maintain healthier distances between actors, and can ban human touch from their plays. Dancers find this readjustment more difficult. What would it even mean to hold a performance with 30 dancers observing social distancing? These protocols, after all, are about more than physical distancing; as we see, they are about the very absence of the relationships created by placing bodies in the same space. The future seems to lie with an increasingly solitary form of dance. Solos and monologues will flourish; the lone dancer is bound to become the figure of a new aesthetics. Beautiful work has been done in this tradition, but it is not exhaustive of choreography as a whole.
It feels cheap to proclaim one's sadness in the face of this state of affairs. It would be healthy, however, to at least remember that things have not always been this way, will not always be this way, and might not always have to be this way. Dance is an exercise in sociability, maybe one of the most interesting exercises in sociability; and it is sociability which will have to return once all of this is over. In this sense, dance is both a prohibition and promise—something to look forward to.
Anne Teresa De Keersmaeker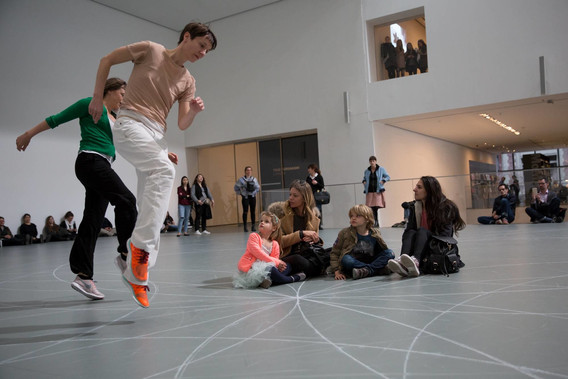 Work/Travail/Arbeid. Performers pictured: Samantha van Wissen and Sarah Ludi
Anne Teresa De Keersmaeker is a dancer and choreographer, and the founder of the dance company Rosas. At MoMA, she performed her solo Violin Phase from Fase: Four movements to the Music of Steve Reich (1982) in 2011, and presented her work Work/Travail/Arbeid in 2018.