The artist writes with rage and desire about MoMA's care for dead things; learning from the biological force of the COVID-19 pandemic; and the perpetual, beautiful crisis called for by the protests for Black life.
The following three letters to MoMA curator Thomas J. Lax are part of Performing at a Distance, an artist project that unfolds with one letter a week.
1.
Historicization: The currency of memory. Reinvention makes us feel hopeful.
But Pema Chodron challenges that in When Things Fall Apart when she says, "Abandon hope." Perhaps we should all have this quote on our refrigerator doors. The spacious fragility of right now is everything we know, need to know and can accomplish. The expansive bounty of that offering.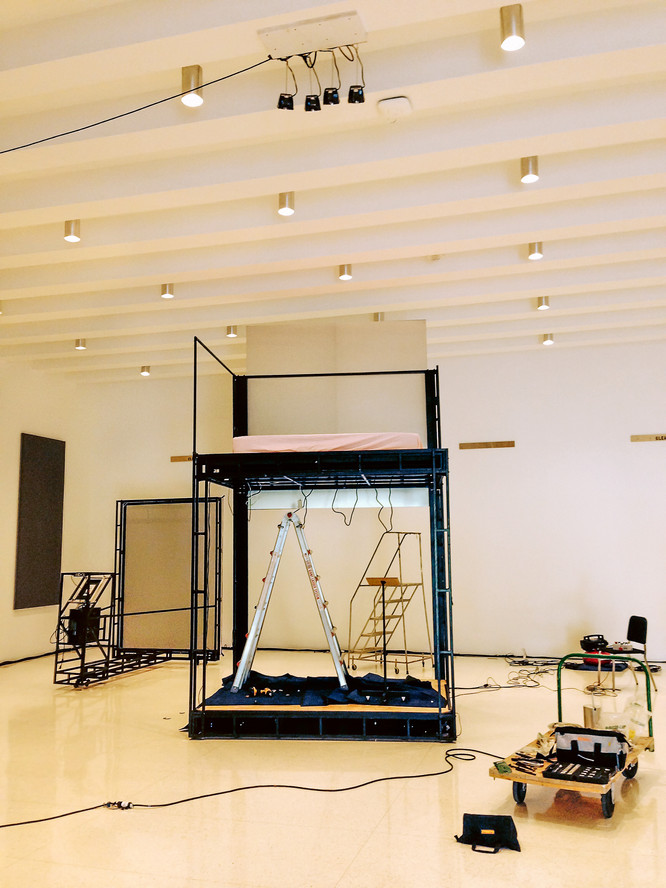 Ralph Lemon. Scaffold Room. 2014
January 2016. (4 years before the plague[s].)
Dear Thomas.
I have been thinking (broadly) about you and your work, where you work, that building, space….
I originally had a list of questions to float over your head about MoMA, MoMA as a condition, the cultural white-light lens of the place (and the universe of art spaces that respond and react to its tectonic shifts in points of view). How difficult it is to challenge how the place dictates a particular and deliberate (and wildly incomplete) canon (new and old) of looking at modern art… And contemporary performance in particular: the live body's presence as an art statement in MoMA's universe of art spaces. But then the questions seemed too obvious, perhaps exhausted. So I'll begin with a little inchoate interrogation of my own not-so obvious rabbit warren and art abyss—parts of which you have shared, visited. A few thought prompts for further discussion.
Beauty and the frame: I premiered Scaffold Room in 2014 at the Walker Art Center in Minneapolis in their Burnet Gallery (illustration above)—another live-body performance versus classic object-art-space experiment. It was a revelation to me, very late in arrival, that museum spaces have white walls because anything you put inside them becomes luminous, even in its arguments. The Scaffold Room frame became an object and the explicit, live, sonorous and black female bodies who performed inside and nearby it were objectified. Content (racial and gender politics) swirling peripherally, diffused. This was interesting and quite conspicuous after the fact.
Organization: In 2015 I gave an art talk at the Walker about Scaffold Room, a lecture refracting all the many planned refractions of the work that happened during our time in the space. For this lecture, as you recall, you created a coda. Another revelation for me, listening and watching, experiencing your hand-brain made avatar at the velocity of my own unreliable black narrators Okwui Okpokwasili and April Matthis (along with the blackified voices of Kathy Acker, Amy Winehouse, and Bob Dylan, other avatars embodied form in that work). You added a talk, one quite performative, about another Thomas—you—inside the Scaffold Room. It was perfect. It told me nothing about what I had shared (and what I made) and instead opened up a world to my words that I had nothing to do with. I mentioned this to you, asking (subversively) if you could think about organizing a show (at MoMA?) like the one that just happened, where your work as a curator completely absorbs (almost) the art being curated. Authorship of the work of art and its organization runs amok and becomes more truthful, perhaps.
You never replied.
In 2015, I re-organized part of Scaffold Room in a dark space, an all-black room in the upstairs gallery at the Kitchen to challenge (in part) how suspiciously mesmerized I was with the white walls of the Walker in 2014, how I looked at things familiar to me carefully illuminated. A renovated white to black space, not to erase or obscure the stuff I installed, but to find another illumination for this stuff, an illumination not necessarily theatrical but that had everything to do with darkness and light. Illuminated just enough and still hard to see, murky. A particular medium of attention, almost medium free because of the darkness, challenging attention. I wanted to share that idea and or argument with an audience.
Are the remains mostly an aestheticized dead thing or a thing still haunted by some labor aliveness, available for some sensorial exchange beyond its place, its fixed culture? Yes and no.
In the winter of 2016, a summer in Buenos Aires, at a group show at Palacio Nacional De Las Artes, my daughter Valentina wanted to touch everything in this well-lighted small museum, at least the objects she was interested in, which were mostly red. I told her she couldn't. She asked me why not. I didn't have an answer that made any real sense to me. After the museum visit, we took her to a beautiful sun-drenched garden-park in the middle of the city. She of course wanted to run around far away from her mother and me, to get lost outdoors, knowing we were nearby. It didn't matter. She couldn't run or walk on the expansive manicured, or let's say, curated grass. The signs read, "No Pisar El Cesped. Por Favor Ayúdenos A Mantener Este Parque Limpio." Stay Off the Grass. Please Help Us Keep the Area Neat.
It broke my heart.
Looking at the remains of a labor, an art labor. Making. Are the remains mostly an aestheticized dead thing or a thing still haunted by some labor aliveness, available for some sensorial exchange beyond its place, its fixed culture? Yes and no. And of course it can be analyzed (held, subsumed, possessed) as godlike—dead god, live god—by certain individuals if need be, depending upon privilege (and the light source). But what then? The fraught value nebula: its refractions are our universe. No escape. It is a trap that we continue to successfully barter with within, all of us.
Aliveness vs. everything else: Easier to slip and slide sublime ambiguity (and currency?) with a body, a choreography, performance, perhaps. And a performance can go anywhere, to places receptive or unwelcome, a generative trespassing and protest. And because a body/bodies are moving with intention through some designated space, touching and/or possessing, this live-movement art-statement becomes prohibitive organically, not worth any real consideration beyond an enlightened curiosity. A freedom. Still the frame, any frame, interacts, controlling cultural beauty-privilege-power-knowledge, differently. A work/practice creates its own particular space(s); is emphatic, always. It contains and comments on the looking. Whether it's seen or not, a dark space and or a space full of light. One can't get around it.
And the live body finally will absolutely disappear, dies—profoundly—every single time, as the frame remains, even more illuminated than before (even in the frame's ruin) because of the body's absence.
The attraction to most things is its potential.
The potential of this ongoing discussion, if somewhat tired, has a future, provisory certainly, and I look forward to how it works its way in and out of the dark and the light of the many different power structures inviting these (value) questions inside their spaces, for better or for worse.
More to come.
Peace.
R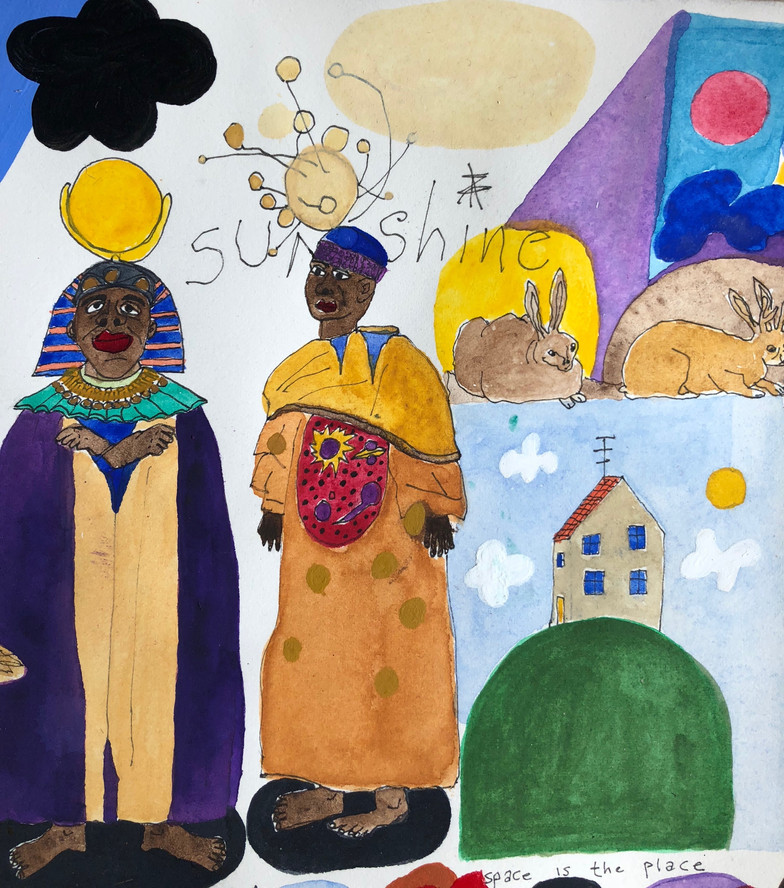 Ralph Lemon. Untitled. 2018
Four years later, April, 2020.
Dear Thomas.
I found the letter above, from 2016, lost in a file. Not sure why it never got to you, or how it got lost. Rereading it in the midst of this pandemic, it's fascinating how important to me the thought prompts were at the time and now how utterly irrelevant they mostly seem….
Mother nature is talking and has our undivided attention this time. It could be that there are no value systems at the moment beyond trying to stay alive. How remarkable. The non-solution test of now: waiting nature out. How do we audience this, properly? Not via the omnipresent default attempt at virtual resuscitations of something that once was but is no longer truly relevant; rather this present, silent, and unforgiving earth-shifting frame.
Those who will not dance will have to be shot. (Sun Ra)
The last night of February 2020, right before everything shut down, Kevin Beasley, Okwui Okpokwasili, Samita Sinha, Paul Hamilton, Stanley Gambucci, Mariama Noguera-Devers, Dwayne Brown, Darrell Jones and I performed Rant #3, a new work, at the Kitchen (the Kitchen theater in its remarkable transitional empty [and economically threatened] black space). An invitation-only event, also free. Another attempt at how something is offered and seen and not, in this case, who was there and not, watching a very loud site-specific sound, movement, voice, Brown/Black body cultural experiment in rage, freedom and or ecstasy…with just enough light to make each person's group station visible. (An excuse, really, for my not being able to share the actual inexplicable interstice of the thing expressed, a completely private temper imagining some future where a cultural wailing [pain] is not only legitimate but also beautiful. A completely different show.)
I am not particularly happy that we were able to perform the one show a week before the shutdown, just under the wire, that maybe we were lucky, very lucky. It would have been more interesting, I think, if the time and space had said no to this complex artwork's invitation (like the noes of so many other recent artwork invitations), given that no is not an answer. If we had been shut down, I would certainly have been angrier than I already am. A universal rage, mostly to do with the basic inequities of our human existence, expected ongoing race matters and a few art problems—in that order—that predate my pandemic distress.
I am grateful to the Kitchen and St. Mark's Danspace, Tim Griffin and Judy Hussie-Taylor, et al., for bravely producing, paying for the free show without a clear return of institutional goods, whatever they got out of the hands-off and devoted caretaking. (Not knowing what was coming only a week later.) How both of these institutions benevolently disappeared around and within the work's performance and audience mandates. And who knows how this kind of generosity will circulate after the tremendous loss of live performance (and live gatherings) as we now (don't really) know it. It is devastated, certainly. It's hard for me to imagine Rant #4.
Gratitude and rage are both gifts to me. I do know that we will arrive (in the short term) to some rather obscene hierarchy and injustice amidst the breathtaking loss, similar but different than before, with most of the requisite inequities from before and some new ones not yet known. The insulating and escapist qualities of privilege: virus proof, up to a point. MoMA (the building and the masterpieces) will be fine after the storm, rest assured. The rest of us, it's anybody's guess. This is not OK. And yet almost everything that compels me about MoMA, the place, is based upon a culturally supremacist landscape and language and all that is absent in that language. Modern art, as we know it, sources it, consumes it. This is not OK and still I look forward to the day when I can revisit and be part of MoMA's very privileged art world debate, again, differently.
How might we aid an actual falling apart, within ourselves, where we truly have to start over with something better for everybody, before the next planet weather (and human) upheaval?
A plan: There are days when I wonder (in my, so far, non-infected body) what if, what if this pandemic lasted longer than we are capable of rationalizing. Hope. In my wonderment I try not to think (as ridiculous as it might be) about all of the people who have died, are newly dying and newly hungry, the mostly disadvantaged folk of color. I wonder, fantasize about the everything/everybody shut down, wobbling, falling apart part, where the potential is as good as it gets, where most art and books and music and dancing (and economies) fail (me), or are at least suspect, as we contemplate this now and future. Because at the moment of creative and entrepreneurial acts, schemes can only distract; is real inspiration possible? The air is too thick. We don't (cannot) yet know this thing that has taken our breath and bodies away. And it can't really be exploited, not really, not existentially. (Yes, there is capitalization and opportunism and some interesting creativity in and because of the chaos but this chaos cannot be possessed.) Viruses are very smart about their survival and are ultimately wilier than our human exceptionalism (and rage). Yes, yes, oh yes, nature. Even a nature on the brink. (Holding all the human hatred from every season it has brought forth. And not enough love?)
And what do we do now?
What do we do?
This may sound absurd, but how might we beneficially aid this falling apart, this sudden entropic appearance which is always present, ongoing, below our various enlightened surface productions? How might we aid an actual falling apart, within ourselves, where we truly have to start over with something better for everybody, before the next planetary weather (and human) upheaval? A time to be dreamy. Some empathetic imagination (which thrives in the incomprehensible) to go along with basic nostalgia, our passive imaginings of how to get back to a more comprehensible way of life. At the least, now is an opportunity to re-examine everything, what we are doing, right now. Honoring that. That's all we are doing, can do, whether we acknowledge it or not, can afford to hide out or not. A time to stay put, be quiet. A simple sensorial response and attention. In the dark. How we all kind of share a similar if different fragility, groundlessness, an expansive nowhere, our true human condition. Our anxious very awake and endangered bodies, 6ft apart. Vulnerable and wide awake. No resistance. A radical resistance and a perfect enough action in response to this moment. For now.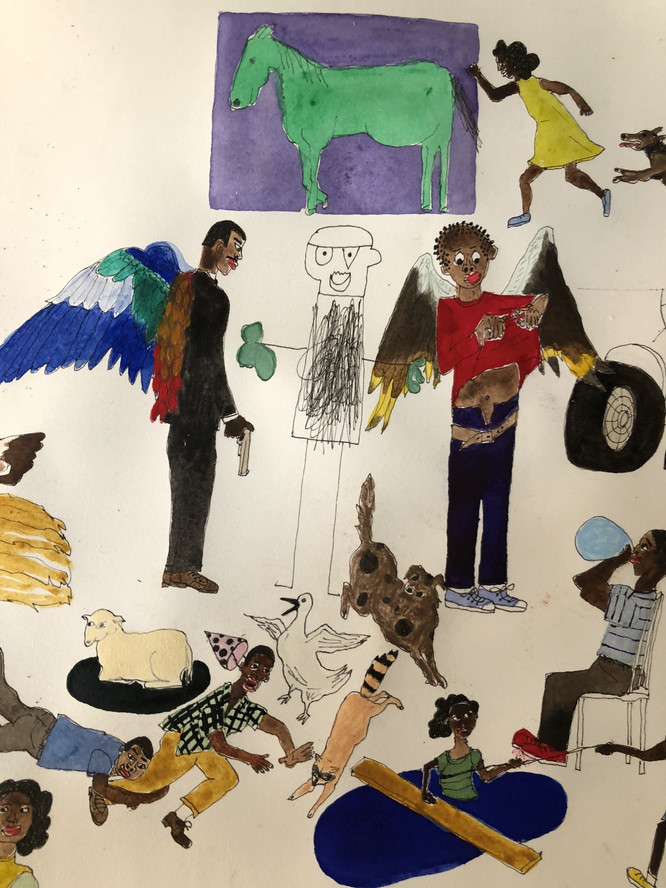 Ralph Lemon. Untitled. 2018
Thomas, 4 years ago, when there was more room to play-think the usual art war games, I had quite a few (possibly bone-weary) questions for you about MoMA, what it represents (all the enlightened institutional governments it stands in for) and your work there, because you are a friend (and useful adversary). And because my attraction to the place has always felt a lot like Anna Karina's attraction to Eddie Constantine in Godard's Alphaville: "Mr. Johnson, when I'm with you I feel afraid."
For the moment I no longer care (I actually can't care) if MoMA (now the new more inclusive, more women, more Brown people, more Latin America MoMA) is questionably the most globally relevant cultural space for modern art or not, whether this was ever a relevant question or not. I no longer care (like I used to care) to think about those spaces that don't allow a thing to immediately announce its fraught value. If it's even possible here, now, the value question. What "here" and "now" might represent. I no longer care to think about where are the relevant spaces that actually compete with and or challenge these colossus institutional spaces. Remaining relevant? Afloat for more than 5 years or so? A fantasy about 112 Greene St. and FOOD and Just Above Midtown. A different kind of frame controlling cultural beauty-privilege-power-knowledge. I no longer care if any of these requisite institutional frames—large and small, exclusive, inclusive, powerful, powerless—contradict the potential or radicality of a work. Is it possible to actually disrupt a MoMA, what it was, is, will be, what it represents, represented? Versus what it does and will always do, the curatorial caring for, protecting, and ultimate subsuming of a particular modern methodology, inherently shutting down the radical, the invaluable. Maybe. Too much love perhaps.
I've always considered, even now (if consideration is not an oxymoron in this case) that the art thing is held and then constructively challenges (at best destroys) and or transcends the surround that is holding it, a biological requirement.
I've always considered, even now (if consideration is not an oxymoron in this case) that the art thing is held and then constructively challenges (at best destroys) and/or transcends the surround that is holding it, a biological requirement. An inherent and beautiful agreement (in my dreams).
For the time being all the doors are closed; the white walls and whatever they're caring for go unseen. Lights mostly off, I imagine. (Maybe there are a few uniformed Black/Brown security guards calmly walking around the place(s) protecting the unseen. What a job that would be right now.) During this remarkable and disturbing pause in time how profound all of this is doesn't really matter much. This current virus frame is schooling us in a language we can barely make out. There will be lots of homework, if we're capable of paying attention (in the dark and the stunning light of this moment, spring, summer, fall, winter…). My daughter, Valentina, who I care very much about, now 7, who has her entire vocabulary at every moment, said to me the other day, "I wish this virus never existed!" And then she said, "I shouldn't have said that, right? That something shouldn't exist?" Yes, I said. Both things are right. But absence is also beauty, I continued. Generative most of the time and also good for the planet. Not a revolution but a beginning.
Peace.
And stay safe, you and yours
R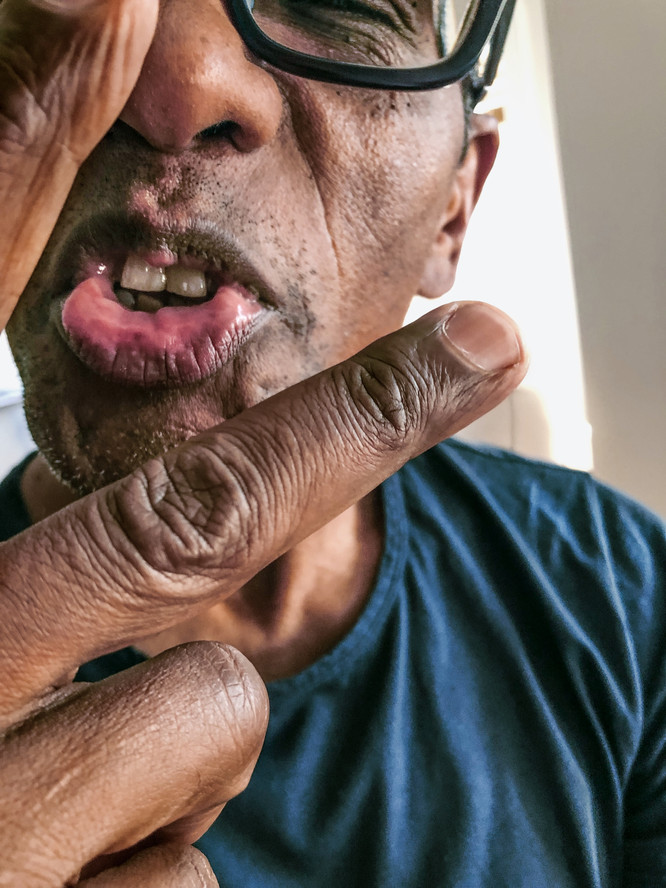 Ralph Lemon. Untitled. 2019
3.
There are some enterprises in which a careful disorderliness is the true method. (Herman Melville, Moby Dick)
June 2020
Thomas.
I didn't think I would be writing again so soon…
The breakdown continues, with different stakes of course. The pandemic awakens another beast, wildly alive. I hear music again and poetry. And it is good (as it is also very sad). I am inspired again, suddenly, along with the deep sadness, the light dark contours of violence, its synergy, at the locus, in the incomprehensible surround of this halting, surging and breathtaking bona mater rant. An inspiration simply about presence. So much for beginnings and the impossibility of being absent. Another beautiful Black spectacle (celebration of rage), in the parade of the many I have witnessed over the years. Ignited by yet another despicable modern Black death; at home, in a car, in a church, on the streets…"Lord, we are so tired." A very different protesting this time, a different fearlessness, one remarkably promising. And a different kind of pandemic live gathering, ignoring any and all social distancing choreography. This is not a free show. It is in fact, sacrificial. "Saving our sweet world…" People are mad and should be. An old rage, ancient, inexhaustible.
Folk also clearly want to be outside.
I don't really know this Minneapolis, the beginning of this particular inflection moment, George Floyd…his tragic murder, these few weeks later, aiding the useful whole nation falling apart I spoke of in my previous letter. So strange now, my memories of growing up there, the '60s and '70s, seemingly sublime memories of the remarkable racial kindness (or Minnesota niceness, I imagine), where I ultimately fell in love with white folk, felt safe and sound and aroused in that environment. I had no real racial fear, anger there and then (that I could verify). Where I discovered art making, its indisputable value, color-free, I thought. It seemed so non-violent. Where I could listen to Mayfield and Zappa and not feel confused. But that was a long time ago, when the number of Blacks was minuscule in Minneapolis (South Minneapolis not North Minneapolis) and not a threat, I suppose. Was confronted only once by a white police officer, or any officer—What are you doing here? Waiting for a bus. That was it—after a life full of benign young Black boy troublemaking, breaking laws, small ones. I never got caught. I was very lucky.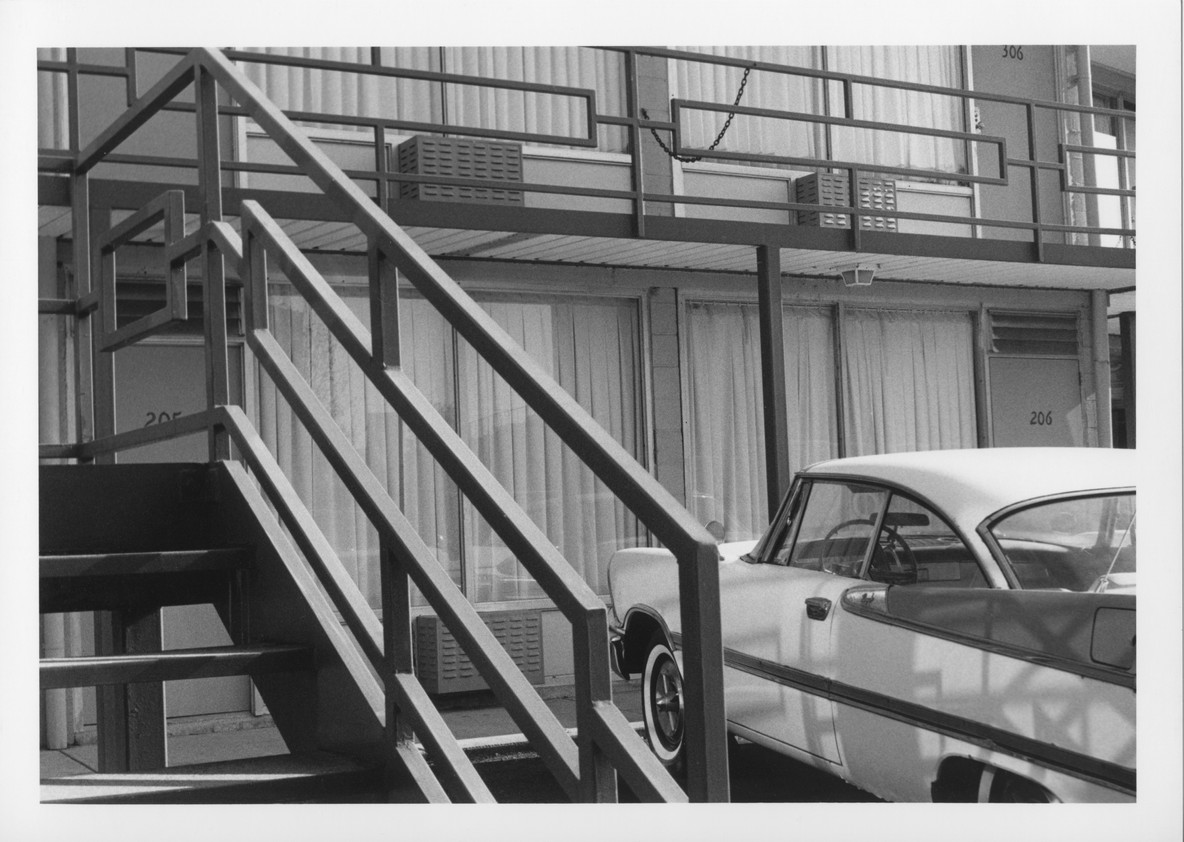 Ralph Lemon. Lorraine Motel. 2001
Freedom lurked around us and I understood, at last that he could help us be free if we would listen, that he would never be free until we did. (James Baldwin, Sonny's Blues)
On April 4th, 1968, James Earl Ray assassinated Martin Luther King Jr. in Memphis. I was 15 and the day after his assassination, on the way home from my high school, two of my Black friends and I (our little minority mob) decided to beat up the first white person we saw. I'm not sure who initiated the decision and I'm not sure how angry I really was, although I know I felt that I should be angry. A new modern (almost stylish) Black anger and agency was in the air (black leather jackets, black berets, dashikis, an after-school Afro-American dance club) in our almost all-white school, so that's what I was breathing, chose to inhale and I was all in, because the air, if not measurable, could be distinctly felt, a body soulfulness, not at all solid.
The first white person we saw was a close white friend, close as in we were very friendly to each other in whatever classes we shared. The only times I had close friendly encounters with white kids in my teens was inside the school zone, hardly ever off of school grounds where I would hang out with my Black friends. An unspoken segregated convergence. Most often, I would hang out with Grover, who wore thick glasses and had a weird smile, who was a little crazy—not well in his head—and who one day spray-painted in giant black uppercase letters on an entire hallway wall, a wall right across from my civics class, RALPH LEMON IS A NIGGER. "A fearless proclamation," he confessed. Beyond my raw embarrassment, I thought it was brutally normal, if culturally perverse, cruel schoolyard play. That's just the way it was. A week later, after the janitors repainted the wall, he did it again. And I was deeply embarrassed again. We didn't hang out for a month or so and that was that. Much, much later I thought that maybe Grover thought since no white kids or white teachers were calling us niggers (to our face), that he should enact that rite for them and for me. A deviant, necessary advocacy.
I didn't say anything to my Black friends, that I knew this white boy walking towards us. A very sweet boy, small like me, with short blond hair, a blue jacket, denim jeans, black tennis shoes. I was committed to our decision (as I was also conflicted in my body) and pretended that my friend was a random white person. For a few very quick seconds we became strangers. I jumped ahead of my Black friends and pushed my white friend (uncommitted but hard) onto the ground, the front yard, slight hill lawn of a nearby yellow house. I will never forget his confused reaction, the innocent and baffled look in his eyes. After pushing him I punched him a couple times, softly on his body, not his head, again uncommitted. In my body I felt the right to act out and also to be noncommittal, making it make sense to me. My Black friends were impressed. "Yes!," one of them shouted. But there was no spectacle about it. Nothing at all performative. No audience. A very precise frame (a tidy little riot) for just the four of us, no room for anyone else, in broad daylight, in front of the small yellow house. I can't remember if we ran or walked away. I do remember feeling very excited and alive and also sad, looking back and seeing him half sitting up on the lawn, one black tennis shoe a few feet in front of him. I don't remember seeing him again in school. I did, of course, but it was important for me to forget about it, pretend it never happened, make him disappear. Actions like that in high school were easily dis-membered. (And I found other close white friends to hang out with inside the school zone.) I have felt guilty about this event all of my life. I never felt the urge to do something similar again, exerting that kind of constructed and uninhabited rage. An innocent and imprecise rage. I wish I remembered the white boy's name and wonder what he remembers. His innocent fear and confusion. Both of us subsumed into some tragic inherited symbolism. And not for a moment in all these years have I ever thought an apology necessary.
A few months later, in the same quiet Minneapolis walk-home-from-school neighborhood, but in the dead of the night, another Black schoolmate, a junior, whose name I also cannot remember, who it was rumored had just joined the Black Panther Party, blew himself up with a homemade explosive device he was transporting alone to some mysterious destination. Parts of his body were found high up in a tree. For a few weeks on our way home from school some friends and I would barter with each other, with whatever it was we had in our pockets, over which tree it was. A (schoolyard) way to honor him, I suppose.
Whiteness is whiteness, a ravenous and vacuumous full-blown system that Black folk ultimately can't know and trust, no matter when and where, no matter the brazen brutality or the earnest kindness (no matter the current reflex sincerity/insincerity of the institutional Black Lives Matter statements).
Rant #4: Of course, there was—is—racism in this place; it is everywhere; I just wasn't capable of reading and or translating it. (Like I could read it in Cincinnati, where I was born, a Blacker soft-segregated neighborhood Cincinnati, where there seemed to be no white people, where there was a real riot after Martin Luther King Jr. was assassinated, a neighborhood where Black kids beat the shit out of each other almost every day, along with all the other play that transpired in that place and time.) I was a teenager in a mostly white middle-class neighborhood in Minneapolis where no white boy ever laid a hand on me. (I was lucky.) Where and when I never saw a white police officer strangle a Black man to death up close, not even on TV. Where I watched a lot of long-distance violence happen on other Black bodies somewhere else and where I loved watching Kathleen Cleaver and Angela Davis on TV; they both were so fiercely beautiful. Where I eventually got cornered in the significant postmodern white art universe of places like the Walker Art Center, and that was that. Lost my bearings for a while. It took many more years before my racial self and rage and grief found their maturity and freedom.
Whiteness is whiteness, a ravenous and vacuumous full-blown system that Black folk ultimately can't know and trust, no matter when and where, no matter the brazen brutality or the earnest kindness (no matter the current reflex sincerity/insincerity of the institutional Black Lives Matter statements). Is that what this other plague, virus violence announces? And if so, because of this omnipresent whiteness, Blackness is Blackness, also vast, complex and insoluble, unknowable, dissimilarly, the trauma. Reliance on any system assumes an enduring dependence as things always fall apart. Systems and our reliance on them are both unreliable (like our close friends and neighborhoods). But things can change, maybe, with the right kind of attention, commitment and patience, change to something not hopeful but perhaps more fragmentary that's about acknowledging a truth and continuing to march and sing (and rant) towards some form perpetually indeterminate. We don't know what that is, looks like, feels like, there is no frame. There is some momentary illumination, not a beginning and not a revolution. A beautiful crisis. Absolutely.
To be continued…
R
Ralph Lemon is an artist and a choreographer. He has performed multiple times at MoMA, where he has also organized projects including Some sweet day (2012) and Value Talks (2013–14). He was the subject of the 2016 publication Modern Dance: Ralph Lemon.