The artist reflects on Lorraine Hansberry's What Use Are Flowers?
This letter is a part of Performing at a Distance, an artist project that unfolds with one letter a week.
May 29, 2020
To whom it may concern:
In her unpublished work What Use Are Flowers?, Lorraine Hansberry imagines the world after the end of the world. An elderly man, having rejected society to live as a hermit in a forest for decades, emerges to find that he is the only adult alive. He encounters the aftermath of an undescribed apocalypse—perhaps environmental, or political, or medical. Civilization has vanished; only a few children survive. It is his task to determine which precious bits of the society he rejected, the society he barely remembers, are worth keeping for the world that is to come. The hermit decides that communication is important, and begins to teach the children to speak and understand language. The concept of labor comes next—the idea that through work, natural resources (such as clay) can be converted into tools (such as pots) that can be "used." And then comes beauty, which turns out to be surprisingly difficult to explain. Confronted by a confused child, he struggles to explain what flowers are for.
What use are flowers? I have been thinking a lot about what flowers are for. I have been feeling, most of the time, more like a flower than a pot. I have been wondering what use I can possibly have.
I always suspected that I am inessential; now I know that it is true. My neighbors are stricken, one by one, by a deadly virus that has no vaccine and no cure. The value of our lives is weighed against the weight of the economy; we lose. Our city prepares for a future in which art is unfunded and indefinitely postponed. The public does not mourn. I wonder if my husband, my brother, my father, my mother, my daughter and I are not better off at home. I do not respond to emails. I think about what can be done in isolation.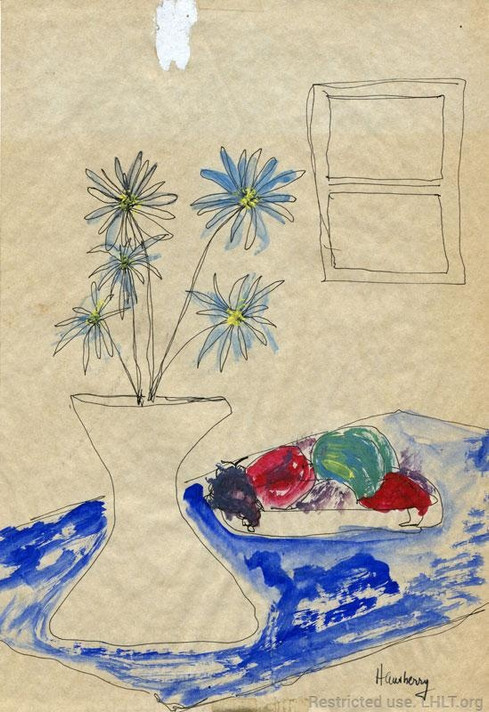 Drawing of flowers by Lorraine Hansberry while a college student, between 1948 and 1950.
The value of our lives is weighed against the weight of the economy; we lose.
Steffani Jemison
Like Hansberry's hermit, I teach. Staring at a digital patchwork of eyes and noses and mouths, trying to figure out what "showing up" means when it plays out on the thinnest possible surface of a screen, trying to learn for them and with them at once. (And by them, I always mean us.) I keep reading. I feel as if I am throwing a fistful of pollen into the wind—it is spring, after all—and hoping something, somehow, will be fertilized. Some-when. Perhaps that something will be a pot, a tool. Perhaps it will be a flower. Can it be both? Will it be neither? How will I know?
Is knowing overrated? What use is throwing, when I am always being thrown? What use is you and me together in a room? What use is you and me together, on the streets? What use is permission? What use are bullhorns? What use are hermits? What use is isolation?
What use is teaching, when learning happens just as well without it? What use is care, when what is essential is always what is at risk? What use is smiling, if no one will see my face? What use is shouting, if no one will hear what I say? What use is sleeping, if I cannot rest? What use is the wind behind my back, if I cannot run without fear? What use is walking? What use is waiting? Really, what use is the sunrise?
"Did someone say despair was a question in the world?" In To Be Young, Gifted and Black, Hansberry easily dismisses such questions as futile. I admit that I had wondered what use is hope, and what use is despair, but I have swallowed these horse-pills. I am letting them grow in me.
What is possible is part of reality too, Hansberry said.
If the world ends today, where will tomorrow begin?
In isolation, I am nurturing the essentials. They will sprout from my throat like flowers.
Love,
Steffani
Steffani Jemison is an artist whose work is in MoMA's collection. She lives and works in Brooklyn, New York. Her work Promise Machine was performed at MoMA in 2015 on the occasion of the exhibition One-Way Ticket: Jacob Lawrence's Migration Series and Other Visions of the Great Movement North.