Self-Portraits by Women Artists
A guide to five powerful self-portraits in MoMA's collection
Only have half an hour? This series, Take Five, invites you to spend time with five objects in the Museum linked by a common theme.
MoMA's collection galleries boast more art by women than ever before. This special Women's History Month tour will bring you face-to-face with incisive self-portraits by a range of artists, from early modernism to the present day, and across mediums. Women have embraced the genre as a way to define their own public image. Their works contrast with the long history of often sexist representation by male artists. Five artists at MoMA demonstrate what happens when women turn the gaze inward.
Sophie Taeuber-Arp's Head (1920)
Sophie Taeuber-Arp. Head. 1920
The prolific and multitalented early modernist and Dadaist Sophie Taeuber-Arp—too often overshadowed by her husband, Hans Arp—combined her interests in abstraction and domestic handicrafts to create a playful, stylized self-portrait that challenges conventional boundaries between fine art and craft.
Berenice Abbott's Portrait of the Artist as a Young Woman (c. 1930)
Berenice Abbott. Portrait of the Artist as a Young Woman. Negative c. 1930/distortion c. 1950
The photographer Berenice Abbott chose to distort her face in this self-portrait, a contrarian response to rigid beauty ideals for women. The unsettling nature of the photograph is a departure from Abbott's glamorous shots of the "rebels of Paris"—among them Jean Cocteau, Coco Chanel, and Peggy Guggenheim—in her retinue. It also evokes a sense of the body's vulnerability in a moment of sweeping technological and social change following World War I.
LaToya Ruby Frasier's Grandma Ruby and Me (2005)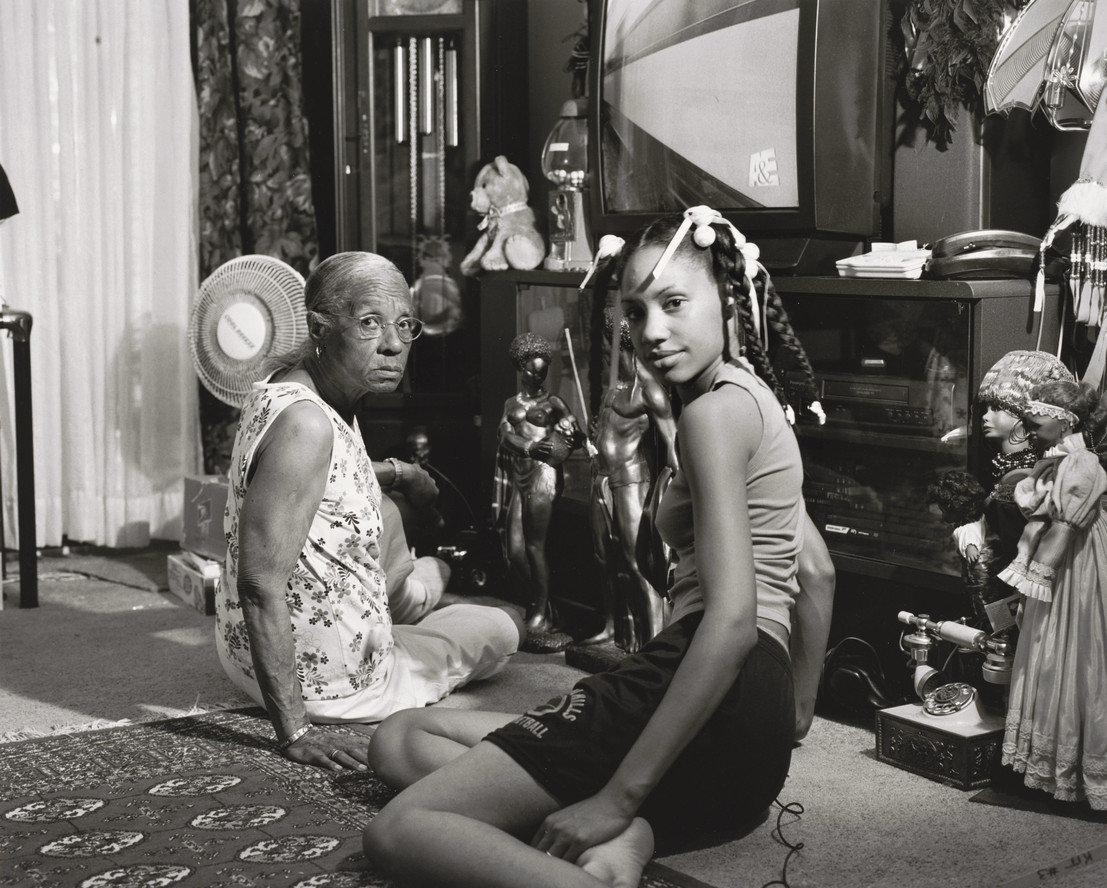 LaToya Ruby Frazier. Grandma Ruby and Me. 2005
LaToya Ruby Frasier began photographing her family and local community in her hometown of Braddock, Pennsylvania, when she was still a teenager. Over 14 years, Frasier captured an intimate look at a declining industrial town, making clear the personal is political.
Joan Semmel's Night Light (1978)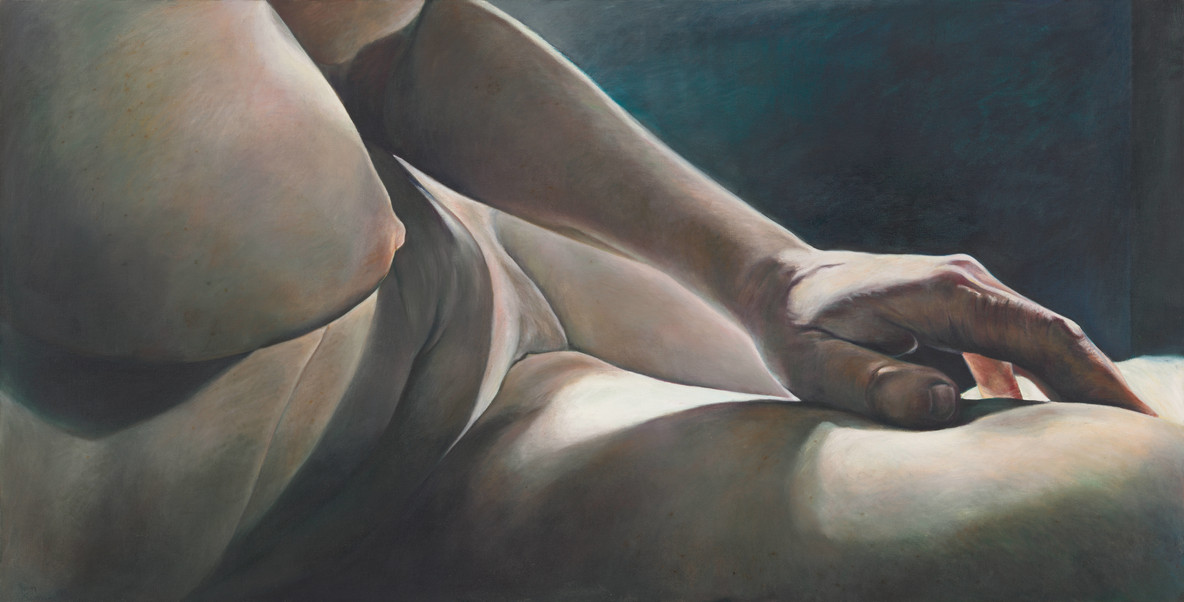 Joan Semmel. Night Light. 1978
In the 1970s and '80s, feminist artists began to question how the female body was represented in media. In this painting, in which she looked at herself through a camera lens, Joan Semmel dramatically cropped and foreshortened her naked figure—a counter to the art-historical tradition of the female nude. "I was interested in how you experience the body rather than an image of an ideal," she said.
Zofia Kulik's The Splendor of Myself II (1997)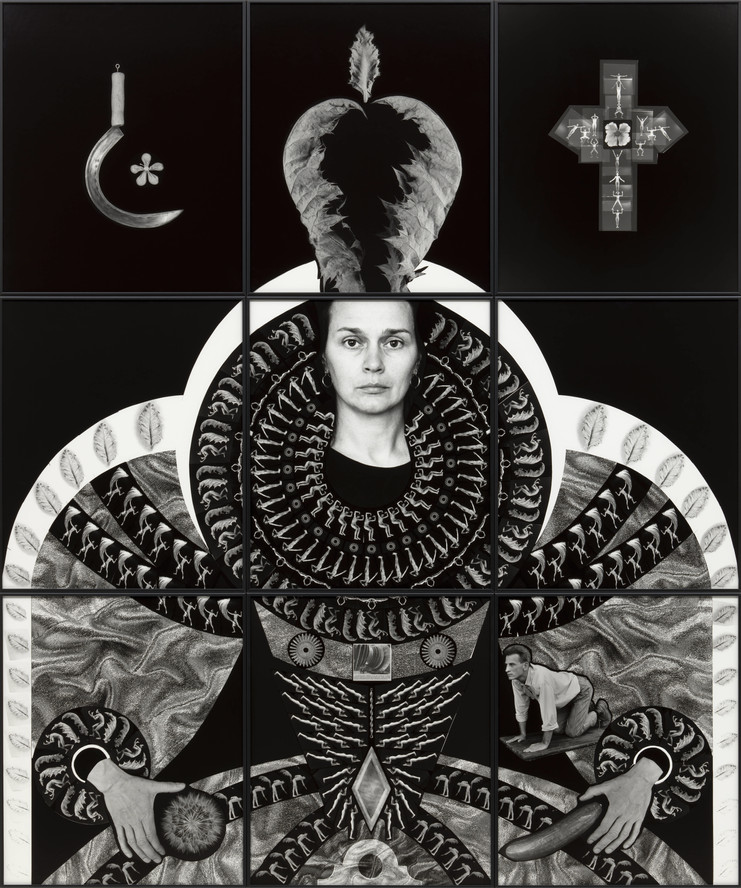 Zofia Kulik. The Splendor of Myself II. 1997
Queen Elizabeth I, powerful and resplendent in her royal portraits, serves as the model for the Polish artist Zofia Kulik's symbol-laden self-portrait, a potent critique of her country's authoritarian church and Communist government. Zulik depicted herself in a similarly elaborate and confining Tudor-style gown, but used a photographic montage technique to weave parades of nude male figures into her costume, asserting her own female authority and dominion.
Special mention:
Unknown photographer, Photo-booth self-portraits (1940)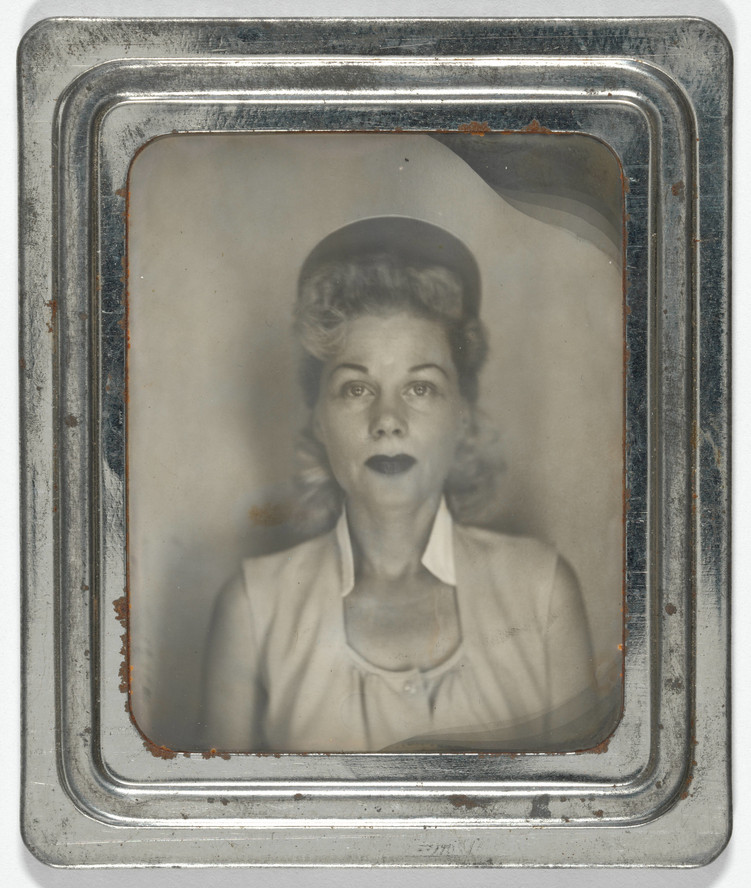 Unknown photographer. Photo-booth self-portraits. 1940s
The unfortunate truth is that the names of many women artists have been forgotten or lost to history. Some of the work still lives on in found photo booth images that reflect a moment when someone steps out of their everyday routine to record a self-portrait. The clear-eyed, anonymous face in this snapshot peers out at us across time, a reflection of our own desire to be pictured, and seen.