See Art at MoMA through Donald Judd's Eyes
What do the artists Yves Klein, Dan Flavin, Yayoi Kusama, Claes Oldenburg, and Lee Bontecou all have in common?
While Donald Judd is best known for his pristine boxes, between 1959 and 1965 he was a critic, writing over 600 reviews and thematic essays. Even though Judd insisted that he wrote art criticism as a "mercenary," strictly to get paid, this attitude was somewhat disingenuous. He used this medium to work through ideas and to think deeply about work he admired. An artist who famously refused to conform to classifications of painting or sculpture, Judd called work that also stood outside of these labels "specific objects." His texts on these artists' work often included notes of criticism, but showed a deep engagement that gave their work visibility.
In his renowned 1965 essay "Specific Objects," Judd discussed contemporary work that deviated from previous notions of art making. While Yves Klein, Dan Flavin, Yayoi Kusama, Claes Oldenburg, and Lee Bontecou had very different approaches to material and composition, Judd admired certain qualities that their work had in common: it was large scale and claimed space; it employed non-traditional materials, and was made to be perceived instantly in its totality.
While the Museum is closed, read up on some of Judd's favorite artists, led by Judd through his own writing.
Many thanks to Tamar Margalit, curatorial assistant, for her assistance with this piece.

Only have half an hour? This series, Take Five, invites you to spend time with five objects in the Museum linked by a common theme.
Lee Bontecou's Untitled (1959), Floor 5, Gallery 516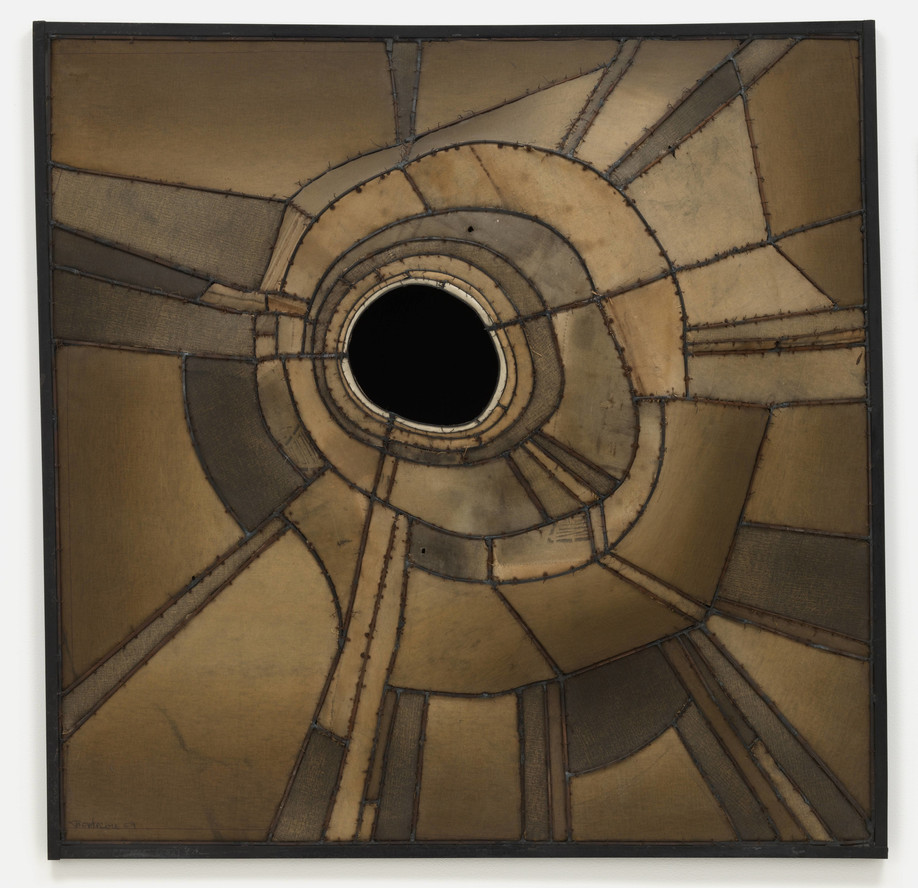 Lee Bontecou. Untitled. 1959
On the fifth floor, in The Shape of a Shape, artist Amy Sillman has chosen works from the collection for display, including one by Lee Bontecou, in which "shape does prevail over considerations." Sillman isn't the only artist who found Bontecou's exploration of form compelling. While Bontecou's eerie dark orifice constructed out of soiled canvas may seem antithetical to Judd's bright, clean, geometric works, he was one of her earliest advocates, calling her work "something as social as war…[and] something as private as sex, making one an aspect of the other." For Judd, "Bontecou's work has an individuality equaled in the work of only a few artists." (Donald Judd, "Lee Bontecou," Arts Magazine, April 1965)
Yayoi Kusama's Accumulation No. 1 (1962), Floor 4, Gallery 412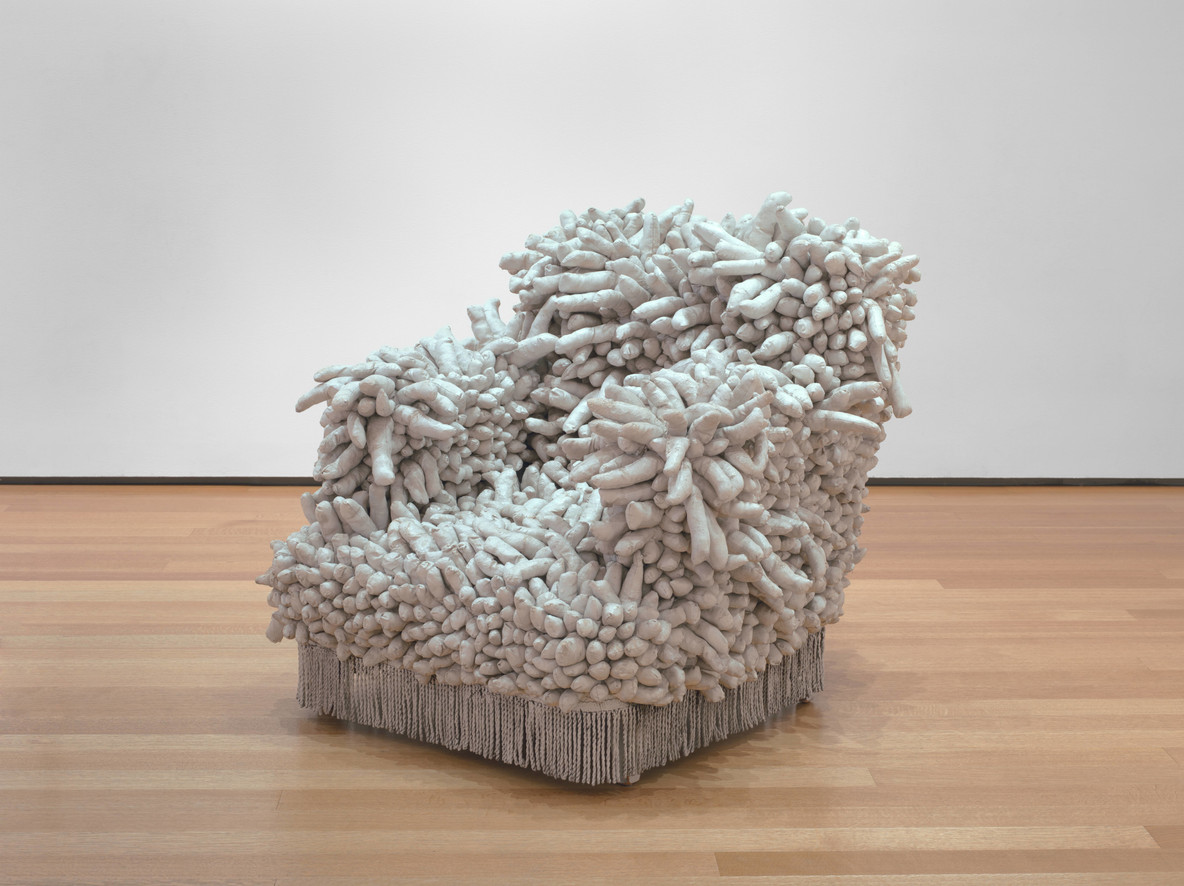 Yayoi Kusama. Accumulation No. 1. 1962
Kusama lived in the apartment above Judd's on 19th Street in the early 1960s, and they became close friends, visiting each other frequently to discuss their work. Judd admired the artist's dedication and paintings, which he admitted he could not completely explain, but found "both complex and simple." Judd would go on to write a letter of support on behalf of Kusama for the United States Immigration and Naturalization Service, in which he praised her as an artist, declaring that her recent show was "one of the few important shows of the last two years." He applauded her obsessive work with "additions" like this chair, remarking:
"The additions are somewhat pictorial, but the image is essentially new and surprising; an image has never before been the whole work, been so large, been so explicit and aggressive. The abatised orifice is like a strange and dangerous object. The quality is intense and narrow and obsessive. The boat and the furniture that Kusama covered with white protuberances have a related intensity and obsessiveness and are also strange objects. Kusama is interested in obsessive repetition, which is a single interest." (Donald Judd, "Specific Objects," Arts Yearbook 8, 1965)
Claes Oldenburg's Giant Soft Fan (1966–67), Floor 4, Gallery 412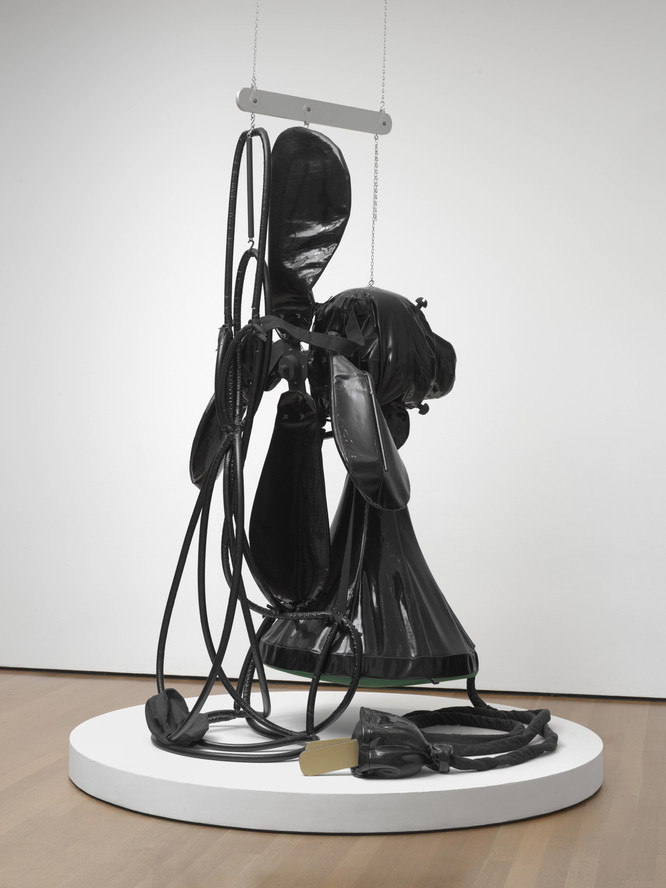 Claes Oldenburg. Giant Soft Fan. 1966-67
In the same room as Kusama's chair, there's another domestic object rendered unfamiliar: Claes Oldenburg's vinyl fan. The sagging black fan has been oversized and under-inflated in a sad, phallic gesture that perfectly embodies Oldenburg's "grossly anthropomorphized" objects—a phrase Judd invented to describe the artist's manipulation of materials:
"The vinyl of Oldenburg's soft objects looks the same as ever, slick, flaccid and a little disagreeable, and is objective, but it is pliable and can be sewn and stuffed with air and kapok and hung or set down, sagging or collapsing. Most of the new materials are not as accessible as oil on canvas and are hard to relate to one another. They aren't obviously art. The form of a work and its materials are closely related.... The trees, figures, food or furniture in a painting have a shape or contain shapes that are emotive. Oldenburg has taken this anthropomorphism to an extreme and made the emotive form, with him basic and biopsychological, the same as the shape of an object, and by blatancy subverted the idea of the natural presence of human qualities in all things." ("Specific Objects")
Yves Klein's Blue Monochrome (1961), Floor 4, Gallery 406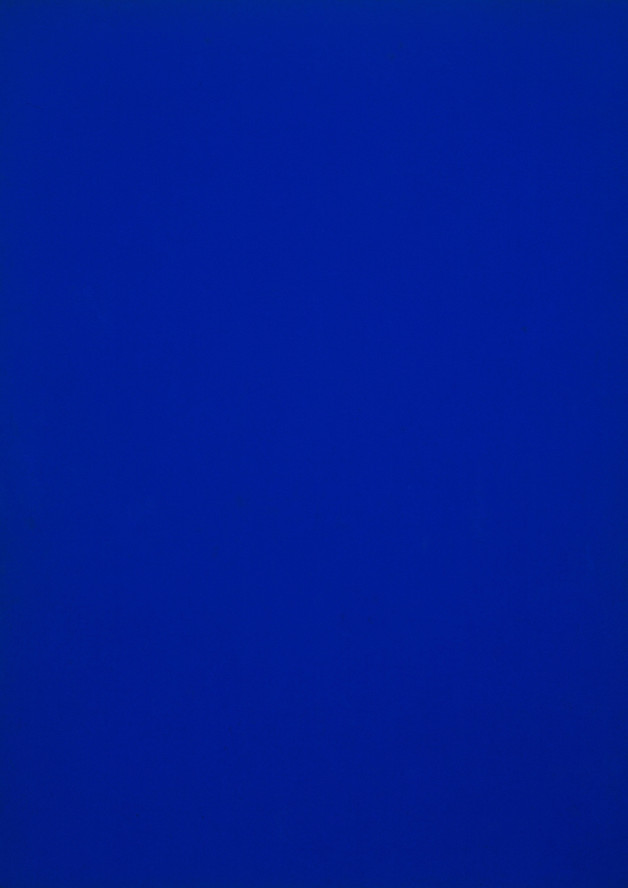 Yves Klein. Blue Monochrome. 1961
In a 1971 interview in Artforum, Judd named the inherent restrictions of painting—canvas and the rectangle of the picture frame—as one of the reasons he ventured into dimensional work, "You couldn't get around that. The only paintings that didn't have that kind of problem were Yves Klein's—the blue paintings. But for some reason I just didn't want to do monochrome paintings." It may be hard to consider Yves Klein's use of pigment on canvas in this particular work as anything other than painting, but Judd saw it as something different. In "Specific Objects," he went on to explain, "Almost all paintings are spatial in one way or another. Yves Klein's blue paintings are the only ones that are unspatial…." Judd believed that Klein's use of monochrome extended beyond the field of the canvas, altering the space around it.
Dan Flavin's untitled (to the "innovator" of Wheeling Peachblow) (1968), Floor 4, 413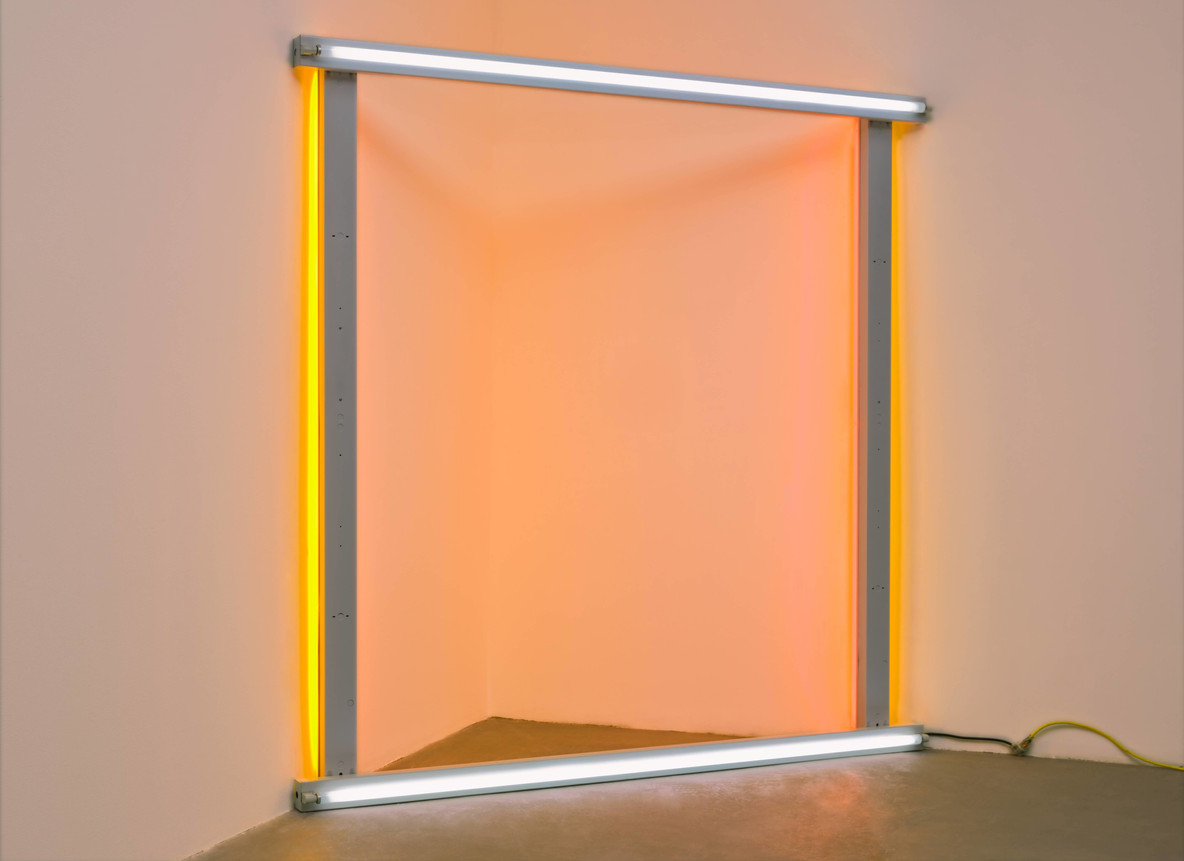 Dan Flavin. untitled (to the "innovator" of Wheeling Peachblow). 1968
Artist John Wesley once said of Donald Judd and Dan Flavin's relationship that they "became Flavin and Judd for a while. The two names were together." The duo met in 1962 at a gathering to discuss a cooperative artist-run gallery in Brooklyn. Flavin was also concerned with color and dimensionality, and did not consider his light works to be sculptures. Instead, he called them "situations" that occurred because of the lights' impact on the space around them. Judd would go on to write extensively on Flavin's work and permanently installed pieces in his homes and exhibition spaces in New York and Marfa:
"Dan Flavin, who uses fluorescent lights, has appropriated the results of industrial production. Materials vary greatly and are simply materials—formica, aluminum, cold-rolled steel, Plexiglas, red and common brass, and so forth. They are specific. If they are used directly, they are more specific. Also, they are usually aggressive. There is an objectivity to the obdurate identity of a material. Also, of course, the qualities of materials—hard mass, soft mass, thickness of 1/32,1/16,1/8 inch, pliability, slickness, translucency, dullness—have unobjective uses." ("Specific Objects")
Additional works cited
Donald Judd: Complete Writings 1959–1975 (1975; repr., New York: Judd Foundation, 2015)
John Coplans, "An Interview with Don Judd," Artforum, June 1971.
Ann Temkin, Erica Cooke, Tamar Margalit, Chirstine Mehring, James Meyer, Annie Ochmanek, Yasmil Raymond, Jeffrey Weiss, Judd, April 2020
Marianne Stockebrand, "A Conversation with John Wesley," Chinati Foundation newsletter 10, October 2005