Leonora Carrington and the Visual Language of Mexican Surrealism
Two new acquisitions display the artist's interest in the occult.
Leonora Carrington's And Then We Saw the Daughter of the Minotaur demands your attention. From its glowing central figure, the White Goddess, to the dancer striking a pose in the doorway, each detail prompts questions about Carrington's life and the symbols she used to represent it. For this month's New to MoMA, we spoke to Department of Painting and Sculpture senior curator Anne Umland and associate curator Cara Manes, who helped to bring the painting into the Museum's collection.
This interview has been edited for length and clarity.
Who is Leonora Carrington?
Anne Umland: Leonora Carrington was a British-born aristocrat who had an epiphany when she encountered Surrealism at age 19, in the big international Surrealism show at the Burlington Galleries in London. This inspired her to leave for Paris, where she met a number of the artists and poets associated with the Surrealist circle. She later traveled to New York City, along with many other European artists, poets, and intellectuals who were fleeing World War II, before she finally settled in Mexico City.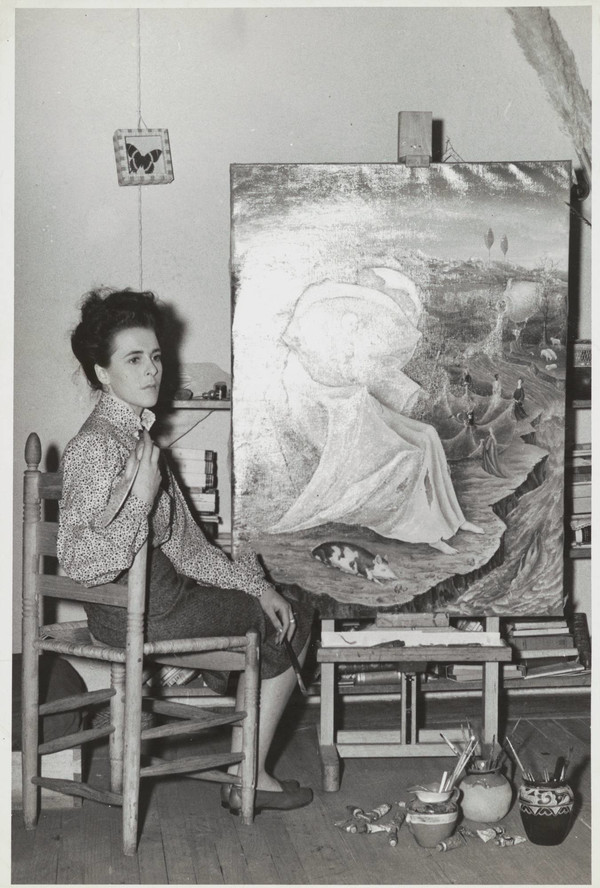 Leonora Carrington with her painting The Temptation of Saint Anthony
What kind of community did she find there?
Cara Manes: It was a mix of European émigrés, including Remedios Varo, the Spanish-born Surrealist artist who would become a very close friend and collaborator, the Hungarian photographer Kati Horna, and many others who were interested in the local culture and traditions.
Umland: Varo in particular shared Carrington's keen interest in the occult and in magic and in witchcraft and in female power. Another person she met was her husband, a Hungarian-born photographer named Chiki Weisz, and they raised their two children in Mexico.
How would you describe this painting?
Manes: Carrington portrays herself as the White Goddess, the cloaked figure in the center of the composition. She often depicts herself via surrogates throughout her own personal iconography.
Umland: I read that Leonora Carrington was very impressed by a book that she read by Robert Graves that was titled The White Goddess. Apparently, the White Goddess is a mythic figure who combines the powers of love, destructiveness, and poetic inspiration, and who ruled during a matriarchal period in distant history before she was deprived of her position by patriarchal guards.
The White Goddess is a mythic figure who combines the powers of love, destructiveness, and poetic inspiration.
Anne Umland
Why might Carrington have chosen to portray herself that way?
Manes: For the reasons Anne described, and also the associations of the White Goddess with strength and power are part of her interest in mythology, spirituality, and the occult. She studied a range of ancient teachings, including the Kabbalah, Mayan sacred texts, and the Tarot; she was a very avid Tarot card reader and interpreter, and even made her own set of Tarot cards. Through the proxy of the White Goddess, she is able to transpose some of these energies into a figure, while maintaining her own kind of anonymity.
Umland: She's so much bigger than anybody else and [bigger than] that table. She's really occupying center stage. From the way the composition is organized, it feels almost like a kind of theater scene tableau.
Manes: Throughout the composition, Carrington finds various ways of depicting transparency. You can see the architectural details through the clouds in the upper register of the painting, and you can make out the goddess's face behind the diaphanous white shroud. There are bubbles that both reflect the surrounding light and make visible what's beyond them.
Does she repeat certain images?
Umland: She repeats all sorts of creatures and hybrid beasts as surrogates for real people in her life. I've read that she was always reluctant to discuss the meanings of her choices of specific animals because that limited their mystery and their magic, and that they were a very personal, private sort of symbol language for her.
Leonora Carrington. And Then We Saw the Daughter of the Minotaur. 1953
We acquired two Leonora Carrington works at the same time: And Then We Saw the Daughter of the Minotaur and Green Tea. Do you think about them as a pair in context with each other or should they be thought about separately?
Umland: There are many artists in our collection, mostly male, that we have collected in great depth over the course of their careers, at different moments. Carrington has different important periods in her work. We felt it was important to represent the works made during the time she spent in exile here in New York, and that it was really crucial to have a work from her mature years in Mexico. We had an extraordinary opportunity to acquire two stellar works from each of these singular moments in her career.
Manes: We could imagine them in various constellations in the galleries. They could both be present in a more focused look at Surrealist artists working in Mexico, or maybe one or the other in a broader, more thematic gallery presentation, depending on its scope.
How would you characterize her work in Europe and the United States versus her work when she was living in Mexico?
Umland: I think this fantastical imagery, the introduction of animal surrogates, of female figures playing different roles, is there from the beginning.
Manes: But Mexico City is really where she comes of age, where she comes into her mature visual language.
Umland: Green Tea, to me, has more things that point to a Surrealist iconography, as opposed to Carrington's own voice. There's the subterranean layer with all these floating little bats and corpses underneath, strange landscapes with incongruous juxtapositions, like the two horses tethered on the trees at left, or this funny purple cauldron with four deer heads coming out of it at right. It's a wonderful image, but I still feel like it's playing with this language of surprise and incongruity in a less mysterious way than And Then We Saw the Daughter of the Minotaur. Whether that's good or bad or mature, it's just different. The technique is more hard-edged and crystallized and made strange in a way that only Carrington can do.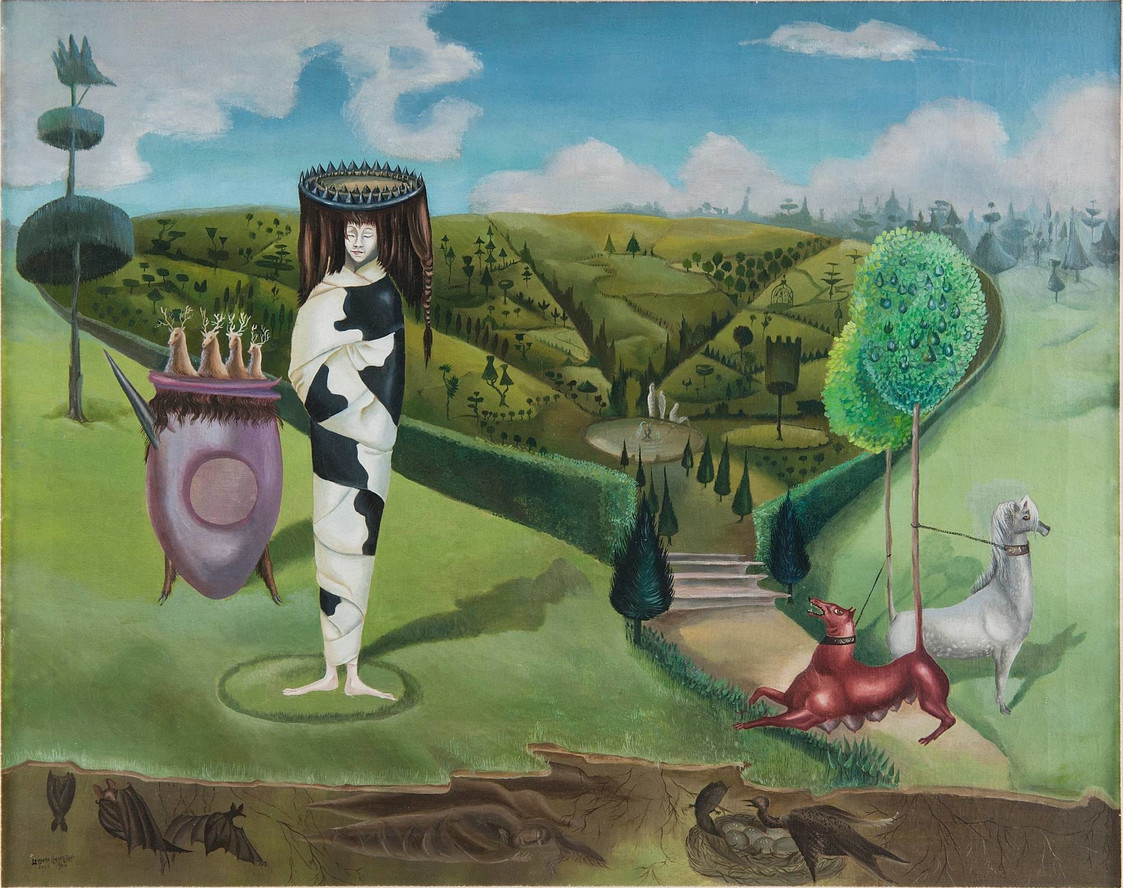 Leonora Carrington. Green Tea. 1942
What inspired you to pursue this acquisition?
Manes: There was a large retrospective exhibition in Mexico City in the summer of 2018 that brought together major works from institutions all over the world and from private collectors in Mexico City. It was really a great opportunity for Anne and me to see a gathering together of works that you don't often get to see otherwise. From there, we were able to narrow down our focus.
Umland: Cara and I had been looking at works by Carrington for a very long time. MoMA has one of the great collections of Surrealist art, and yet there were some notable gaps. The story that has been told of Surrealism in our galleries in the past has been very much aligned along the Paris/New York axis, and we were interested in trying to tell a more international or global art history. Carrington was an important figure in that sense. Carrington, Varo, and Frida Kahlo are the three great women artists associated with Surrealism in Mexico, and it seemed to us kind of crazy that we didn't have works by her or Varo. Over the years, we just kept looking, and finally both the right pictures and the right moment presented themselves.