Yoko Ono's 22 Instructions for Paintings
A curator discusses the work's journey to MoMA, and how Ono challenges you to "make the work in your mind, at home, or in the space."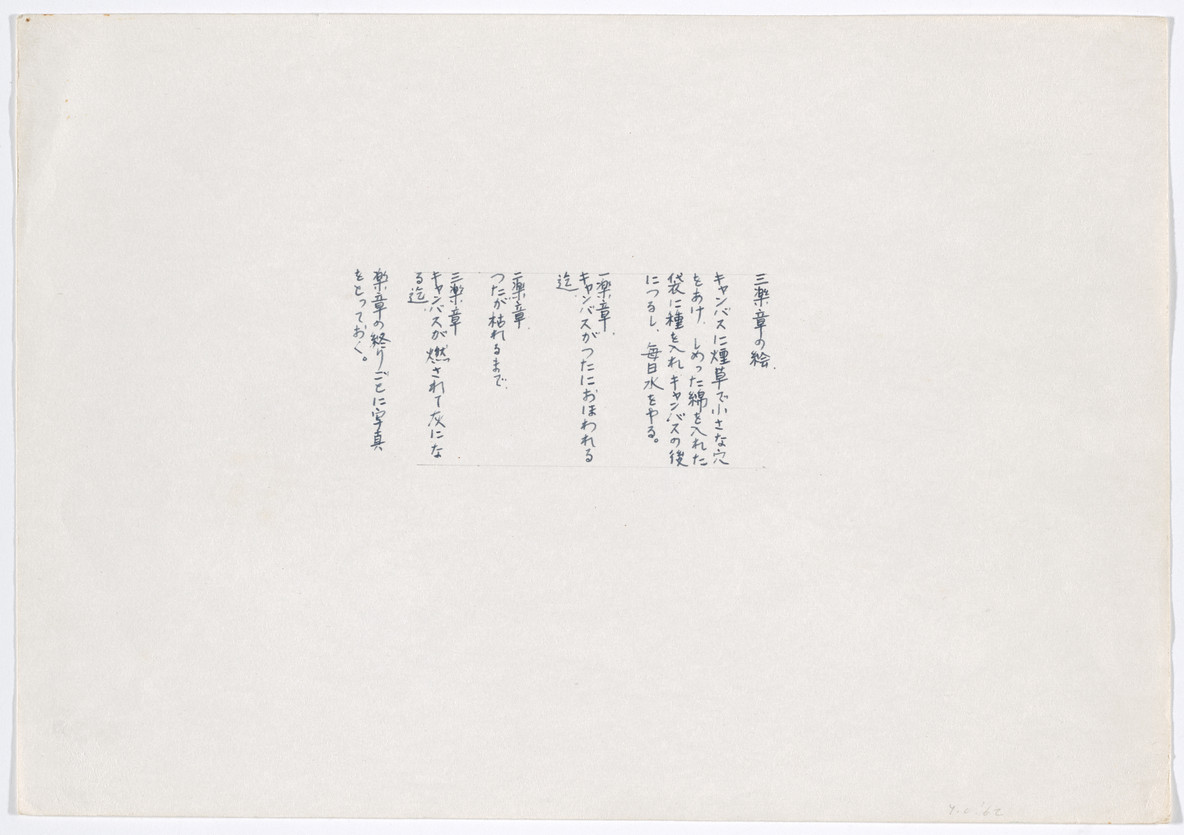 A selection from Yoko Ono's Instructions for Paintings. 1962
Yoko Ono's Painting to Be Stepped On states, "Leave a piece of canvas or finished painting on the floor or in the street." How would you imagine this work might be realized? For Ono, the concept and the potential for a work to be made are just as important as the object itself. As she said of her Instructions, "I like the idea of doing something that stimulates people's minds and, of course, they can use their own creativity to think about it." For this month's New to MoMA, in which we explore a recent addition to the Museum's collection, Christophe Cherix, The Robert Lehman Foundation Chief Curator of Drawings and Prints, spoke with content producer Isabel Custodio about 22 Instructions for Paintings, how it fits into Ono's career, and how it invites viewers to collaborate with the artist in making a work.
This interview was edited for length and clarity.
Isabel Custodio: Let's talk a little bit about the genesis of this piece. How did it come to be?
Christophe Cherix: The piece was first shown in an exhibition in Tokyo in 1962. The year before, Yoko Ono had her first solo exhibition in New York at AG Gallery, where she showed a number of works that were realized after instructions that she had written. You had, for instance, a work like Waterdrop Painting (1961), in which, every few seconds, water would drop onto a disk of canvas lying on the floor. In Painting to Be Stepped On (1960) there was a piece of fabric placed on the ground which people could actually walk on. There was a way to perform the painting. During that show, you could also take instructions with you. The works were a manifestation of the instructions, but you were also free to perform or to realize an idea by Yoko Ono at home after the fact.
The following year, when she was invited to Tokyo to the Sogetsu Art Center, she took that idea a step further. Rather than showing you the instruction written on a card alongside a first iteration of that idea as an object, she went straight to the instruction. On the wall, she exhibited a group of small texts written in Japanese called Instructions for Paintings. Each of those texts described a work to be realized. For instance, with Painting to Hammer a Nail, the instruction asks, among other things, to hammer nails into a mirror, a canvas, or a piece of wood and to continue that action until the surface was full of nails. But here, instead of showing you an example of that work realized as an object, only the text was presented. You could therefore make the work in your mind, or at home, or in the space. That was a really radical move, because it was one of the very first instances where the idea itself was the work of art. It was not subordinated to an object.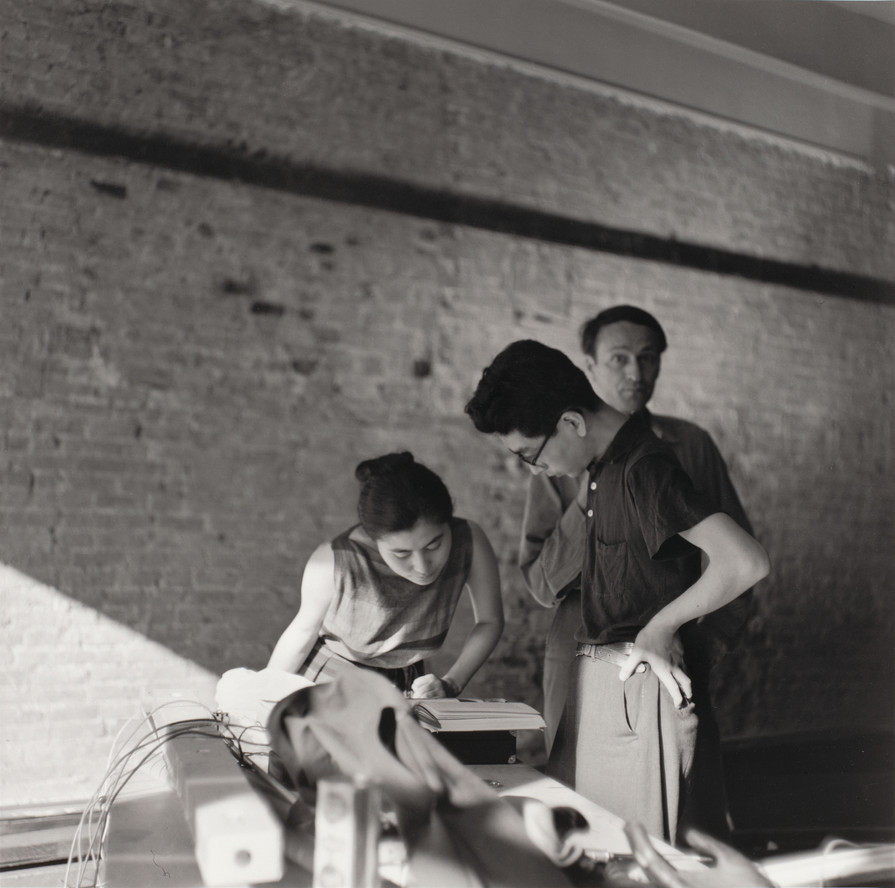 Yoko Ono, Toshi Ichiyanagi, and Jonas Mekas in gallery during Paintings & Drawings by Yoko Ono, AG Gallery, New York, July 17–30, 1961. Photo: George Maciunas
How was this initially received when first shown?
Probably very few people saw the work in Tokyo in 1962. But even if people didn't see it, they heard about it. This work ended up having a tremendous impact on her practice in the years to follow, and some of those later manifestations were much more visible.
How does 22 Instructions fit within the broader context of her work?
It's a very early work, and it's one of the first pieces that shows very explicitly a desire for direct engagement with the viewer. The goal is no longer to produce an object that can be bought. Such a work instead opens the possibility of what we'd later call a participatory practice, where viewers are fully engaged with the work, sometimes even part of its making. Instructions for Paintings really announced the idea that art doesn't need galleries, museums, or anything else standing between the artist and the viewer.
These instructions are interesting for us because they are historically groundbreaking, even if they're not works that people would perhaps most often associate with Yoko Ono. She reached a much larger audience through the development of her own practice and her marriage to John Lennon in the late 1960s and early '70s.
Could you talk a little bit about how this work was acquired for the Museum's collection?
For a long time, 22 Instructions for Paintings was in a collection put together by Lila and Gilbert Silverman, two great collectors based in Detroit. They had a number of passions in their life, one of which was Fluxus. They acquired the largest collection of Fluxus works ever assembled, totaling thousands of works, a collection which was ultimately donated to MoMA a few years ago. Gilbert Silverman was, however, also fascinated by the idea of instruction, the idea of delegation. In the early '70s, he stumbled upon a Sol LeWitt wall work in Japan and wondered how that piece had been realized without the artist present. This chance encounter initiated a new collection of work around language and ideas. The instruction drawings range from the very traditional (let's say a sketch for a sculpture), to those consisting of a few words allowing you to create a work, to those serving as documentation of a performance or event. Often they relate to music, or to dance, even when improvisation plays a large role in the piece. For an artist like Robert Rauschenberg it was very important, for instance, that his "White Paintings" were not necessarily painted by him, or at least that there was no trace of his hand in the work. So the making is delegated through instructions that the artist leaves behind.
There are 22 instructions in Instructions for Paintings. Do they relate to each other in any specific way, or should they be thought of separately?
They do relate to each other, but they are, at the same time, extremely different from each other. Yoko Ono published a book in 1964 called Grapefruit, which brought together a large number of instructions divided into different sections: music, painting, event, poetry, and object. So they fall into different categories even if they all relate to one another. She sold copies of Grapefruit directly on the streets of Tokyo. She was not working with a distributor, again engaging the viewer directly.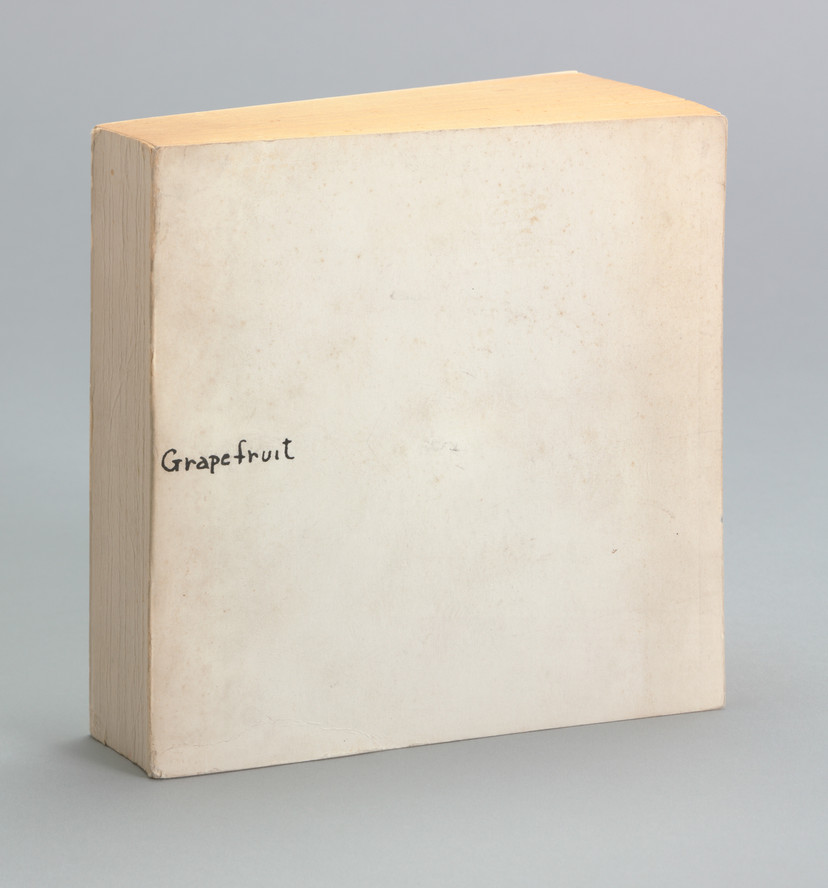 Yoko Ono. Grapefruit. 1964
Is there a particular Japanese influence in the way that she presented the work?
The instructions were written in English, but appear translated into Japanese because they were made for that first event in Tokyo. It's not Ono's handwriting, but her then husband's, the composer Toshi Ichiyanagi, as she didn't want the work to look emotional. But these works belong as much to New York and its vibrant culture in the '60s as to Tokyo during her childhood.
What do you think about when you look at these instructions? Do they inspire certain images for you?
We showed them in the 2015 retrospective we organized with her, Yoko Ono: One Woman Show, 1960–1971. The exhibition was a survey of work from the 1960s and early '70s. For me, those works really act as symbols of empowerment—the idea that you come to a museum, or you come to a place of art, and you're not just there to look at and admire an object that you'd never own. Instructions basically transfer ideas directly to the viewer. I find it very powerful that you as a viewer can realize those works, and engage directly with an artist without circling back to the curator, or the museum, or the gallery, or any institution. It's what makes them so special. They tell you that art exists outside of the boundaries of the museum.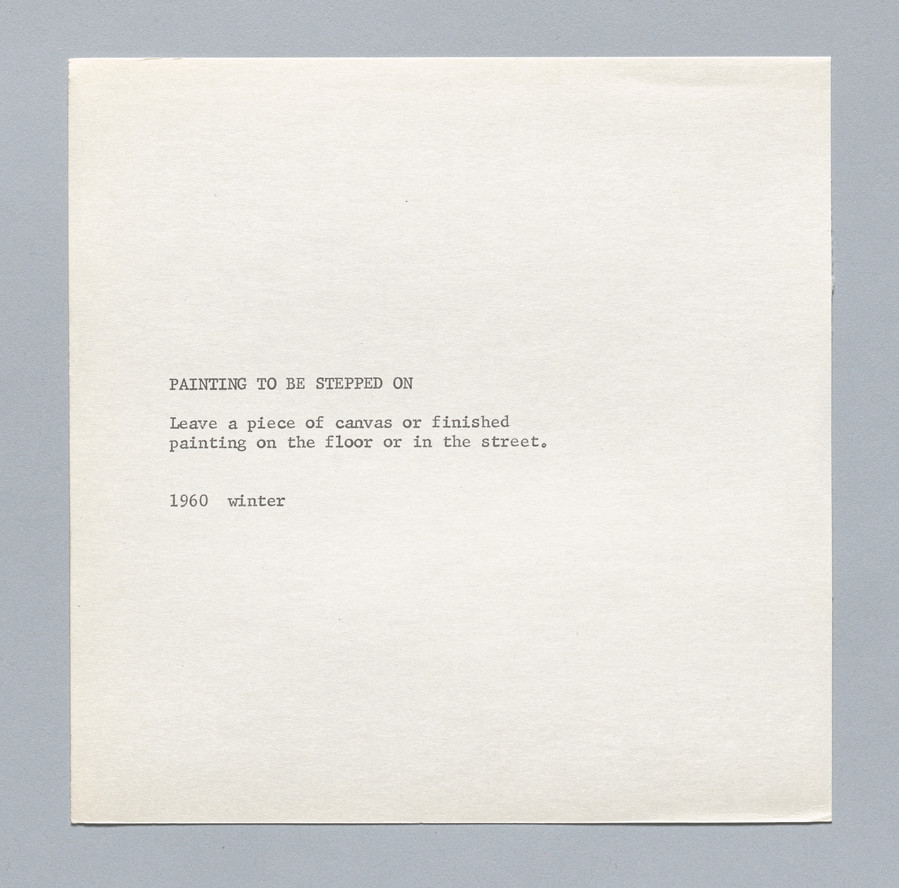 Yoko Ono. Painting to Be Stepped On. 1960.
Is that sense of empowerment what you're hoping people gather from these instructions when they see them in the galleries?
I hope so. There are many ways to imagine how someone could enter into an experience with Yoko Ono's work. It could be by reading one of these instructions and thinking about what the work would look like, sharing it with a friend, performing or realizing that work. It's also about acknowledging that a woman in the early 1960s, of Japanese origin, using very little means—just a piece of paper, and language—was able to fundamentally change the way we think about art today. I like the idea that you can create a work of great magnitude with no means in a small art space in Tokyo.
Have you ever actually followed through on any instructions?
Just in my mind. When we did the survey of Yoko Ono's work, Ono recreated some of her instruction-based work for us. All the works, the Waterdrop Painting and so on, which were included in the 1961 AG Gallery exhibition, were made again by the artist. We tried to realize them very much in the spirit of the way they had been done, allowing us to bring the viewer back to the moment when the work is neither just an instruction, nor only an object.