Aurèlia Muñoz's Águila Beige (Brown Eagle)
Curator Juliet Kinchin explores the visceral impact of a work newly on view at MoMA.
A commanding work by Aurèlia Muñoz hangs at the entrance of Taking a Thread for a Walk. Águila Beige (Brown Eagle) is both sculpture and textile. Large jute and sisal panels hover like a bird taking flight. The work, part of Muñoz's 1974 Entities series, brings together architectural and fiber art using macramé knotting. As Muñoz once explained, "By not using the loom, I can be freer in the development of sculptural forms and open areas." For this month's New to MoMA, we spoke to Architecture and Design curator Juliet Kinchin, who organized the exhibition and helped bring this work into MoMA's collection.
This interview was edited for length and clarity.
I'd like to start with your description of Beige Eagle on the website, which says, "Muñoz developed an aesthetic language that blurs the lines between art, architecture, and craft." Could you expand upon that?
Muñoz was part of an international phenomenon in the 1960s and '70s, when many artists began to move off the loom into these freestanding, rather sculptural creations. She had had work accepted at the Lausanne Biennial in 1965, where artists like Sheila Hicks, Lenore Tawney, and Claire Zeisler were thinking in this new way. At the same time, she's rooted in the textile practices of Catalonia and the local region. She worked often with architects and was inspired from an early age by the work of Antoni Gaudí, the famous Art Nouveau architect in Barcelona. She'd experimented to try and understand his methods of modeling architectural space through thread and fiber; we have a little model on display in Taking a Thread for a Walk that shows that. The piece also shows how she's working with a kind of resistance in the material, developing this very ancient handcraft of macramé—a form of knotting, an ancient Arabic tradition—to subjugate the fiber to create these incredibly strong structures. You have a sense of that latent energy in the piece, which comes from using the medium of sisal.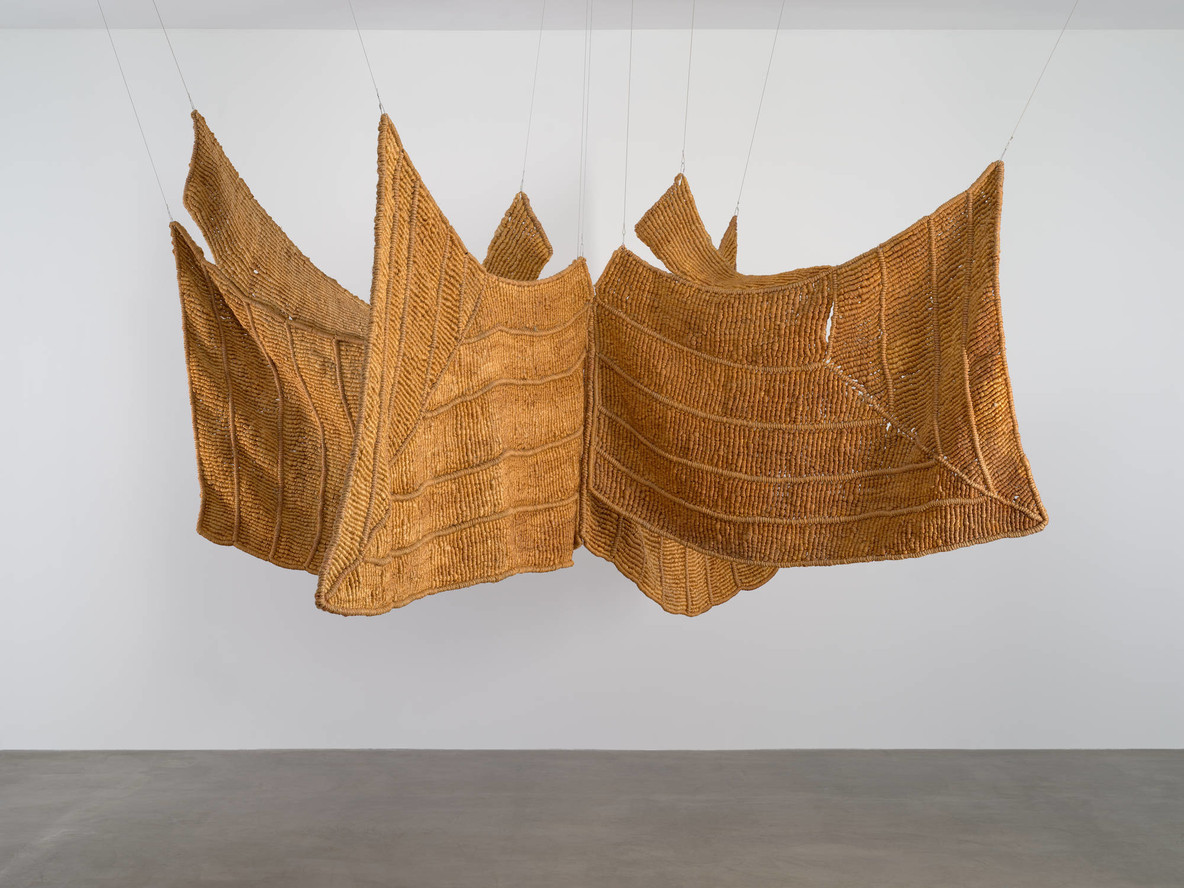 Aurèlia Muñoz. Águila Beige (Brown Eagle). 1977
Do you have any insight into how she began to embrace the ancient Arab knotting tradition that you described?
She had studied at the School of Applied Arts in Barcelona and had familiarized herself with many of these local traditions. In the port area of Barcelona, there was tremendous interest or expertise in knotting and producing sails and structures like that. She would work with drawings and test out the way fibers and textiles would behave through creating miniature models of these works. By the time she came to produce her work on a larger scale, she would consult with architects like Jordi Bonet i Godo, one of the architects responsible for the ongoing construction of Sagrada Familia, or Daniel Gilbert, who designed the Miró Foundation. Sometimes the forms would be conceived for a particular architectural space, but the concept could also be adapted and transformed for other contexts. She tended to think in series and develop these ideas in related works, and on different scales from the intimate to the monumental.
These works demand to be taken seriously as a sculptural form.
Juliet Kinchin
Taking a Thread for a Walk challenges that weaving, as women's work, should be marginalized or considered a secondary art form. Can you talk about how Muñoz contributes to that idea and how you thought about her in context of the exhibition?
It's such a powerful work. It has such energy and strength and presence, which echoes that of the Magdalena Abakanowicz Yellow Abakan (1967–68) just at the entrance of the exhibition. These works demand to be taken seriously as a sculptural form. In that sense, I think that her work demands to be seen as the equivalent of works by her male contemporaries, some of whom were also fascinated by using fiber and textiles. It was the culmination of developments that we look at in the exhibition from the 1890s through the experimental workshops of the Bauhaus into explorations of industrial techniques and materials in the 20th century. Throughout this period, you can see women pushing their medium in new, expressive directions, which range from the functional to the sculptural and environmental.
How did you choose to place this work in the exhibition?
I always saw this as a signature piece. When I'm thinking about an exhibition, I'm always thinking about how works resonate with adjacent works, and the idea of varying the tempo and leading people on to the next group of art. Moving past the Beige Eagle, you encounter a small drawing by Barbara Chase-Riboud, for example. There's one of her larger textile works, The Albino (1972) on display elsewhere in the museum. You want to vary dramatic moments with intimate engagement.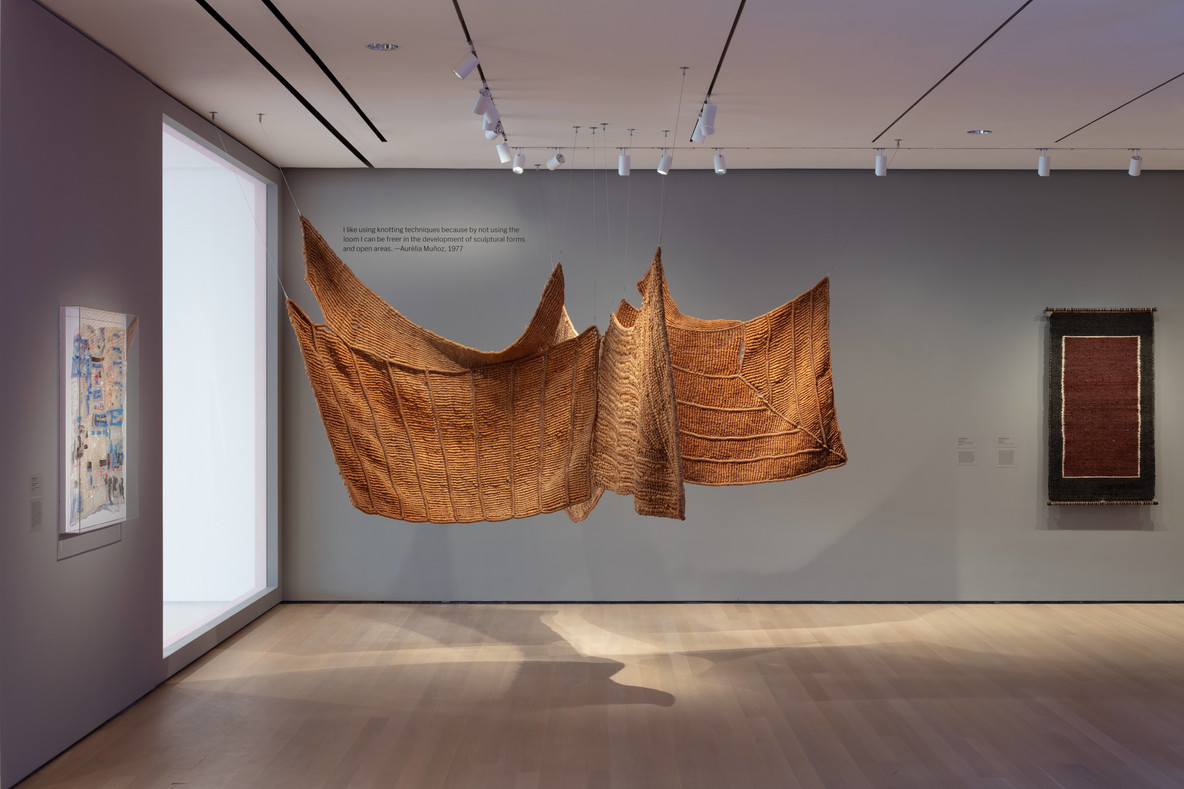 Installation view of Taking a Thread for a Walk
Can we read this work as a form of cultural or political expression?
While her work wasn't explicitly political, I think inevitably, like all great art, it reflects the culture and place in which it was created. This work was made just a couple of years after the death of General Franco, and there was an accompanying liberation of culture that followed. For me, there is a sense of that in this flying, hovering form. In fact, in popular tradition, the eagle is connected as a symbol of Barcelona. There's a sense of the city's culture taking off. But it's also a very inclusive kind of structure that offers a sense of protection, that invites you into the folds or wings of the piece. She's constantly playing with this imagery of the leaves of an open book or trees and bird forms or structures that she calls beings. There is a sense of a figural reference.
I suppose just one of the rich regional traditions that also is expressed in some way is that of the ecclesiastical vestments, particularly from the 16th and 17th centuries, which Muñoz had studied as part of her training. The vestments have these very simple planar structures. If you think of the fashion of Cristobal Balenciaga, the Spanish couturier, he was also just fascinated by the fold, the drape, the strength of these kind of ecclesiastical vestments. There's a sense of that in the winged folds.
Could you describe your first encounter with the work?
I was privileged to meet the artist's family in Barcelona and to see the studio and spaces in which Aurelia Muñoz had worked. I remember going into the small storage area where the work was installed. Like all textile and fiber art, it had a very visceral impact because it's so immediately tactile and multi-sensory. There's a wonderful smell of the fiber and the sisal that is still very much a part of the work. And it invites you into these mysterious folds so that you become part of the work.
Taking a Thread for a Walk was organized by Juliet Kinchin, Curator, and Andrew Gardner, Curatorial Assistant, Department of Architecture and Design, and will be on view through April 19, 2020.