24 hours with Kalup Linzy
Kalup Linzy starts his day with Whitney Houston and hypertension and ends it with gratitude.
This feature is part of our A Day series, in which writer Heidi Julavits invites artists to share an account of their day with us.
As Da Art World Might Turn, Season 3
6:50 am Open my eyes 10 minutes before my alarm. Lie in bed to finish waking up.
6:55 am Turn on Spotify. Play mid-tempo love songs playlist, which opens with "Higher Love," by Whitney Houston. The playlist is intended to help attract love and positive relationships. Next, check Instagram and Facebook. Mind wanders.
7:26 am Out of bed. Restroom. Take medication. Recently diagnosed with hypertension (high blood pressure). Prepare light breakfast. Two boiled eggs, out of bread, so no garlic toast, a banana, cup of orange juice, and a half of a lemon washed down with a few cups of water.
8:35 am Shower, brush teeth.
9:15 am Finish packing. Planning to read Robyn Crawford's book A Song for You: My Life with Whitney Houston.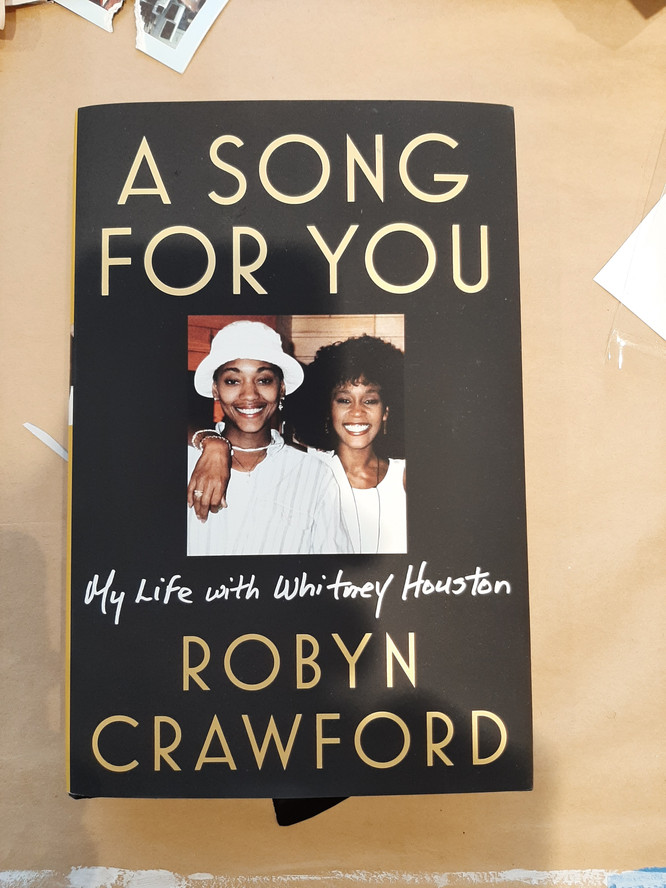 A Song for You: My Life with Whitney Houston, by Robyn Crawford
9:55 am Seth Dillion, facility technician, stops by to fix my dresser drawer. Currently, I am a Tulsa Artist Fellow, which provides artists and art workers with a partially furnished apartment, a studio, a $20,000 stipend, and the opportunity to apply for additional support for special projects. After analyzing the problem, Dillion will return tomorrow to complete the work order.
10:22 am Heading to the gym. Two weeks ago, went to see my regular doctor for a follow up. With my travel schedule and the availability of my doctor, my appointment was scheduled five months after my initial hypertension diagnosis. After running more tests, he discovered I have mild kidney disease from previous untreated hypertension. At first, he thought I may have been dehydrated. I was advised to continue my exercise regime, drink 60 to 80 ounces of water a day and return in three months for another check up. My recent diagnosis has me thinking less superficially about the overused cliché "Take care of yourself." I have been reminded that if we live long enough our bodies eventually break down and at some point we transition. None of us know how much time we have here. Ignoring the naysayers and again as cliché as it sounds, life really should be lived pursuing what makes us happy and what makes us feel good. Today's gym playlist is En Vogue.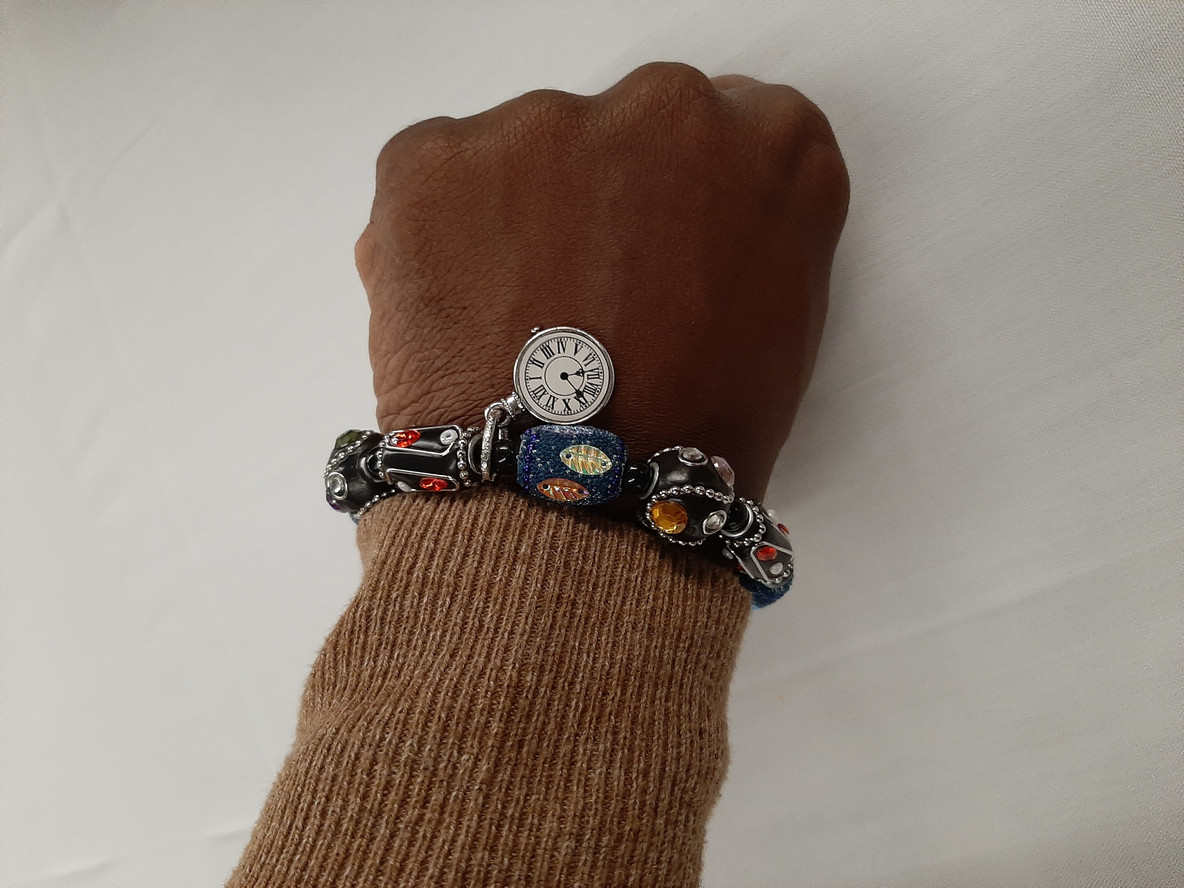 Jewelry made by my older brother, Sam Avant Jr., and gifted to me
12:52 pm Made it to my studio. Time to answer emails and work on my presentations for next week at Memorial Art Gallery in Rochester, NY. On November 20th, I am presenting to the board, and the following evening Kocktails with Kalup happens. The visit is to support my exhibition As Da Art World Might Turn, on view until December 1st. Excited for the visit!
6:24 pm At Tulsa International Airport. Flight boards at 6:55 pm. Just finished a glass of Cabernet Sauvignon to ease my nerves. Honestly, I am working on not drinking when I fly. I have been reading up on hypertension and CKD and understand my alcohol consumption should be minimum if at all. Heading to Tampa for a few days to attend the Florida Museum of Photographic Arts Faces of Philanthropy benefit, where I am a board member.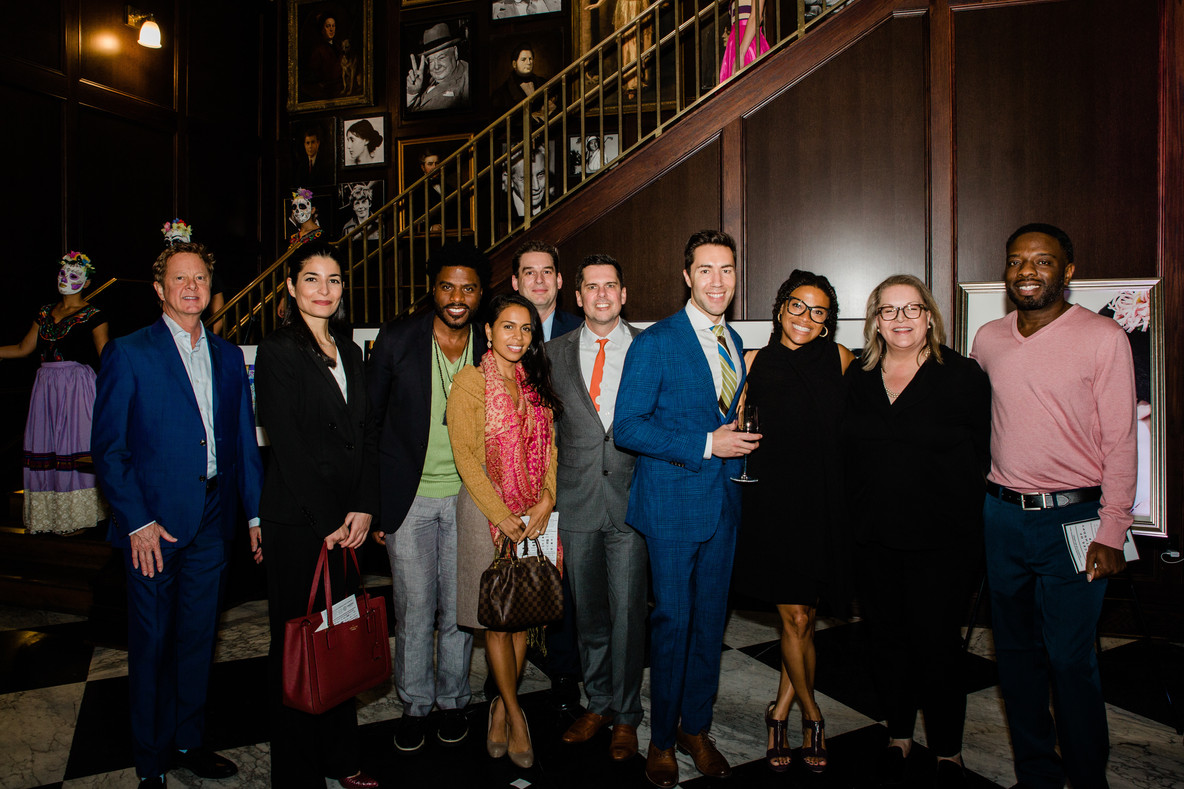 Me with board members and supporters of FMoPA in Tampa, FL.
On Friday, I have a radio interview with Joellen Schilke for her program Art in Your Ear, which airs on 88.5 FM and is archived online. On Saturday evening, I screen As Da Art World Might Turn, Season 3, at Quaid Art Gallery as part of a group exhibition titled Communion. I also contributed a small drawing. On Tuesday, I head to Rochester. If I wasn't traveling and the Impeachment Hearing wasn't taking up the airwaves, I would be having dinner and streaming The Young and the Restless and The Bold and the Beautiful. Both were preempted today.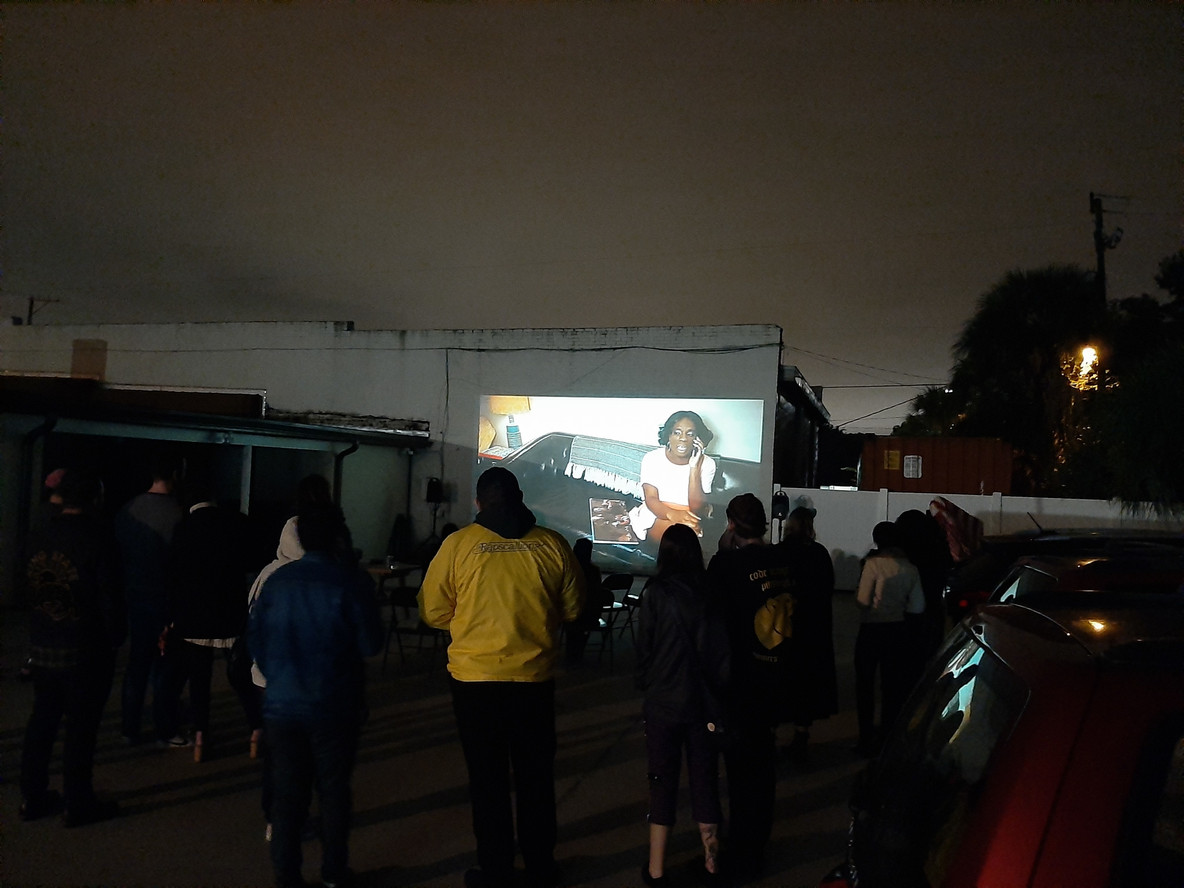 Audience gathered watching As Da Art World Might Turn, Season 3, at Quaid Gallery in Tampa, FL
2:05 am After landing in Tampa, taking a Lyft to my friend's warehouse to pick up my truck, a stop at Walgreens, and a shower, I am ready for bed. I take two Advil PM. This helps relax my back and shoulders that are tight because of my scoliosis. A diagnosis I received in high school. My thoughts are... "I am only 42. Things could be worse. They aren't. So no reason for me to give up on those dreams, all that require the mobility of my body. Although we do have to minimize the stress."
2:15 am Turn on CNN. I did not watch the Impeachment Hearing, but I do know Cuomo and the other shows will catch me up. Next, I rub my back, neck, shoulders, and hands with Arnica oil. This particular bottle I purchased in Cassis, France, when I was a BAU Institute resident artist hosted by the Camargo Foundation this past summer. Now time for my late night snack. Couldn't find unsalted potato chips or unsalted blue chips, so I opted for a few Butter Danish Cookies and orange juice. No milk or ice cream. Dairy is bad for my asthma, which hasn't been giving me much trouble these days. Yay! Working to keep it that way.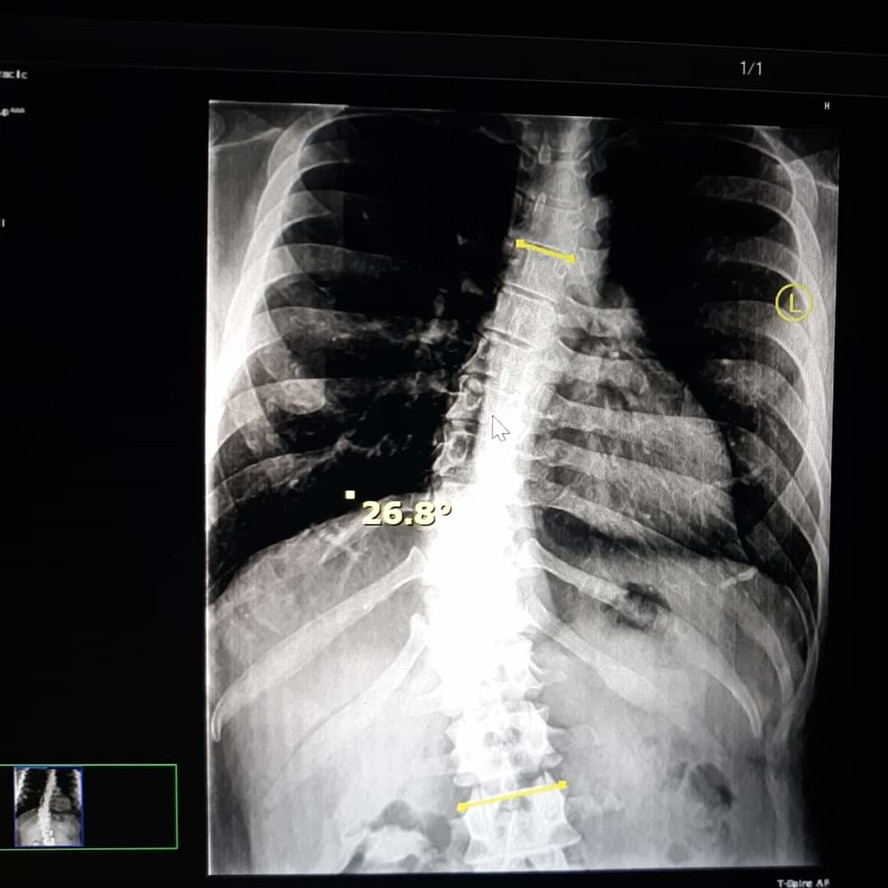 2:40 am Turn on my pillow massage to massage my neck.
2:53 am I stream instrumental sleep music.
2:54 am Write 10 things I am grateful for in my journal
1. I am grateful I made it to Tampa safely.
2. I am grateful my diagnosis was sooner rather than later.
3. I am grateful to be an artist and that The Breeder Gallery in Greece is bringing me over in 2020. It's been 10 years since I've been there!
4. I am grateful for my gym membership. It is keeping me healthy, I'm meeting new people, and it is getting me out of my studio.
5. I am grateful to have my Polaroid project at Art Basel Miami this year with David Castillo Gallery.
Polaroid of Florida Queen with rake
6. I am grateful to be traveling to Memorial Art Gallery in Rochester, NY.
7. I am grateful for the Tulsa Artist Fellowship.
8. I am grateful for my single "I Put a Spell on You" and to the producers and musicians who helped bring it to life.
9. I am grateful for my exhibition Searching in Resemblance at Sean Horton Gallery, which includes collages, As Da Art World Might Turn, Season 3, and Conversations Wit De Churn XVI: As My Identity Turns.
10. I am grateful for my family and friends.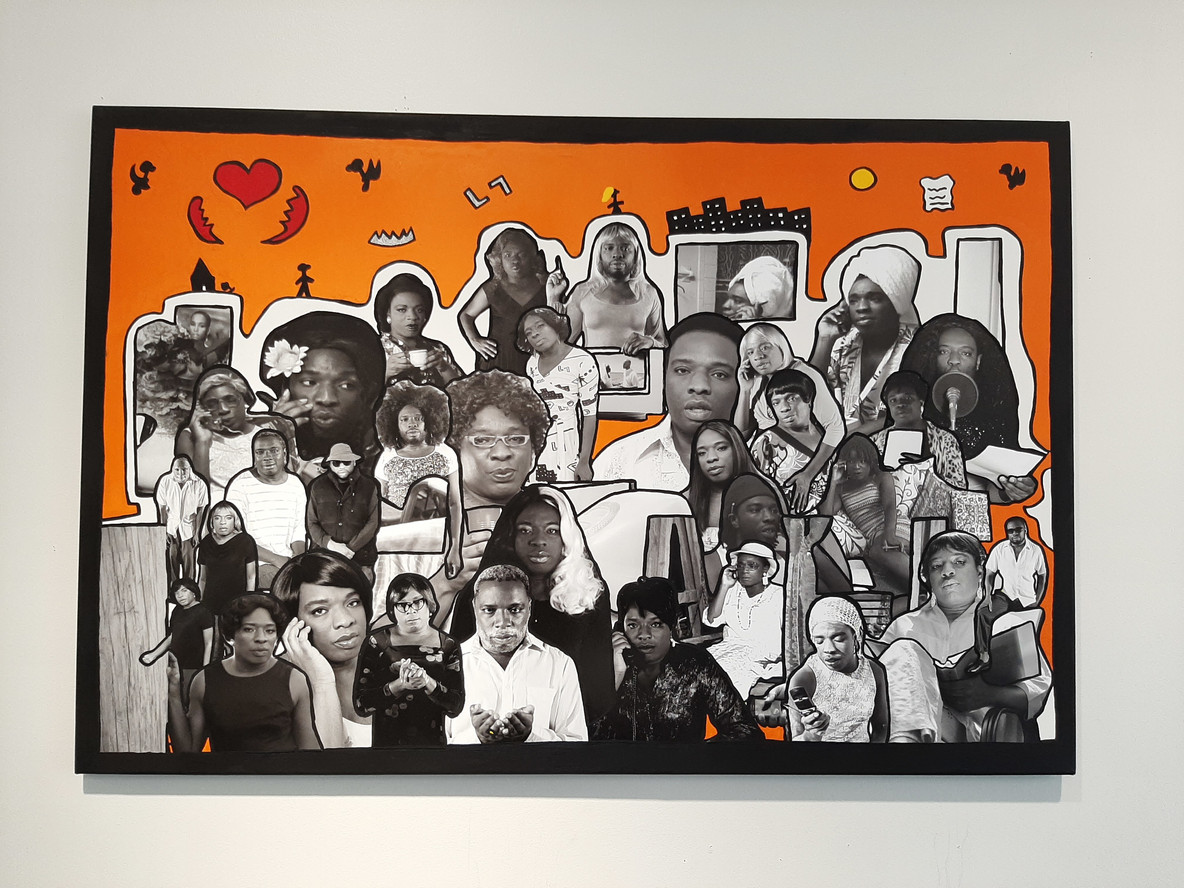 Resemblance 3. 2019. Collage on canvas
3:00 am Brush my teeth. Eyes get heavy. About to doze off 3:07 am - Turn off lights