Laurie Anderson
The Beatles
Wallace Berman
David Bowie
John Cage
Captain Beefheart (Don Van Vliet)
Lucinda Childs
Bruce Conner
Devo
Ray Johnson
Joan Jonas
Bruce Nauman
Yoko Ono
Nam June Paik
Otto Piene
Steve Reich
The Residents
Jack Smith
Michael Snow
Robert Whitman
Robert Wilson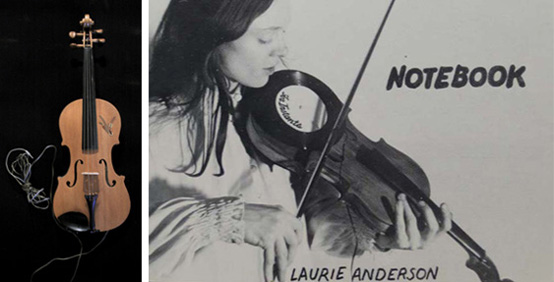 Laurie Anderson

A former child prodigy on the violin, Anderson has her feet planted firmly in the world of art and of music. In her art practice, the violin is more than a musical instrument or accompaniment—it is a natural extension of her body. But Self-Playing Violin is autonomous; it makes its own music, and the artist performs duets with it. Three artist's books by Anderson further describe her experimentation of the period, which transcended boundaries of medium.
View Schedule
Interview with Laurie Anderson

Laurie Anderson (American, born 1947). Self-Playing Violin. 1974. Modified violin with built-in speaker and amplifier (sound). 31 min. Gift of the AG Foundation and the Rockefeller Foundation. Image courtesy Canal Street Communications.

Laurie Anderson (American, born 1947). Notebook. 1977. Offset lithography.
The Museum of Modern Art Library. Image courtesy the artist.