Harmonious Dialogue: Pamela Z's Simultaneous
How does a composer transform human speech into music?
Composer-performer Pamela Z spent last summer as the second artist in the annual Studio Residency program in MoMA's Marie-Josée and Henry Kravis Studio. The Kravis Studio is a dedicated performance space located within the Museum's fourth-floor collection galleries; as its name suggests, it is a platform for artists experimenting with new art forms. The Studio Residency offers them space and time to develop and present processes and ideas.
At the Museum, Pamela Z continued to develop her recent song cycle Simultaneous. The residency culminated in a public premiere of Simultaneous, a post-performance conversation with the artist, and an installation version of Simultaneous on view during museum hours.
Martha Joseph, assistant curator in the Department of Media and Performance, recently spoke to Pamela Z about her residency.
There's something about the music of human speech that is so charming to me. I never tire of it.
Pamela Z
Martha Joseph: This project has been a long time coming. I emailed you about working together in 2018. You first started developing Simultaneous when you won the Rome Prize. Can you tell us about how that started?
Pamela Z: In 2020 I was planning to develop this piece at MoMA in the summer, but we all know what happened. My plan had been to make a piece much like what you saw today, but it was originally going to be a work for solo voice and electronics plus multiple channels of audio.
In Rome I had conducted a bunch of interviews with other Rome Prize fellows and some staff and residents. Then I chopped it up and played with it and made a 21-channel sound installation out of it. It was first shown in an exhibition at the American Academy in Rome, where all of these speakers were hanging in the academy's cryptoporticus. Then COVID came along, and I returned to the US and worked on other things, and that's when you got in touch and invited me to develop the piece in the context of the residency and perform it at MoMA. I started working on composing the music and writing parts for a chamber ensemble along with my voice. We did a workshop version of it at Project Artaud in San Francisco and then we brought it here.
Being in conversation with your peers, your performers and collaborators, is a crucial part of your process. As an audience member, you walk into this field of sound before the performance begins and you already hear a chatter of voices. The work has already started without you. You take a seat, the performers enter, and the performance officially begins.
I really wanted to somehow integrate the installation with the live performance. And as a matter of fact, while I was in Rome, there were two other fellows who were singers. So I asked them to join me at the opening, when all the people were there to see the exhibition. The three of us stood among the speakers and sang a graphic score that I put together really quickly. I wanted that to be at least part of the way the live piece ends up being.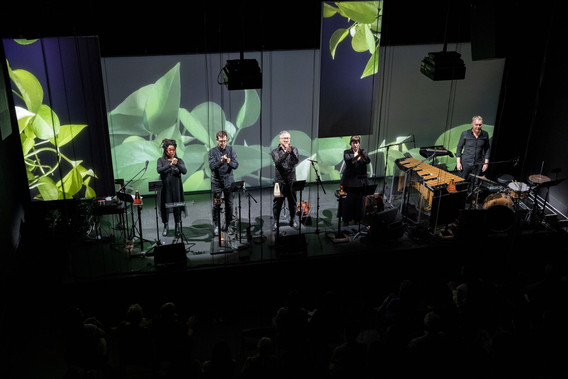 Simultaneous, August 3, 2023. Pictured, from left: Pamela Z, Kyle Bruckmann, Charlton Lee, Clara Kennedy, and Kjell Nordeson.
Simultaneous, August 3, 2023. Pictured: Pamela Z
The composition itself is about the musicality of everyday speech. You have an ability to home in on the tone and melody of language, translating it for us– augmenting it, in a way– through your composition practice.
There's something about the music of human speech that is so charming to me. I never tire of it. If you ask people about the difference between singing and talking, most of them will say that singing is pitched and talking is not. But in fact nothing is unpitched, because every sound has a frequency, and pitch is frequency. The thing about speech is that it's generally so random that it doesn't repeat itself. It doesn't form patterns that we can latch onto quickly.
But the minute you take a sample of a short piece of speech and repeat it, you start to find the fundamental tone in each of those syllables. I just find a lot of joy in doing that. There're a lot of composers who've done amazing things with that. A New York composer named Scott Johnson made a wonderful piece that was based entirely on a woman laughing. And he orchestrated it and built this big epic thing out of just her laugh and her saying one phrase. I think it's something a lot of composers latch onto, but especially today, when we can so easily capture sound and immediately play it back.
I'd like to go back in time and talk about your trajectory as a composer and performer, from the solo work to these larger ensemble works. A lot of folks are familiar with your solo work for gesture-controlled instruments. How did you come to that technological aspect of your performance practice?
It all started with a digital delay. I had gotten out of music school and was making a living as a singer-songwriter, singing in clubs. I also had a shift on the air at a local NPR affiliate in Boulder, Colorado, called KGNU. I became enamored of experimental music and listening to all kinds of avant-garde artists from different genres.
I wanted my work to be more like that, but was having a hard time finding my way into it. I would try to write pieces that I thought were unusual, and they would just come out as quirky versions of the thing I was already doing. And then I ended up getting a hold of a digital delay. That was the biggest pivotal moment in my life as a musician. It just changed the way I thought about sound. I started playing with it and layering my voice. Literally overnight, I jettisoned everything else that I was doing, and I knew I needed to do more work like this.
The instruments that you use are customized. Could you tell us about them?
All of the gesture-control instruments I'm using now were designed and built by a very dear friend and collaborator named Donald Swearingen. We worked together to develop how they would work. They all have different kinds of sensors that came from some other use that were repurposed. I'm using three different sensor-based controllers. One of them uses ultrasound and is essentially looking for mass. Another uses infrared sensors, and the third one, which is wearable, includes three different sensors: accelerometer, gyro, and magnetometer. That one tracks the X, Y, and Z attitudes of my hands.
Recently you were telling me that you've been doing so much more composing for other ensembles and performers in the past few years. What has that transition felt like?
I both love it and despise it. It's wonderful after all these years to have a bigger palette of sound to start with. Now when I make new pieces, I'm so happy that in my own music I can broaden the palette of the original sounds that I use, even if they get layered and looped and transformed. But the other part of that is that I'm getting a lot of commissions to make works on other groups, and in many of those cases, I end up in deadline hell.
So sometimes I've gotten myself painted into a corner with so many commissions that I'm behind on, at which point I can only work on them. That means I can't make new work for my own projects. So it's a balance and a matter of having to plan ahead, but I really do love it.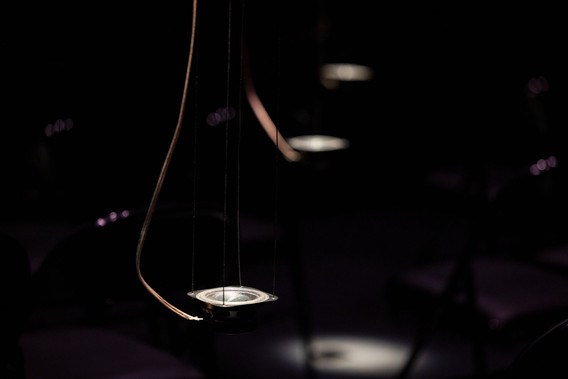 Installation view of Studio Residency: Pamela Z, July 8–August 13, 2023.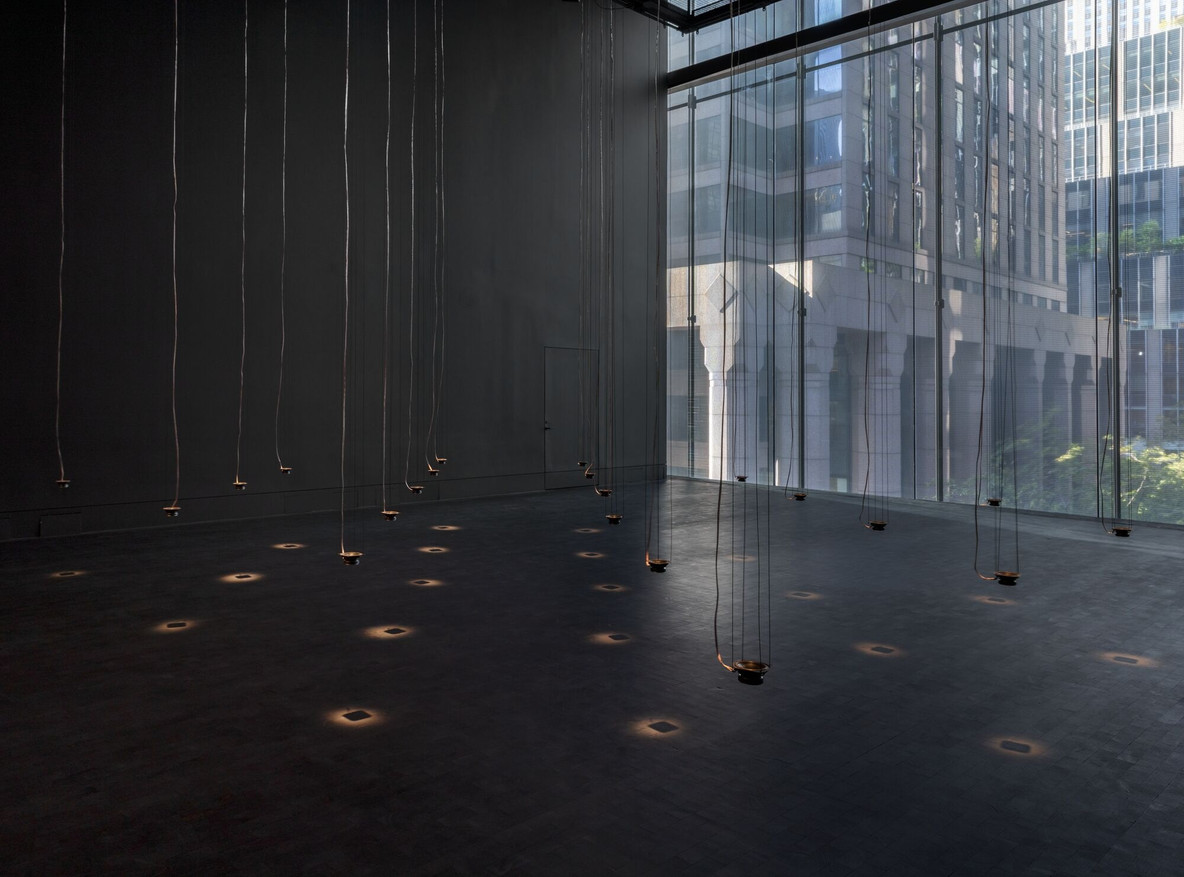 Installation view of Studio Residency: Pamela Z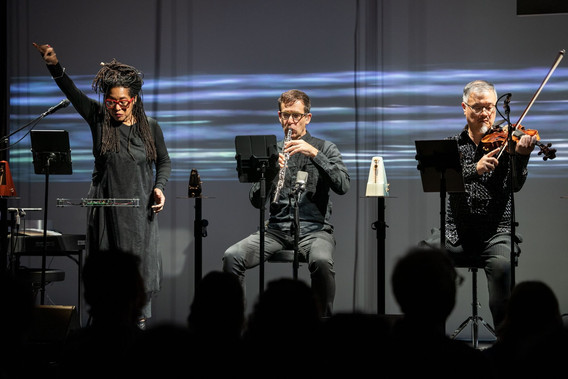 Simultaneous, August 3, 2023. Pictured, from left: Pamela Z, Kyle Bruckmann, Charlton Lee
We've spoken about your relationship with abstraction versus representation. I'm curious if you could say a little bit more about that in relation to your work.
There's a real war going on in me between those things, because I love abstract work and always strive for that. When I start a project, I always think this is going to be completely abstract, but as soon as I start working on it I'm always pulled by things that have one foot in the representational world. So, in the end, I always end up with stuff that's much more representational than I had intended.
I've never wanted to make work that is a message-delivery system. Even though my work has information and subject matter, it's always more about exploring that subject matter and pondering it and playing with it than trying to hammer some idea home.
As I've been listening to the piece over the past few weeks, I have been feeling that there's something political in the fact that you create a way of being together and sounding together in a space. You created a work that allows for a sense of community and an opportunity to create empathy—and also a vision of a world.
Even though I don't go at this work with the intention of doing that, I feel like the work is doing its job if other people find that in it. Everything is political. We can't escape that. And we can't pretend that saying nothing is an act of some kind, and then try to craft something that achieves that. I'm picking something that tickles me in some way that I find interesting. Ultimately, for me, it's just a playground.