Resonant Frequencies: Sound at MoMA
In anticipation of the 2023 season of the Hyundai Card Performance Series, we take a brief look at the past and future of music and sound art at the Museum.
In 2019, MoMA inaugurated the Marie-Josée and Henry Kravis Studio with a display of Rainforest V (variation 1) (1973–2015), conceived by David Tudor and realized by Composers Inside Electronics Inc. The installation featured everyday objects fitted with sonic transducers. Suspended in space, they chirped, rang, and croaked, creating an ecology of sound. Tudor's first Rainforest, from 1968, served as the musical score for choreographer Merce Cunningham's dance of the same name. The work evolved into a performance environment and ultimately into an automated installation, becoming an important touchstone in the genre of sound art and an influential exploration of the sonic potential of objects and space.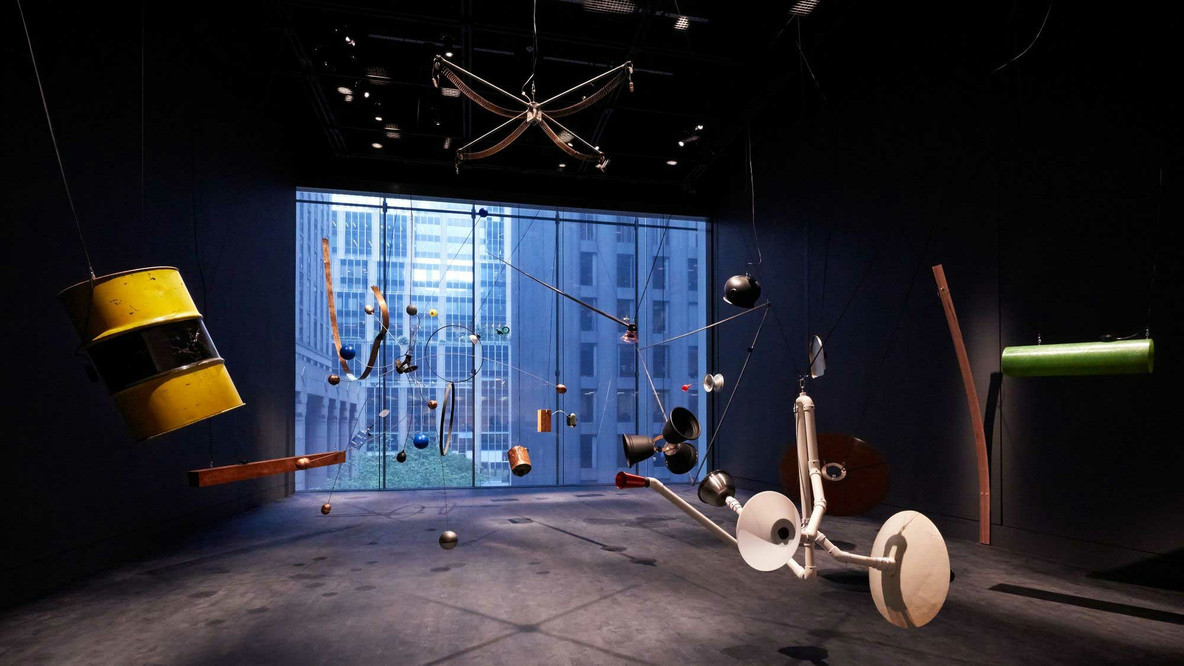 David Tudor. Rainforest V (variation 1). 1973/2015. Installation view at MoMA, October 21, 2019–January 5, 2020
Throughout the 20th century, MoMA has been a home for varied approaches to sonic art forms—from the premiere of the Moog synthesizer in 1969 and Vladimir Ussachevsky's first tape-music concert in the United States, to a performance retrospective of Kraftwerk and three Looking at Music exhibitions (in 2008, 2009, and 2011). Most musical performances took place in MoMA's garden, atrium, or other spaces, and—until the founding of the Media and Performance Department in the early 2000s—often existed outside of the curatorial program. These performances—by such historic names as John Cage, The Art Ensemble of Chicago, and Sonny Rollins—existed alongside curatorial commitments to narratives around modern art.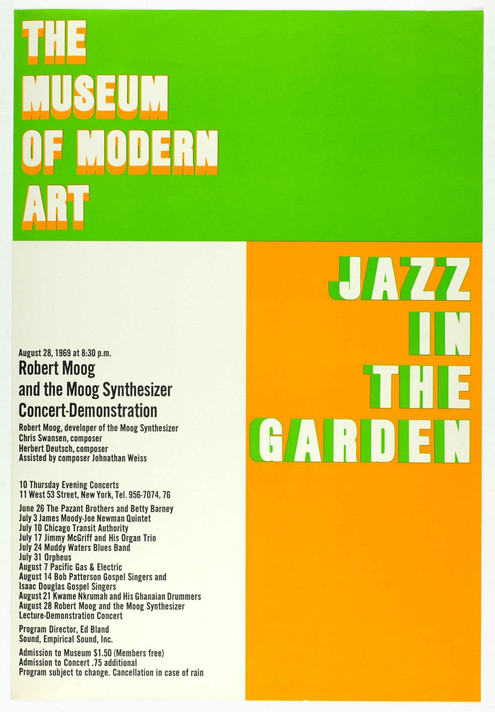 Program for Robert Moog and the Moog Synthesizer Concert-Demonstration, part of the Jazz in the Garden series, August 28, 1969
And yet, sound was everywhere. Marshall McLuhan's vision of the second half of the 20th century—shifting away from visual culture toward an integrated auditory form of perception—applied to the Museum as well. While MoMA's curatorial framework is based on a medium-specific model, sound never belonged to a single department. The early days saw regular exhibition-adjacent music programming. Concha Michel sang songs of Mexico during a stereopticon-illustrated lecture by anthropologist Herbert J. Spinden, in conjunction with the exhibition American Sources of Modern Art in 1933. The Department of Film regularly screened silent films with live accompaniment (and still does). In 1935, presentations of René Clair's Cinema/Entr'acte and Fernand Leger's Ballet Mecanique included live performances of Erik Satie's score by George Antheil and Henry Brant. In the 1940s and '50s, MoMA collaborated with organizations such as the League of Composers, which brought to the Museum premieres of important work by Aaron Copland and Leonard Bernstein.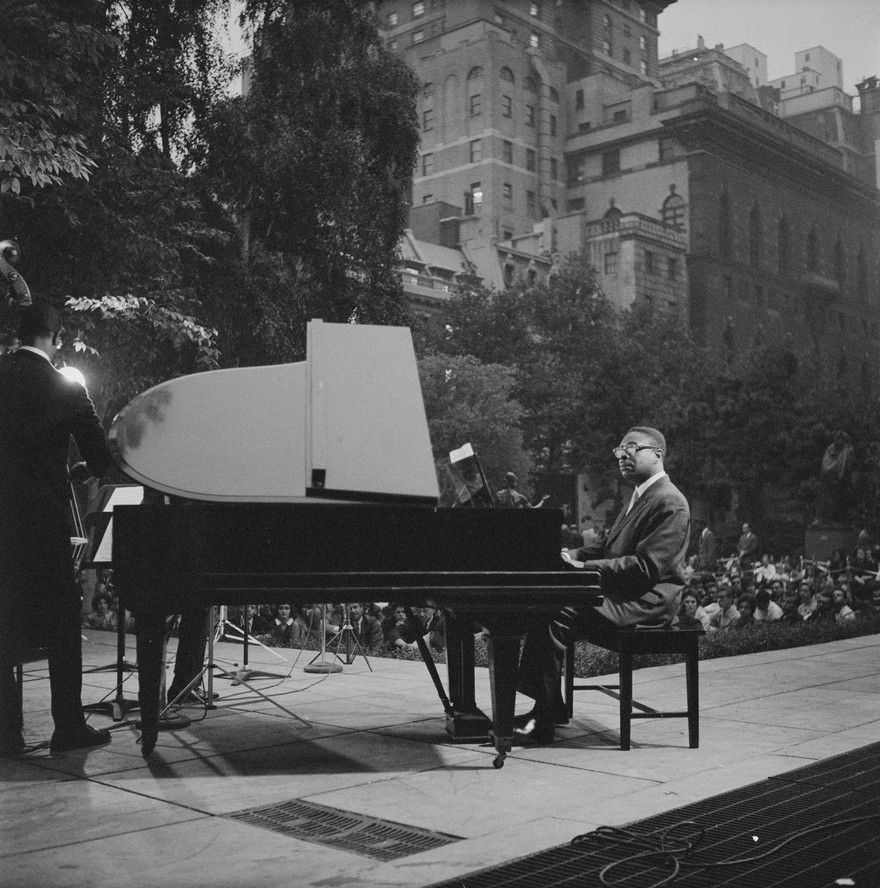 The Joe Newman Quintet performs at a Jazz in the Garden program, July 13, 1961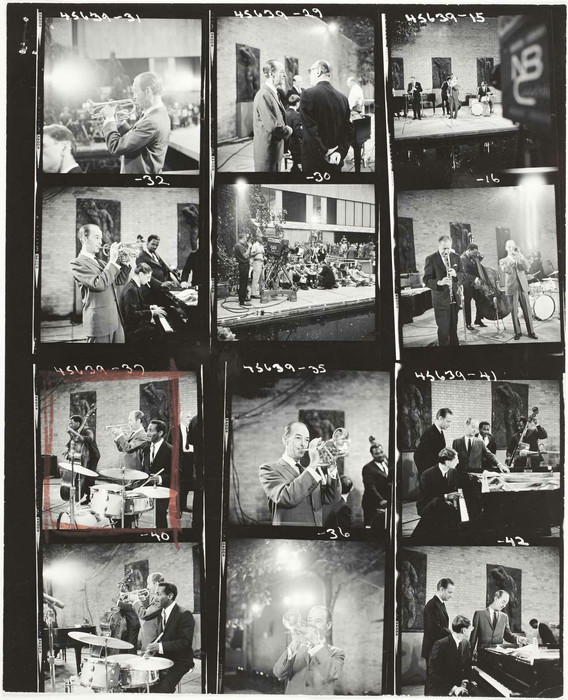 Photos from an unidentified Jazz in the Garden Program, c. 1960
From the 1960s onward, performance-focused programming expanded rapidly, keeping up with the many changes in the artistic landscape. The sonic arts were well represented, with Jazz in the Garden, Composers Showcase, Summergarden, and the Projects series all featuring live music and performance by genre-defying figures such as Lawrence "Butch" Morris, Steve Reich, and Milford Graves with the New York Art Quartet. They were a crucial part of MoMA's performance history, as well as vibrant and essential parts of the broader interdisciplinary experimental art world.
Sound echoed inside the Museum's galleries as well. Sound art, a form of installation that takes acoustics as both its primary medium and subject, emerged in the 1960s and '70s from the shared concerns of experimental music and Conceptual art. In 1978, Laurie Anderson's Projects exhibition featured her sonic sculpture Handphone Table—a wooden table with a concealed sound system, audible only when visitors placed their elbows on its surface and covered their ears with their hands. Curator Barbara London organized MoMA's first exhibition of sound art in 1979. It featured installations by Connie Beckley, Julia Heyward, and Maggi Payne, who were at the forefront of integrating visual and sonic technologies by working with synthesizers. London's 2013 exhibition Soundings: A Contemporary Score was MoMA's first survey exhibition of sound art.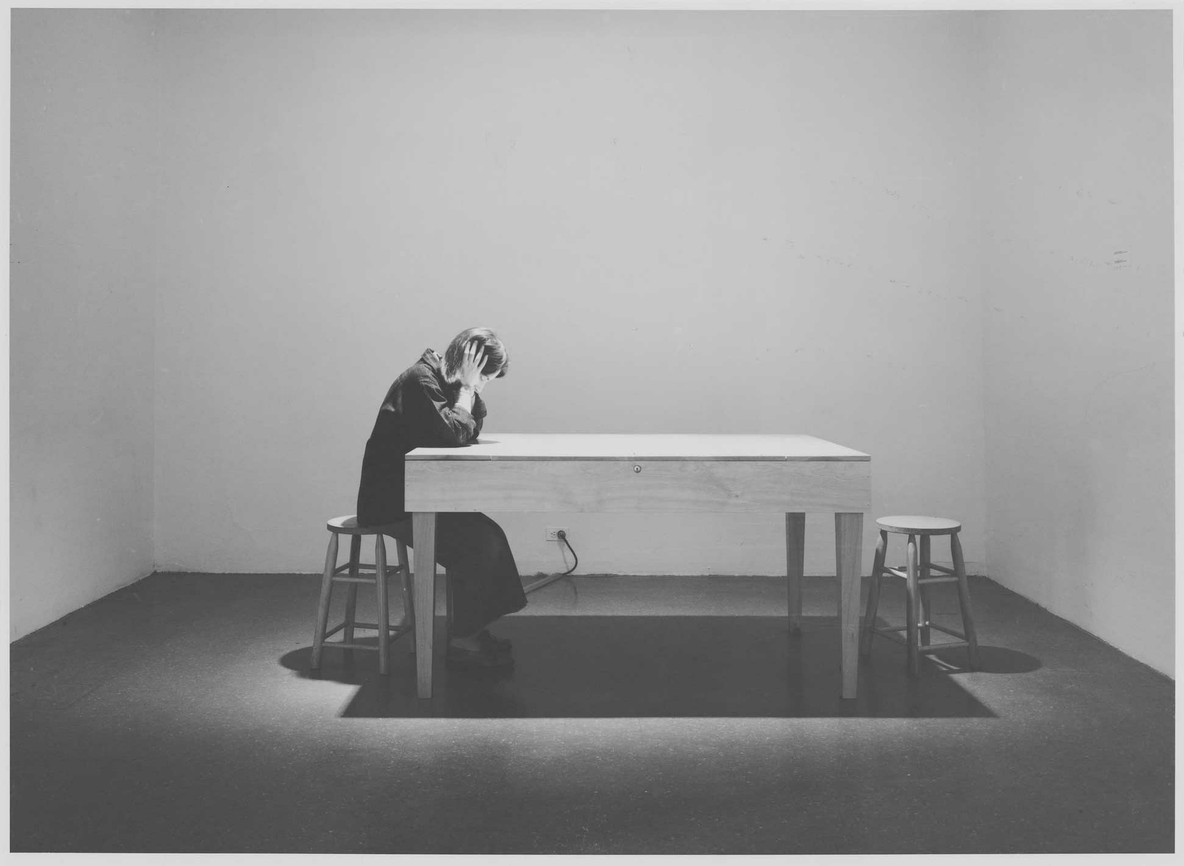 Installation view of Projects: Laurie Anderson, September 16–November 12, 1978
Acoustic experimentation has often thrived in unconventional spaces, opening up new ways for artists and musicians to think about architecture. Alvin Lucier's I Am Sitting in a Room relied on the resonant frequencies of the space, as the performer's voice was recorded and then repeatedly played back and layered, resulting in a site-specific environmental sound.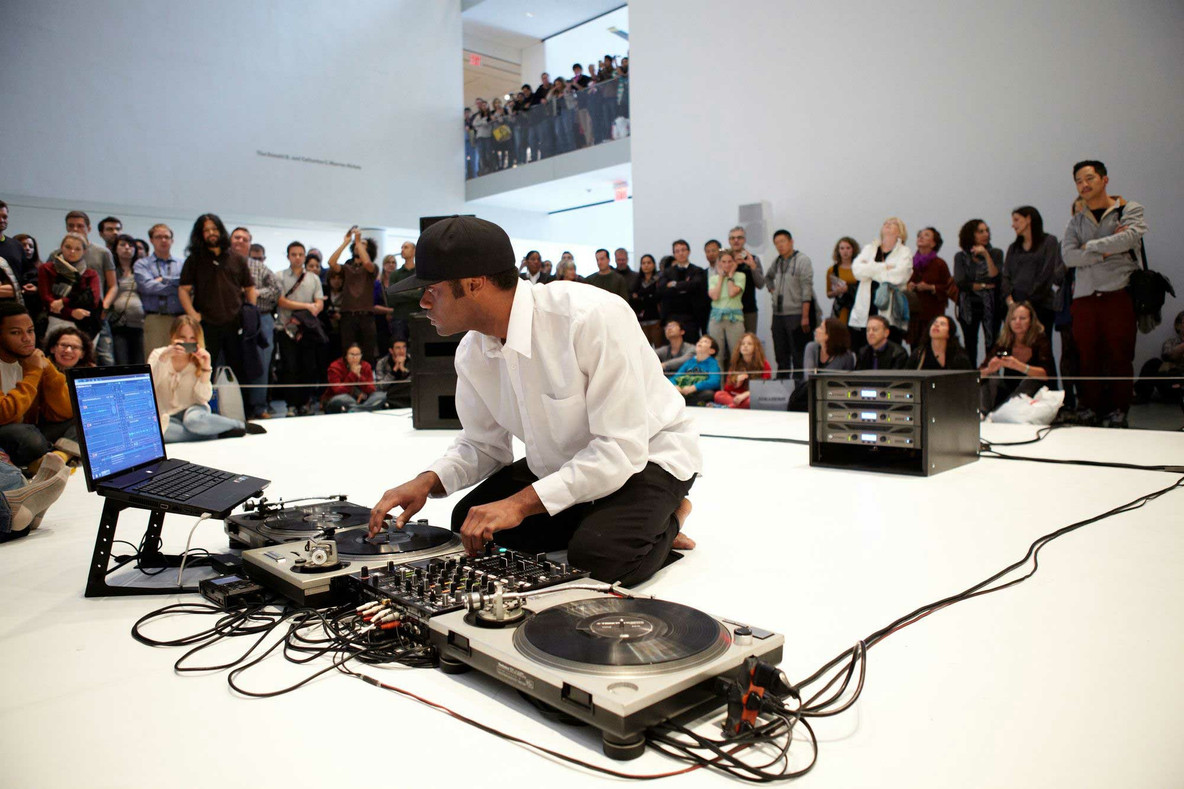 Kevin Beasley performing I Want My Spot Back as part of Some sweet day, October 17–November 14, 2012
The Museum's visitors have offered sonic artists various opportunities for audience engagement and interaction. The in-the-round presentation of Janet Cardiff's The Forty Part Motet (2001) encouraged audiences to encounter the spatial properties of sound, with each loudspeaker emitting a single voice in the installation, producing the feeling that you were sitting among the members of a choir. Kevin Beasley's I Want My Spot Back (2012) sampled the voices of dead, Black male rappers from the 1990s, reverberating through the atrium, vibrating every body and cell in proximity. Exhibitions with artists such as Guadalupe Maravilla, Basel Abbas and Ruanne Abou-Rahme, and Emeka Ogboh have tapped into the physicality of vibration, sound's therapeutic properties, and the ability of sound to speak to experiences of displacement, dislocation, and dispossession.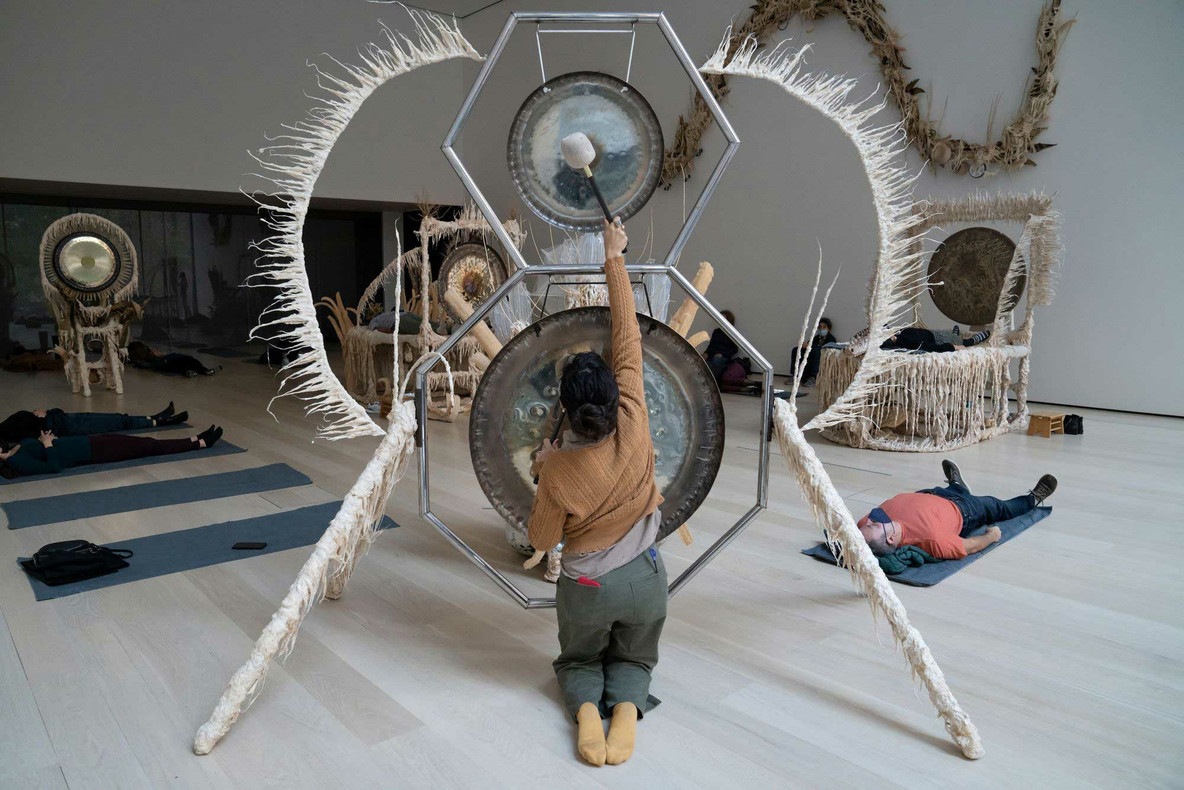 Healing sound baths held in conjunction with Guadalupe Maravilla: Luz y fuerza, October 30, 2021–October 30, 2022
The 2023 program in the Kravis Studio takes sound and its myriad forms of expression, production, and transmission as its uniting principle. Music as a reason for being together—whether at a club, disco, or artist-run space—fueled the JAM Performance Festival. In conjunction with Just Above Midtown: Changing Spaces, these performances channeled the commitment to live art that Linda Goode Bryant and JAM's artists brought to the gallery's exhibitions in the 1970s and '80s. Vernon Reid, along with musicians from Greg Tate's Burnt Sugar The Arkestra Chamber presented Conduction®, a structured group improvisation using Lawrence D. "Butch" Morris's signature conducting style.
Listening as a political and social act continues in Lawrence Abu Hamdan's Walled/Unwalled. This work addresses the borders and walls through which sound moves and the physical relationship between sound and architecture that facilitate his practice of "forensic listening."
Other artists featured in the 2023 season create immersive multimedia experiences through sonic technology. Composer, performer, and media artist Pamela Z performs with custom electronic instruments, using sensors that allow her to control sound and video through physical gestures. Suzanne Ciani's early improvisations on the Buchla, a modular synthesizer that revolutionized sonic experimentation when it was developed in 1964, treat sound as a physical material that can be sculpted, surrounding you in quadraphonic sound. And Sarah Davachi's drone music continues a lineage of minimalism, playing with subtle auditory forms of perception through overtones and natural resonances. Finally, Portuguese artist Alexandre Estrela brings his moving-image practice and an experimental soundscape to the Studio, exploring sonic and visual rhythm in his installation, and expanding the definition of live art in an installation setting.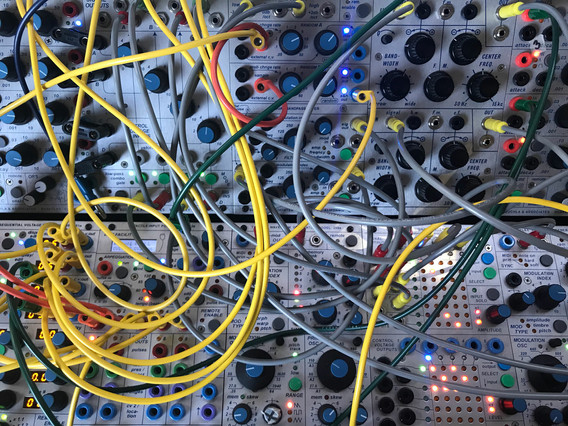 Closeup view of Suzanne Ciani's Buchla 200e Series electronic music instrument
In the coming months, Magazine will feature conversations with these artists. Their work highlights the varied way in which sound can push our understanding of experimental art and raise questions about the nature of listening. In 2023 the Studio becomes a place for the sonic imagination to run wild.