Wild Imagination: a Conversation with Julie Doucet
The iconic underground artist opens up about her inspirations, struggles, and recent return to comics.
Since she began self-publishing her photocopied zine, Dirty Plotte, in 1988, Montreal native Joulie Doucet has become one of the most influential and beloved figures in independent comics. Mixing autobiography, diary, and fiction, and uncommonly frank about sex and gender, Dirty Plotte shifted the boundaries of graphic storytelling. In the ensuing years, Doucet has published more than a dozen graphic books and a collection of poetry, made prints, collages, and sculptures, and exhibited her work around the world. Time Zone J, published in 2022, marked her return to drawing comics after nearly two decades. This summer, Doucet and I exchanged a series of emails. Magazine has regularly commissioned work from comics creators and illustrators, and we could not think of a more iconic artist to speak with about the evolution of her work, her influences and travels, and what lies ahead.
—Alex Halberstadt, Senior Writer, Creative Team
Alex Halberstadt: When you were starting out, who were some of your main artistic influences? Did they come primarily from literature, comics, or fine art?
Julie Doucet: First, I have to mention Christiane Rochefort. I read her books for the first time when I was 12. I was on vacation at a friend's place. I don't remember which book of hers it was, unfortunately; I've read and reread her books so many times since then. Rochefort was one of the founders of the women's liberation movement in France, and her books, written mostly in the 1960s through the 1980s, are full of great female characters who question their condition and place in society. Reading her was the first time I could relate to a female character in literature. The reason why it was so important is at that age I knew I was going to grow into a WOMAN, with all of the stereotypes and expectations that come with it, and I didn't like that idea very much. Rochefort's books gave me the permission to be who I really was and stick to it. Her writing style, and her sense of humor and irony, have been a huge influence.
When it comes to visual art, Dada has been very important for me, especially the collage work of artists like Raoul Hausmann and Tristan Tzara. I discovered Hannah Höch much later...back in the 1980s she was relatively unknown. Of course I loved George Grosz's drawings and German Expressionism in general.
I grew up reading mostly European comics like Tintin, Astérix, and Lucky Luke. Later on, as a teenager, I read F'murrr's comics, which I loved for the drawings and also for this one scruffy female character. It's only when I was in art school that I discovered Nicole Claveloux's comics, which are wonderful. I was introduced to American underground comics even later; at that point I had already started drawing my own.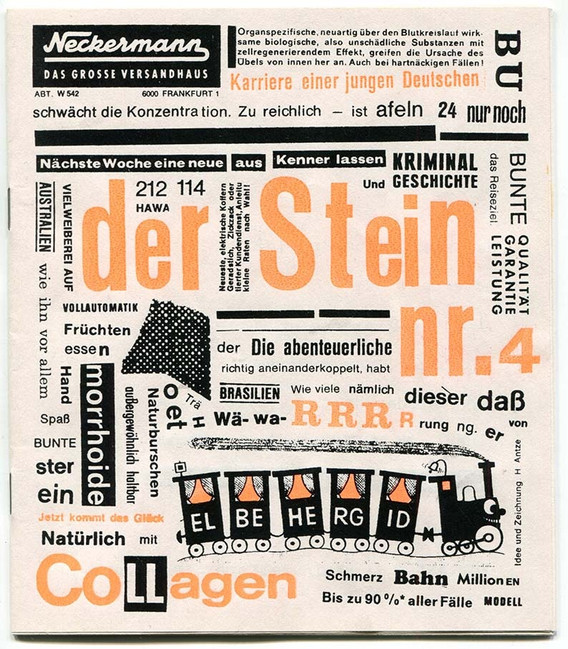 Julie Doucet. Der Stein nr.4. 2010
I felt like a bottle of ink spilled onto a page: I put everything that went through my mind on paper.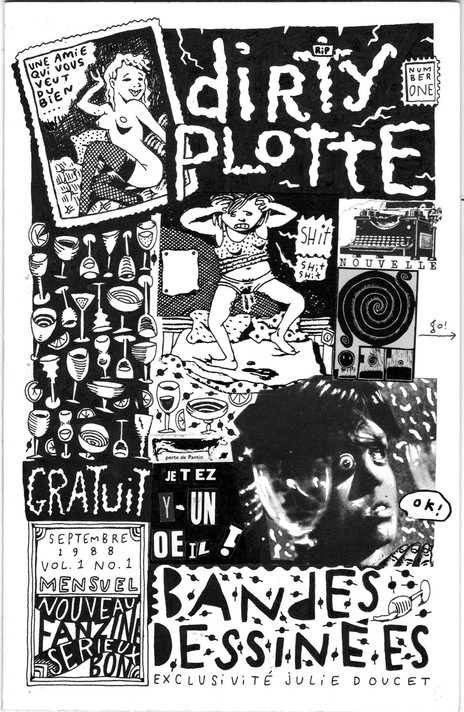 Julie Doucet. Dirty Plotte #1 zine cover. 1988
What initially drew you to alternative comics and self-publishing?
When I was an art student, my school offered a course about comics for the first time. That class was where I met my first cartoonist friends; through them, I was introduced to the world of fanzines, which seemed extremely exciting to me, because it was a way of being able to show one's work.
I wasn't happy in art school. Except for the printmaking courses, which I enjoyed, I felt totally out of place. The big art star at the time was Joseph Beuys, and the main comment I got was, "You should make children's books," because what I was doing was figurative and, surely, because I was a woman. Don't get me wrong, I like Beuys's art, but at the time I felt so misunderstood.
Eventually I quit art school. By then I had met quite a lot of the people in the comics world, had drawn a few comics myself, and began to have a bit of a reputation. I had been published in many different fanzines, but they were group projects and were coming out very sporadically. I found that frustrating, so I decided to create my own solo project, Dirty Plotte.
What kinds of ideas, stories, or experiences were you looking to talk about in Dirty Plotte?
It was the late 1980s, I was freshly out of school, and the unemployment rate was very high, so I went on welfare. I was determined not to get depressed about this, so decided to self-publish one issue of Dirty Plotte every month. So I did that for 14 months.
It seemed natural to use myself as a character as a means to tell my stories, but that doesn't mean that the stories were true or autobiographical. They were based on a mixture of personal experiences and pure, wild imagination. Eventually I wrote stories inspired by my nightly dreams. At the time I felt like a bottle of ink spilled onto a page: I put everything that went through my mind on paper. My fears, my obsessions, my doubts about myself.
In those days there were no comics publishers in Quebec. On some days I couldn't even conceive of having my comics published by someone else, which partly explains the freedom you see in those pages.
When you began working on Dirty Plotte, alternative comics was a field dominated by men. What was it like to be a woman working, and creating sexually charged stories, in that space?
I think the fact that the sexually charged stories were good stories impressed a lot of the guys. So I got a lot of respect. Maybe that was also because they didn't know what to make of me. But in the end they considered me one of them—one of the guys. It was a totally schizophrenic situation: finding myself acting like a man, thinking like a man almost. This felt comfortable for a long while. I met other female cartoonists here and there, but there were so few of us and we were scattered all over the place. Some years ago I read Through the Flower: My Struggle as a Woman Artist by Judy Chicago, and was shocked to find out how similar my experience had been to hers, even though what I went through happened 25 or 30 years later.
What were the initial reactions to Dirty Plotte? Did they surprise you?
People seemed quite astounded that such a sweet looking and extremely shy girl could produce such wild content. The comics became very popular. It's true that I was selling them very cheaply, for 25 cents. But I didn't care about the money, I just wanted to be read. At that time I worked two days a week at a photocopy store, which helped.
What surprised me the most was the speed with which Dirty Plotte became popular. I was selling it through an American fanzine mail order catalogue called Fact Sheet Five, which resulted in a lot of mail. Some readers would tell me that the comics about having my period made them uncomfortable. I was discovering something!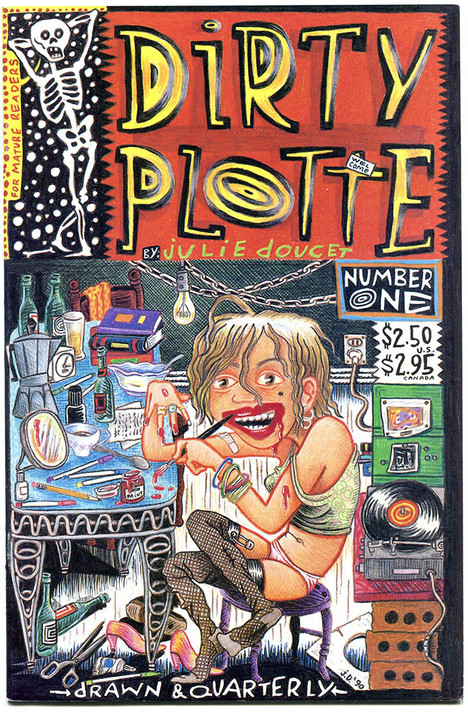 Julie Doucet. Dirty Plotte #1. 1991. Publisher: Drawn & Quarterly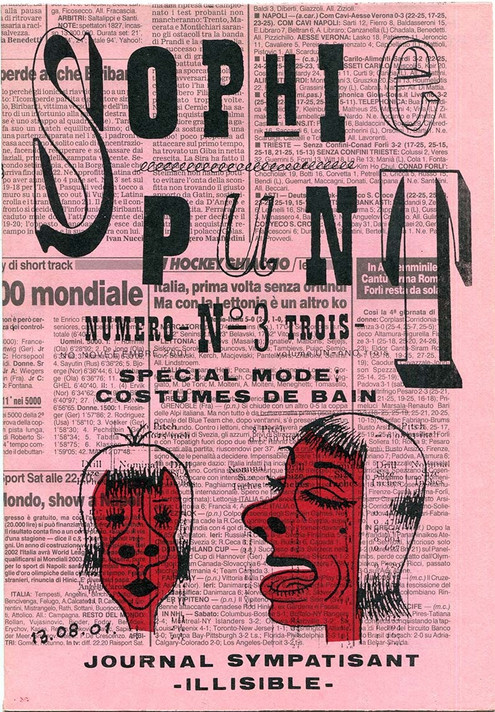 Julie Doucet. Sophie Punt #3. 2001
How have the cities you lived in—Montreal, New York, Seattle, Berlin—shaped the direction and style of your work?
I'd say Berlin in particular influenced the direction of my subsequent work. The comics scene in Berlin, where I lived from 1995 to 1998, was very different from what I had experienced before. It seemed like everyone there also had a visual art practice. It was more open and there was more space for experimentation. I was quite inspired by Atak, Anke Feuchtenberger, Martin Tom Dieck, Christian Huth. The scene was very exciting and I was envious of all that freedom. Living there surely planted the seed for the end of me making comics.
Being in Berlin was great also because it attracted many artists from all over the place. I also met more women while living in Berlin—that was something new in my life. A Canadian woman artist, Susan Turcot, became a good friend and roommate. Through her I met another crowd, the visual art crowd, that I had long lost touch with. That, too, certainly made a difference.
In 2006, you told an interviewer that you were sick of comics and couldn't stand the form. What made you feel this way? Have your feelings about comics changed?
At the time, I was able to live off of my comics but only barely, which meant that all of my energy was going into making them. Alternative comics were still printed mostly in black-and-white and there wasn't as much space for experimentation as there is today. I felt trapped. And quitting comics also had a lot to do with the weariness I felt about feeling isolated as a woman in a crowd of men.
Today, the ratio of men to women in comics has improved a lot, plus it seems like you can put pretty much anything in a comic. More and more people are pushing these boundaries. They are still a minority, but there is great work being done out there.
Your art has been exhibited on the walls of galleries and art spaces. How does context and audience figure into your creative decisions?
I have to admit that I tend to be a lot more at ease working on a page than in a physical space. It's just a totally different way of thinking and seeing things.
How has your relationship to poetry changed since the publication of your collection À l'école de l'amour? Do you continue to write poetry?
When I quit comics, I became a member of a community printing studio in Montreal, Atelier Graff. There I made many woodcuts, linocuts—mostly portraits—but eventually I went back to making fanzines, except this time silkscreen printing instead of photocopying them. I produced many little poetry books that way, experimenting with the shape of the books as well as the style of the writing. I worked on these projects before and after the publication of À l'école de l'amour.
Eventually I wrote a more ambitious project using cut-out words: my autobiography from birth to age 15. It is a narrative but very poetic in a funny, cut-out word way. It's 200 pages long and has been published by Seuil in France. With the cut-out syllables left over from that project I created new words—enough to print a dictionary. I also wrote abstract phonetic poetry; I just love the words, the designs, the sounds!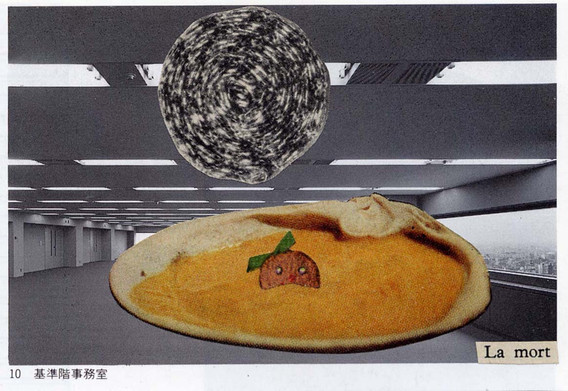 Julie Doucet. La mort (Death), from À l'école de l'amour. 2001. Collage
I wanted to—needed to—deconstruct everything.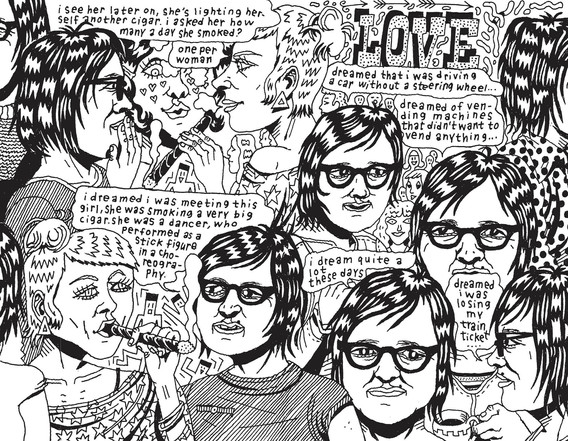 Julie Doucet. Time Zone J. 2022
Tell us about Time Zone J. What is it, and how did it feel to return to the comics form in this work?
I had this story in me that I wanted to tell but for years I just couldn't find a way to put it on paper. I first tried writing it as a novel, then as a film script, but nothing worked. I also went through a long period of not being able to draw. When that was over, I got myself a Japanese sketchbook and filled it with drawings of people, just like I used to do as a kid. I filled its pages with crowds of people. That gave me the idea for how to tell my story without actually illustrating it. So in Time Zone J, I return as a character/narrator who is telling the story amid a crowd of strangers, animals, and random objects.
The story is autobiographical. It takes place in 1989, when I was living in Montreal, making Dirty Plotte, and selling it through a mail order catalogue. That's how I met a French guy who was starting his mandatory year of military duty and was extremely unhappy about it. He'd ordered some of my comics and we became penpals.
When I made Time Zone J I hadn't drawn comics in years, and there was no way I was going back to the way I used to draw, either in terms of form or style. So for me this book was about a reappropriation of the comic form. I wanted to—needed to—deconstruct everything.
What are you working on now? And in what direction do you see your work heading?
I am working on a series of drawings for an exhibition of past, recent, and new work at Galerie Anne Barrault in Paris, which opens on November 30. Beyond that, I am not sure which direction I'll be heading in. I've always loved working with words and narrative, and I think that will remain an important part of my work. And I seem to be able to draw again.
What advice would you give to aspiring young artists and cartoonists?
Work every day, even if it's only for one or two hours. Keep exploring. And please don't stick to the one thing that works.