Conjuring Collective Memory
Dineo Seshee Bopape's evocative installation invites us to ponder the ocean's memory and history.
Artist Dineo Seshee Bopape's Projects exhibition features a presentation of her multichannel sound and video installation lerato laka le a phela le a phela le a phela / My love is alive, is alive, is alive (2022). Over the past couple decades, Bopape has become known for installations that explore natural materials such as water, soil, dust, and rock. Incorporating video recordings of the Caribbean and the Pacific Ocean, as well as audio recordings of coastal winds from Ghana and Senegal, this work pays homage to the 12 million enslaved people who crossed the Atlantic Ocean.
lerato laka le a phela le a phela le a phela / My love is alive, is alive, is alive was co-commissioned by TBA21—Academy's Ocean Space, a contemporary art organization and cultural ecosystem dedicated to fostering deeper relationships with the ocean. Bopape developed the work while at the organization's residency in Venice, Italy, and brings it to the US the first time.
While installing the exhibition, Bopape and I spoke about the evolution of the work on view and her distinctive approach to the presentation at MoMA.
—Martha Joseph, The Phyllis Ann and Walter Borten Assistant Curator, Department of Media and Performance Art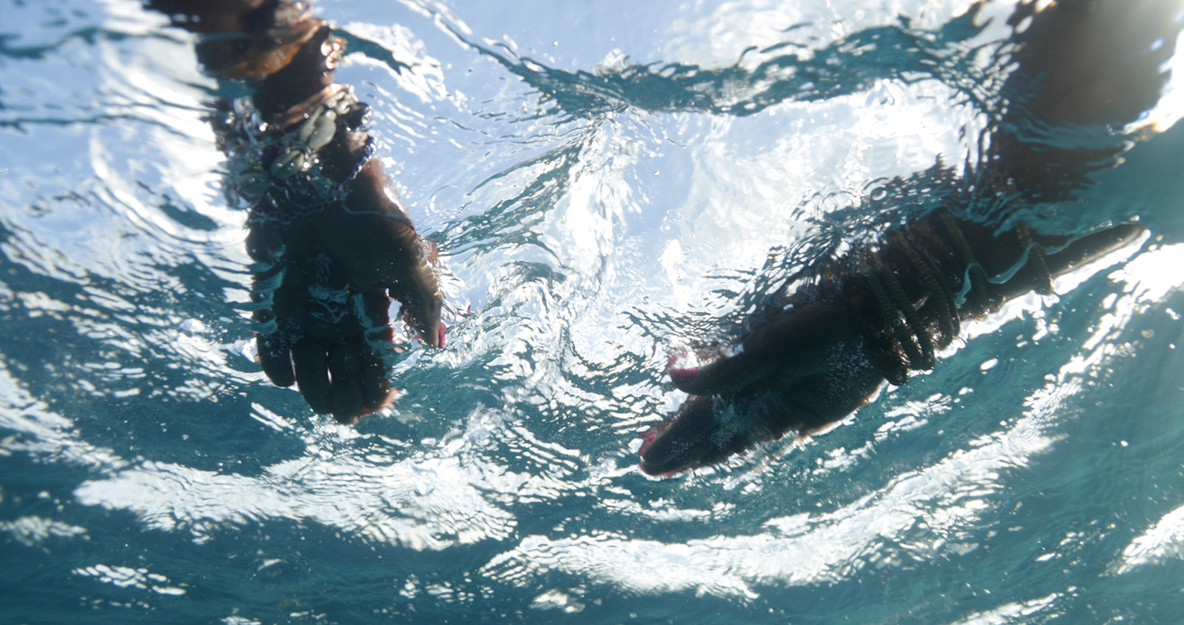 Dineo Seshee Bopape. Still from Lerato laka le a phela le a phela le a phela / My love is alive is alive is alive. 2022
Over the past couple years, you were often in different places across the world—Johannesburg, Richmond, Helsinki. Like you, the work we're showing at MoMA has traveled the globe. It was first presented in Venice, then Milan, Paris, and now New York. Each time the work has been shown differently. What was important to you about showing this piece for the first time on US soil, and how has this presentation changed? What did you want to highlight here?
It's the historical relationship of this land to the work. It became important for me to make visible the history of the transatlantic slave trade. And also the displacement of Indigenous people, and all the histories in between as well. The word that comes to mind is "offering"...what the offering of that is to the world. But I'm resisting using that word because it feels so loaded. How can somebody's pain offer so much to the world? What are the aftereffects, the afterlives of the transatlantic slave trade? There's so many threads and tentacles. And also I've been trying to map what was happening in my ancestral lineage when that was happening in the Americas: which generation, which grandfather, which grandmother was alive then? What were the circumstances in South Africa, Southern Africa, or the African continent?
I haven't heard you talk about your ancestral lineage in relation to the work before. What was it that you found when you were talking to family members or looking into that genealogy? What did that bring up for you?
It was less speaking to family members, but researching what has been written. I was also looking at documentation of conversations between Indigenous people and Europeans, recorded by missionaries or colonial agents. What would my great grandfather have been aware of? What would have been the things that influenced his life and trickled down to me? His education. His worldview. And also the colonials at that time as well. What did it mean that slavery was abolished in the Americas while another kind of slavery was happening on the African continent and in other parts of the world? What do those places mirror about each other?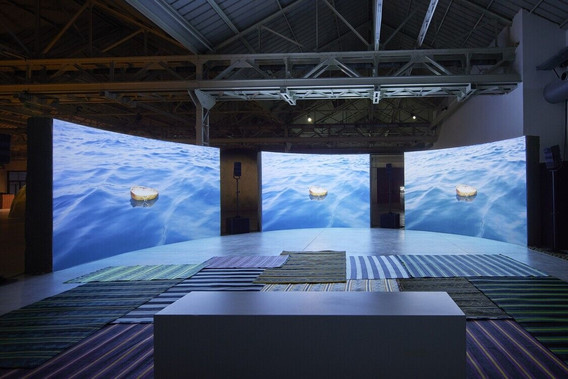 Installation view of Projects: Dineo Seshee Bopape, The Museum of Modern Art, New York, July 1–October 9, 2023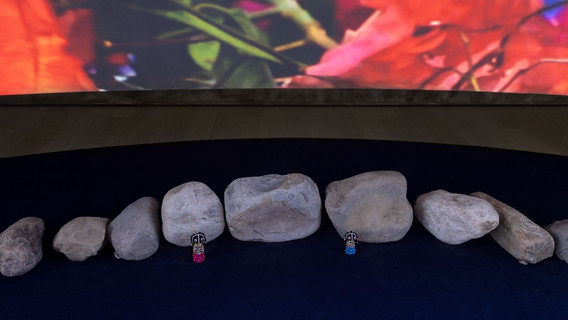 Installation view of Projects: Dineo Seshee Bopape
Can you take us back to that moment in the Solomon Islands when you first found the idea for this work? Or maybe the idea found you?
I kept thinking about the man called Peter, a slave, whose back was lacerated from whippings. And looking at the waves in the water, the changing shapes that reminded me of scars. And this image kept coming back to me over and over again. And then some of the islanders we came across kept asking me about Lucky Dube, who's a famous South African reggae musician. It's always surprising how much he's loved outside of his country. The only song of Lucky Dube's I could remember was "I'm a Slave." And I became curious about why it was the only one I remembered.
The show includes small ceramic works that are made of soil sourced from Menokin, a former plantation and historic home in Warsaw, Virginia. In collaboration with you, Menokin's Descendant Collective shaped these works into their current form—the imprint of a closed fist. When did you first collaborate with Menokin? And can you describe the works that you made for the show in Richmond, Virginia, which are now appearing again at MoMA?
Although I've been to the US, I'd never visited plantations. When I did, I thought about the land, the soil, walking on the slave trail. What does the land remember about the people who were there? Does the land hold memories? And also the slaves' descendants, what do they remember? And what does it mean to reconcile with land and the soil? While at Menokin I heard that there was a descendants group and I thought, "Perhaps we could ask them to partake in this, or to be involved, or see if they might respond to it."
I want to ask you about language in your work, because in the titles of your artworks, and also sometimes in your exhibition texts, you'll use Sepedi, which is your mother tongue. Is there anything you want to say about how you apply language in your work?
That's a big question, because it relates to so many things. The trajectory of history in the world. Languages that survive, languages that don't survive. To use them is to insist on a particular kind of presence. A language insists on placing certain memories into a space, or into a process. Every language has its own poetry. In English, for example, it's rare for somebody to say, "My love is alive." Some of the words aren't mine; they came in dreams. So using Sepedi is a way to connect with my ancestral lineages, because spirit has no language. But every language has its magic. Every language has its gifts.
Perhaps these materials, minerals, and elements know something about us that we can't always see about ourselves.
Dineo Seshee Bopape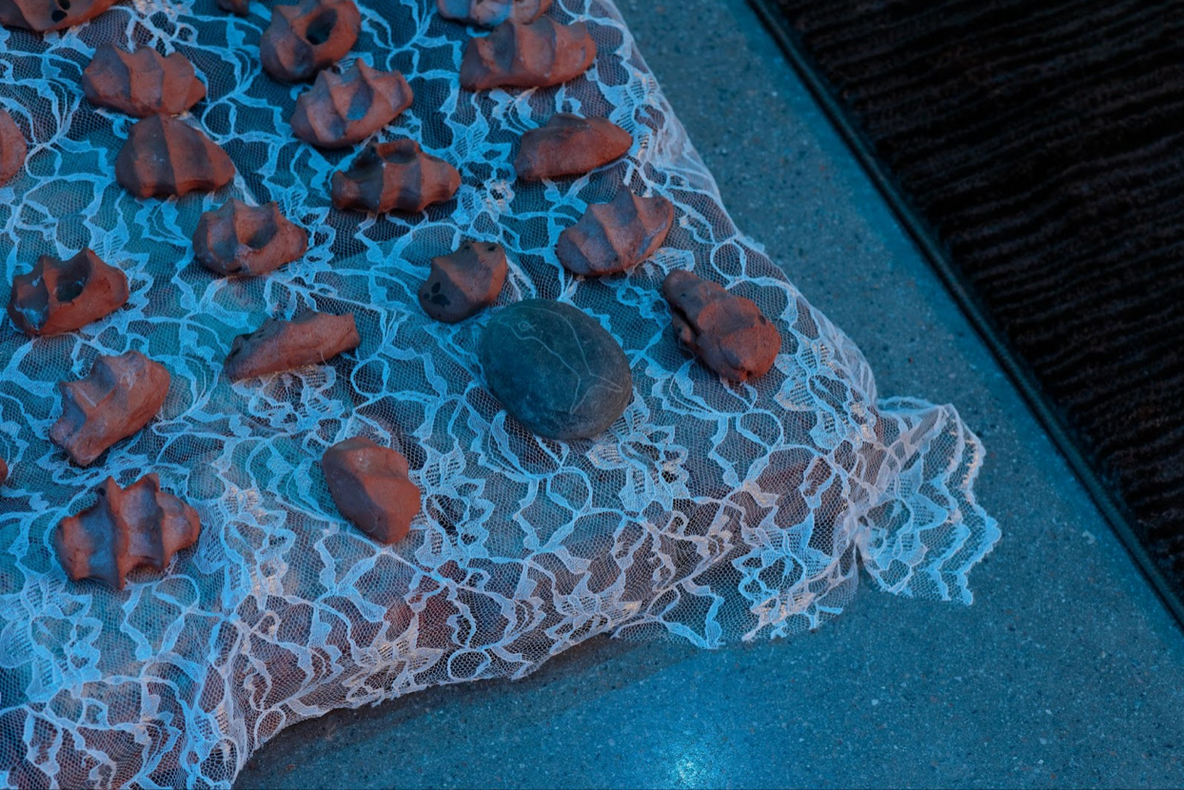 Dineo Seshee Bopape, installation view, Institute for Contemporary Art at VCU, Richmond, Virginia
The sound in the installation is so resonant. Particularly when you're in the circle and immersed in it and it's moving all around you. I know you come from a musical family. How do you think about sound in relation to your work?
Sound conveys so much that is perhaps unsaid or in the background. It connects with subconscious processes. All those places are singing in chorus. Different points are being attended to. It was important also to consider the vibrations and the frequencies as well. So there are different tones that come into the work. When I was recording the song in Jamaica in the studio, we tried to lay some instruments over a voice to make a song.
I want to go back to the timelines you spoke about earlier. Because you're working with natural materials like rock, soil, and water, and thinking about the memories that still live in them and are transmitted through them. And so there's this sense of time that feels more than human. It's not just ancestral, it's also geological and incredibly expansive. Can you talk about your approach to rock, soil, water, mountains, and thinking beyond the human?
When you drew a distinction between the ancestral and the geological, then it occurred to me whether they're the same thing, whether the geological is ancestral. I wondered whether we are made of the same materials as the water, or the mountains, or the trees. Whether they are grandparents, or mothers and fathers, who occupy a different way of articulating life and time and process. Perhaps these materials, minerals, and elements know something about us that we can't always see about ourselves. Or they remember differently. The memories that we can't seem to keep, they keep. For the sake of our day-to-day lives, it's apparently not useful to remember how many almonds one has eaten in one's lifetime. But a tree might remember the rainfall of a particular season. Or when Halley's Comet came.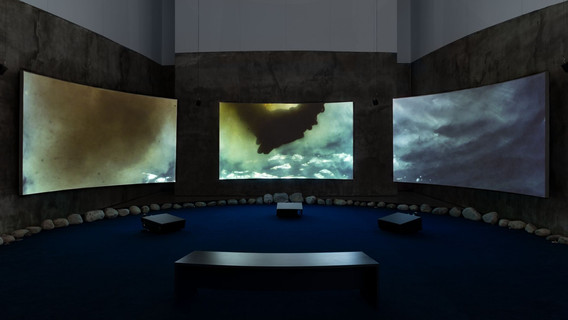 Installation view of Projects: Dineo Seshee Bopape
In conjunction with Projects: Dineo Seshee Bopape, the artist joins us on Monday, September 11, as part of MoMA's Modern Mondays series, to present a selection of her video work, followed by a discussion with curator Martha Joseph.