Ernest Cole's House of Bondage: A Look at Apartheid in South Africa
An image from Cole's photobook bears witness to the hardships and injustices of life under apartheid, inspiring change and challenging the status quo.
On the occasion of our May 2023 collection rotation of gallery 409, which highlights prints from Ernest Cole's House of Bondage, we look closely at one remarkable work from the artist's unflinching 1967 photobook. The essay below, by Katerina Stathopoulou, a former curatorial assistant in MoMA's Department of Photography, originally appeared in Among Others: Blackness at MoMA, edited by Darby English and Charlotte Barat.
Born in Eersterust, a Black township outside Pretoria, in 1940, Ernest Cole grew up under the South African system of apartheid. Obliged to attend a segregated school with a syllabus intended to provide Black students with an inferior education, he left at the age of 16 in order to concentrate on photography. His first substantial professional opportunity came in 1958, when he landed a position as a darkroom assistant to the German photographer and photo editor Jürgen Schadeberg at Drum, a magazine aimed at a Black readership.
During his time at Drum, Cole shot picture stories on the everyday life of South Africans and connected with other Black photographers, journalists, and political leaders. He also enrolled in a correspondence course at the New York Institute of Photography, concentrating on photojournalism. At the end of 1960, he left Drum to freelance full-time and work on the photographs that would eventually become House of Bondage, a daring picture book published to bear witness to the daily hardships of life under apartheid. But as he would later write, "I wanted [to] shoot the sort of things that I thought were important and I knew they would not print." The impossibility of publishing such a book in his home country, along with growing political pressure, led Cole to emigrate in 1966, first to Europe and eventually to New York, where House of Bondage appeared the following year. The book was immediately banned in South Africa.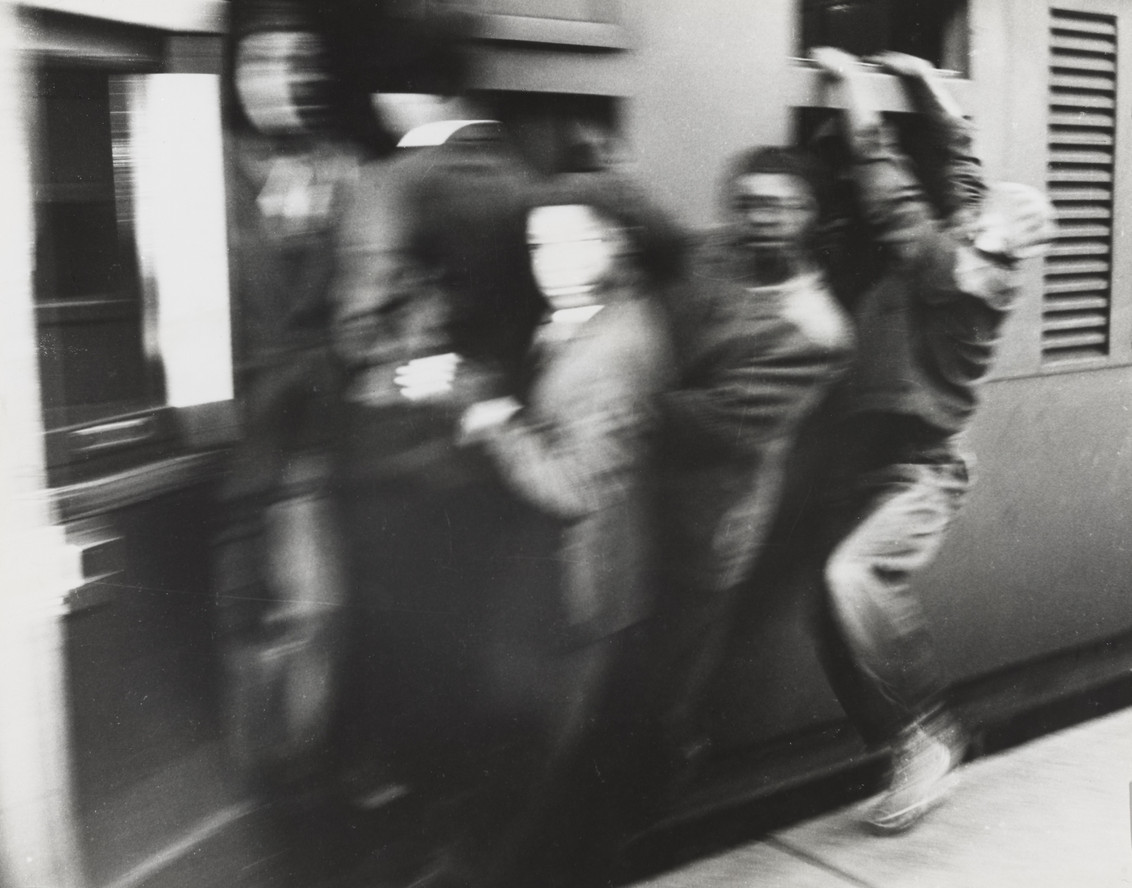 Ernest Cole. Untitled. c. 1960
The photograph here was included in House of Bondage in a group headed "Nightmare Rides." The sequence shows Black commuters waiting on overflowing station platforms, crammed in claustrophobic train cars, and chasing moving trains to get to work. Cole himself had experienced such conditions during his time at Drum, when a two-and-a-half-hour commute each way between Pretoria and Johannesburg had exposed him to the country's overcrowded and disordered railway stations and trains, with separate waiting areas and cars for Blacks who had been displaced to townships far from their jobs. In Cole's book, this particular image has the caption, "Train accelerates with its load of clinging passengers. They ride like this through rain and cold, some for the entire journey." On the verso of the print in the MoMA collection is a note typewritten at Camera Press, the agency that Cole had worked for in South Africa: "They Profit The Railways But IT'S CATTLE TRUCK CONDITIONS FOR AFRICAN TRAVELERS. The train is now moving at speed and these men must never relax their hold for the whole of their perilous journey."
Taken on the platform, the image captures the movement of the train as it pulls out of the station, demonstrating the pandemonium of this daily routine. Two of the figures trying to enter the train car appear to be staring at the camera, aware of Cole's presence, as another man clings to the car's window. The latter practice is called "washing" in the book, for when a train goes by at speed, the passengers hanging from it look like clothes on a clothesline. In contrast to apartheid-era images by Cole where the subjects are clearly defined, the faces here are blurred to the point where they are unidentifiable, erasing their individuality. The image takes on a more sinister meaning from the book's reference to Black commuters accidentally killed by passing trains.
In 1999, Cole became the first black South African photographer to be represented in the collection of The Museum of Modern Art. At the time of this reprinting, five out of the 11 South Africans with work in MoMA's collection are artists of color.