Ming Smith: Invisible Man, Somewhere, Everywhere
Read an excerpt from MoMA's One on One series, focusing on Smith's photographic response to Ralph Ellison's Invisible Man.
One particularly poignant image in Ming Smith's Invisible Man series—the photograph titled Invisible Man, Somewhere, Everywhere—is a moody, indeterminate street scene. A lone figure occupies the center of the composition; head stooped, hands in pockets, he drifts down a desolate, snow-covered street at night. Illuminating the subject obliquely, a line of street lights expose the outer edges of legs and feet, while torso and head encased in a bulky winter coat blend into the shadow of a looming building. But the figure in Smith's photograph, shrouded in darkness, never fully takes shape: he remains invisible.
Despite the image's straightforward composition, its meaning is elusive. Is the figure hurrying to get out of the cold or walking to ward it off, no destination in mind? Who is this individual? How old is he? What is his life like? The image affords no answers. In the embrace of the night, the figure dissolves before one's eyes, wavering at the threshold of visibility. In an oscillation between light and darkness evocative of Ellison's literary workings, Smith's deft deployment of long exposures invites a dissolution of the boundaries between figure and back- ground while somehow maintaining a precise articulation of form.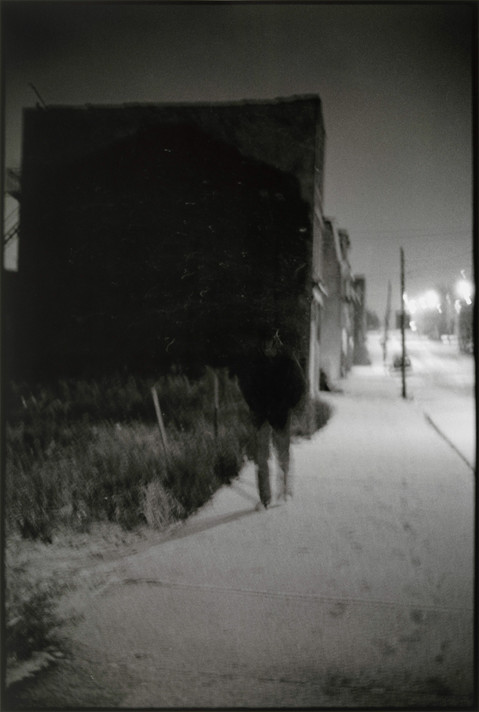 Ming Smith. Invisible Man, Somewhere, Everywhere. 1991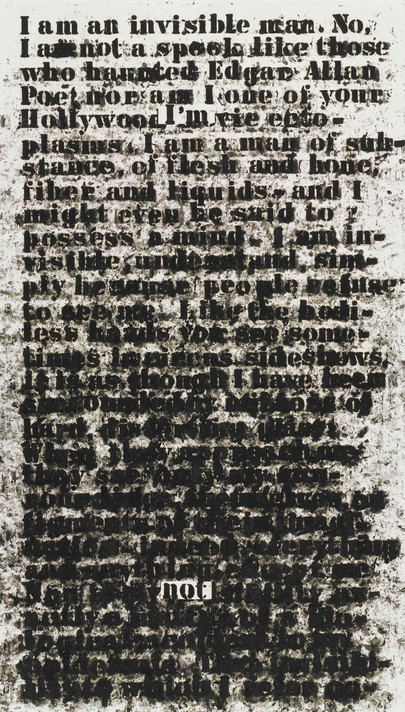 Glenn Ligon. Untitled (I am an invisible man). 1991
Smith is not the first artist to take Ellison's novel as a source of inspiration.1 In fact, the same year that Smith made Invisible Man, Somewhere, Everywhere, Glenn Ligon transcribed the novel's opening lines on a 30 × 17 1/4 inch sheet of paper. Filling the white plane with stenciled oilstick letters, Ligon embraced the conditions of the work's making, allowing the increasing accumulations of oilstick on the stencil to smear, so that Ellison's text visibly deteriorates into a muddy mass of black the further one moves down the length of the composition. Ultimately obliterating the legibility of the letters, Ligon generates a mode of abstraction that illuminates the passage's meaning by obscuring it.
It is important to note that the potent relationship between Ellison's Invisible Man and the visual arts is not unidirectional. Photography in particular was a generative medium for Ellison, who supported himself as a photojournalist and portraitist during his many years of work on the novel. Interestingly, Ellison wrote parts of Invisible Man while house-sitting, in 1950, for a photographer whose images have become emblematic of Harlem: Gordon Parks.2
Parks and Ellison were close, and they collaborated on two projects that took the Manhattan neighborhood as their shared subject. The first was titled "Harlem is Nowhere" (1947) and focused on the Lafargue Clinic, the first non-segregated mental health facility in New York City. The piece was never published. However, their second collaboration, "A Man Becomes Invisible," would appear five years later, on three pages of the August 25, 1952, issue of Life Magazine. Parks used Ellison's work as a jumping off point; he didn't merely re-create scenes from the novel but rather stretched its imagery and themes to create photographic compositions verging on the surreal.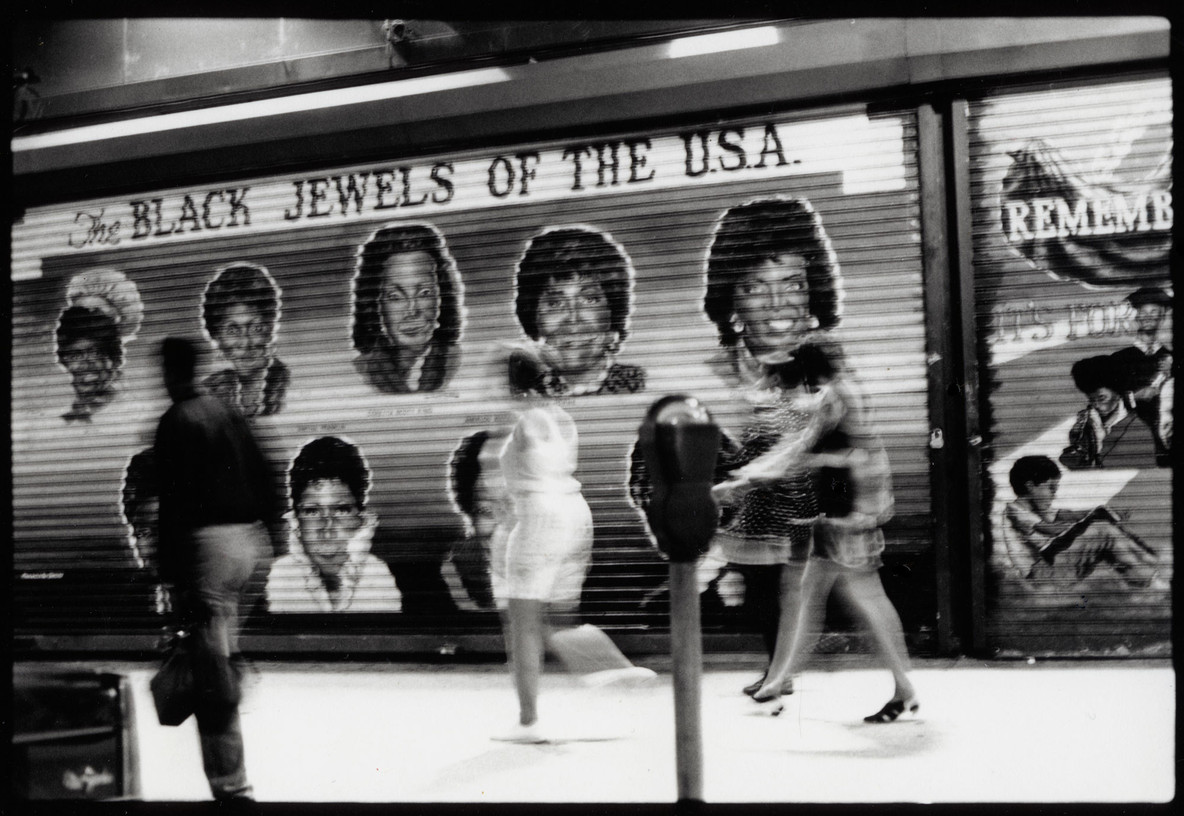 Ming Smith. The Black Jewels of the U.S.A. II. 1991
In contrast to another iconic image-text pairing of the time that also focused on Harlem—Roy DeCarava and Langston Hughes's intimate study of Black interior life, The Sweet Flypaper of Life (1955)—Parks's "A Man Becomes Invisible" paints a bleaker picture of the neighborhood. Photographically, one might conceive of Smith's Invisible Man series as a photographic bridge between the respective poles of Parks and DeCarava. Her images embrace the at times defiant, at times glamorous energy of Harlem while not shying away from its brittle edges, its legacies of pain and disregard.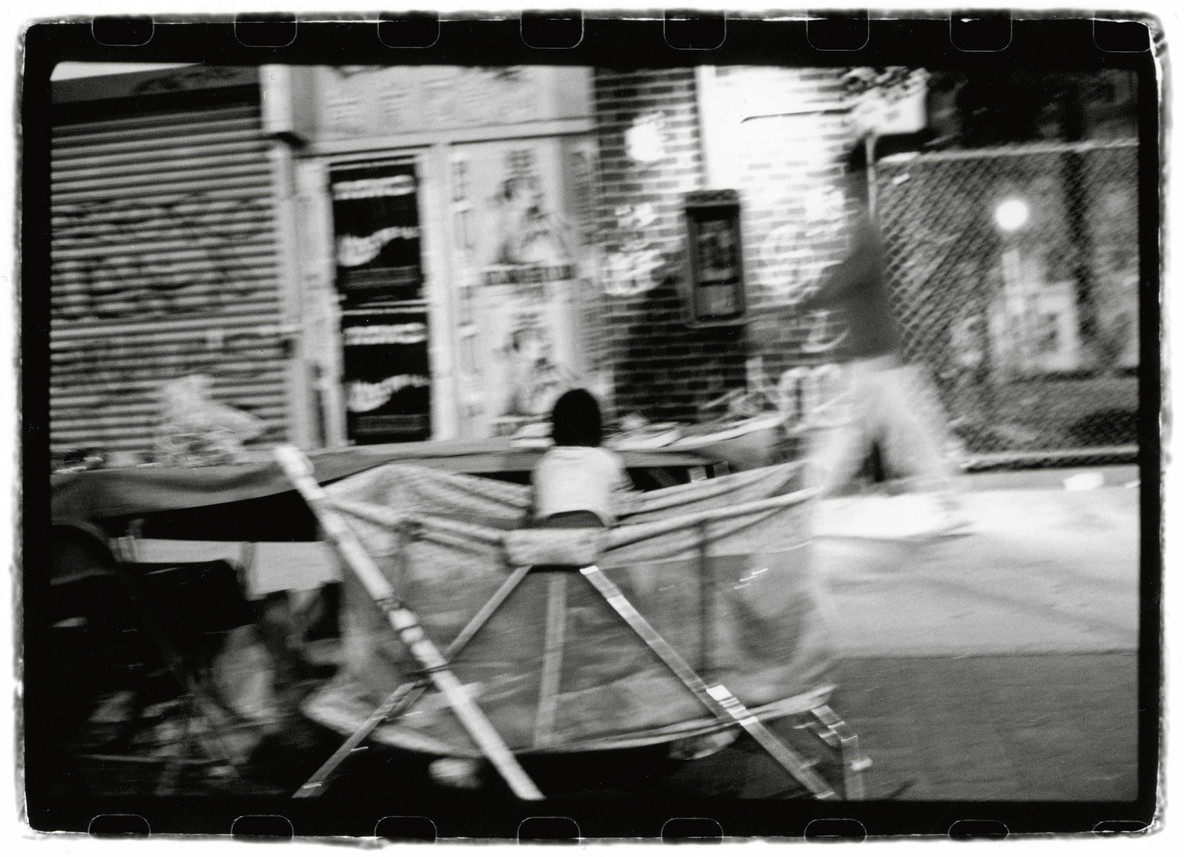 Ming Smith. "Little Brown Baby Wif Spa'klin' Eyes," Paul Laurence Dunbar. 1991
Just as Invisible Man, Somewhere, Everywhere, having been shot in Pittsburgh, tied the series to August Moon for August Wilson, Smith embedded a sly trace of Pittsburgh in her Invisible Man images made in Harlem, titling one of the photographs August Blues. Here, the faint outline of the subject's calves are the only clearly identifiable corporeal components. Like a phantom, the figure streaks down an avenue, rendered in profile and lit by the glowing moon above.
Invisible Man, Somewhere, Everywhere exemplifies Smith's approach as a photographer and artist. From the literary allusion embedded in its title to the rhythm of the composition, the image demonstrates her affinity for interdisciplinary engagement and her commitment to illuminating the structural and psychological tensions that animate manifold experiences of Blackness. Invisible Man, Somewhere, Everywhere is fertile ground for exploring Smith's distinct manner of picture-making—one attuned to bodily movement and devoted to the poetry of light and shadow. If Ellison asks, "Would this compulsion to put invisibility down in black and white be thus an urge to make music of invisibility?" Smith responds by doing precisely that.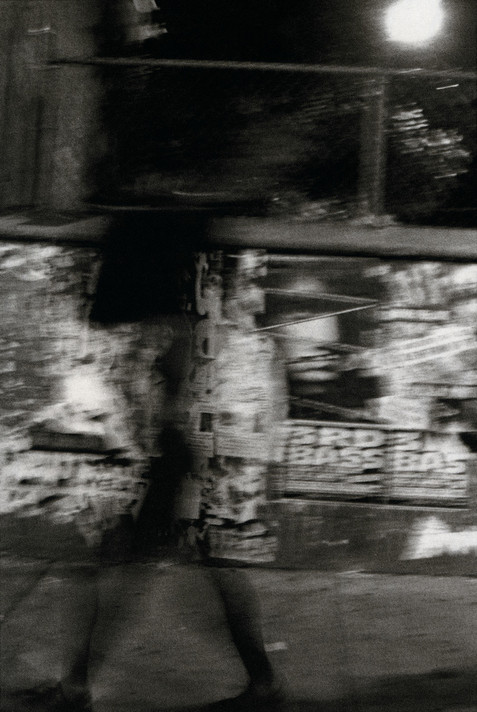 Ming Smith. August Blues, Harlem, New York. 1991
The exhibition Projects: Ming Smith, organized by Thelma Golden, Director and Chief Curator, The Studio Museum in Harlem, and Oluremi C. Onabanjo, Associate Curator, Department of Photography, The Museum of Modern Art, is on view at MoMA through May 29, 2023.
Other artists who have engaged Ellison's Invisible Man include Elizabeth Catlett, Kerry James Marshall, Faith Ringgold, Shawn Walker, and Jeff Wall. See Nicole Rudick, "Nearly 70 Years Later, 'Invisible Man' is Still Inspiring Visual Artists," T Magazine, June 11, 2021. Online: https://www.nytimes.com/2021/06/11/t-magazine/invisible-man-ellison-art.html.