Gretchen Bender's Dumping Core
Watch Bender's mid-1980s video experiment in "purely electronic 'media-theater.'"
Gretchen Bender's Dumping Core screened here April 20–May 4, 2023. The video is no longer available for streaming. Join us for the next Hyundai Card Video Views, screening on May 24.
Gretchen Bender was a visionary commentator on the televisual age whose work has continued to resonate in new ways amid the evolution of mass media culture. Bender once wrote, "I believe that an acceleration into, rather than a resistance to, our multilayered visual environment will reveal structures or open windows to the development of a critical consciousness we can't yet perceive as useful from within our immediate vantage point." In 2016, MoMA acquired Dumping Core (1984), her groundbreaking 13-monitor, four-channel video installation. The work had been staged only four times between 1984 and 1986, and there was little extant documentation. Since the artist passed away in 2004, the Museum would need to reconstruct the work without her direct involvement.
When MoMA's media conservators reconstructed Dumping Core for display in 2019, we realized that its raw qualities—its tape glitches, frenetic editing, and varying audio mixes—are in fact critical elements of the piece. Archival materials corroborated our understanding that she intended for the work to be immersive and "overwhelm" the audience, but that it should also be presented somewhat theatrically, with seating, to suggest a stage play. Through conservation-oriented research into Bender's practice, interviews with her friends and collaborators, close collaboration with outside experts such as video engineer Maurice Schechter, and assessment and digitization of the original one-inch open-reel video masters, the work was brought back to life.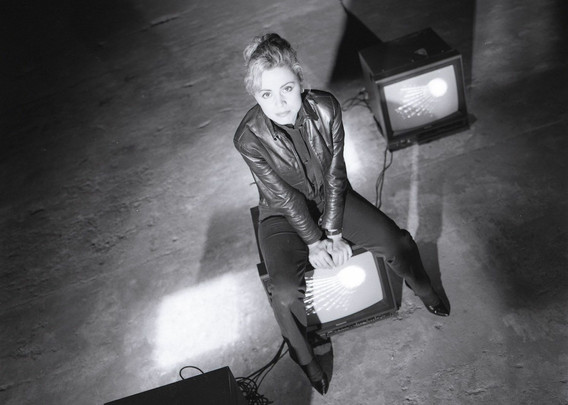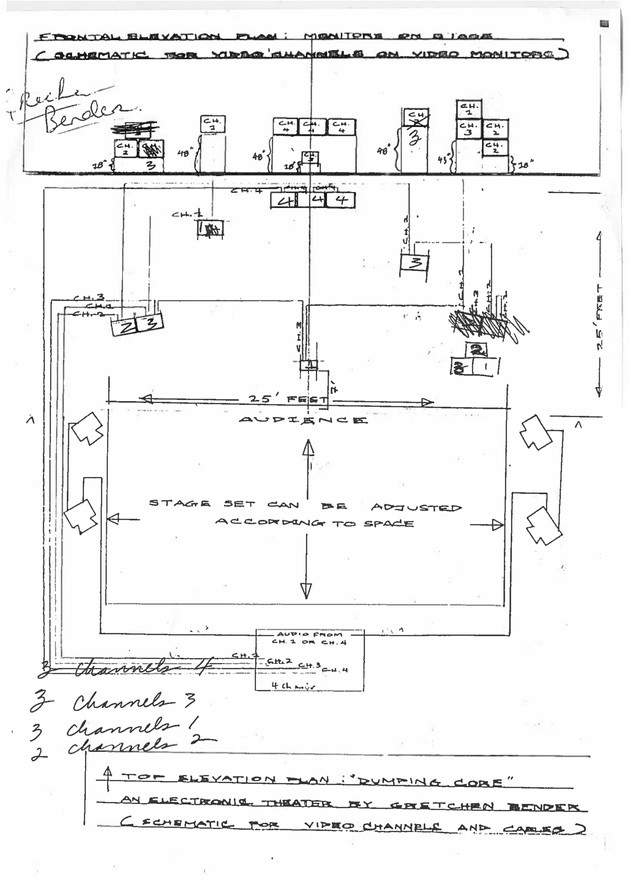 MoMA Media Conservators used this diagram, drawn by the artist, to guide the restoration and installation of Dumping Core.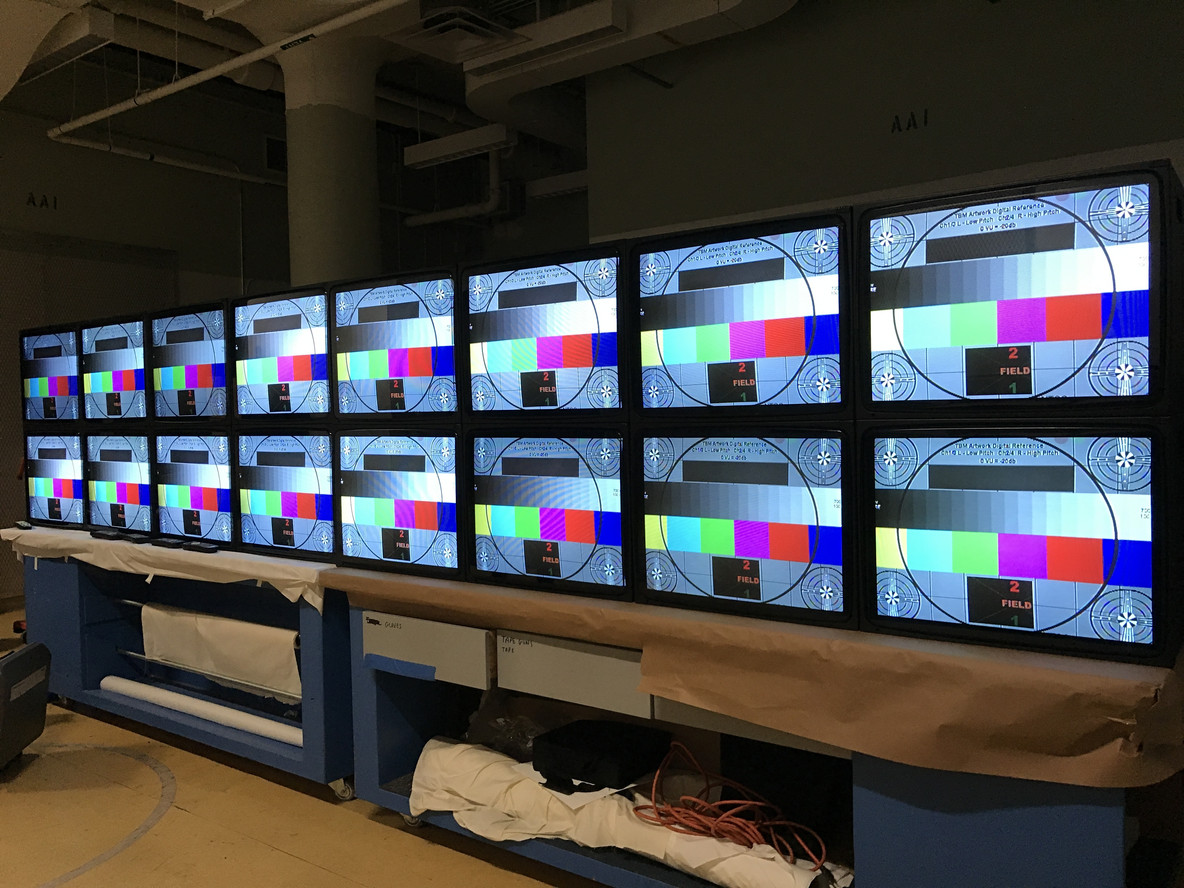 To ensure uniformity of color and brightness, which is critical to *Dumping Core*'s presentation, media conservators calibrated each cathode-ray tube (CRT) individually and collectively.
Bender came to New York City in 1978 and quickly fell in with the Pictures Generation, befriending artists such as Jack Goldstein, Cindy Sherman, and Robert Longo. Pictures Generation artists mixed elements of Conceptual and Pop art, as well as popular culture, to examine the cultural and political codes inherent to those movements. Bender and Longo had begun to collaborate on music videos for the recently launched MTV, and Bender cut her teeth by editing them. She developed a quick, frenetic editing style that would later become a critical aspect of her electronic theater pieces, and can be seen most prominently in the opening title credits of the TV show America's Most Wanted, which were originally edited by Bender.
Beginning in 1982, Bender began to work with television in a more concentrated way, creating an art form that she called "electronic theater." As she described it in a 1999 Guggenheim fellowship application, "This experience of 'staging art' led to my creation of a hybrid genre of performance art—that of a purely electronic 'media-theater' in which the performers were television and film screens. Their images were choreographed to move through the height and depth of a black void of a space or theater, which eventually conjoin and splinter into conceptual configurations. This work also referenced the spectacular nature of corporate-convention media presentations."
The video composite we are presenting online is a virtualization of Dumping Core that we prepared prior to installation in order to assess the timing of the piece and the positioning of the cathode-ray tube (CRT) monitors in the gallery space. We often do not get to see the fully realized artwork until it's installed in our galleries, so tools like these serve as critical references for conservators. While this mock-up pales in comparison to the work as it's meant to be experienced—overwhelming the audience in a darkened theatrical environment—it provides a clear representation of Bender's highly sophisticated editing pattern and the technical feats she was able to achieve with analog video in this prescient and unsettling work.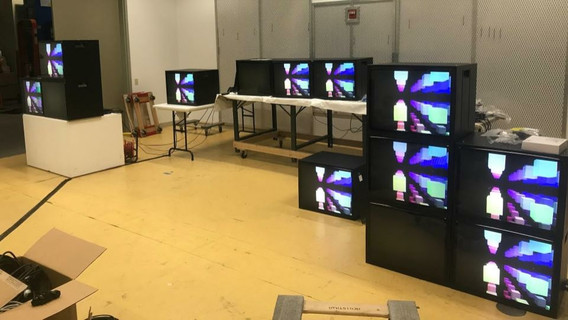 To test playback of the piece, with particular attention to the timing of the edits in the work, various mock-ups were conducted in advance of installation in the galleries, particularly in the timing of the edits.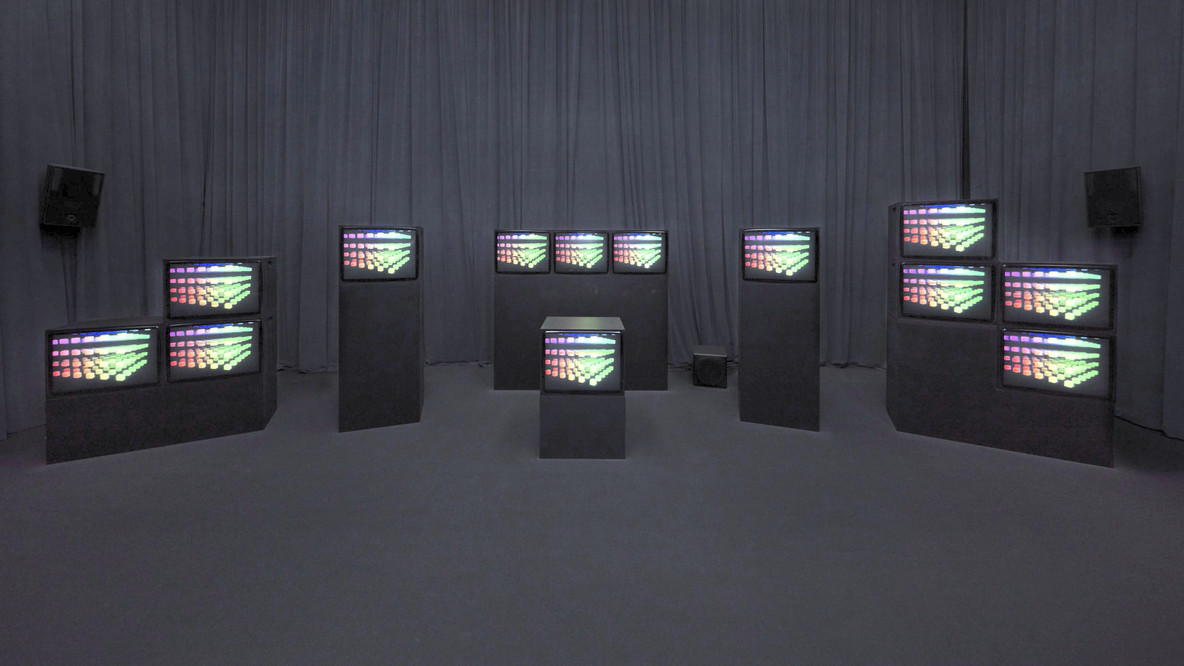 Finally, this image shows how the piece is installed in the gallery, before the lights have been switched off.
You can experience Gretchen Bender's Dumping Core in Gallery 204 through April 30, 2023, and the artist's TV: Text and Image (Donnell Library Center Version) (1990) in the exhibition Signals: How Video Transformed the World, on view at MoMA through July 8, 2023.