Culture Intercom: Stan VanDerBeek's Movie-Drome
Explore VanDerBeek's "experience machine," first built in 1965 to connect the world through the "visual velocity" of immersive image networks.
In November 1965, Stan VanDerBeek wrote to the Rockefeller Foundation requesting support for Movie-Drome. VanDerBeek was constructing a prototype of this "experience machine," as he called it, at the Gate Hill Artists' Cooperative in Stony Point, New York, in a prefabricated aluminum grain-silo dome. There he had begun testing both the technical equipment and experimental film and slide materials that were to be projected across the dome's 31-foot-diameter interior surface as a way to facilitate a certain "mental mutation" in its audience, lying prone on the floor. As VanDerBeek would frequently reiterate, most famously in his 1965 manifesto "Culture: Intercom and Expanded Cinema," the Gate Hill Movie-Drome was conceived as one node in a worldwide network served by an "artist interchange."
VanDerBeek explained in his letter to the Rockefeller Foundation that he sought to develop an "'international picture language' that overcomes verbal and semantic blocks" as a means to "relieve world tensions." "The most important concept of this 'experience machine,'" he wrote, "is to make the world audience 'self' conscious of itself, which I think is an essential step in the bringing about of peaceful co-existence." To this end, he proposed that Movie-Drome would present programs of varied audiovisual content ranging in length from 30 minutes to two hours, including what he called "the entire visual history of western man . . . from the Egyptians to the present." Employing 16mm film projectors, slide projectors, overhead projectors, spotlights, and a quadraphonic sound system, Movie-Drome brought together newsreels, found film, and VanDerBeek's own animated and collage-based films, along with drawings and art historical, anthropological, commercial, and popular images, to create a disjunctive, overlapping, and ever-transforming field of information.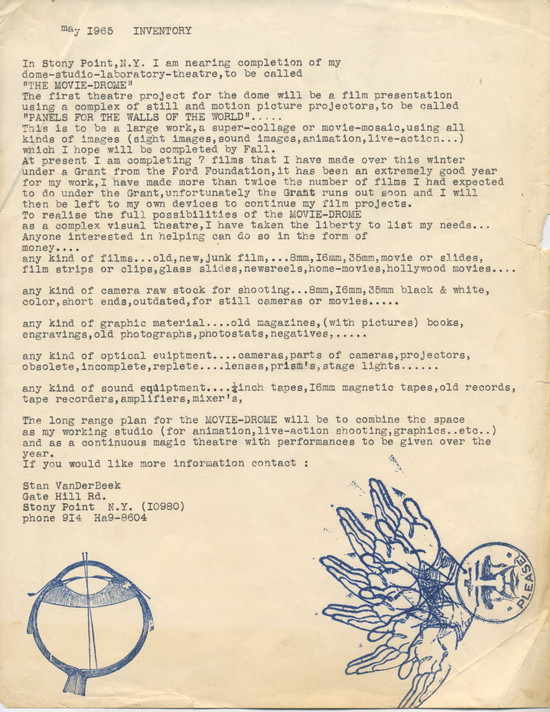 Letter from VanDerBeek about completion of Movie-Drome, 1965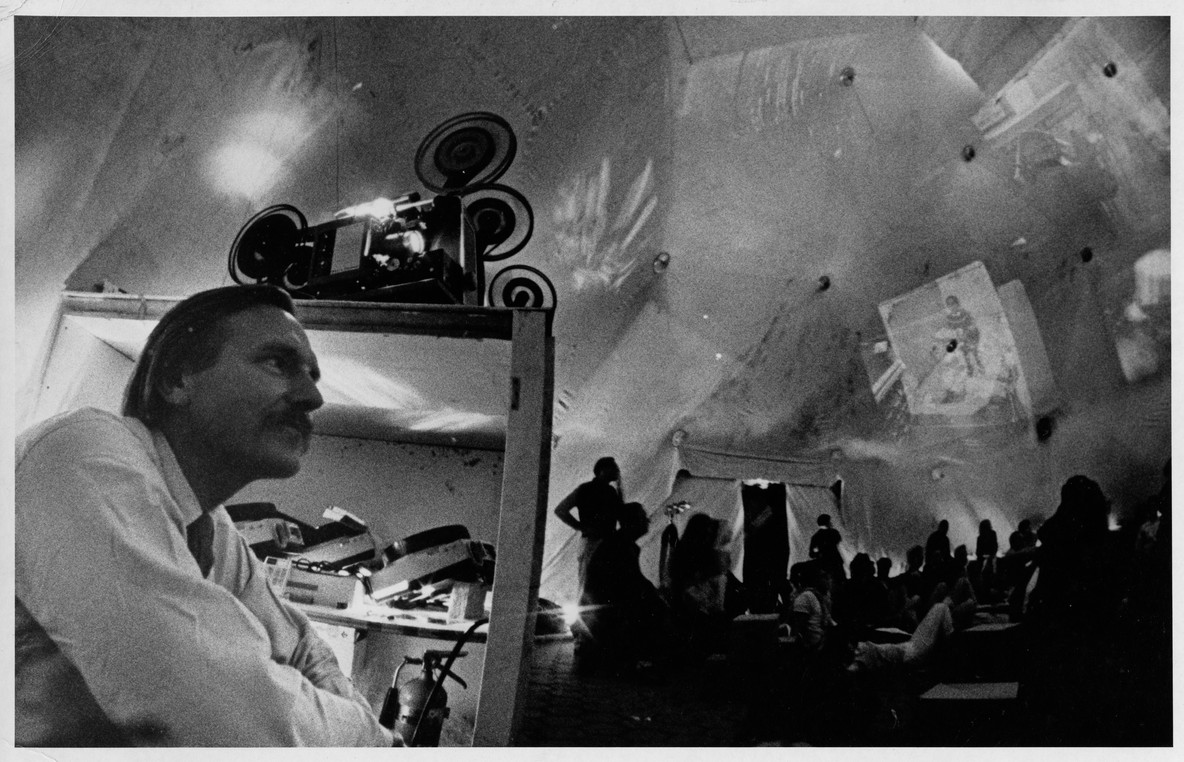 VanDerBeek in Movie-Drome at Design-In, Central Park, 1967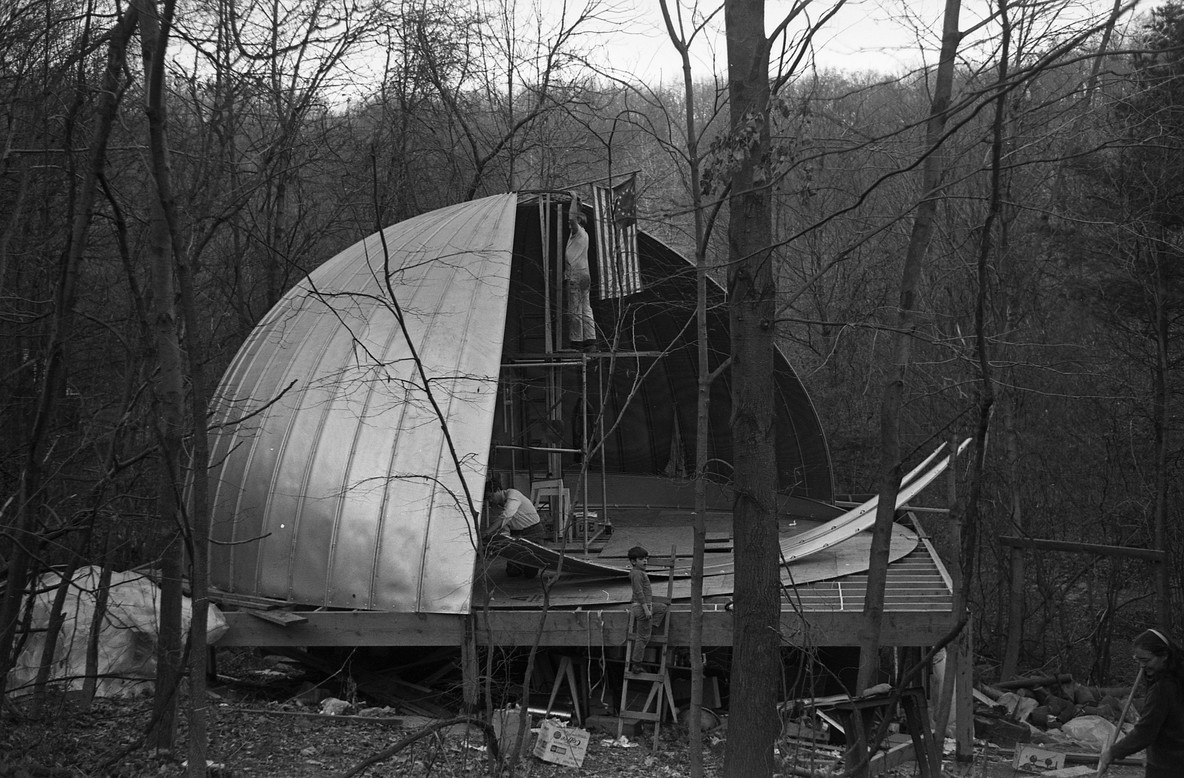 Movie-Drome under construction, Stony Point, New York 1964
At the height of Cold War tensions, deploying such a media-technical apparatus in service of world peace might have seemed an urgent task for artists, technological advances having long fueled idealistic visions, originating in the Global North, of worldwide communication systems as means for overcoming enmity (despite so much evidence to the contrary). VanDerBeek's vision for "international education" had an avowed target: Movie-Drome, the artist announced—mobilizing the linguistic tropes of international aid—would allow "the over-developing technology of part of the world to help the under-developed emotional sociology of all of the world to catch up to the 20th century." As he saw it, Movie-Drome's media, operating with an accelerated "visual velocity" and a distinctly teleological disposition, might be deployed as both an expansion of the public sphere and a tool of subjective modernization worldwide—part of a global development apparatus. It is not surprising that this vision appealed to the Rockefeller Foundation, a key player in forging new scripts of global governance; the organization gave the artist a grant in 1965.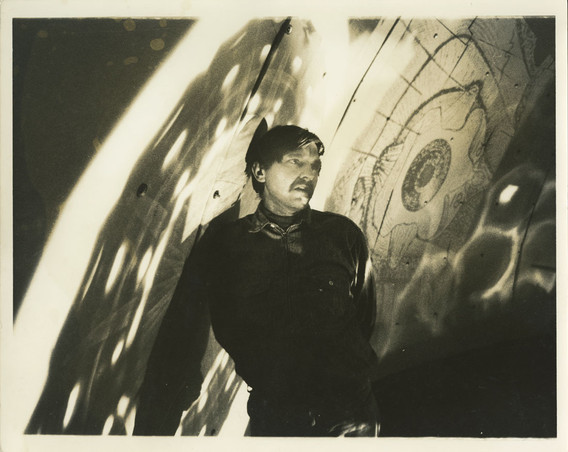 VanDerBeek in Movie-Drome, Stony Point, New York, 1967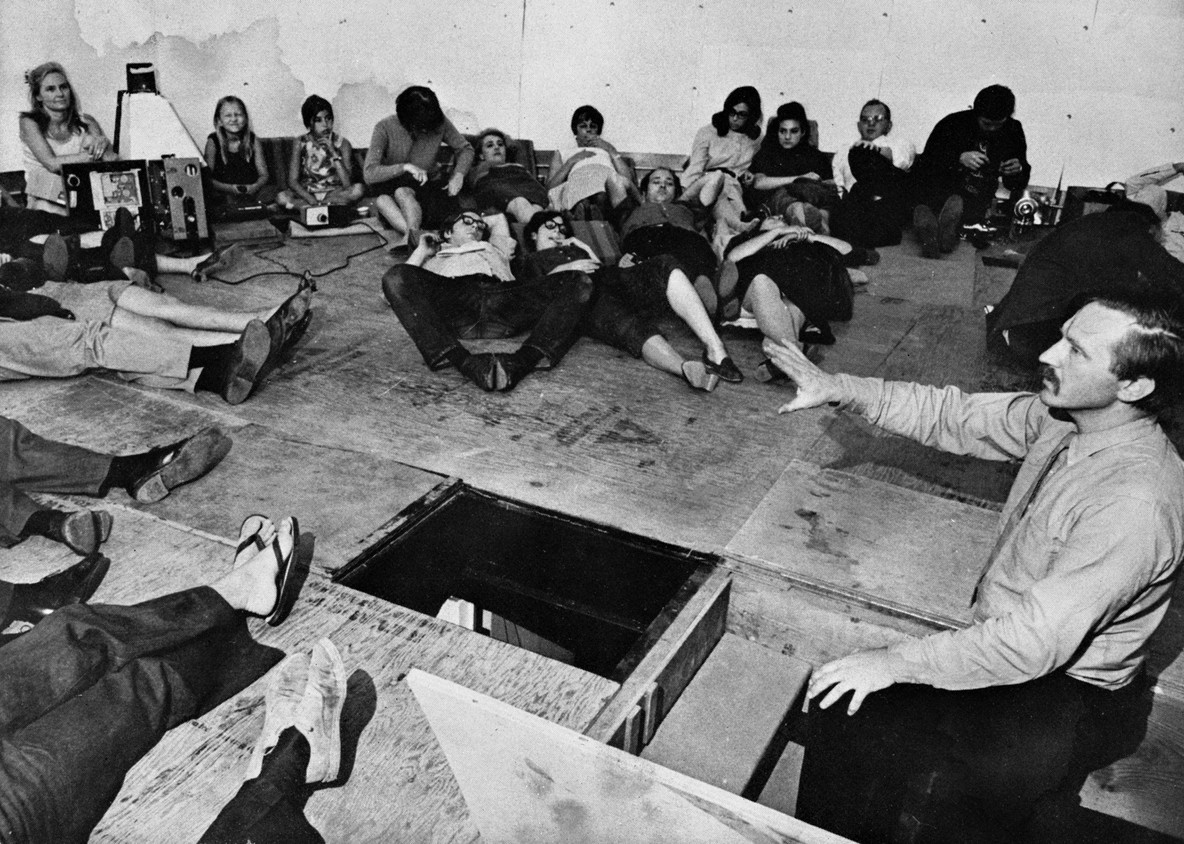 The artist leads a tour of Movie-Drome for the New York Film Festival, Stony Point, New York
Stan VanDerBeek. Home and Dome. 1964. Courtesy Estate of Stan VanDerBeek
Most accounts of Movie-Drome recall that it debuted as part of the New York Film Festival, when, on September 18, 1966, Shirley Clarke, Annette Michelson, Agnès Varda, Paul Morrissey, Andy Warhol, and other figures from New York's downtown scene were bused to Gate Hill for VanDerBeek's expanded-cinema program Feedback. VanDerBeek did not see his "culture intercom" realized beyond the Stony Point prototype, except for one staging in a temporary geodesic dome fora Central Park "Design-in" in 1967. What might have happened if the artist's test subjects had hailed not from New York's artistic avant-garde but from the imaginary world community he envisioned? What if his apparatus of subjective transformation had been grafted onto the so-called developing world, armed, as it was, with a spirit of idealism that paid little attention to its own ambiguous and ambivalent political disposition? The Egypt in VanDerBeek's "visual history of western man" was not that of the 1960s—a country then marked by the violent legacies of colonial rule and by modernization engineered by economic-development experts from the North. And Movie-Drome's art-historical images, like the institutions and discourses then advancing Western culture, were far from neutral; they came with a political disposition, too.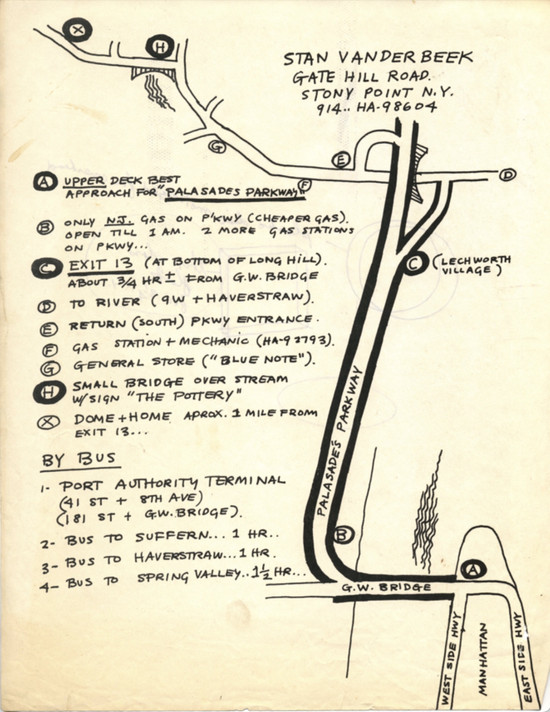 Directions to Movie-Drome written by VanDerBeek, 1964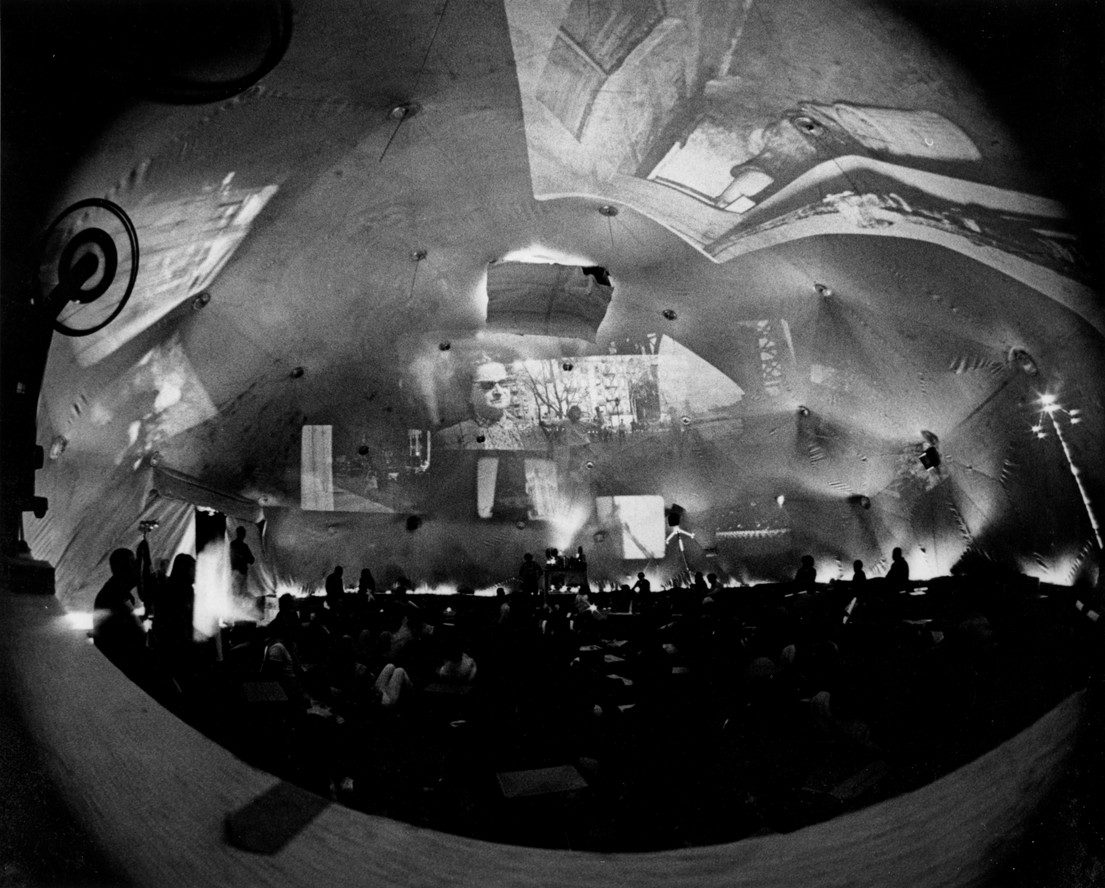 Stan VanDerBeek's Movie Drome at Design-In, Central Park, New York, 1967
Vanderbeekiana! (excerpt). 1968. Produced and directed by Nick Havinga. 16mm film transferred to video (color, sound), 29 min. © Creative Arts Television. Courtesy Re:Voir
This is not to suggest that the intended targets of Movie-Drome's expanded network in Africa, Asia, and Latin America would have been any less cognizant of the powers at play in such a setup or any less likely to interrupt, appropriate, critique, allegorize, or expose the political and economic entanglements at work. It is, rather, to wonder how the work's discordant and heterogeneous aesthetic potentials might have functioned otherwise within an expanded geography, how they might have been uncoupled from normative and technocratic regimes bent on particular modes of modernization and even become tools of solidarity. In an era when the near-instantaneous global circulation of audiovisual media takes place not through "culture intercoms" but through smartphones and personal computers, an era that has witnessed the rise of peer-to-peer sharing and citizen journalism along with artistic engagements with these platforms, such questions are particularly salient.
At a world scale, how might VanDerBeek's project have navigated or repurposed such ambivalences? How might it have operated differently, even helping to shift its own disposition as a burgeoning media-technical apparatus with a developmental telos, complete with regulatory function? How could it have put its heterogeneity to work to test the new types of political space that might open up within an ever-transforming public sphere?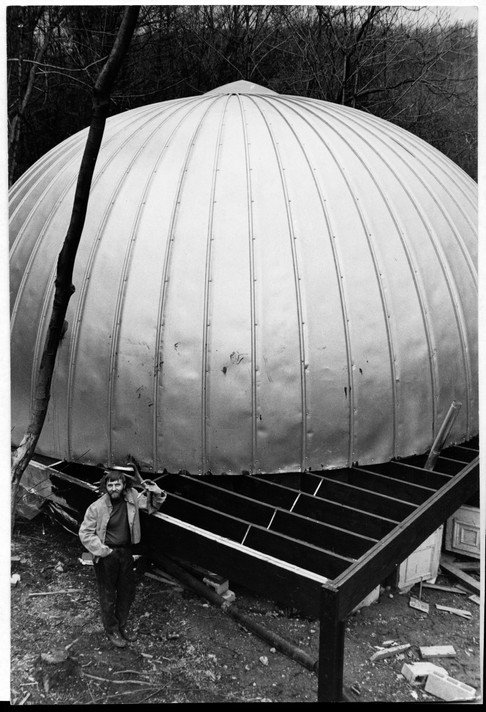 Stan VanDerBeek in front of Movie Drome, Stony Point, New York, 1964
Felicity D. Scott's essay appears in the exhibition catalogue for Signals: How Video Transformed the World, the MoMA exhibition for which the Movie-Drome has been reconstructed. Special thanks to the estate of Stan VanDerBeek for providing archival materials.

Signals: How Video Transformed the World, organized by Stuart Comer, The Lonti Ebers Chief Curator of Media and Performance, and Michelle Kuo, The Marlene Hess Curator of Painting and Sculpture, with Erica Papernik-Shimizu, Associate Curator, Department of Media and Performance, and Lina Kavaliunas, Curatorial Assistant, Piper Marshall, Exhibition Coordinator, Eana Kim, Marica and Jan Vilcek Fellow, and Rattanamol Singh Johal, Mellon-Marron Museum Research Consortium Fellow, Department of Painting and Sculpture, is on view at MoMA March 5–July 8, 2023.