I Have Made This Drawing Several Times
Read an excerpt from the catalogue for the exhibition Georgia O'Keeffe: To See Takes Time.
From the beginning, Georgia O'Keeffe made drawings, and she made them in series, whether explicitly linked or loosely connected, made in rapid succession or unfolding over time. Her early letters to Anita Pollitzer, her classmate and confidante, are filled with descriptions of "doing the same thing over and over again," for a variety of reasons.1 She made multiple compositions because she was dissatisfied with the results and wanted to keep going until she got it right ("It looks rotten. Im going to start all over again tomorrow").2 She drew and drew because she was having fun ("Ive been working like mad all day—had a greatime—Anita—it seems I never had such a good time").3 She kept going in order to find out why she was drawing in the first place ("Thought I knew what I was going to try to do but I find I dont—and I guess I'll only find out by slaving away at it").4 She even described the practice as a kind of compulsion: "A fever for painting and drawing"5 or an experience in which "you have done a thing over and over again till it gets to be sort of a mania."6 Eventually—as she wrote to Alfred Stieglitz, the gallerist and photographer who took Pollitzer's place as her primary correspondent, and who would later become her husband—her determination to "make this thing" and be "perfectly sure that I'll have to make it again" became a refrain, a series of confessions that add up to something like a statement of purpose.7 "I've been making it over—this is the fifth,"8 she wrote; then, a few weeks later, "I shut my teeth right tight and think I'll go at it again."9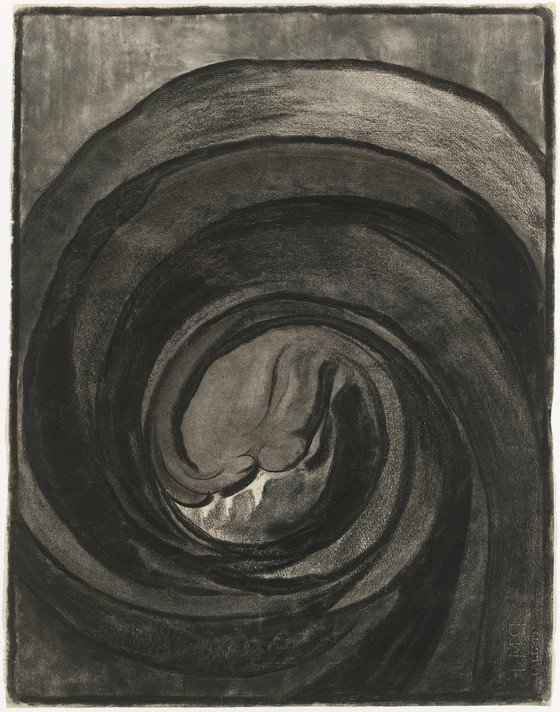 Georgia O'Keeffe. No. 8 - Special (Drawing No. 8). 1916. Charcoal on paper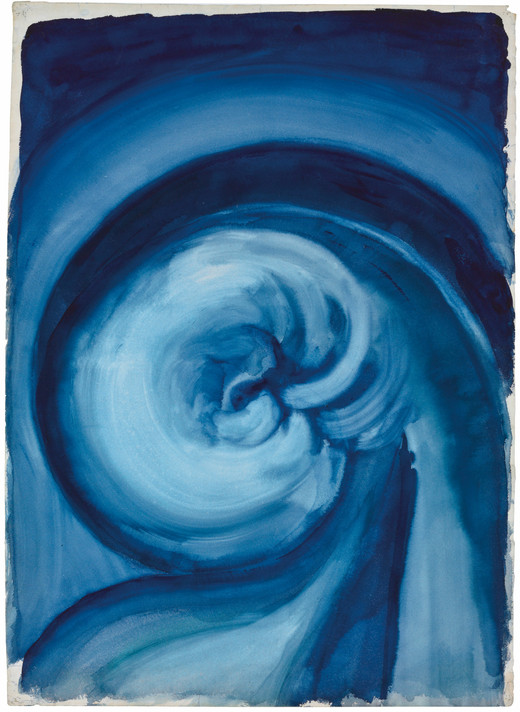 Georgia O'Keeffe. Blue I. 1916. Watercolor on paper
For an artist at the beginning of her career—who "indulged in the joy of labor"10 and who believed "there is a fascination about trying"11—the act of drawing, whether in charcoal, watercolor, graphite, or pastel, was expedient and economical, the best way, she said, to "express myself"12 and to "relieve my mind."13 The relative affordability and accessibility of materials, the ease of setup and cleanup, and the directness of the technique were all advantages for someone finding her visual language through repetition and experimentation. Working as an art teacher, as she did for the first seven years of her career, she had to make room for her own practice when and where she could, and with the materials she could access and afford.
From a teaching post at Columbia College, South Carolina, in 1915, O'Keeffe described the efficiency of drawing to Pollitzer, how working in one of two studio rooms was "very convenient" in that "I can always just leave things and lock the door—it makes it so much easier to work at odd times than if I had to pick everything up."14 The next year, from another position, this time at West Texas State Normal College, she reported, "I usually worked in the evening . . . always on the floor . . . never have enough room any other place,"15 and later recalled that at the time she had "worked in watercolor because I never had the time for oils."16 And while O'Keeffe was conscious of not wanting to be wasteful with her materials—at one point almost (but, thank goodness, not quite) deciding that "it wasn't any use to keep on amusing myself ruining perfectly good paper trying to express myself," in the end she reminded herself, "Marks on paper are free."17 At times she found that she even preferred lower-quality stock, because of the liberty it granted. "Why—it's just like scrap paper," O'Keeffe told Stieglitz of the license afforded her by a thinner, newsprintlike paper, "I throw it in the scrap heap and go on to something else."18 Several months later, she reiterated the observation: "Cheap paper like this is a great friend lately—A stack of it almost a foot high makes me feel downright reckless."19 Her aesthetic investigations were fueled by this sense of abandon.
Georgia O'Keeffe: To See Takes Time, organized by Samantha Friedman, Associate Curator, Department of Drawings and Prints, with Laura Neufeld, Associate Paper Conservator, The David Booth Conservation Department, and Emily Olek, Curatorial Assistant, Department of Drawings and Prints, is on view at MoMA April 9–August 12, 2023.