Exploring Indigenism and the Avant-Garde
The Latin American Indigenist movement attempted to bring art into political life and revolutionize artistic portrayals of Indigenous peoples.
Indigenism, a multifaceted regional movement focused on the defense, rights, and recognition of Indigenous peoples, was a radical artistic proposition that attempted to bring art into political life and to transform society. Peruvian writer and activist José Carlos Mariátegui famously proclaimed that an "artistic revolution cannot be satisfied with formal conquests." Inspired by the social upheavals of the early 20th century, and particularly influenced by the broad regional impact of the Mexican Revolution (1910–20), artists fought for more inclusive and egalitarian societies. Indigenism and the Avant-Garde, an installation on MoMA's fifth floor, focuses on Indigenism in Latin American art of the 1920s and 1930s. The gallery features Mexican paintings by artists including David Alfaro Siqueiros, José Clemente Orozco, and Diego Rivera, along with rarely seen works from Peru and Ecuador.
I recently visited the gallery with historian and curator Natalia Majluf, who has written extensively on the manifestations of Indigenism in the work of many of the artists featured in the gallery, including Martin Chambi, Elena Izcue, and José Sabogal. Our conversation, below, touched on some of the contradictions and historical implications of this fascinating movement.
—Beverly Adams, Estrellita Brodsky Curator of Latin American Art, Department of Painting and Sculpture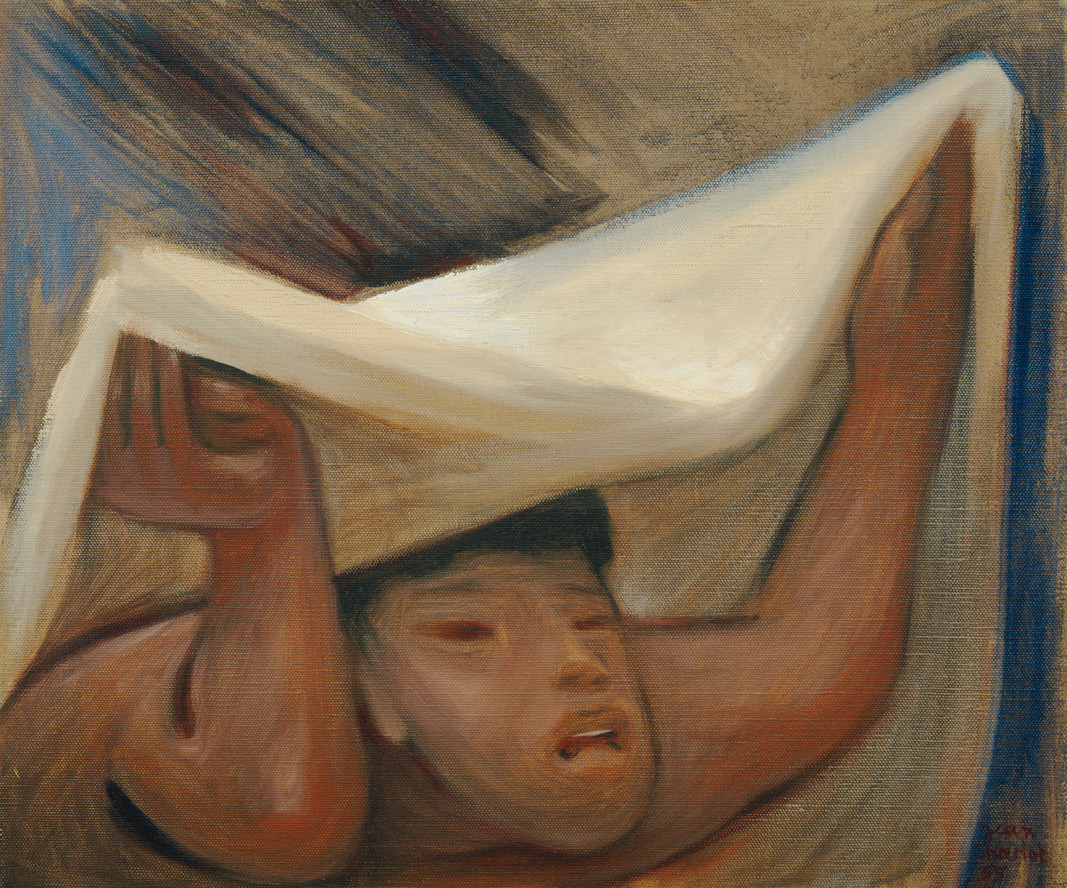 Jean Charlot. Woman Lifting Rebozo. 1935
Beverly Adams: We're standing in front of David Alfaro Siqueiros's Ethnography, from 1939. It was shown in New York the year it was made, and purchased shortly thereafter by MoMA. To me it's an incredibly forceful image; it speaks to the Mexican Revolution and its goals, but also to its discontents.
Natalia Majluf: Yes, and it also condenses a lot of the ideas that framed what in the visual arts has been called Indigenism—both an exaltation of the Indigenous population and an evocation of the pre-Columbian past. The man in this image is dressed in peasant garb and wears an emblematic sombrero, but his face is covered by a pre-Columbian mask. And it is very interesting, because while Indigenism was trying to affirm and vindicate marginalized Indigenous populations, what it effectively also did was to create stereotyped images of anonymous figures that represented the greater collective.
BA: We know this mask was discovered in the 1930s. It was photographed, taken out of Mexico, and is now in a New York museum. It is actually a wooden mask, though in the painting it looks like it's made of metal or stone. It's very possible that Siqueiros may have seen a photograph of this image.
Can you talk more about the issue of stereotypes and portraiture? I think that's a really important issue in this gallery, because we have all of these beautiful images of people but very few portraits.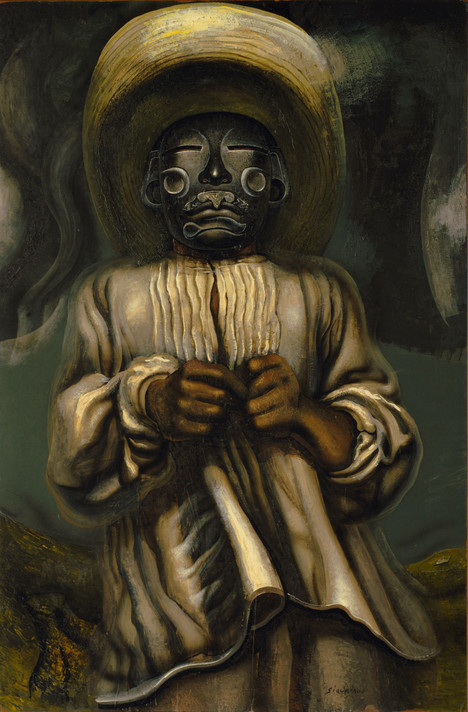 David Alfaro Siqueiros. Ethnography. 1939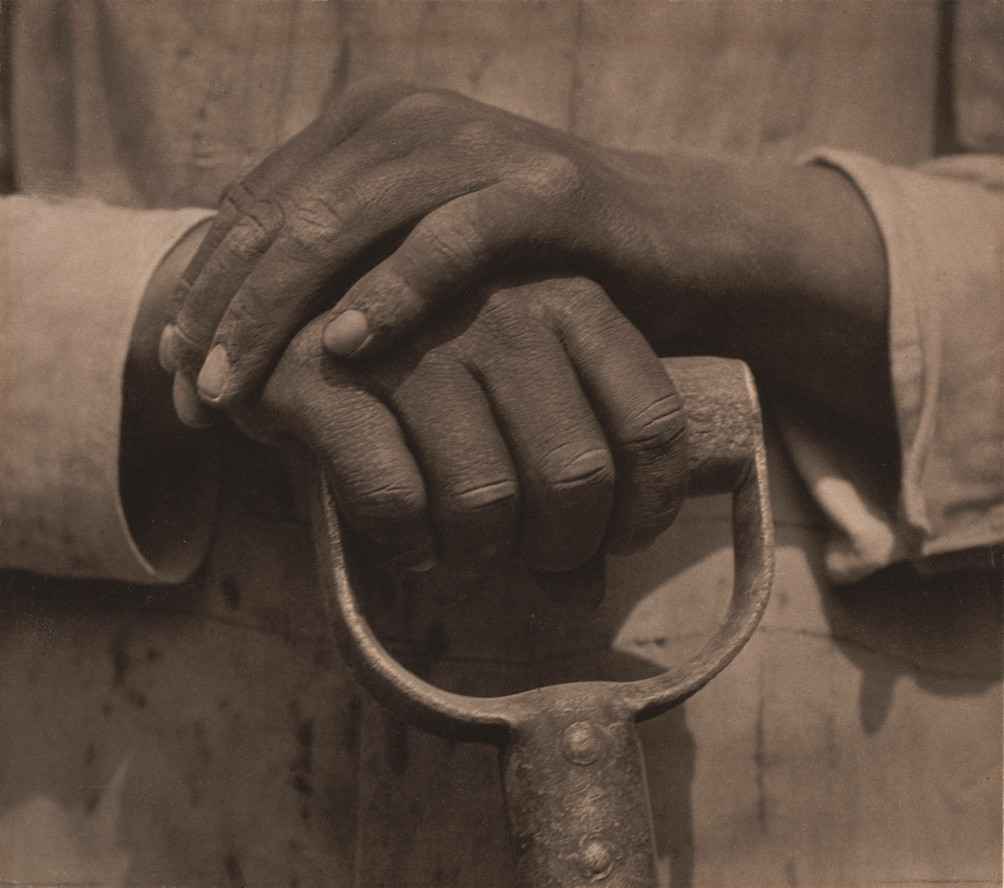 Tina Modotti. Worker's Hands. 1927
NM: Look, for example, at the way Tina Modotti uses the representation of the worker's hands in her photograph. She's stressing the issue of labor, the collective—not the person. Modotti was associated with the Communist Party and was a very militant political figure. She also contributed many of these photographs to radical journals, including New Masses here in New York. So the idea of collective struggle was important politically. Take Worker's Parade. It is an image of hats, of people whose faces cannot be seen. What matters here is the notion of a social class. Essentially what you see are masks.
BA: Masks are everywhere, like the pre-Columbian one suggested in Jean Charlot's Women Lifting Rebozo. Also, sometimes categories, not masks, serve to hide individuality. Take this Modotti photograph. When it was published, it was given titles like Aztec Mother. With Modotti's images there is always some uncertainty because we don't know whether she actually titled her photographs or if we are seeing a caption that was added by an editor. This one is really interesting to me because of who is in the picture. The woman is Luz Jiménez, who was an important model for artists working in Mexico in the 1920s, including Diego Rivera, José Clemente Orozco, and for Modotti, among others. Jiménez modeled for the newly established open-air schools which were devoted to educating children, workers, and people who didn't have access to art education. But her name is very rarely associated with these images so she becomes a representation of a type—that of the Indigenous woman. In this gallery, which deals with the Indigenous, it makes a big difference to be able to include her name.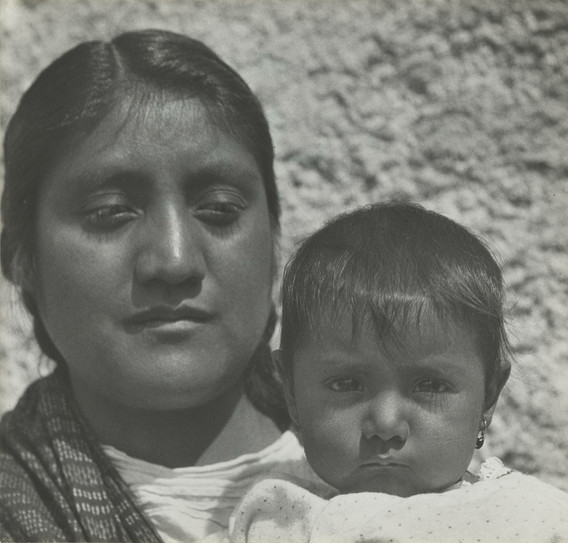 Tina Modotti. Nahua mother, Luz Jiménez and her Daughter, Conchita. c. 1926–27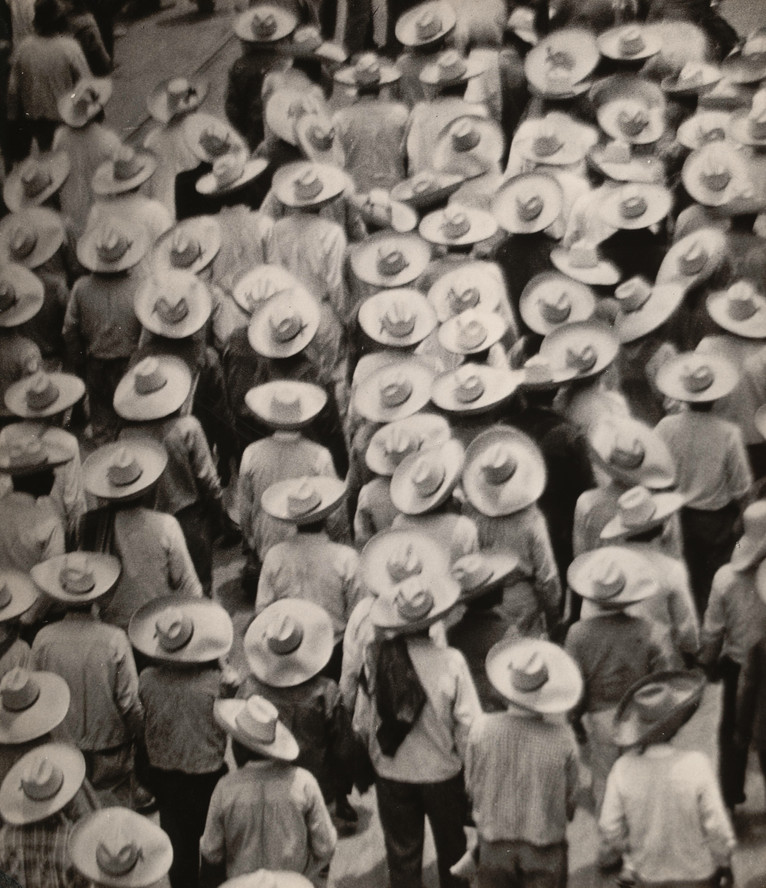 Tina Modotti. Workers Parade. 1926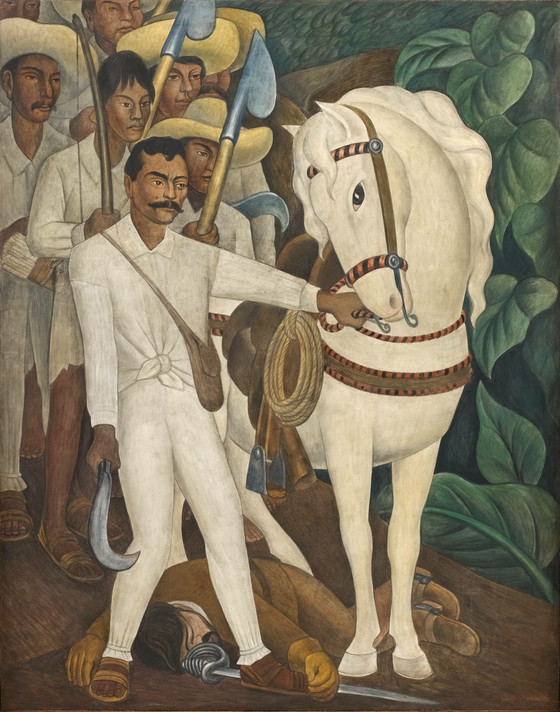 Diego Rivera. Agrarian Leader Zapata. 1931.
NM: This issue is also very present in this image of the revolutionary leader Emiliano Zapata. He is not highlighted, except in the fact that he is, of course, in the foreground and holding that beautiful horse. But he is actually pictured as one with the men behind him. It's interesting how there is play between the individual and the collective in so many of these representations. Because the challenge of representing collectives and ethnicities is always tricky. In so many of these images, the sombrero becomes the stereotypical emblem of the Indigenous. Rivera emphasizes the sameness between the leaders and the soldiers of the revolution. And, again, the way these figures fall into a mass, a sort of visual pattern that brings them all together, I think, is very telling.
BA: Zapata, who was from southern Mexico, was a key figure because his main cause was land reform. He was from the state of Morelos, which had many sugar cane plantations that encroached on ancestral and communal lands held by Indigenous communities. And his major call to arms was to redistribute the land and to include Indigenous people, so they could have their stake in that land, which was their identity and livelihood.
NM: In Peru, where there was no comparable political revolution, Indigenist painters sought to vindicate Indigenous peoples. José Sabogal was a leading figure in this movement and this painting is a good example of the visibility he sought to give the marginalized Indigenous population. Land tenure was a crucial topic also in Peruvian debates. Pictorial Indigenism tended to focus on a more general social and cultural vindication of the marginalized Indigenous population. Take this striking image by José Sabogal: while its title speaks to an ethnic category, it is also a compelling portrait, because of the way the woman gazes out questioningly at us. Sabogal became a leading figure in Peru in the first half of the 20th century, and was involved in the National School of Fine Arts and in the establishment of some of the country's first museums. In the 1920s, he was also a key figure in one of the most important radical movements of the 20th century, led by Socialist intellectual José Carlos Mariátegui, with whom he collaborated on the journal Amauta. This movement attempted to create an avant-garde tied to local issues and concerns. And Sabogal became one of the first painters to depict Indigenous subjects positively.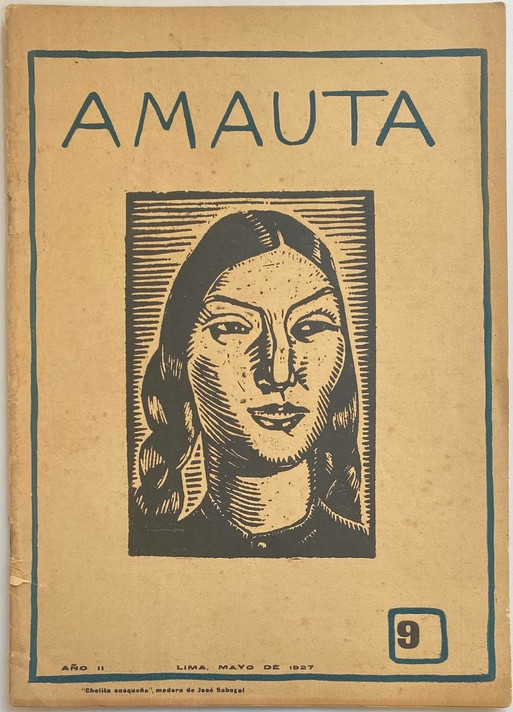 José Sabogal. Woodcut for the cover of Amauta no. 9. 1926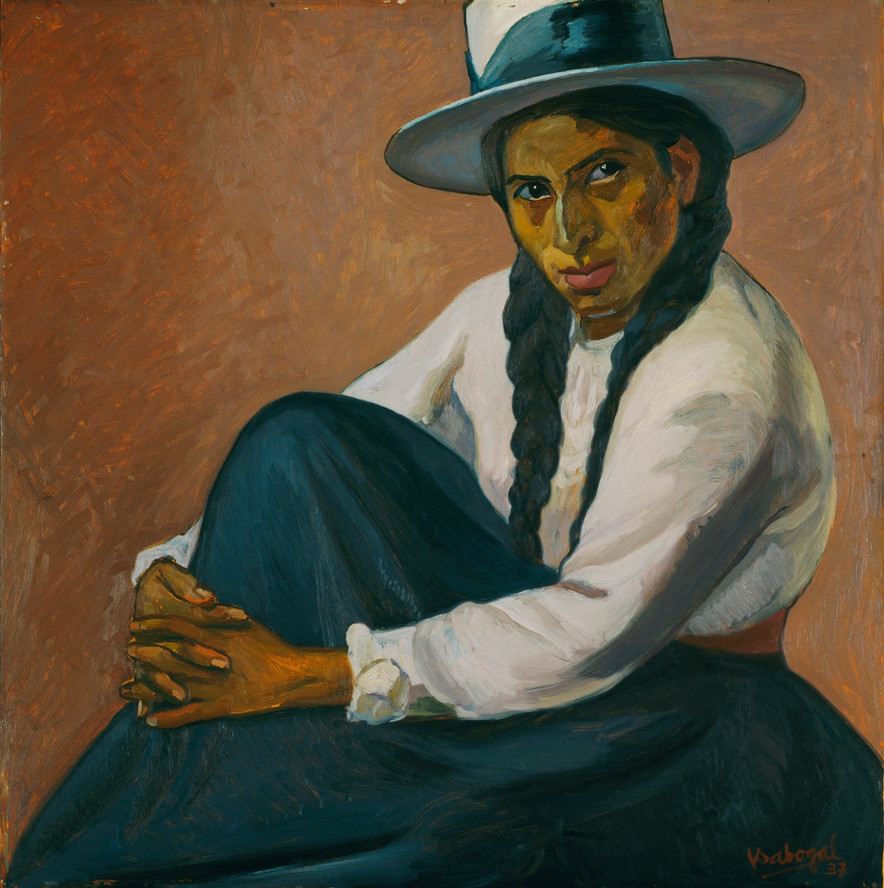 José Sabogal. Young Girl from Ayacucho. 1937
BA: Let's talk about Martín Chambi, a photographer from Peru. He was first exposed to photography as a teenager, when he worked for a British mining company in the Andes; which is where he first saw photographers at work and became fascinated with the medium.
NM: Chambi was born to a peasant family in the highlands of southern Andean region and became a key figure in the intellectual circles of Cuzco in the 1920s and 1930s. He was also instrumental in bringing the images of Indigenous populations to the newly expanding illustrated press of the period. And while he was very aware of his own indigenous identity, he was also engaged as a prominent urban intellectual. Even though he had no formal higher education, he became a decisive player in shaping Cuzco's cultural institutions, and in the promotion of regional folklore and history.
BA: Can you talk about Chambi's self-portrait, which is such a moving picture?
NM: This is an early self-portrait, probably made in the early to mid-1920s in his Cuzco studio. He is dressed in a suit and a tie and poses himself looking at a glass plate of an earlier portrait of himself. I think this shows the degree of self-consciousness he has about his status and identity as an artist. Everywhere in Latin America, and especially in Peru at that time, genres like painting and sculpture were not very developed in many provincial capitals, so photography studios took on an important role as spaces for intellectual and artistic encounters. I think this isn't always clear when we look at early 20th-century photography. Chambi was a studio photographer, but created a distinction between the works made as art and those he made as part of his commercial studio work.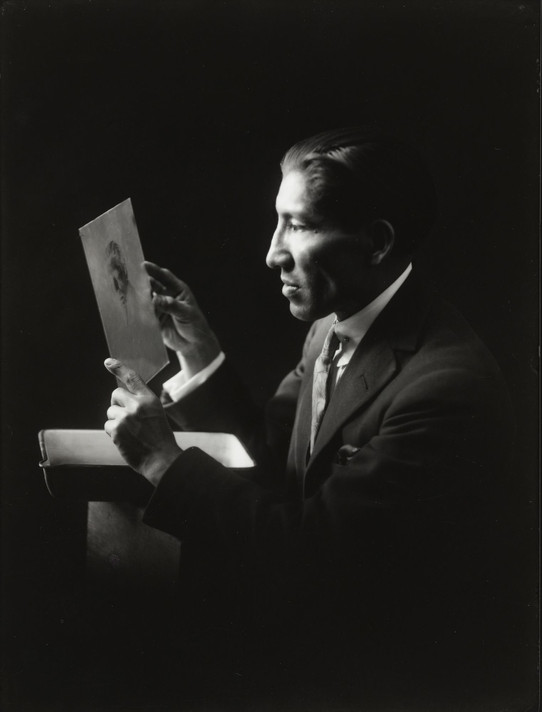 Martín Chambi. Self-Portrait, Cuzco Studio. 1928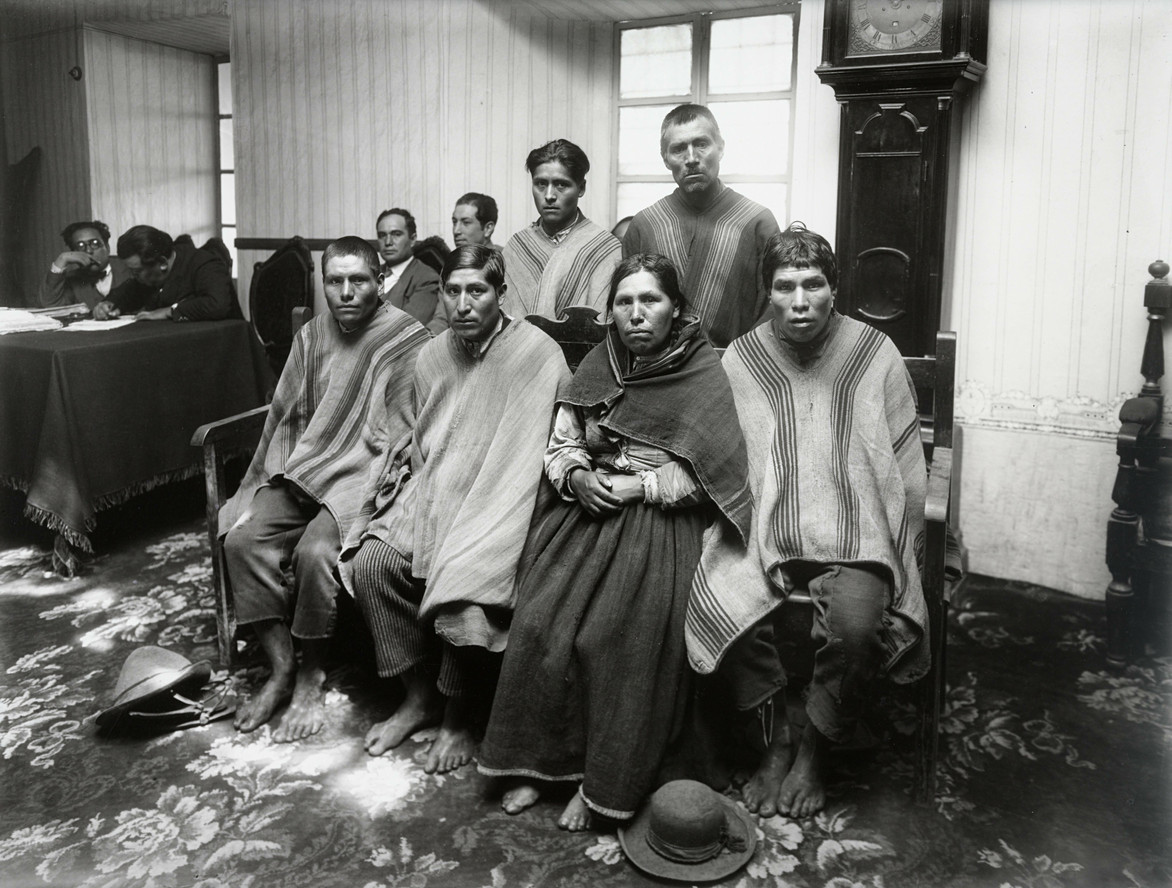 Martín Chambi. Campesinos Testifying, Palace of Justice, Cuzco. c. 1931
Carlos Mérida. Mayor of Almolonga. 1916–19
BA: I am fascinated by this painting by Carlos Mérida, which is a recent acquisition. It's titled Mayor of Almolonga and was made between 1916 and 1919.
Mérida went to Europe and came back to Guatemala in 1914, at the outbreak of World War I. He decided that he wanted to make an "American" art—he wanted it to be local first before it could become universal. He didn't want to just imitate what he saw in Paris, and produced a series of works that explore many of the issues that we've talked about so far in the gallery: the ancient and the modern, the portrait and the type, the local and the universal.
In the painting you see a powerful man holding his staff of office, which marks him as the mayor—an Indigenous mayor. He has a tunic that references Almolonga, the place where traditional textiles were produced but also where the modern textile industry was taking hold in Guatemala. His head is covered by a scarf, but he's wearing what look like machine-made dungarees. So we see him with references to both the modern and the ancient. And then he's in a Spanish colonial architectural setting, so we are aware of these three epochs at once.
This is the beginning of a critical and self-aware kind of artistic production that looks to local sources in the region.
It's important to mention that many of these artists were connected. Even if they did not know each other directly, they shared an ethos and a mission that was regional.
Natalia Majluf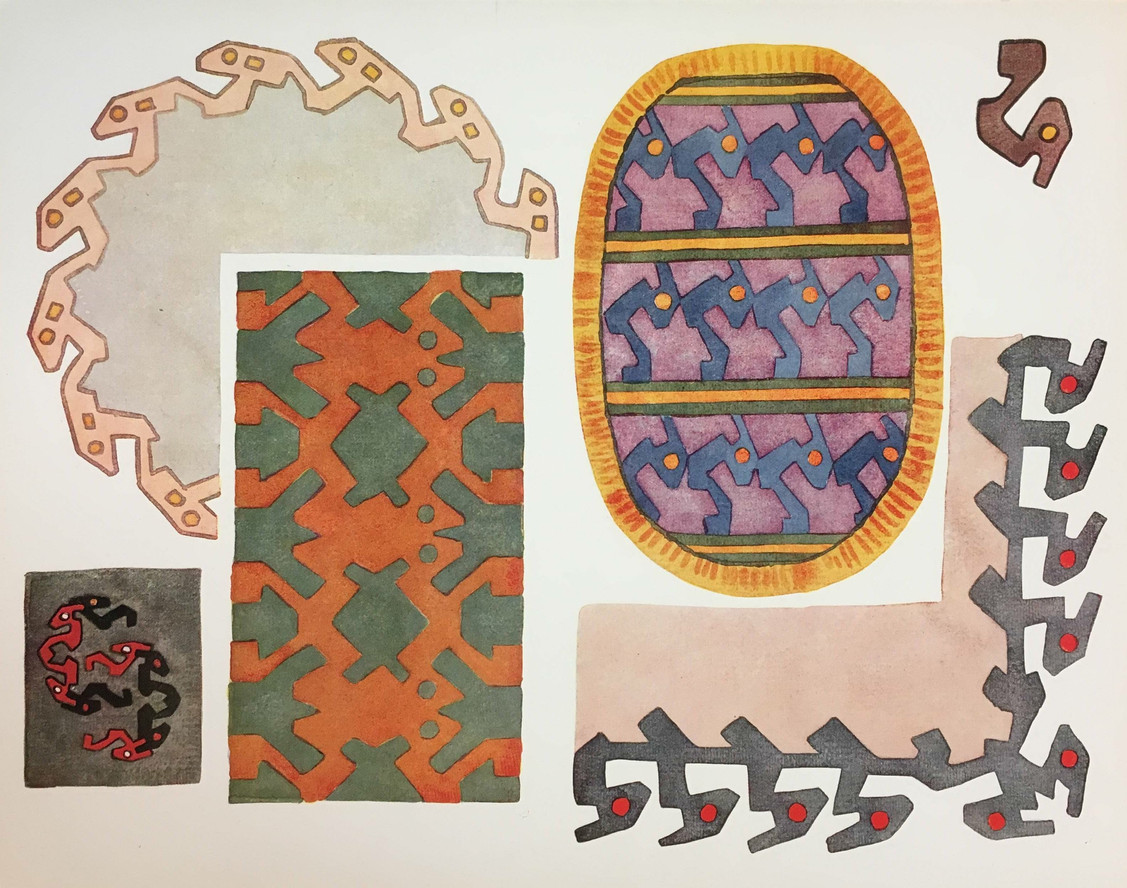 Elena Izcue. A page from Peruvian Art in Schools. 1924
NM: Artists began looking toward traditions that had not been previously valued, like pre-Columbian art. In 1924, Elena Izcue produced a book called Peruvian Art in Schools. It's a drawing manual inspired by her exhaustive study of pre-Columbian design in ceramics and textiles in Peruvian museums. She later became a textile designer in Paris and used these motifs in her art. There were, of course, other artists looking to traditional craft as a way of recovering cultural forms that had not been adequately valued. So this moment marks a major shift in the perspective on the region.
It's important to mention that many of these artists were connected. Even if they did not know each other directly, they shared an ethos and a mission that was regional. They enthusiastically circulated journals and shared a political stance in the face of growing North American expansion and political interventions in the region. It was also a response to the greater participation by Latin American countries in the global economy. So, there are a number of layers in what we have called Indigenism—a social, cultural, and political vindication of local traditions. These movements were also, at once, and outcome and a response to the advances of modernity, as Latin America became increasingly incorporated into the global economy.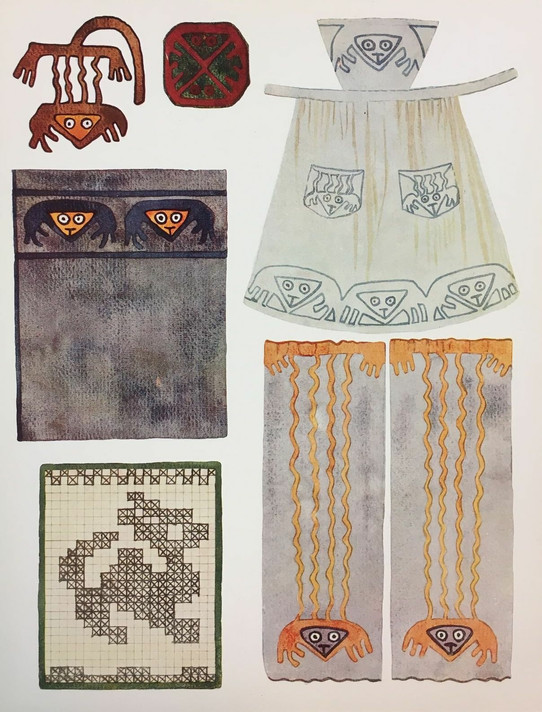 Elena Izcue. A page from Peruvian Art in Schools. 1924
Natalia Majluf is a curator and art historian working on the long 19th century. She was head curator and later director of the Museo de Arte de Lima, and is currently co-editor of Latin American Research Commons, Latin American Studies Association, and of the digital platform Trama, espacio de crítica y debate. Her book Inventing Indigenism: Francisco Laso's Image of Modern Peru has recently been published by the University of Texas Press.