The "Yearning Practices" of Jorge González and Bernardo Zabalaga
The artists guide us through their collective practice, which reconnects with ancestral practices, local identities, and nature.
In June, the Cisneros Institute at MoMA—in collaboration with curators Michy Marxuach and Mauricio Marcín—organized El canto de la Yerba Bruja, an experimental research workshop in Mexico City and Valle de Bravo. Its purpose was to explore contemporary artistic practices focused on the environment, ecology, and traditional Amerindian knowledge. The artists Alia Farid, Jorge González, Ariel Guzik, and Bernardo Zabalaga were at the workshop's center.
Recently I spoke with González and Zabalaga about some of the central concerns of their work: community, the recovery of ancestral knowledge, and connection with the land. Ritual and the sacredness of living spaces are another shared focus, as evidenced by works such as González's Caminata Suaty and Zabalaga's Esqueleto gelatinoso brillante. These artists challenge us to navigate the world with greater intentionality and awareness of our bodies and their surroundings.
Este artículo está disponible en español.

Julián Sánchez González: An interest in community art is something I see in your respective work. I'd like to know to what extent your places of origin have influenced your practices.
Jorge Gonzalez: The Caribbean experience, and in my case the Boricua experience—which is the original identity of Puerto Rico—comes from a principle of solidarity. We are peoples of the sea who, through our connection with water, are part of a great biodiversity. It seems to me that this principle of collectivity is prevalent in the region.
Having grown up in the colonial context of Puerto Rico, with the trauma and potential uprooting that this implies, inspires a land defense. This impulse has been present from generation to generation and, in my case, it manifests itself in the will to create spaces that perpetuate ancestral knowledge. It is in this sense that collaborative work has helped me understand a communal capacity for transformation and learning.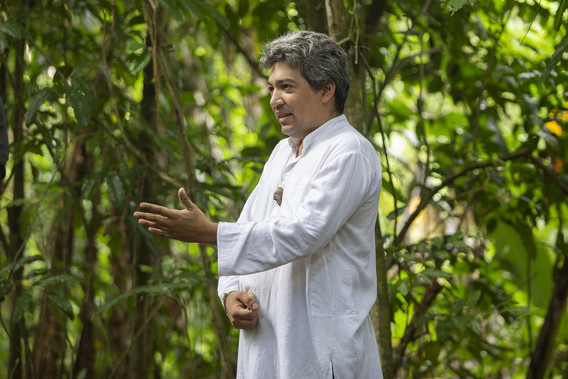 Zilia Sánchez, a Cuban artist based in Puerto Rico, has been very influential. She was the one who taught me to recognize the idea of "island" as a way of thinking and feeling. This is tied to a form of personal inquiry and meditation that she called encuentrismo. Other mentors and teachers during my formative years at the Escuela de Artes Plásticas further instilled in me a critical sense of navigating the world.
My early educational experiences coincided with other community-based practices from various locations in Puerto Rico that replicated these political views. The work of curator Michy Marxuach with M&M Proyectos, for instance, comes to mind. They all forged from the radicalism of placing ourselves in a communitarian, ecological, and political mindset. Together, they ingrained in me a sense of urgency about collective organization as a way of becoming rooted in this earth.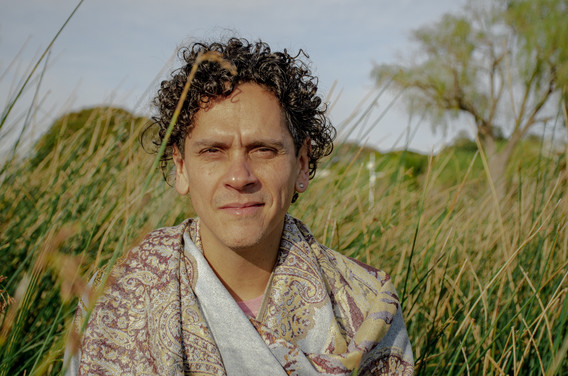 Bernardo Zabalaga: In the Andean part of Bolivia there is a tradition in which people, when they get together to drink alcoholic beverages, spill a sip from their glass onto the ground as a way of offering the earth a drink. From very early on, this simple gesture created in me a sense of belonging and community with invisible forces, the landscape, and the Pachamama, or mother earth, of Indigenous communities of the Andes.
On the other hand, and similar to Jorge's case, my artistic practice and formal education come from a collective approach. My training comes from collaborative theater. So, beyond a specific reference, a sensibility of reciprocity inherited from my culture has allowed me to approach my work as a form of teamwork, or a shared act.
JSG: What role do ritual and ceremony play in your work?
JG: Since 2014, I have been working on the consolidation of a practical research-and-knowledge-sharing platform called Escuela de Oficios. We have focused on working with natural fibers and the wisdoms of the artisan community in Puerto Rico, developing an interest in earth's cycles, its crops and harvests. This interest of mine converged with the studies of the now deceased researcher Elsa Escabí. Her work focused on the relationship between the rosario cantao, a May celebration in Puerto Rico, and the pre-Columbian fertility rites of Borikén, the original name of our territory. The rosario cantao ritual has become important to us and we perform it as a reclaiming of Indigenous and Afro-Boricua cultures.
In the workshop we did in Valle de Bravo, we worked with Soles de Naranjito weaving, a type of needlework from Puerto Rico that we have explored since the beginning of Escuela de Oficios. To understand the technique, we reflected on how we could identify ourselves in its radial geometric structure, which we emulated with our bodies, with the help of cords spun in natural fiber. After this, with the support of the rest of the group, each participant used their own materials and immersed themselves in the technique.
This workshop was the continuation of a process that began with the rosario cantao and was extended over the course of this summer. We reflected on the rituals involved in quantifying our days and resources. In addition, the weaving suggests a ritual that allows us to project our thoughts and intentions through its warp and weft. Both activities, singing and weaving, are based on a connection with the land.
Marcela Carrasco, weaver from Barichara, holding a section of the quilt of Soles-Suaty used for the Caminata Suaty
BZ: In Aymara there is a word, aruskipasipxañanakasakipunirakispawa, that can be translated as, "We are obliged to communicate." This word is a call to enter into a relationship and see in the other something that we ourselves are; to enter a transmission of atmospheres between bodies.
As a result of this, I came up with the idea of making a magical and collective rereading of the Japanese tea ritual for the workshop El canto de la Yerba Bruja. Based on the previous experiences of close friends, I wanted to build a space in which we could share something as simple and powerful as a moment of meditation, provoked by drinking a liquid in a ceremonial manner. For this experience, I built an altar with ritual objects, including a series of magic wands that I have been working with for some time. I accompanied the ceremony with chanting and live experimental music by Mexican musician Andrés Solis.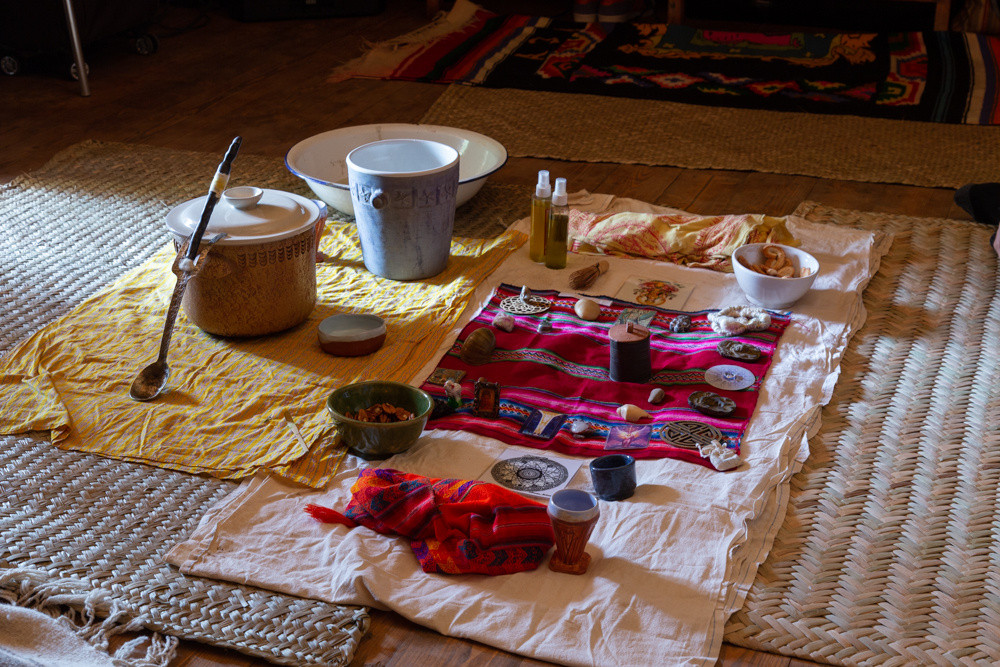 Bernardo Zabalaga. Altar for a Japanese tea ceremony celebrated to inaugurate the workshop El canto de la Yerba Bruja, 2022
BZ: I agree with Jorge about the intention of creating common languages. With this experience, I sought to create unexpected connections between bodies to lovingly share our personal energies and project them into the common space.
JSG: Jorge, I'm interested in your work with the weavers of Barichara, a colonial town in the eastern part of the Colombian Andes. This year you did the Caminata Suaty, a kind of procession with music in nature, accompanied by a group of collaborators. How does your relationship with Barichara begin and what was that experience all about?
JG: We started this connection with Barichara three years ago with the Guatoc Reserve, an interdisciplinary residency project, and the eponymous Suaty textile project which is also located in this Colombian town. Long-term collaborative learning processes are very important to me. This work involves threading technical and affective growth with indigenous materials, based on mutual aid between artisan communities to honor the land.
Similar to the approach to Soles de Naranjito, with master weavers in Barichara I had the opportunity to partake in working with fique, an ancestral Andean fiber that allows us to better understand this land and its people. There, we set out to thoroughly learn the technique and created an origin myth based on the word "suaty," which, in the Guane language (or dialect), means "song of the sun." The procession of Santa Lucía, the patron saint of the municipality of Guane, near Barichara, allowed us to reflect on community cohesion along with cultural transformations, which blend Catholicism with the spiritualities of the native peoples of this territory.
Little by little, in a continuous exchange with seven weaving families from Barichara, we created a quilt, joining hundreds of Soles-Suaty, which is how we decided to call this weaving technique. In this way we commemorated our ancestors and the territory through a meditative ritual. We have walked this quilt twice in procession: first in Puerto Rico, together with my mentor Jasmine Rivera, and this year for the second time, on the old road from Barichara to Guane, together with the participating weaving families.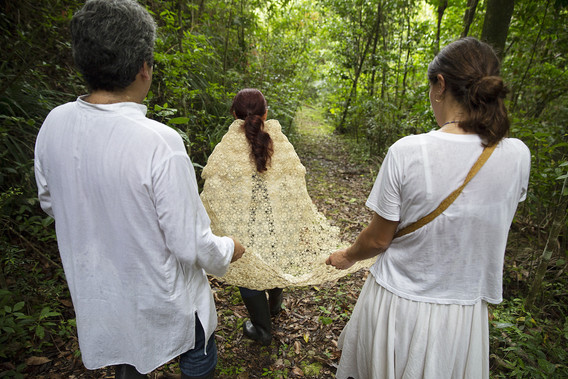 Jorge González, Juliana Steiner, and Jasmine Rivera, weaver from Puerto Rico, with the Soles-Suaty quilt during the Caminata Suaty in Ciales, Puerto Rico, 2021
JSG: Bernardo, since 2017 you have been working on a performative and sculptural work named Esqueleto gelatinoso brillante. It is collectively activated, a process you describe as a "game of etheric activation." This description evokes a kind of incantation, or a magical act, in which we give ourselves over to the possibility of creating alternate realities.
BZ: According to the Brazilian theorist Suely Rolnik, our perception is divided into two great poles. On the one hand, there is macroperception, which governs everything operational, behavioral, and organizational in our lives. On the other hand there is microperception, which corresponds to the sensorial field, allowing us to navigate that which is subtle. Our cultural patterns of behavior lead us to be governed more by the first than by the second, as a way of functioning in our daily social environment. However, contact with alternate realities occurs more often than we are able to realize.
Bernardo Zabalaga. Esqueleto gelatinoso brillante. 2017
BZ: The toys in Esqueleto gelatinoso brillante have the function of being interfaces, or relational objects, as the Brazilian artist Lygia Clark called her devices for the investigation of the subtle. These devices allow us to access that sensitive field where energetic forces become more easily perceptible. Everything that exists is permeated by the ether, a kind of fascia or connective tissue of the infinite body of the universe. To do an etheric activation is to prepare oneself to communicate with that body/membrane and to make that communication a form of knowledge.
JSG: In your artistic practices, there is a concern with healing. Can you speak about the connection between the ethical commitment and the aesthetic one in your work, and the challenges you have encountered in developing this connection?
JG: Our greatest challenge lies in our ability to permanently join forces in the wake of the emergencies we're facing. Natural disasters—hurricanes and earthquakes—and the ravages of the pandemic have put us in a delicate political and social situation in Puerto Rico. We are going through times that require constant community organization in the face of these crises.
Since the creation of the Escuela de Oficios, I feel as though we have had prior preparation for these emergencies. I am grateful for my training and the possibility of anchoring my practice in the communities of Puerto Rico that work with both arts and crafts.
Through this work, I see my concerns with healing continuing to strengthen. I think the way in which this engages with aesthetics has a very personal component and must respond to the community-building knowledge and tools that one has received. An example of this is how the space shared with Bernardo in El canto de la Yerba Bruja made evident some of the main purposes of our work: transformation, growth, and learning.
BZ: I remember that one of the big questions that came up at the end of the gathering El canto de la Yerba Bruja was how to continue creating different existential and perceptual practices that we agreed to name "yearning."
Moving towards healing as a question about life and our acquired modes of connecting to others, whether by consumption or care, is not mainstream. Therefore, for me the great challenge is being able to talk about bringing the subtle, the soft, the invisible to participatory experiences. We should aim to look for experimental ways in which to explore the unknown in order to encourage curiosity and inner motion.
Today, we privilege individual improvement as a way to achieve collective improvement. But what happens when those ways of feeling better, of healing and harmonizing our lives, are based on the strength of the group—on the value of gathering and on the power of contact? Ritually mediating a sensitive individual experience is one thing, but mediating a collective experience is quite another. The communal invites us to open our senses: not to format language, not to direct, but rather to point, to whisper, to probe the environment that forms and brings us together.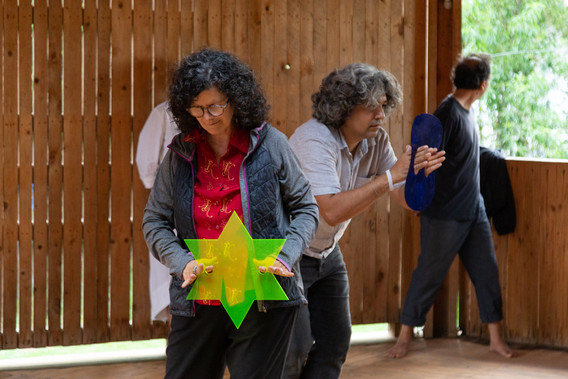 Bernardo Zabalaga's Esqueleto gelatinoso brillante in use by Catalina Juárez and Jorge González during the workshop El Canto de la Yerba Bruja, 2022