Guillermo del Toro: Crafting Pinocchio Turns Fantasy into Something You Can Feel
See how classic puppet techniques created a modern marvel in the Oscar-winning film.
Dogfish plays the role of an obstacle that the other characters in Guillermo del Toro's Pinocchio must overcome in order to grow closer. The physical embodiment of Dogfish was years in the making, with initial design starting in 2012 and finally accelerating in 2019. Creating it was a largely analog experience—a surprising fact in a world where computer generated images (CGI) have taken over the movie industry.
Dogfish's scale makes it different from other puppets in Pinocchio. The team had to make it as large as possible while still allowing the animator to handle it on set. It takes dozens of specialized crew members to bring a creation like Dogfish to life. The character has to go from an imagined concept to a two-dimensional sketch, and a three-dimensional object, before finally becoming a "living" creature on screen. MoMA's Guillermo del Toro: Crafting Pinocchio exhibition is filled with the sets, props, and characters that make up the unique world of Del Toro's Oscar-nominated film. To go even deeper, we spoke with the creatives responsible for Dogfish, including puppet production manager Jennifer Hammontree, puppet creative supervisor Georgina Hayns, lead sculptor Toby Froud, and armature fabricator Alex Andrade, who gave us a behind-the-scenes look at how they brought this fantastical beast to life.
Este artículo está disponible en español.

Dogfish fabrication, color coded
Concept and Research
Each character starts out as a drawing, with designers taking into account the film's story, mood, and character development. Director Mark Gustafson describes Dogfish as "an ancient creature" and explains that part of the team's task was "to see that history living in its surface—all the scars and the welts, and all that deep texture." These ideas helped inform the design sketches. At this stage, designers also begin to compile reference images to help them think through the details. These images can be historical illustrations or photographs of their surroundings. In some instances, designers may even build "mood boards" that bring together various references.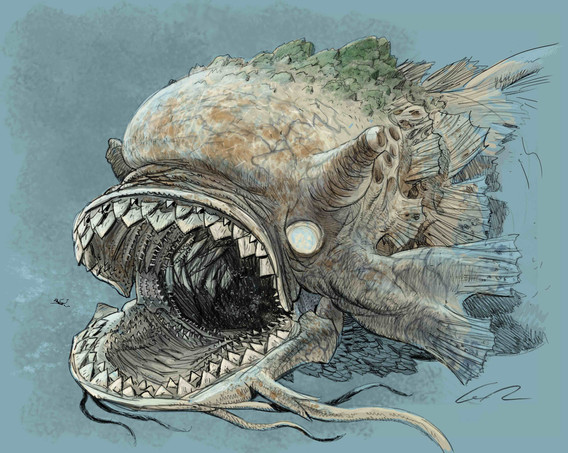 Early sketch of Dogfish by Guy Davis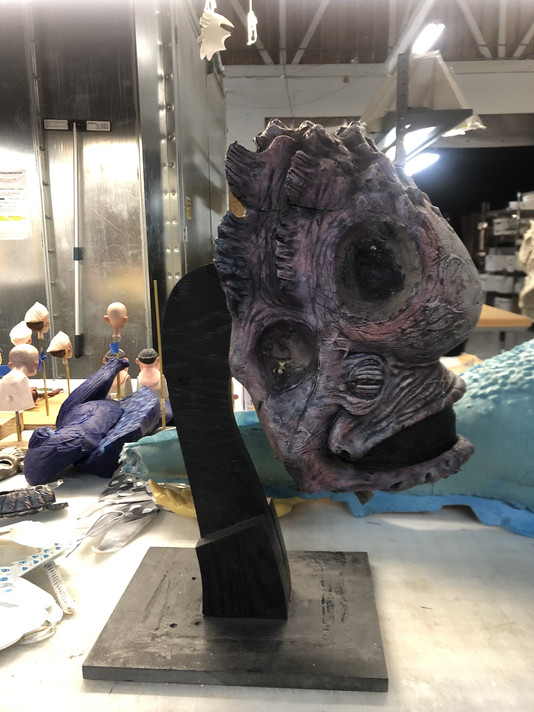 Look Development
Artist Caitlin Pashalek describes look development as the stage in the puppet-making process when we see "the translation of 2D art into 3D materials and techniques." Designers and craftspeople begin to explore a puppet's features, including shape, scale, color, and texture.
Developing a look that was "grounded and gross" without looking like a "strange sculpture garden"—achieving a balance of fantasy and believability—was one of the challenges with Dogfish. The film crew experimented with various organic materials and objects, creating molds of tomatoes, cabbage leaves, kale, and collard greens, which became the basis for details like pustules on Dogfish.
Much of the look-development stage is a process of nailing down the look of the movie. Dogfish's surfaces needed to appear like they are a part of Pinocchio's world, sometimes complementing and other times contrasting with the surroundings. As one designer put it, the details are "perfectly imperfect," an approach that came to define the entire film.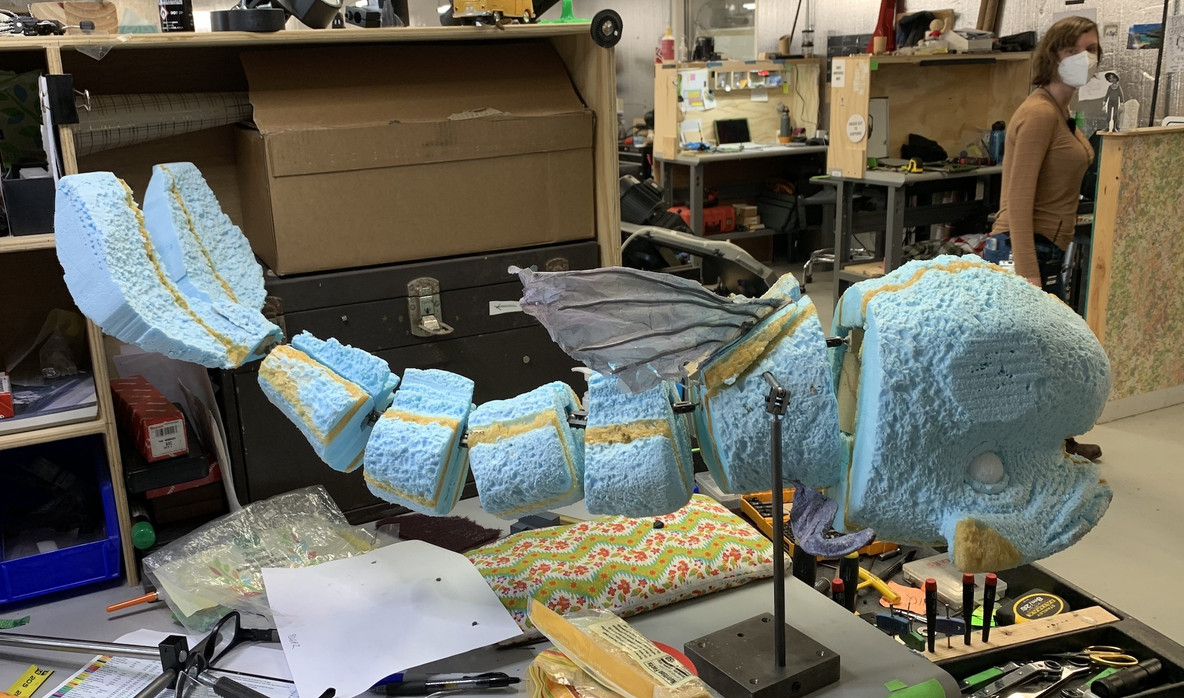 Foam core mock-up of Dogfish
Maquette
This is the stage where creations begin coming to life. A maquette is a preliminary model of a puppet. It is also the first time the crew sees the design in three dimensions and at full scale. Maquettes often resemble raw or rigid sculptures of the character; they can also take the form of clay sculptures, molds, miniatures, and foam-core stand-ins. Though the character cannot be animated at this stage, the act of sculpting and examining it as an object allows the designers to consider what technology they will need in order to make a fully animatable puppet. Unlike other characters in the film, Dogfish did not go through a formal maquette phase. Instead, the crew created a foam-core stand-in that allowed them to experiment with scale and shape before beginning to sculpt what would eventually become the final puppet. The crew also considered Dogfish's silhouette. Animators wanted viewers to recognize Dogfish while looking through the murky waters. With this in mind, the crew explored different types of materials for greater realism and flexibility.
Motion Testing
As a puppet enters the 3D design stage, the film crew begins to consider how it needs to move. Describing the process of creating a creature puppet, sculptor Toby Froud says, "We all know what a human looks like and also how they move to some degree. But a creature could actually move in many different ways."
Dogfish is a large creature propelled forward by its tail, weaving its way through the ocean without thinking much about what's in its path. Putting this idea into action, the film's animators and puppet makers conducted a motion test—a basic demonstration of how the puppet needs to move to be realistically convincing. This enables them to consider what parts of the puppet will need to be manipulated and how best to do it.
Motion testing also allowed the team to look at the speed of Dogfish versus the camera movement. When timed correctly, it helps give the impression of a much larger beast.
Construction
After the maquette and motion-testing stages, the crew can begin to develop the puppet's technical elements. This includes its mechanical insides—a metal armature furnished with a complex system of miniature gears, wires, and paddles. These elements are what allows an animator to move the puppet. Like other characters, Dogfish has a ball-and-socket armature, meaning each joint hinges at a distinct point, allowing the puppet to be positioned with greater precision. However, because of the creature's large size, the team needed a way to give more support to the body without adding too much weight. So they added wooden "ribs" to the internal structure for lightweight but sturdy support.
Once the technical elements are tested and confirmed, the armature is padded with foam, coated with foam latex, painted, and, if needed, costumed. Latex is an unusual choice in modern stop-motion puppetry because its surface can be rough and disintegrate over time. But it was perfect for Dogfish because it kept the puppet lightweight. At the same time, the imperfections in the foam latex also made the fantastical Dogfish feel more realistic. As puppet production manager Jennifer Hammontree explains, "The inherent texture in foam latex leant itself to the micro-wrinkling and bumps that a deep-sea creature such as Dogfish would have."
A puppet's construction happens in several iterative steps. Animators test the puppet repeatedly and provide the puppet makers with feedback about technical elements that need to be added or refined. It's common for materials to change as animators and fabricators try to find a balance between something that is both durable and flexible.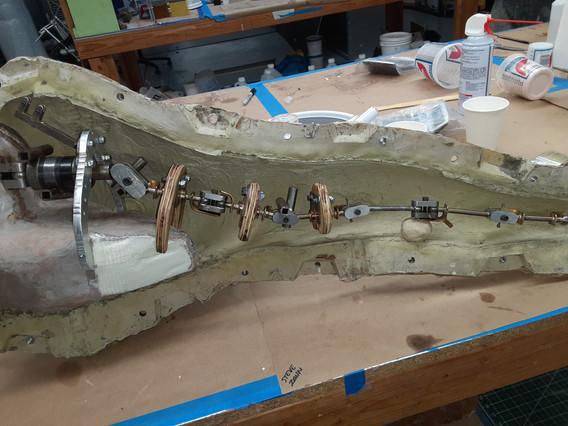 Armature seated in the body mold
Animating
Once a puppet has been tested and finalized it is given to animators, who use it to perform different scenes. Like all of the film's puppets, Dogfish is animated using a stop-motion technique. In stop-motion animation, the animator moves a puppet or an object slightly, shoots a still image, then moves the puppet or object again and shoots another still image. These steps are repeated until enough still images have been recorded to create a sequence of rapidly changing images that gives the illusion of movement.
Because Dogfish is an aquatic animal, the puppet has to appear to float and swim in water. To achieve this effect, it was rigged using different types of mounts. The three axis-control mounts help direct the mass and provide fine control of the extremities and fins. The axis-control mounts enable the puppets to move up, down, left, right, forward, and backward in three-dimensional space. This rigging holds the puppet in place while allowing the animator to make small changes to its appearance. Many portions of the rigging were covered in green, allowing them to be removed from the final footage using digital editing software.
A puppet is never truly finished until the last day of filming.
Dogfish's shooting lasted about 11 months. As it performed in various scenes, the puppet makers continually repaired and retouched the puppet. Surprisingly, Dogfish was one of the easiest puppets to maintain—its texture was its secret weapon. Dogfish's rugged flesh helped camouflage repaired areas, so the character, like everything else in Guillermo del Toro's Pinocchio, could celebrate the idea of being "perfectly imperfect."
Guillermo del Toro: Crafting Pinocchio, organized by Ron Magliozzi, Curator, and Brittany Shaw, Curatorial Assistant, with Kyla Gordon, Research Assistant, Department of Film, is on view at MoMA through April 15.