Black Power Naps Asks, "How Can We Dream If We Don't Sleep?"
The artist duo is tackling the sleep gap by giving permission to rest—unapologetically.
"How can we dream if we don't sleep?" That's the question Black Power Naps poses in response to overwhelming evidence showing Black people in the United States are likely to get less sleep than their white counterparts. Black Power Naps is a project founded by artists and best friends Navild Acosta and Sosa. They tackle the "sleep gap" issue head-on through installations like La Biblioteca Is Open, currently installed in MoMA's Paula and James Crown Creativity Lab.
The duo transformed the Lab into a place for replenishment. It comes complete with a growing library, beds, pillows, and a tranquil environment. I recently spoke with Acosta and Sosa about the sleep gap and how they address it with performance, art, fun, and unapologetic rest.
–Naeem Douglas, Content Producer, Creative Team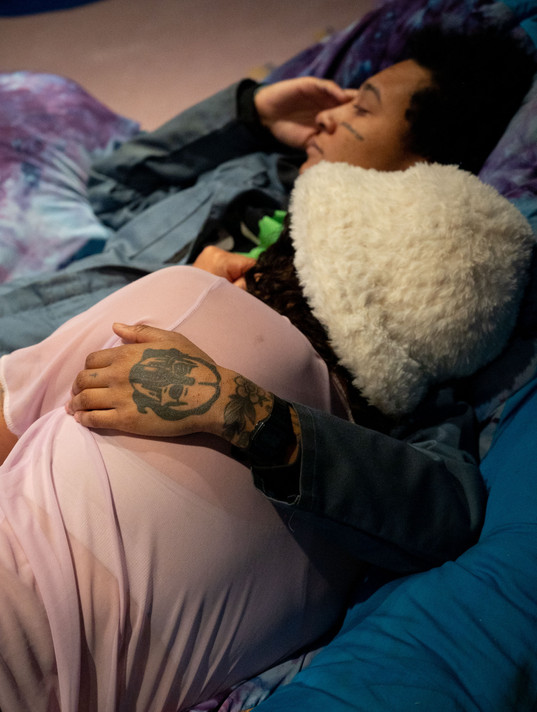 Nap Night with Black Power Naps at MoMA, January 20, 2023
Navild Acosta: Hello, my name is Navild Acosta, and I am an artist and an organizer, and I am a Black trans queer native New Yorker.
Sosa: Hello, my name is Sosa and I am a mixed-race, Afro-Latina migrant to the wild world of the Global North.
Black Power Naps began with our interest in pleasure, in rest and play as radical gestures of interruption, construction, building, organizing. We started vibing and introducing each other to our art. We were touring a lot together and going through the motions of creating work in white institutions. Then we started speaking about reparations and what it would look like for the institutions to welcome us in better conditions with tangible effects. As Black or Afro-diasporic artists, we felt like our life force was being extracted in mostly white institutions. We had to shuck and jive, and dance and perform, and use our bodies. It was harder to have a permanence at the institution, or have a longer sort of time at the institution, that would make it worth the expense of being there. Black Power Naps was born out of us talking and processing this exhaustion.
Navild Acosta: The question, "How can we dream if we don't sleep?" came from a Langston Hughes poem called "Harlem," which talks about a dream deferred.
Sosa: A dream deferred drying in the sun and then festering like a sore. What happens to a literal dream deferred? What happens when we cannot get sleep in the body? The project is about science, research data, which show there is a sleep gap. Dreams being deferred is something that is structural. It's something that's an inheritance from the legacy of slavery.
Navild Acosta: Like Colonialism, a lack of sleep was used to break will, to break sanity and the possibility of dreaming about being free. That still is carrying through, generations after. It hasn't been that much time, so it's still resonating in our bodies and our reality. What happens when we don't dream is a question that Black Power Naps seeks to answer.
Black Power Naps is based on data, science, and facts. There are two main studies that illustrate the sleep gap. The first illustrates that there is at least a one-hour sleep gap between Black and white Americans. Black Americans are sleeping one hour less than white Americans.
The other study illustrates that Black Americans are not arriving at slow-wave sleep at the frequency that white Americans are. And slow-wave sleep is where we do all the repair in our bodies.
La Biblioteca Is Open implies that there is reading and understanding happening. The Black Power Naps library is filled with Sosa's books from their research and study. We're graciously being loaned Sosa's library and placing it in the show.
Sosa: It is my migrant library that I've been carrying around for a decade. There came a moment when we were doing Black Power Naps when I was houseless and it became really hard to take this library with me. We decided to merge it with the work and it's been traveling alongside ever since. It's a living library and one that comes through a lot of separation and strife, but also a lot of deep research and fun.
The Black Power Naps library
I truly thought it was a cool idea to sleep under The Starry Night
Navild Acosta
Navild Acosta: I think it is very important to remind us all that we're doing this because we have fun. We are really trying to land it in a place of joy and laughter and humor—and also kindness. For me, I truly thought it was a cool idea to sleep under The Starry Night.
Sosa: I think this building has seen a lot and has hosted a lot of problematic art. It still does. There's a side of me that wants to see something different, urgently. I really would like to see our people at the museum.
It's not going to resolve all the issues, because the issues we talked about—visibility, exposure—are not an end-all. But I do think that it helps the imagination to see this. And I think that's where we're at. We're in the realms of dreaming, the realms of imagination, and that's where it's at for us.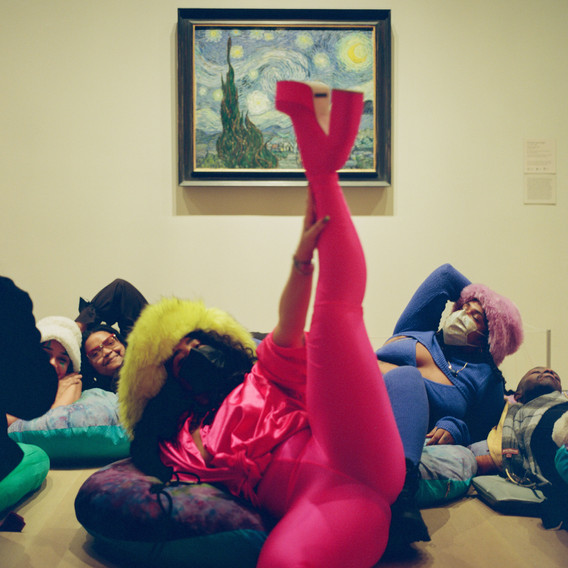 Nap Night with Black Power Naps at MoMA
You can visit Black Power Naps: La Biblioteca Is Open in MoMA's Paula and James Crown Creativity Lab through April 16, 2023.