A Delicious Break with Mina Stone
We talked with chef Mina Stone about offering people a home-cooked meal at MoMA PS1.
Sausage, olives, feta, radishes, and cucumbers. These simple ingredients are all chef Mina Stone needs to craft a delicious meal. They are the building blocks of the approach that will guide her as she opens Mina's, MoMA PS1's newest—and her first—restaurant this summer. Best known for dinners and food events for the New York art community, documented in her book Cooking for Artists, Stone is taking a big next step with Mina's. We recently sat down with Stone over lunch to talk about her restaurant, how her Greek roots inspire the menu, and how cooking in a museum influences her low key approach to good food.
This interview was edited for length and clarity. Photos by Rose Liu
Isabel Custodio: Can you talk a little bit about your journey to cooking professionally?
Mina Stone: Well, it was sort of a happy accident. I went to Pratt Institute for fashion. When I graduated, I really wanted to start my own clothing line, so I did. Then I started cooking on the side to support myself, basically. My grandma's a great cook, and I always loved being around that. I didn't know that the job of personal chef even existed, but I started catering store openings. If a friend was opening a store and they were carrying my line, I would say, "Oh, let me just cater this too." One thing led to another, and I started cooking at the art gallery Gavin Brown's Enterprise about 15 years ago. That was really the start of me cooking for galleries and artists, and they became my clients.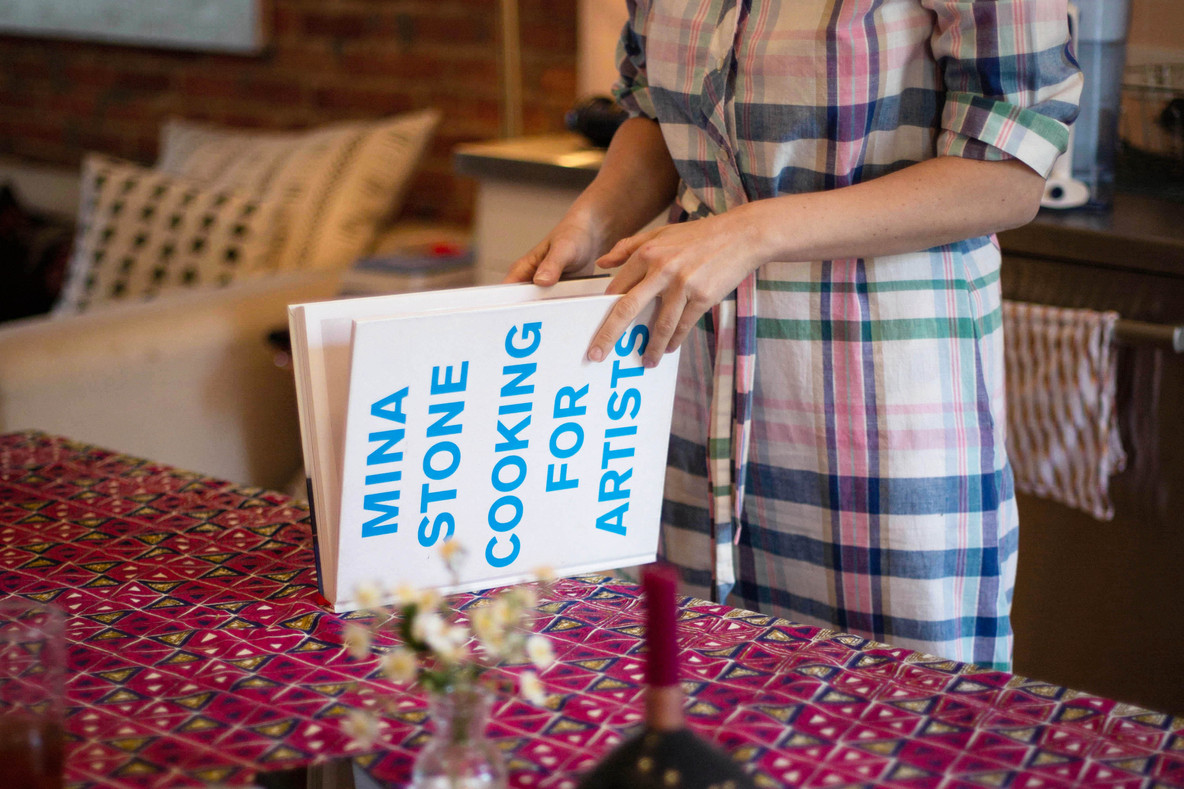 Is there a way that you approach preparing food for artists that is different from other clientele?
No. However, I think the energies are different. In my experience, artists have a certain energy that makes me feel calm, and I can put my best foot forward. An artist knows how to give you space. They want you to do your thing.
How has your approach to developing a menu changed as you've gone from personal chef to catering bigger events?
It's been a really natural process. I've been able to learn gradually. I've always been cooking for a lot of people, so the menu has evolved in a way that's conducive to that. For example, it doesn't make sense to sear steak for a hundred people. You can't serve that all at once. It's the idea of someone cooking for the whole village. There's food that's appropriate for that and that tastes good, and all cultures have those techniques. That pragmatism lends itself to food that's actually delicious, instead of food where you're left feeling like you're having an inauthentic experience.
Do you have a philosophy about food?
Basically, I am trying to make home-cooked food. That's the experience I want to give people. The concept for me is very direct and straightforward. It's not concept driven. Many artists are complicated and big thinkers, and my food ended up being a break from that. I'm cooking food that I would like to eat and that I hope somebody else would like to eat.
People at MoMA PS1 are from all walks of life: tourists, artists, staff, residents of Long Island City. The café is designed to provide a break. It's healthy, it's seasonal, and it's straightforward.
Mina Stone
How are you applying that philosophy at MoMA PS1? How are you thinking about building your restaurant specifically at a museum?
It's a natural extension of the same concept. People at MoMA PS1 are from all walks of life: tourists, artists, staff, residents of Long Island City. The café is designed to provide a break. It's healthy, it's seasonal, and it's straightforward. It includes things I've been cooking over the years, but now at a more professional and larger scale, which is really exciting to me.
Has there been an especially challenging part or a really exciting aspect of this venture for you?
There are definitely growing pains involved. I've had a really lovely time cooking for different artists with this sort of renegade catering business. Now I'm like, "Okay, let's get organized!" It's both the challenging part of it and the positive part of it. Otherwise, I would just stay in the same place.
You have said that you make a lot of Mediterranean-inspired cuisine. Can you talk about where that comes from?
I'm half Greek, and I spend a lot of time in Greece. I went to school there as a kid, and I went to live there for a year when I was 28. I learned so much about Greek food. I didn't even realize how much I learned until I came back and some time had passed. A lot of what I cook is lesser known in the United States as typical Greek food. It's not spinach pies and Greek salads and stuff like that. I like to cook lentils, the real peasant food of Greece that you can't even find on Greek restaurant menus. No one there even considers talking about it or eating it at a restaurant. It's food for the home, but it's my favorite kind. It's also really easy to make ahead of time. Someone can sit down, have a quick lunch that is simple and great, and leave and go about their day.
Is there an identity component for you?
Yes, but not on purpose. It's me. That's how I like to cook, and there seems to be a really positive result. I got an email from this Greek guy who owns a big Greek American newsletter. He thanked me for bringing Greek cuisine to a different crowd. It was so sweet. That was a moment.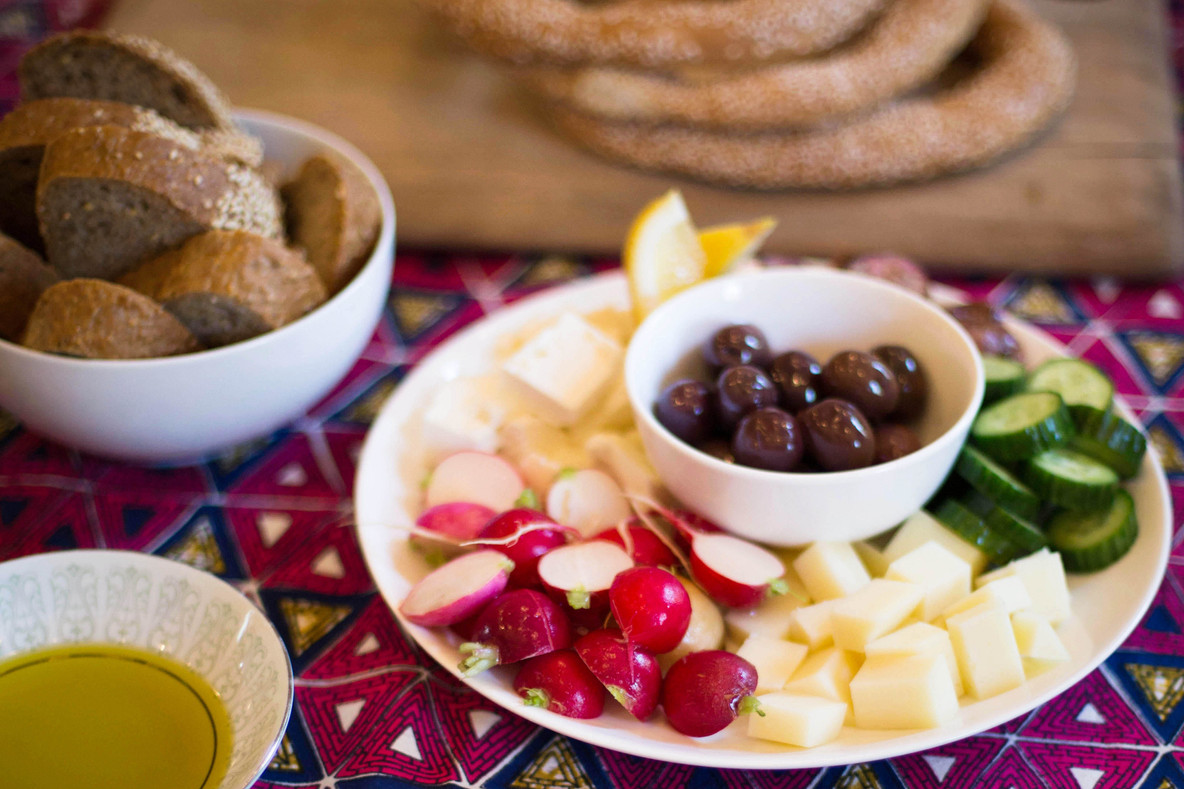 How do you challenge yourself? Do you ever find yourself repeating patterns?
Yeah. I feel like I need to educate myself more, whether that's traveling or going to a restaurant that I have heard great things about. Usually, I get inspiration from some other culture, and that does the trick.
What are you making today?
Today I'm making a demo of something that will be on the menu at Mina's. It's called Greek mezzethaki. In Greece, if you get any kind of alcoholic drink, you also get a snack, because there's a whole culture around not getting drunk. The food absorbs the alcohol. There's ouzo hour in Greece, where people get ouzo, put it on ice, and put a little water in it. Then you have these dishes that go with ouzo—maybe some ham, and cheese, some vegetables, vinegar, olives, and some toasted bread or something. It is not a main course, but it works here because it's particular to the hours that MoMA PS1 is open, when you don't really want lunch, aren't ready for dinner yet, but are still kind of hungry.