Writer and art historian Alex Fialho discusses the queer energy of Keith Haring's epic Untitled.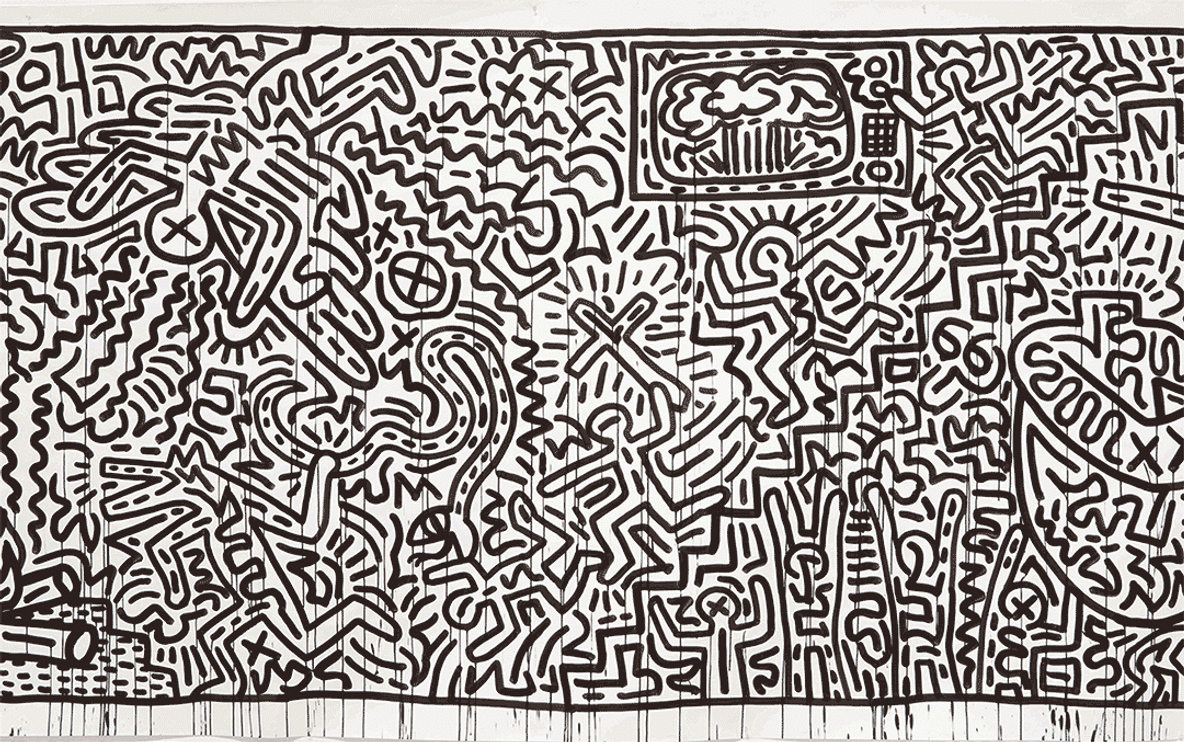 Keith Haring. Untitled (detail). 1982
This commentary has been edited from a longer audio interview for length and clarity.
I'm really inspired by the idea of Keith Haring as a 24-year-old artist being energized by the streets of New York City to make the 56-foot-wide, mural-like work Untitled. There's a real energy and immediacy to the drawing. You see the drips of ink across the entire paper and that gives you a sense of the speed of his pace. He might have made this work, or at least each of the two panels, in one day—spontaneously following the energy of the line. The graphic way the work is created relates to the graffiti practice he was inspired by. He contributed to graffiti culture too, making drawings on the subway and all over New York City. There was no space, canvas, or piece of paper too big for his vision—and this whole piece feels like a vision.
It's a vision of apocalypse, a vision of the streets of New York, a vision of Haring's imagination, and the Angels, the dolphins, the UFOs, the running dogs—it's all a part of what was possible to him in art making. Because it's such a large piece, it really brings you in. The more you look the more there is to see, and the more the scenes connect to each other.
This whole piece feels like a vision.
Narrative is important here. You can make a narrative out of what's happening through your own relationship to all of these signs and symbols. Individual responses and personal connections are part of what Haring's thinking through and excited about. This piece is really spectacular because of its size. It has so much happening with so many smaller elements that make up this large whole—you can really get lost in it.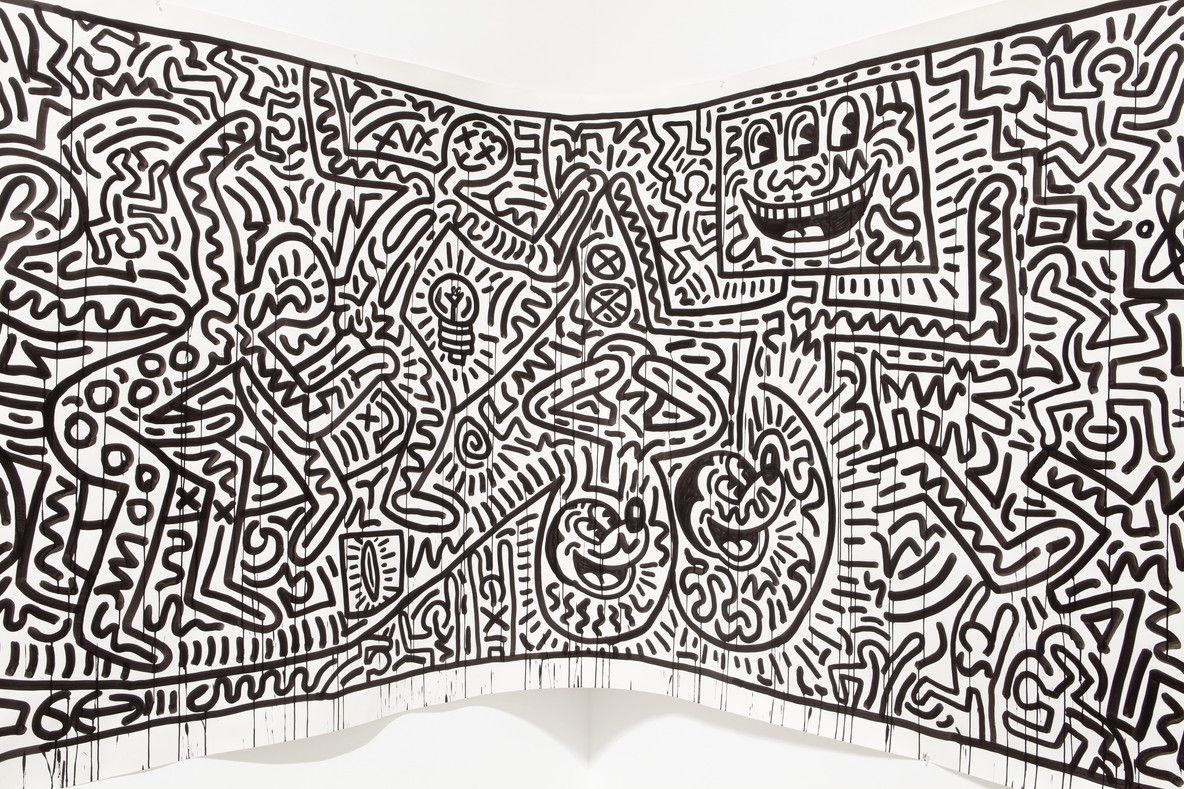 Keith Haring. Untitled (detail). 1982
One central part has a really sexual depiction. It's a likeness of Mickey Mouse in the testicles of a large penis, and three figures are having sex on top of this phallus. And then there's a smiling-faced figure grinning excitedly while watching over everything. To me, this scene points to the ways that Haring thought about sexuality and body language in New York City in the '80s. That's both the moment of Gay Liberation, and at the beginning of the HIV/AIDS crisis, when thousands of lives were lost to the epidemic. I think that his free expression, his verve, and his liveliness to make sexuality and sex central in his work feels important in that context in particular. New York City was a center for a lot of gay life and gay expression at the time. That's a big part of the energy that Haring is bringing to us. His practice embodies queer expression and the quality of the graphic, in both senses of the word—there's a lot of body language and suggestive movements happening in a work like this.
Celebration is possible in Haring's world, but he doesn't ignore the strife.
Haring was responding to the politics of his moment through his work, and there's definitely an undertow of apocalypse or strife. But the ways that he used drawing, line, symbol, and cartooning—and just the energy coming from the work—is really one of radical joy. Celebration is possible in his world, but he doesn't ignore the strife. In this work, there are villains, snakes, and figures fighting, but at the same time, they're rendered in a really exciting, energetic, and almost joyful way. You can stand in front of a piece like this and be inspired by and understand a range of possibilities.
For me, Haring's practice has always been filled with inspiration, excitement, and love. He's contending with a lot of the politics, radical possibilities, and pain of his moment, but in a way, I think he often felt really optimistic. From that upbeat outlook, I take a lot of inspiration and energy from his work for my own life. Haring tragically passed away at the age of the 31 from AIDS-related complications. I'm grateful that at least he had about a decade or so making incredibly influential and meaningful art for a lot of people. Like so many of the artists lost too soon to AIDS, at least there is the potential in their work and legacy left behind to continue to inspire us in the present moment. To me, that's ultimately what Haring's legacy is about: this fast-paced, joyous celebration of life, and what might be possible.
Alex Fialho is an art historian and curator, and the former programs director at Visual AIDS—a nonprofit arts organization provoking AIDS awareness—and a lover of Keith Haring's art.