Reckoning with Meret Oppenheim
Read four responses to the influential artist's provocative work.
Meret Oppenheim (1913–1985) was a visionary artist who worked across mediums and refused to adhere to a single style. The scope of her influence is similarly varied. Her objects, jewelry and clothing designs, drawings, paintings, and sculptures continue to inspire and provoke artists and makers in diverse fields and disciplines.
Her Object (1936), the best-known work in a six-decade-long career, remains a cornerstone of MoMA's collection, and is currently on view in Meret Oppenheim: My Exhibition. This full-career retrospective brings together nearly 200 rarely seen works of art, spanning the artist's teenage years in Switzerland to the 1980s, when she traveled widely and gained an international audience.
Oppenheim died in 1985, but her combining of found forms, concepts, and materials into revelatory new arrangements remains unusually precise, offering commentary on her social reality while conjuring other worlds and fantasies, and often remarking on the experience of being a woman.
On the occasion of her retrospective, we asked two visual artists, two fashion designers, and a lifetime friend and collaborator of the artist to reflect on Oppenheim's creative legacy.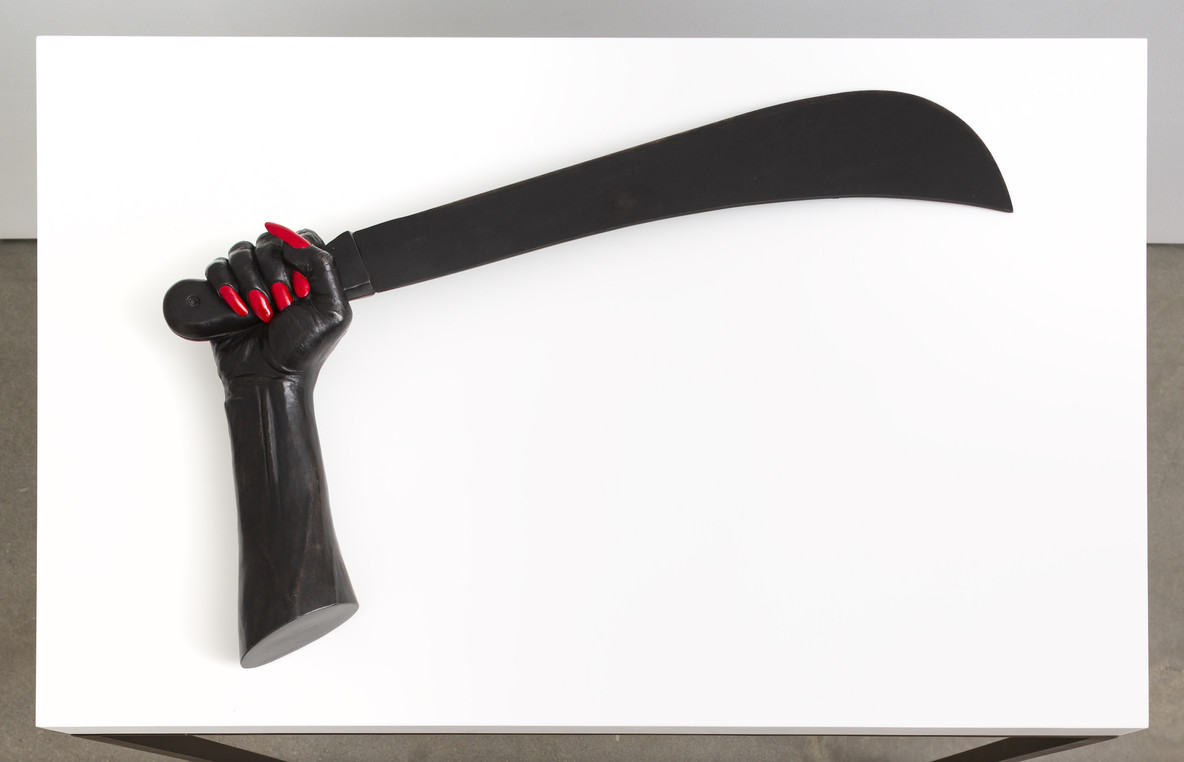 Wangechi Mutu. One Cut. 2018
By the time Meret Oppenheim was born in Berlin in 1913, the world was about to fall completely apart, again. The First World War began in 1914, when she was only a year old, and would end when she was five.
Thirty years prior to Oppenheim's birth, the Berlin Conference—a meeting organized by several European empires—took place in her home city. The idea was to carve up the African continent into pieces of colonized space and distribute these territories among the companies controlled by these foreigners.
In turn, this project was preceded some decades earlier by decisions to finally abolish the lucrative, insane, and violent business of stealing, shipping, and selling human beings from Africa for unpaid, unregulated labor.
The scramble for Africa introduced a whole new crop of businesses. Resources were badly needed to grow the northern nations' ravenous industries and exploding populations, and the wealth of the African continent was the bounty they sought for this gluttonous banquet.
All of this means that Oppenheim was born into what was considered the height of modernity—but also ideological hypocrisy. Western Europeans were investing in the idea of "civilizing" the African continent by violently grabbing, robbing, and utilizing Africanity.
In the process, many ritual power objects and intellectual materials from African nations were stolen; others were destroyed. Cultural theft and appropriation became hip and edgy—particularly the use of sacred items that were deemed "backwards" or "primitive," the antithesis of Western civilization. It caused European artists to regard themselves as radical, rebellious, and avant-garde. For usurping and forcefully integrating this mesmerizing, misunderstood, and maligned symbolism, the European thinker was considered a badass who was flipping the script. But in fact this was an act of erasure, a denial of responsibility for the theft and mutilation of human beings from lands near and far. The Europeans believed that accepting the black magic might protect them from these crimes against their and everyone else's humanity.
There were significant advancements in the fields of science, medicine, art, and philosophy; they even spurred the elaborate management of an intricate system of human, animal, and land control, categorization, classification, and culling. This rationalization behind the severing of entire populations from their human rights, their homes, and their cultures is the unstable and psychotic bedrock that the Surrealist, Dadaist, and Futurist movements were planted in.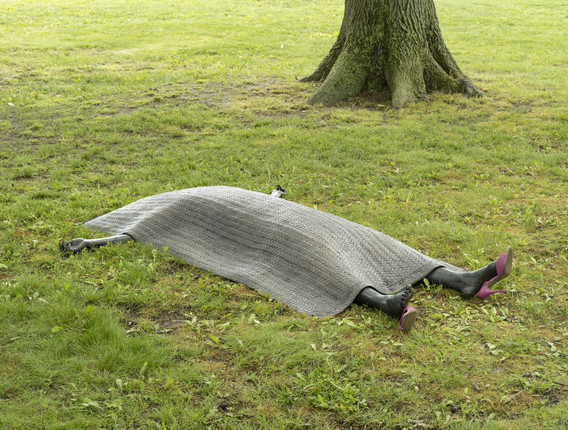 Wangechi Mutu. Shavasana II. 2019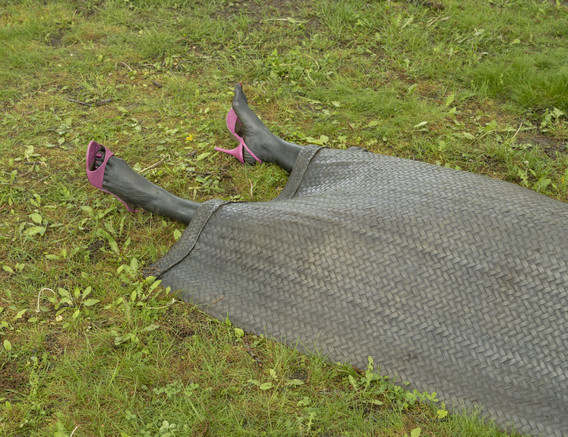 Wangechi Mutu. Shavasana II (detail). 2019
Oppenheim's art was ripened in these absurd times—this educated, eloquent, elegant Swiss Jewish feminist created her own kind of reorganization mechanism. It is within the cruel, irrational European art world, which refused to reshuffle its own sense of superiority, that Oppenheim thrived. She might as well have been working from that big conference table in Berlin, seated with conjoined boots next to Leopold and Bismarck. The pristine, delectable objects that she made were her own power language, coming from a female mind calling out the shame of inequality within her well-fed upper class, but not beyond. The remarkable furry teacup (Object, 1936), not made to hold tea (which is forcibly grown in the global south, like the highlands of India or Kenya), showed no evidence of bloodshed or the pain of the people or skinned creatures. These provocative but incomplete critiques of her new world order continued, like the slick, beautifully bound, high-heel-roast Ma Gouvernante (My Nurse) (1936), separating her further from the famine in the wildernesses of Europe's weaponized imagination.
It is from this vantage point that she and most of us in the art world family exist. This bold woman's articulation included and protected her from further punishment for being a female, and protected her colleagues from being seen to be complete misogynists. Women shouldn't be restricted to just the kitchen or the bedroom, especially women who own porcelain cups, smoke slender cigarettes, and wear high heels. They should be protected and allowed to be inked, printed, and remembered.
—Wangechi Mutu, artist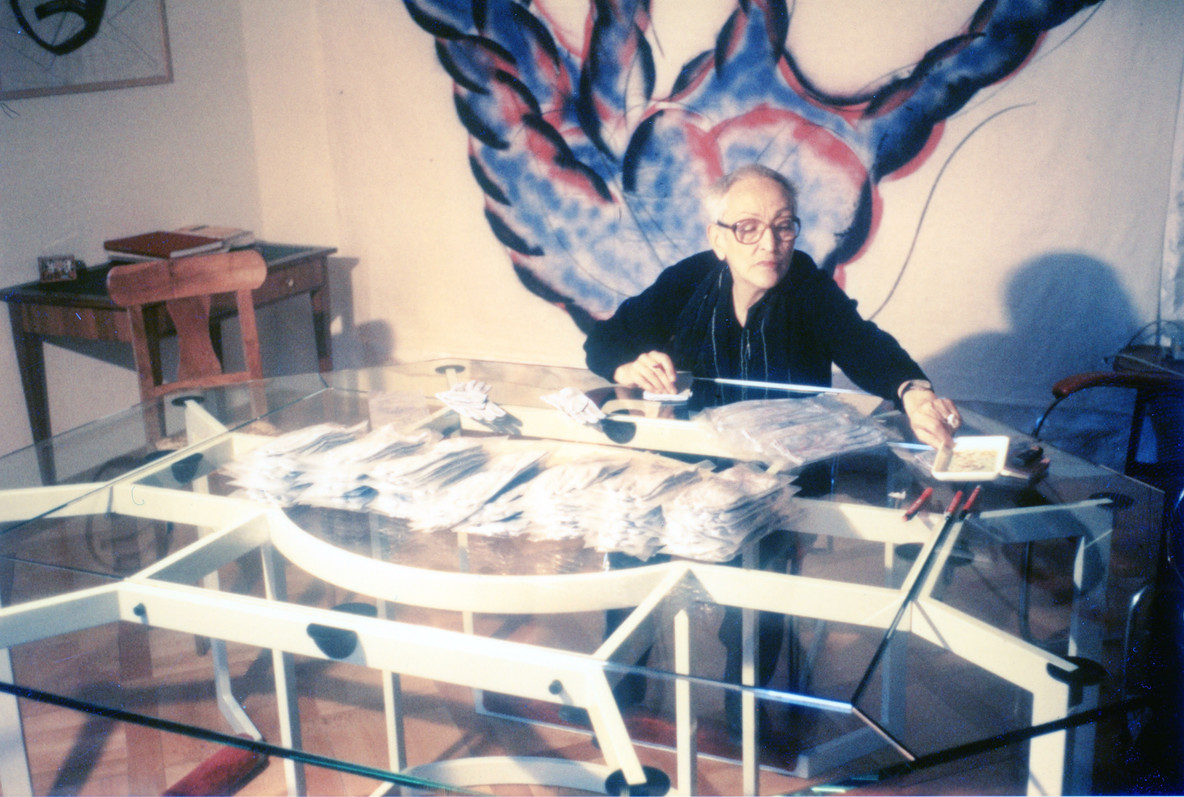 Meret Oppenheim signing 150 pairs of gloves in Zurich, 1985
Meret Oppenheim's account of the realization of the fur-lined teacup from 1936 always includes a mention of her fashion designs from the same year, especially the fur-covered bracelets she made for Schiaparelli before the appearance of the now legendary cup. Other, rather less conventional suggestions for clothes and jewelry—a gold bird's nest with an enamel egg to be worn in the shell of the ear, a jacket resembling a set table, a head-covering of a (stuffed) dog with its jaws open so wide that its tongue hangs down over the wearer's nose—found no takers among the couturiers. The same distanced reception awaited the idea of a glove on which the veins of the hand were traced but which 50 years later the magazine Parkett, together with Meret Oppenheim, commissioned in a signed and numbered edition of 150 pairs.
—Bice Curiger, Artistic Director, Fondation Vincent van Gogh Arles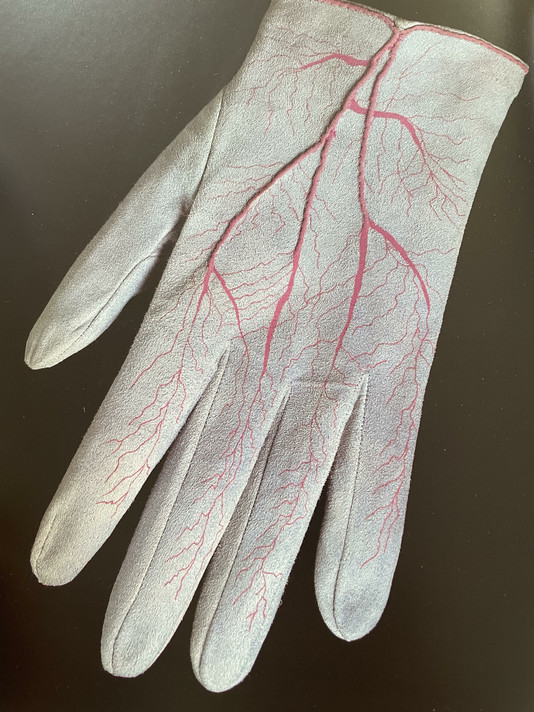 Meret Oppenheim. A Pair of Gloves for Parkett. 1985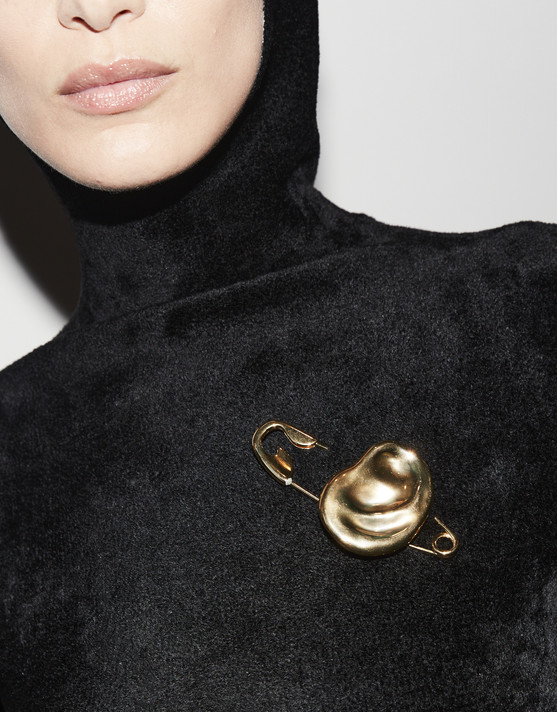 Brooch from the Proenza Schouler Fall Winter 2022 Collection
Collection notes for the Proenza Schouler Fall Winter 2022 Collection, inspired by the work of Meret Oppenheim
Entering a new moment in time, thoroughly transformed. The question of what we are all stepping into—what it will look like, feel like, and what qualities will define it—fuel the imagination and lead us to new and unexplored territory. How do we find beauty in the chaos and use it as a creative starting point to build the future? These essential questions inform the crux of the Proenza Schouler Fall Winter 2022 Collection.
Experimentation and play are key, perhaps now more than ever, as is finding the brazenness and conviction of youth within oneself as a way of pushing forward. Using the human form as a starting point, shapes are exaggerated into forms with a pseudo-historical semblance recontextualized for today, or cut on the bias to hug, twist, and therefore define the body. The idea of control and release—of compressing but also exaggerating form—drive some of the collection's formal elements and come together as a kind of love letter to fashion, to craft, and to the joys of using clothing to define individuality.
No single silhouette dominates the offering, as variety and choice remain paramount. The collection begins with sculpted knitwear from which circular bias-cut skirts hang, creating a feeling at once formal yet effortless and infused with an element of sport. Construction is eliminated, letting the yarn itself do all the shaping. Knitwear and jersey continue to dominate the collection and can be found in a myriad of shapes and textures. Color is important and found in big, bold blocks that punctate the offering. Glitchy, garment-printed slips find the beauty in imperfection and remain defiant. Tailoring for the intelligent, adult, urban woman remains a grounding force throughout. Sculptural forms speak to the past and future while alluding to the work of Meret Oppenheim, a central point of reference for the collection's recontextualization of traditional codes of dress.
A live musical composition by Eartheater provides the sonic companion to the visuals of the show, giving the audience an experience impossible to replicate digitally. Ottessa Moshfegh provides a short story linking the past and future to the present.
—Lazaro Hernandez and Jack McCollough, Cofounders and Creative Directors, Proenza Schouler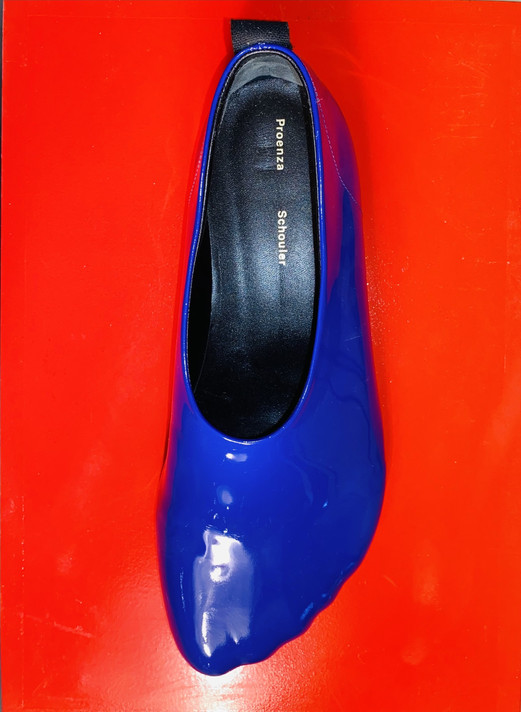 Sculpted slipper from the Proenza Schouler Fall Winter 2022 Collection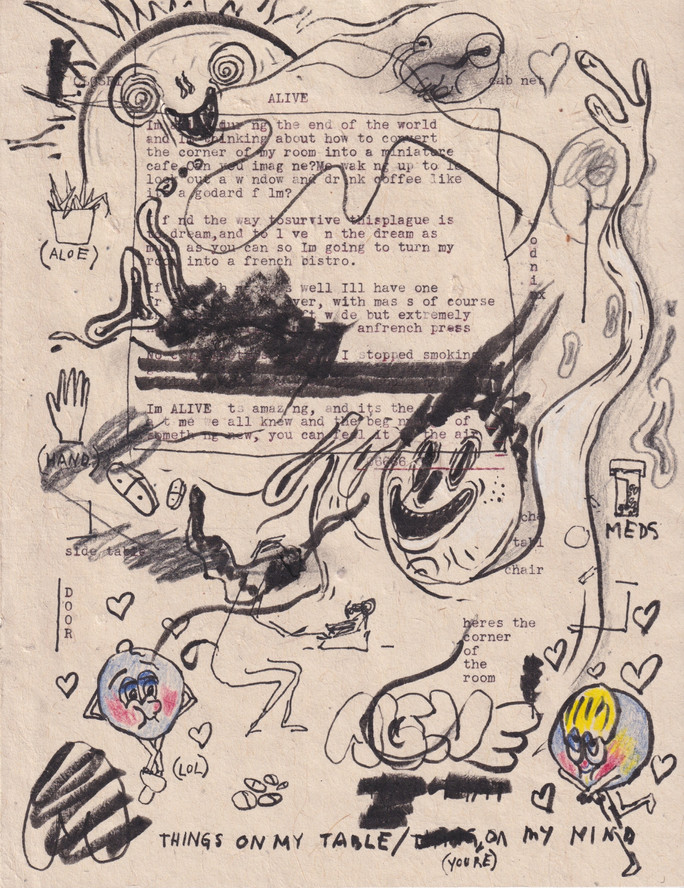 River L. Ramirez. ALIVE!. 2022
I was inspired to share this piece after seeing Meret Oppenheims's drawings at the exhibition at MoMA. To see how integral drawing was to her more realized works really spoke to me. I made this drawing while isolating in NY during the height of the pandemic. It's beautiful when drawing and mark-making can feel so present day, but also linked to a specific time and place and feeling. I wanted to be in conversation with Oppenheim's work, traveling through time to the intimacy of the artist staring at a piece of paper and making a mark to build on later. Or just making a mark to prove her existence in that moment.
—River L. Ramirez, artist, comedian, and writer